Looking for MP4 video editors? What is the best MP4 video editor? Is there free and simple MP4 editor on Windows? Can MP4 editor open source edit MP4? Now, read this post, and you will find what you want.
MP4 file, MPEG-4 Video file, is a compressed file format that contains not only video but also audio and subtitles. The video you download from the Internet usually is an MP4 file. Then, some users like my sister asked the following question.
"Can I edit an MP4 video?"
In general, MP4 editor can do this.
Now, searching on Google, you will find there are many video editing tools. Which program can edit MP4 videos?
This post is going to analysis top 7 video MP4 editors. You can choose a suitable one according to actual needs to edit MP4 video file.
Top 7 Free MP4 Editors
Windows Movie Maker
Photos App
MiniTool MovieMaker
iMovie
Adobe Premiere Pro CC
Openshot
Lightworks
# 1. Windows Movie Maker
Windows 7 users must have been heard of Windows Movie Maker, a free video editing software developed by Microsoft. However, can Windows Movie Maker edit MP4?
Of course, the answer is positive.
Windows Movie Maker, a discontinued video editing software, is able to create and edit MP4 video and publish it on OneDrive, Facebook, Vimeo, YouTube, and Flickr.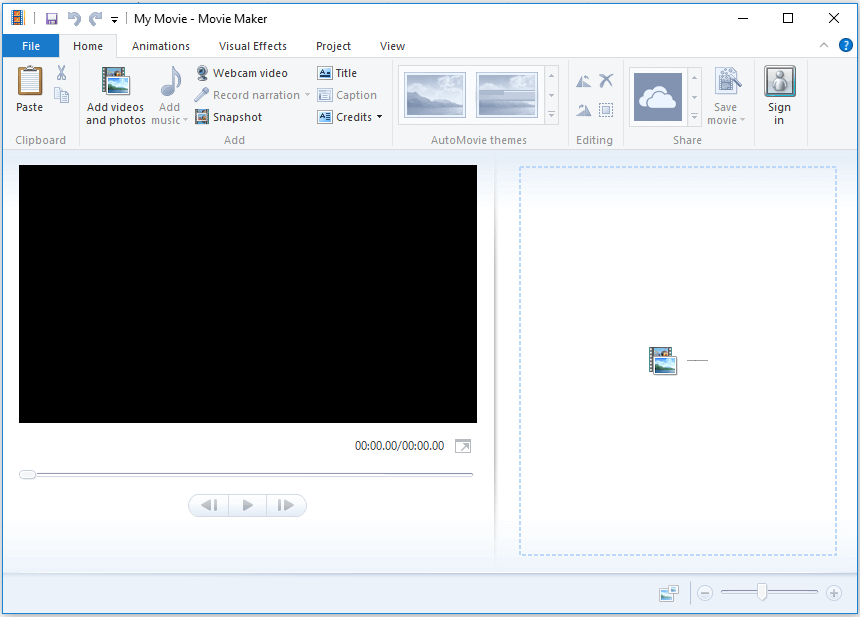 The above window is the main interface of Window Movie Maker. You can see this free MP4 video editor is composed of Menus, Toolbar, Preview window, and Storyboard pane. See, it is very easy to edit MP4 video because of its simple interfaces.
Now, to edit MPE 4 video, you need to import files into this free tool. Next, you are able to add transitions to video, add text to video, add visual effects to video, etc. And, you can split or trim video to remove some unwanted parts.
Related article: How to Use Movie Maker | Step-by-step Guide for Beginners.
Microsoft Movie Maker indeed can help you edit MP4 video easily and quickly. But, this simple yet free MP4 editor is no longer available for download from the Microsoft website.
On the other hand, some users reported that they had encountered some problems while using this free MP 4 editor Windows. For instance, you might be interested in this post "Top 7 Common Movie Maker Problems & Errors (How to Fix Them)."
#2. Photos App
Windows 10 has a hidden video editor, part of the Photos app. This feature works a bit like Windows Movie Maker. You can use this free MP4 editor Windows 10 to trim your MP4 video, or create your own home videos and slideshows.
Open your MP4 video and play it in the Photos app, and then click the Edit & Create button on the toolbar to edit it.
For instance, you can click Trim in the menu to remove the start or end of part from your video.
Related article: How to Cut Video Easily and Quickly (The Definitive Guide).
Or, you can try the Add Slo-mo button to slow down a section of your video file.
More importantly, this free and simple Windows 10 hidden MP4 editor can help you create MP4 movie with videos and pictures.
#3. MiniTool MovieMaker
MiniTool MovieMaker, a free and simple video editing software, is recommended here. The free MP4 editor Windows not only can edit MP4 video but also can edit other video formats including WMV, AVI, MOV, MKV, and so on. This tool supports Windows 7, Windows 8, and Windows 10.
This free MP4 video editor offers a lot of features to help you edit MP4 video easily. It is a meticulously crafted experience. It is accessible, user-friendly and well coded. Even people who have never edited a video before can easily use this tool without any problems.
It can make a video with pictures, and even make Facebook Slideshow.
It offers a lot of transition effects including a fade, fade to black, dissolve, etc. which can help move the scene to the next naturally.
It offers a lot of filters to enhance your movie and make it truly impressive.
It offers a lot of wonderful text modules to help you complete your video.
It not only can split video but also trim video to remove the unwanted parts.
It can help to convert low resolution to high resolution to increase video quality.
Most importantly, this free and simple MP4 video editor Windows offers movies and trailers templates to help you create cool, and Hollywood-style MP4 video quickly. You only need to select a template, and then import your files, and finally share it with other friends.
Watch the following video to get a basic understanding of the templates MiniTool MovieMaker offers.
Now, the question is how to edit video?
How to Use this Simple MP4 Video Editor to Edit Video
To make you better understand how to use this MP4 video editor Windows 10, you can take the following steps.
Step 1. Launch MiniTool MovieMaker.
Get and install MiniTool MovieMaker, then launch it. 
Click the Full-Feature Mode to enter the main interface of this simple and free video editing software.
Step 2. Import your MP4 video.
Click the Import Media Files button to import your MP4 video file into this free MP4 editor. Then, drag and drop it to the storyboard pane.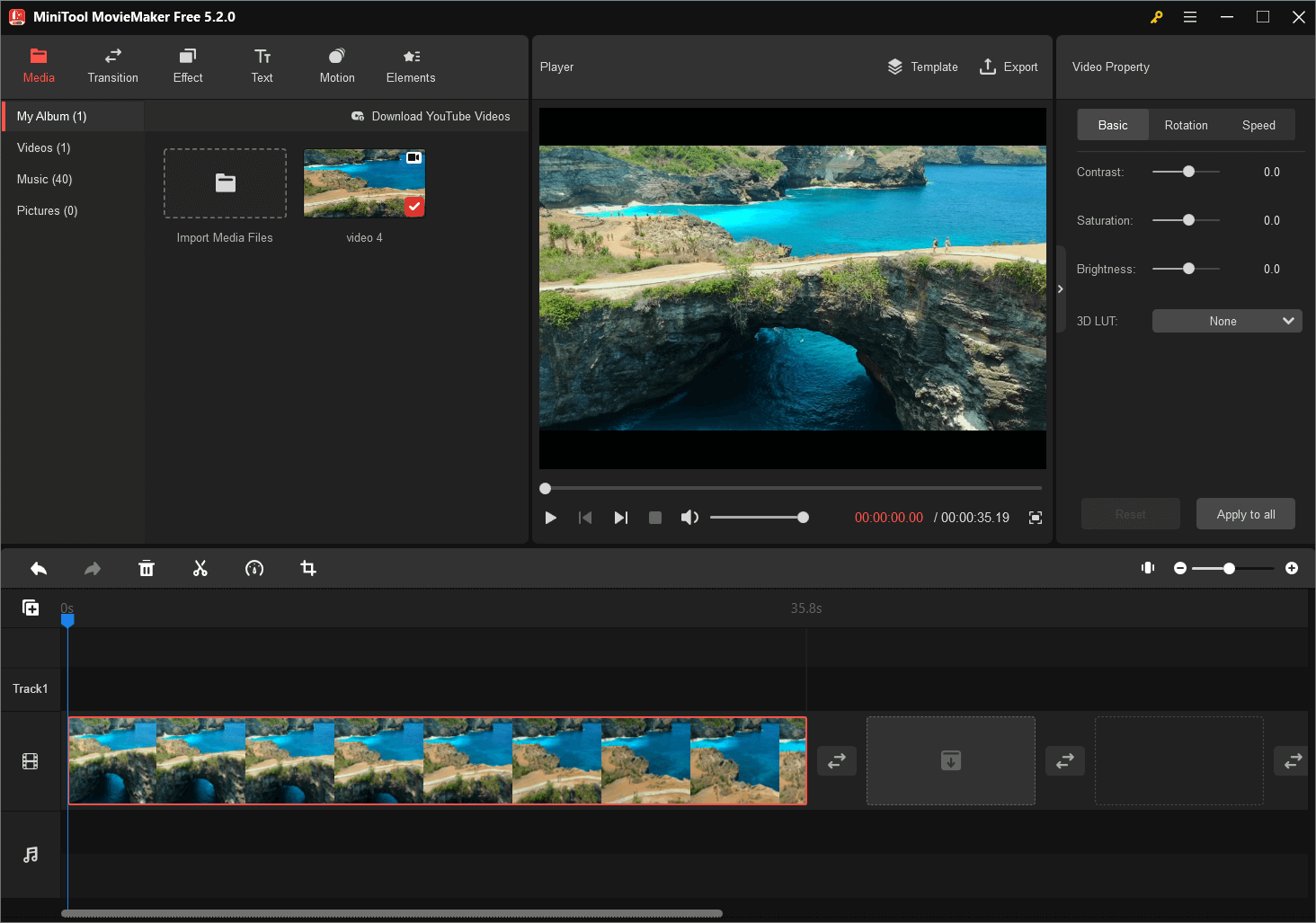 Step 3. Edit your MP4 video.
Now, you are able to split or trim video, add text to video, add filters to video, and change the color of this video to get the best visual effects.
For instance, you can take the following steps to split a large video into several small clips.
Choose the large video in the storyboard, then click the scissor icon to get the split/trim window.
In this window, move the playhead to the right position where you want to split and then click the scissor icon.
Finally, click OK to exit this window to save these changes.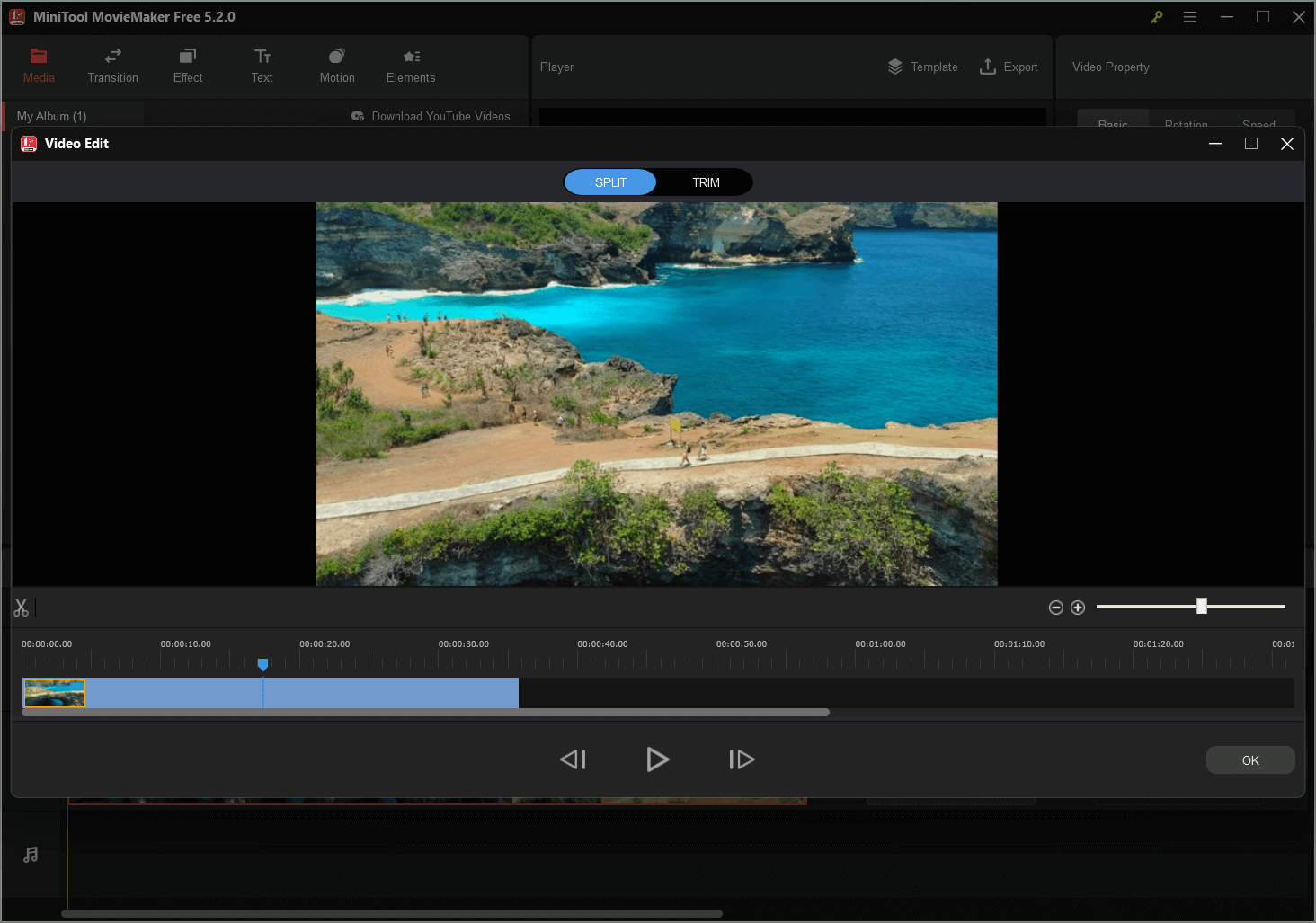 Step 4. Save your video.
After editing video via the best free and simple MP4 editor Windows, you can click the Export button to save this video on your PC.
Try the free and simple MP4 editor, MiniTool MovieMaker, to easily edit your MP4 video. Click to Tweet
The bottom line is that MiniTool MovieMaker is the best MP4 video editor for Windows users. It will satisfy the needs of the vast majority of its users. Unfortunately, Mac OS is not supported at the moment.
#4. iMovie
iMovie, a video editing software application sold by Apple Inc. for the Mac and iOS, is a good MP4 editor Mac.
It offers simple and clean interfaces, thus even a new user can easily use this tool to create a video.
It employs the easier-to-use storyboard workflow making you easily identify all the elements in your project.
It is able to access your music and photo libraries without having to import all the individual files.
It is very easy to add the most commonly used titles and transition to video.
It offers cool movies and Hollywood-style trailers. You can easily make a cool movie from the first scene to the last.
In a word, if you want to edit your video in Mac, you had better try the Mac built-in MP4 editor iMovie.
#5. Adobe Premiere Pro CC
Premiere Pro CC is the continually evolving professional video editing program from Adobe, and it is one of the few names in the business that earns the title "industry standard." This MP4 video editor has the power, versatility, and depth to create any video project you put to it.
This professional MP4 editor allows you to work on multiple projects at the same time. You can seamlessly switch between projects at any time.
It lets you edit VR media, including program pan and zoom controls. Thus, you can see exactly what your audience would.
It allows you to adjust and match the color in your projects more precisely because of its tool - precise and simple color grading
It lets you dial down or remove background noise and reverb for incredible results.
Adobe Premiere Pro CC is among the best professional MP4 video editor because it takes all the tools you need and presents them in a way that is convenient, intuitive and innovative. It should be noted that you must subscribe to Creative Cloud to purchase this tool.
#6. Openshot
MP4 editor open source is also a good choice for most common users. Openshot, a free and open-source video editor for FreeBSD, Linux, Mac OS, and Windows, can help you easily create MP4 video.
This open-source MP4 video editor can quickly trim down videos, and find those perfect moments, add beautiful 3D animated titles and effects to your video, and allow you to fade, slide, bounce, and animate anything in your video project.
This MP4 editor open source is designed to be easy to use and quick to learn. With this powerful video editor, you can easily and quickly create as well as edit your MP4 video because of its popular features and capabilities.
#7. Lightworks
Lightworks is another good MP4 editor. It is a professional non-linear editing system for editing and mastering digital video in various formats, including 2K and 4K resolutions, and television in PAL, NTSC, and high-definition formats.
This MP4 editor is the only tool that is available on all the major operating systems, including Windows, Mac, and Linux. And, it supports AVI, MP4, MOV, MPEG, and other formats.
With this tool, you can easily import, trim and seamlessly weave audio and video files together. Besides, this tool grades your sequence professionally utilizing up to 32bit GPU precision and histogram tool.
Lightworks offers both free and paid versions of its editor.
If you don't need some advanced features like project sharing, stereoscopic output, and timeline rendering, you can try the free version of Lightworks because it has much of the functionality of the premium version. It is noted that the free edition maxes out at 720p, and only in MPEG4/H.264.
Share top 7 different MP4 video editors with all of you. Click to Tweet
It's Your Choice
Now, you must have a basic understanding of the above 7 MP4 video editor. If you feel hard to make a decision, you can see the below chart.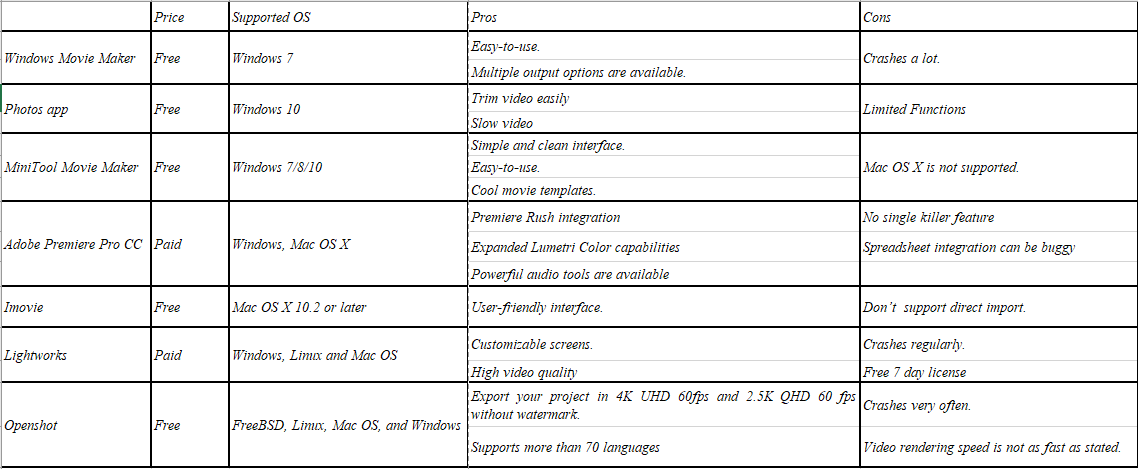 See! The above 7 MP4 video editors can help us easily edit MP4, and each with their own strengths and weaknesses. You can choose a suitable one according to your actual needs.
If you have any good suggestions of MP4 video editor, please share it with us in the comments below! Much appreciated!
MP4 Editor FAQ
Can you edit an MP4 file?
MP4 editors can help you easily edit the MP4 file. MiniTool MovieMaker, a
free video editor without watermark
, lets you edit MP4 files with video transitions, visual effects, and animated texts. Easily split the MP4 file, trim MP4 file and combine MP4 files into one. Save MP4 file into other different file formats including MP3 format.
What program can edit MP4 videos?
There are different 7 video editing tools to help you easily edit MP4 files. They are Windows Movie Maker, Photos App, MiniTool MovieMaker, iMovie, Adobe Premiere Pro CC, Openshot, and Lightworks.
Can iMovie edit MP4?
iMovie, a free video editing software for macOS users, lets users edit MP4 files encoded with MPEG-4 and H.264 codecs. As we know, MP4 contains various video codes. Therefore, if you find iMovie cannot work with your MP4 file, you don't need to feel panic and this is because of the video codec incompatibility.
How do I trim an MP4?
Open the free video trimmer, MiniTool MovieMaker, and import your MP4 file.
Drag and drop the MP4 file to the timeline.
Movie the clip's start point or endpoint to trim MP4.
Save the trimmed video.
Also read: