This article conceived by
MiniTool Software Limited
mainly discusses whether it is still possible to download Windows Movie Maker for your PC. If it's feasible, where to download the app, how to install it, as well as how to remove it.
The following content applies to Windows 11, 10, 8.1, 8, and 7.
Can You Still Download Windows Movie Maker?
Since Windows Movie Maker was officially discontinued on January 10, 2017, is it still available to be downloaded, installed, and used?
Official Answer
Movie Maker is not available for download on Windows 10

Windows Movie Maker, part of Windows Essentials 2012, is no longer available for download. Websites that offer free downloads of Movie Maker are not offering the real thing, and those downloads may contain malware, viruses, or hidden costs.

support.microsoft.com
Actual Answer
Yes, you can! It may be difficult to find a source to directly download the installation file for Windows Movie Maker. Yet, you can first download Microsoft Windows Live Essentials, which is a set of Windows programs including Movie Maker. Then, choose to only install Windows Movie Maker while processing the setup file of Windows Essentials.
How to Get Windows Movie Maker on Windows 11/10?
Just as mentioned above, you need to first get Windows Live Essentials setup file and then extract Windows Movie Maker from it. The following are several sites where you can download Movie Maker from Windows Live Essentials.
Note:
The above are some common software downloading sites. When you try to download Windows Movie Maker there, you need to be careful and click the correct download button. otherwise, you may unexpectedly download other apps from the ads. Sometimes, you may need to complete a few clicks and go to further pages to get the real Windows Live Essentials installation package. Also, take your patience and wait for a few seconds after clicking the download button for it needs some time to process the downloading.
Are the Downloads Reliable?
Many of you may suspect the reliability of the above downloads. We have tested them one by one and they are reliable when this article was created. Yet, we can't guarantee that the downloads will keep reliable in the further.
How do we determine that the above downloads are real? Well, we have checked the app's certificate information before installing it (after clicking on the setup file).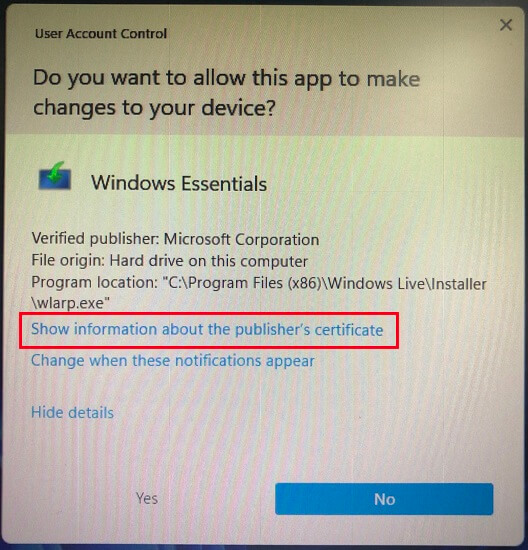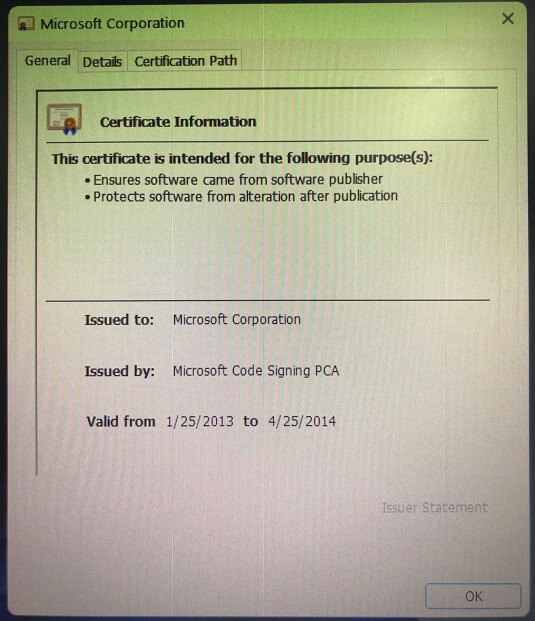 How to Install Windows Movie Maker on Windows 11/10?
Since most of the above-downloaded files are for installing Windows Live Essentials, it is a little bit different to install Movie Maker from the files. Next, let's see how to install Windows Movie Maker from the Windows Live Essentials installation process.
1. Click on the installation file. In the User Account Control (UAC) popup, just click Yes to continue.
2. (optional) You may be asked to install .NET Framework 3.5. You can select Skip this installation.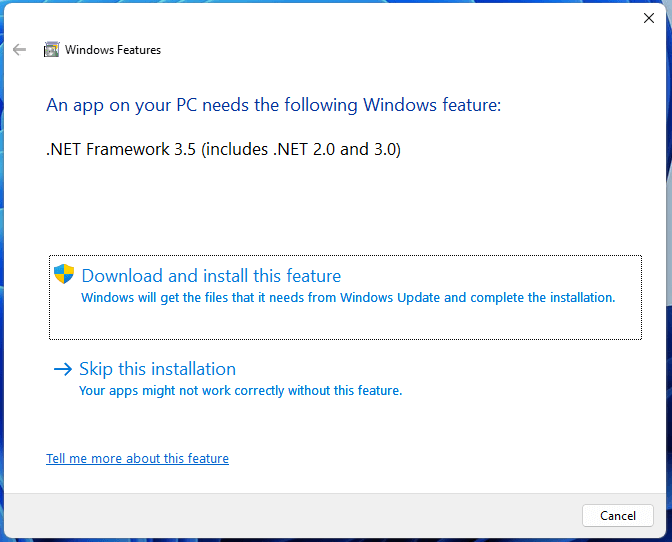 3. Then, you need to decide what you want to install.
Install all of Windows Essentials (including Messenger, Mail, Photo Gallery, Movie Maker, Writer, OneDrive, and Outlook Connector Pack.)
Choose the programs you want to install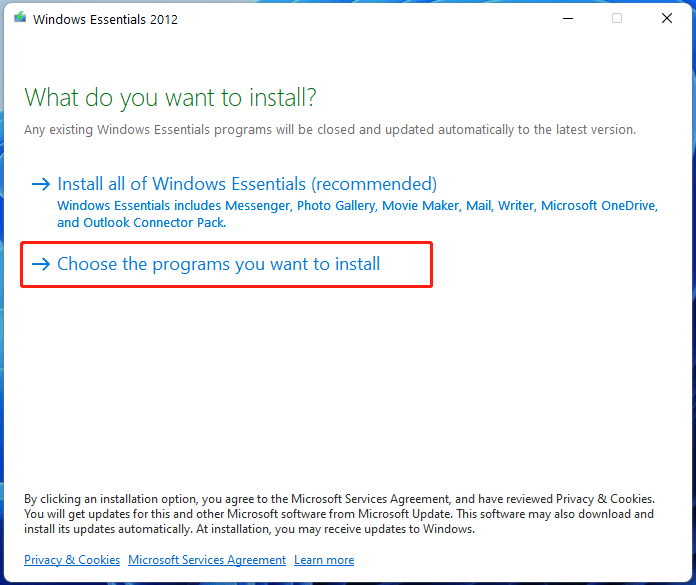 Here, we choose the second option.
4. Next, you need to select programs to install. You can keep the default and install all embedded tools. Or, you can uncheck the other apps and only leave Photo Gallery and Movie Maker.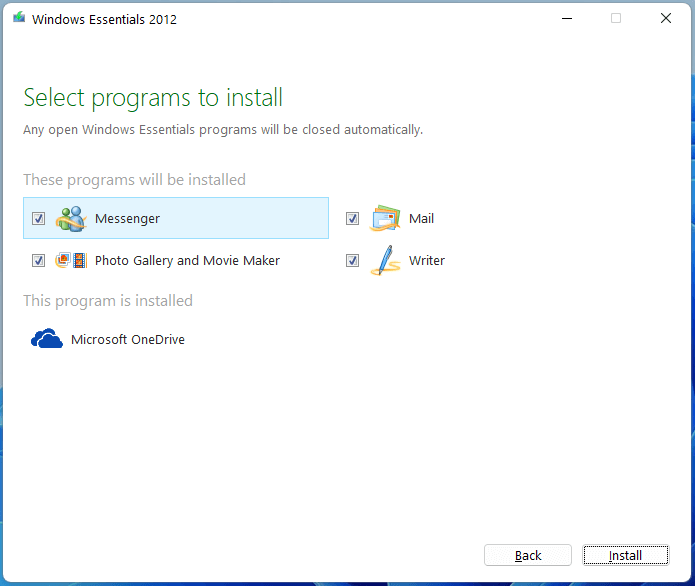 5. Click Install and wait for the task to complete.
Tips:
If your downloaded file is a direct setup file (e.g. wlsetup-all.exe), just click it to start the installation. If your downloaded file is a compressed folder, you need to first decompress it and then find the correct installation file to use.
After installing, you can open Windows Movie Maker on your PC.
How to Uninstall Windows Movie Maker on Windows 11/10?
If you don't need Windows Movie Maker anymore, you can remove it from your PC with the steps below.
1. Find Windows Essentials (or Windows Movie Maker) in Apps & features Settings or Control Panel and click Uninstall.
2. In the pop-up UAC window, click Yes.
3. When it asks whether to uninstall or repair Windows Essentials programs, choose Remove one or more Windows Essentials programs.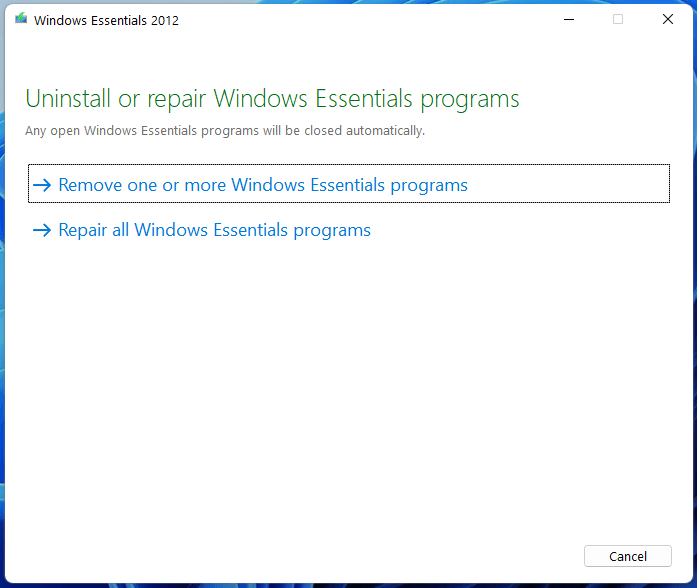 4. Then, tick Photo Gallery and Movie Maker and click Uninstall.
Wait until the process finishes.
Now, you must know where to download Windows Movie Maker Windows 11, and how to install and uninstall it. Just have a try!
Videos/Audio/Photos Management Tools Recommended
These applications are completely compatible with Windows 11/10/8.1/8/7.
MiniTool MovieMaker
An easy-to-use video editing software without watermarks and limits. The embedded templates enable you to quickly make personal slideshows and share them with your friends!
MiniTool MovieMakerClick to Download100%Clean & Safe
MiniTool Video Converter
Quickly convert videos and audio from one file format to another to apply to more devices. It supports 1000+ popular output formats and batch conversion. Besides, it can also record PC screens without any watermark.