This post presented by
MiniTool
mainly provides you the websites to download various Windows 11 video editors including Clipchamp, Microsoft Photos, Windows Movie Maker, as well as a third-party tool. It also applies to Windows 10/8.1/8/7.
There is more than one official video editor in Windows 11. Thus, when talking about the download of the Win11 video editor, it should involve the download of each Microsoft-recommended video editor.
Download Video Editor Windows 11 – Clipchamp
First of all, let's see where to get Clipchamp for Windows 11 since it is the officially recommended video editing software for users who need advanced features to complete complicated video creation. Simply, you can search for, find, and download Clipchamp in Microsoft Store.
Download Clipchamp from Microsoft Store >>
Actually, Clipchamp also provides an online version for you to make use of. Thus, you can directly enjoy its features by signing up with an account without downloading its app.
Windows 11 Photos App Download
Secondly, how to download the built-in Windows 11 video editor – Microsoft Photos, which contains a simple and basic video editing tool named Video Editor? Usually, the Microsoft Photos app is pre-installed on your PC together with the operating system (OS) and you can open it in various ways.
However, if you lose the Photos program for some reason, you can regain it through Microsoft Store.
Go to Start > Microsoft Store and input "Microsoft photos" in the top row.
Click the search icon (magnifier) behind or press the Enter key on your keyboard.
In the search result, find the best match.
Install the Microsoft Photos app on your computer.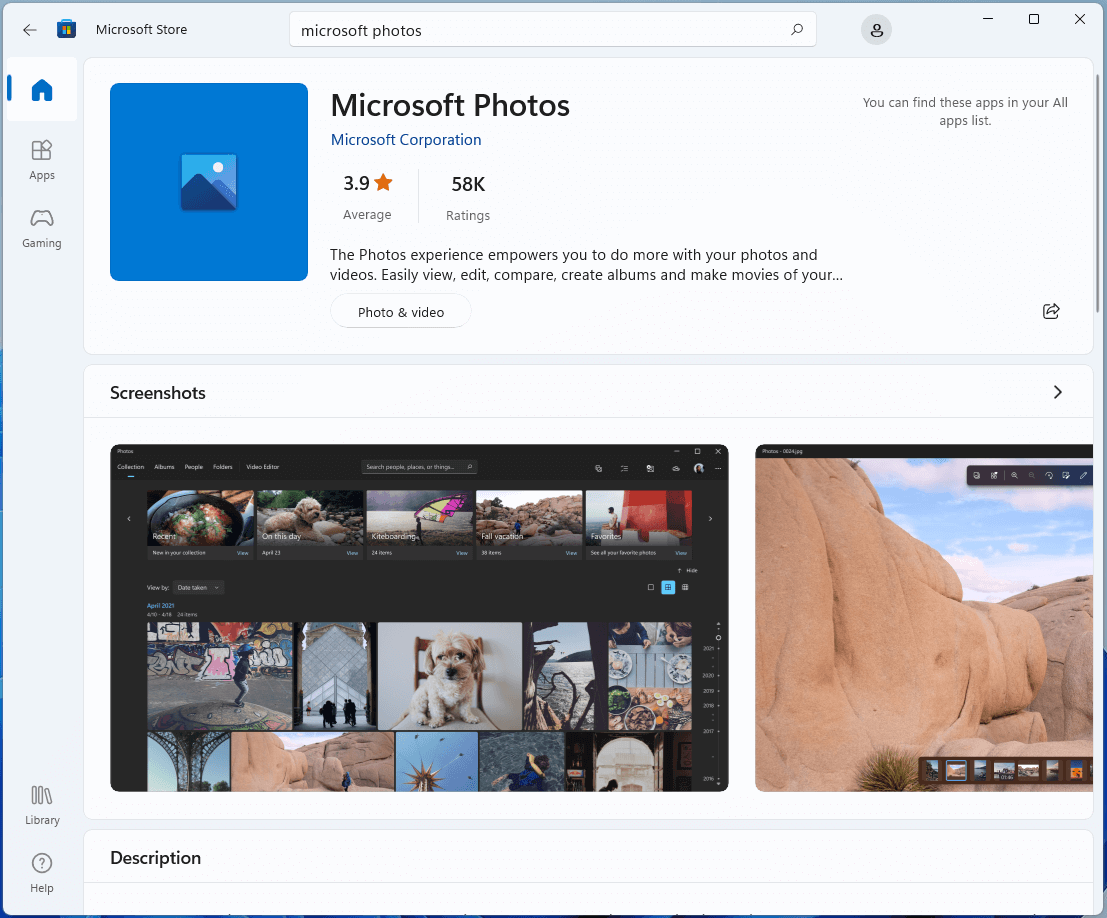 If you already have Microsoft Photos installed on your device, it will remind you with a sentence saying that "you can find these apps in your All apps list" or just state "installed".
Note:
Microsoft released a new version of the Photos app for Windows 11 in October 2022, which integrates iCloud but excludes Video Editor, People, Albums, and Collection tools. If you need to use those utilities, you have to get the Microsoft Photos Legacy.
Windows Live Video Editor Free Download – Windows Movie Maker
Windows Movie Maker, also called Windows Live Movie Maker, is a discontinued video editing tool developed by Microsoft Corporation since January 2017. Thus, by default, you won't have Windows Movie Maker in Windows 11 and later Windows 10 OSes. Also, Microsoft doesn't offer an official method for its users to get Windows Movie Maker.
Luckily, there is still an indirect way to get Windows Movie Maker. That is to install Windows Movie Maker from Windows Essentials, a family of Microsoft freeware including Movie Maker, Photo Gallery, OneDrive, etc. Although Windows Essentials is also discontinued, you can still gain it from many famous and reliable app download websites like Uptodown, CNET, Softpedia, and so on.
Download Windows 11 Movie Maker >>
Windows Video Editor Download – Third-Party Apps
Finally, let's see Windows 11 video editor download of 3rd-party applications, which can also help you create all kinds of masterpieces; beautify your videos with effects, filters, and animated stickers; merge multiple video clips with proper transitions; split/trim or crop a video to make it shorter or smaller; describe a video with texts…
One of those excellent video editors for Windows 11 is MiniTool MovieMaker, a professional and free video creator without watermarks.
MiniTool MovieMakerClick to Download100%Clean & Safe
Also read: