How to trim video? How to cut out the beginning, middle, or end of your video? Video trimmer can help you. This post lists the top 5 video trimmer apps to help you easily trim parts of the video files. MiniTool released a simple, no ads and free video trimmer which can trim video and split video easily.
What should you do if your videos are too long?
What should you do if the download videos contain Ads?
How to trim a certain part of a video to shorten the duration?
How to remove the commercial break, ads, shaky scenes, or other unwanted parts?
Well, you have come to the right place. This post lists 5 best video trimmers and the detailed steps on how to trim video.
1. MiniTool MovieMaker – the Best Video Trimmer
No matter you want to remove some parts of your video or want to split a large video into different small parts, you can try MiniTool MovieMaker. Why we choose it? Let the next 3 responses offer clues.
What Can We Do with MiniTool MovieMaker?
We can easily trim video or audio without quality loss with the best video trimmer.
We can split video as well as audio into different parts while preserving the quality.
We can combine videos into one to make an outstanding video with the free video trimmer app.
We can edit video (before trimming or after trimming), including change the brightness, contrast, etc.
We can add animated title, caption and end credits to video to complete our story.
We can save video into different video formats after trimming, such as MP4, WAV, AVI, MP3, etc.
We can change video resolution as well as change video format easily.
We can extract audio from video.
Related article: if you want to extract audio from YouTube, you can find answers from this post: Download Audio from YouTube Free.
Main Features of MiniTool MovieMaker
It is a free and no ads video trimmer no watermark.
It offers a simple and straightforward interface. Even beginners can easily master this free video trimmer.
It lets you trim video while keeping the original video quality.
It provides some movie templates to help you create a cool movie in one minute. You only need to select a template, import your pictures or videos, and finally share your movie with friends.
It supports importing various video formats like MP4, AVI, WMV, MOV, FLC, etc.
It offers stunning video transitions, video effects, and animated text effects and some other basic features to let you make a video from pictures and videos.
It is compatible with Windows 7, 8 and 10.
How to Use the Best Video Trimmer App?
Next, let's see how to trim video while keeping the original video quality with the best free tool.
Step 1. Download and launch MiniTool MovieMaker.
Install this free video trimmer app on your PC.
Launch it and click the Full-Feature Mode in the movie templates interface to enter into its main window.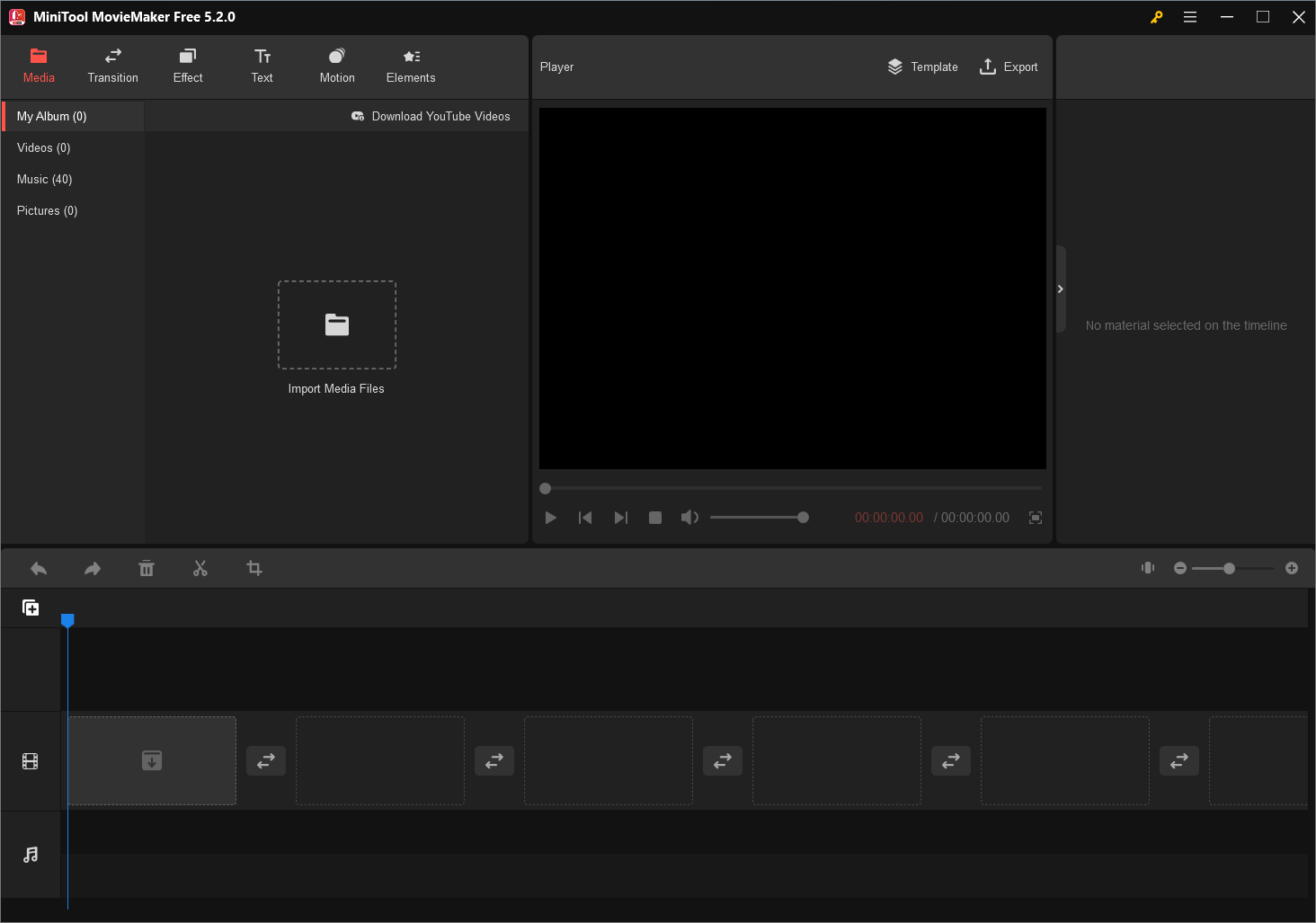 You can see this free video trimmer contains 4 parts.
Media Library: lists all your media including video clips, photos, and music files, and displays transitions, effects, as well as animated text effects.
Preview window: shows the videos or pictures in the Timeline.
Toolbar: provides easy access to many editing commands. You can access a variety of tools like split, delete, etc.
Timeline: lets you assemble the media and effects for your video project.
Step 2. Import your files.
Click the Import Media Files button to import files that you want to trim.
Drag and drop this file (or files) to the simple timeline.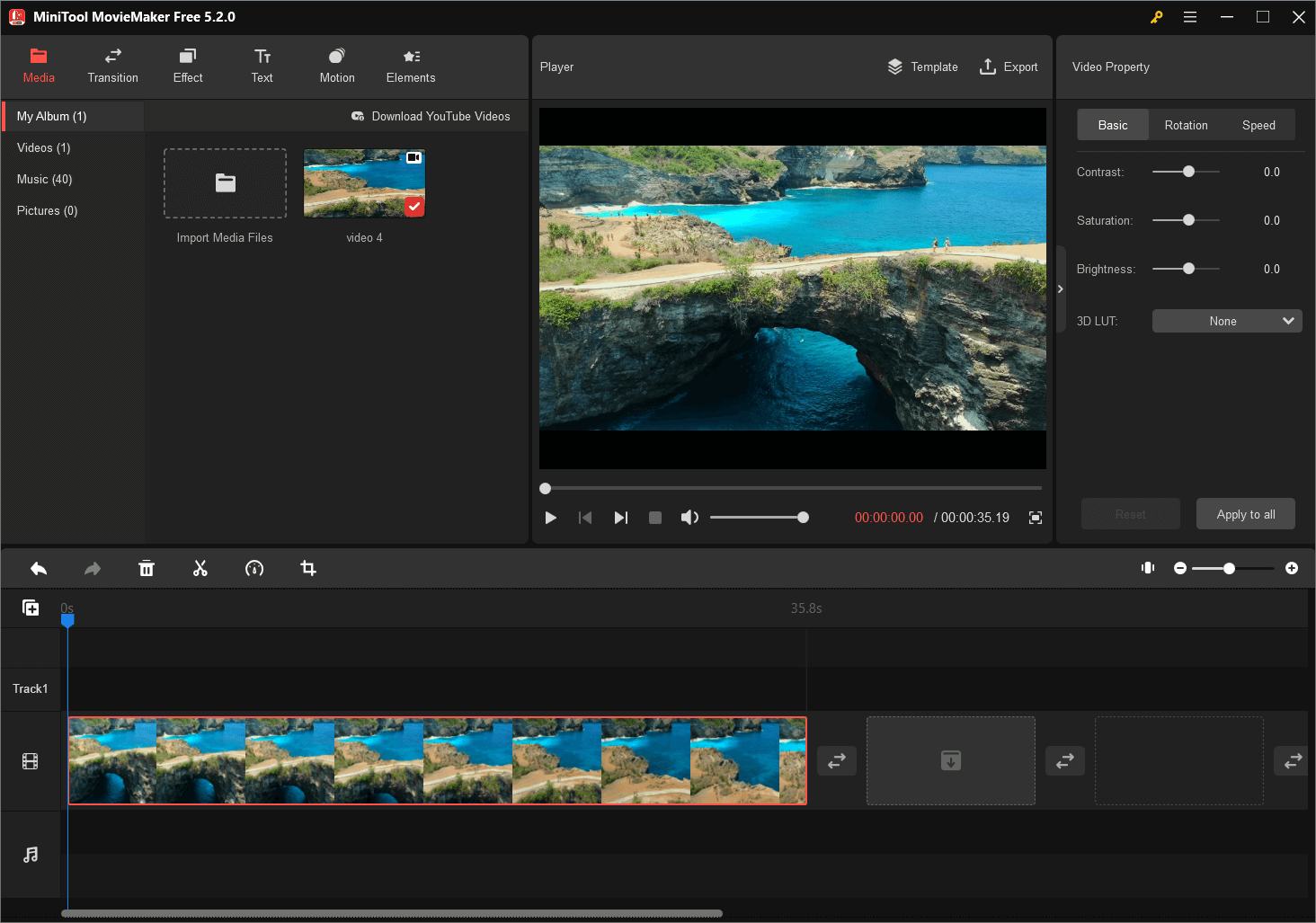 Step 3. Trim video files.
MiniTool MovieMaker offers two ways to trim video.
Quick Trim
Hang your mouse at the edge of the video clip that you want to trim to get the trim icon.
Drag the icon forward or backward to the ending points of the unwanted part to trim it out.

Full Trim
If you want to trim video frame by frame, you can use the full trim.
Select the video in the timeline.
Hang the mouse on the scissor icon on the Toolbar and click Full Split.
In the trim window, move the playhead to the desired place and click the scissor icon behind the Start or End.
Finally, click the OK button to save these changes.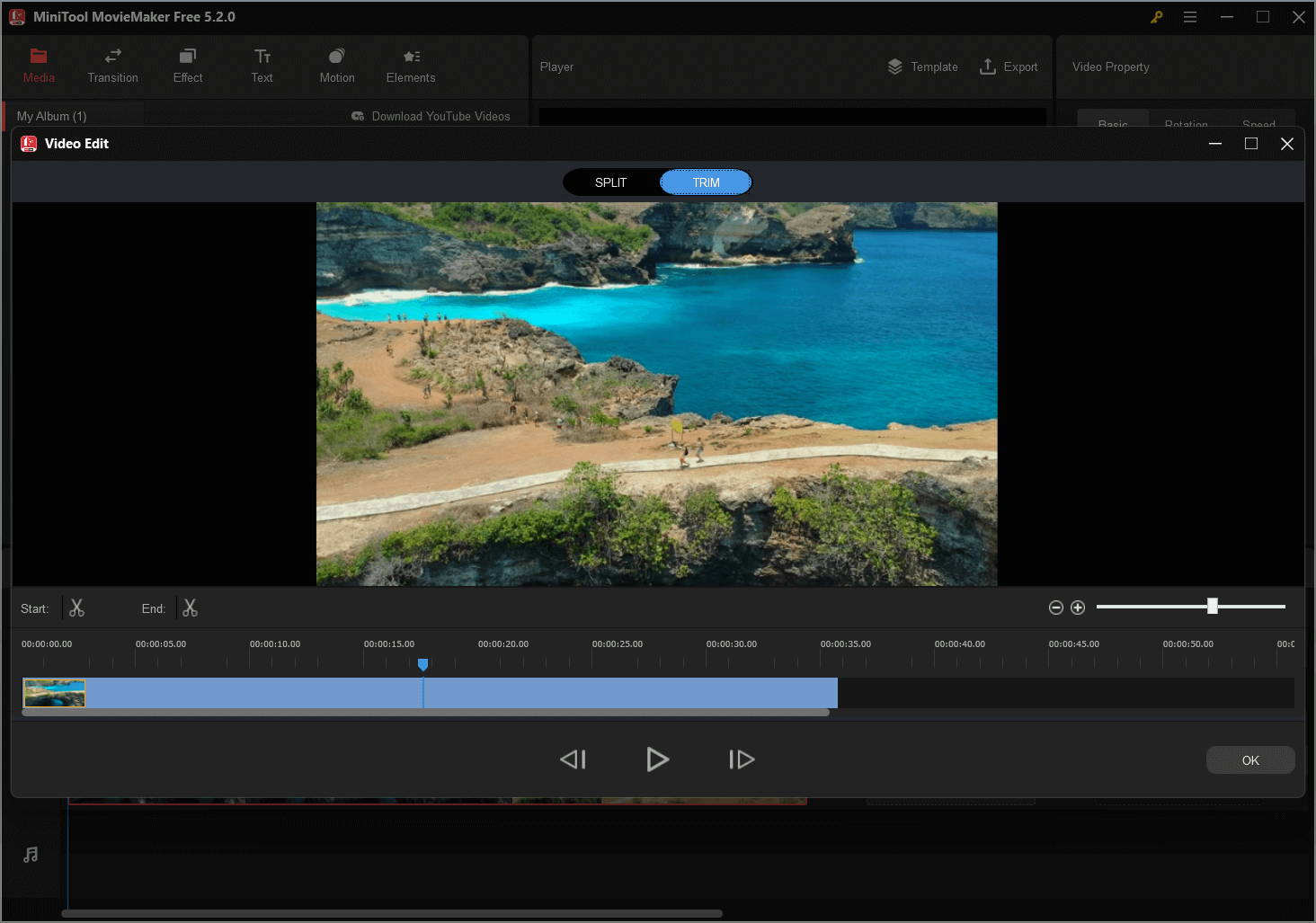 Tip: If you want to remove the middle of your video clips, you can try the Split feature. The basic steps are as follows. 1. Move the playhead forward or backward at the beginning and ending points of the unwanted part. 2. Click the scissor icon to split it. 3. Delete the unwanted part.
Step 4. Save the trimmed video.
After trimming, you can click the Export button to save this video.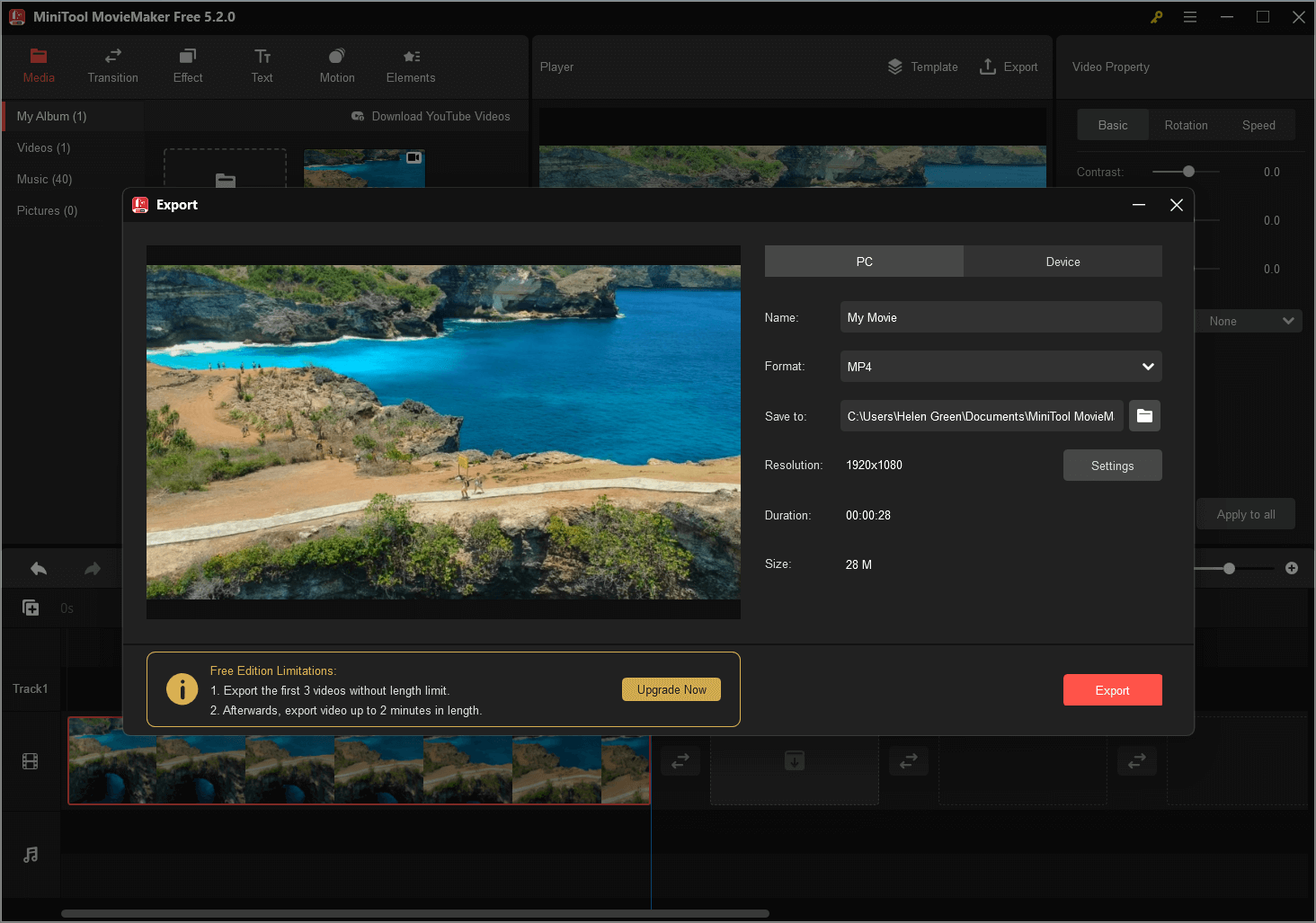 Pros
It is a free, no ads video editing software without watermark.
It offers simple and intuitive interfaces.
It not only can trim video but also can split video to remove the middle part of a video that you don't want.
It lets you edit your video before or after trimming.
Cons
It lacks the ken burn effect.
The best video trimmer – MiniTool MovieMaker – helps you trim video as well as split video easily and for free. Click to Tweet
2. Windows Movie Maker – Microsoft Video Trimmer
Many users might have heard of Windows Movie Maker, a free and simple video editing software developed by Microsoft. This video trimmer app lets you create and edit videos as well as publish them on OneDrive, Facebook, Vimeo, YouTube, and Flickr.
This free tool offers Trim tool to help you easily trim video to delete unwanted parts and keep just the best moment of a video clip in your movie.
Import your video files, and click the Trim
Set the Start point as well as the End point, and click Save trim to save the changes.
Video Watch – How to Split and Trim Video in Windows Movie Maker
Pros
It is a free and simple video editing software.
It lets you trim video and edit video easily.
It can combine videos to create a funny movie.
It can remove audio from video.
It can crop video. 
Cons
Microsoft has ceased to support Windows Movie Maker after January 2017.
Top recommendation: As we know, Windows Movie Maker is no longer available for download. Fortunately, you can go to the following page to download this free and simple Microsoft video editing software.
Microsoft Windows 11/10 has a hidden video editor which provides an easy way to trim video without using a third-party app. You can even have it create videos automatically. However, if you want to create outstanding videos or slideshows like Facebook slideshow, you had better try an advanced photo slideshow maker like MiniTool MovieMaker.
Just follow these steps to trim video on Windows 10/11.
Step 1. Right-click the video file, click Open with and choose Photos.
Step 2. Click Edit & Create on the toolbar, and click Trim option.  
Step 3. Drag the two handles on the playback bar to select the portion of the video you want to keep.
Step 4. Play back the selected section of video. (Optional)
Step 5. Click Save a Copy to save a copy of the trimmed section of the video.
Pros
It offers a simple and user-friendly interface.
It automatically creates albums.
It has good photo browsing and searching features.
Cons
There is No star ratings or before-and-after view.
It doesn't support panorama stitching or selective focus.
It only supports Windows 10.
4. YouTube Video Editor – Online Video Trimmer
How to trim video online? How to trim YouTube video? How to cut video online free?
YouTube video trimmer can help trim YouTube video. YouTube video editor is recommended here. Now, try the following steps to trim YouTube video with online video trimmer.
Sign in to YouTube Studio beta.
Select Videos from the left menu.
Click the title or thumbnail of the video you'd like to edit.
Select Editor from the left menu.
Select Trim to get a blue box in the editor.
Click and drag the sides of the blue box, and stop when the box is covering the portion of the video that you'd like to keep. (Please remember that anything not in the box will be removed from the video).
Click the SAVE button to keep the trimmed video.
Pros
YouTube video trimmer is easy to learn and is free.
Cons
It only has the most basic features.
YouTube video trimmer is fully online. You need to refresh it to see the changes you have made.
YouTube video editor was discontinued in September 2017.
Related article: The Best YouTube Video Editor Alternatives
In addition to YouTube video editor, there are many other online video trimmers. However, most of them more or less contain ads or viruses, and some of them will add watermark to your trimmed video. Therefore, it is recommended to choose a video trimmer without watermark like MiniTool MovieMaker.
5. iMovie – Mac Video Trimmer
iMovie, a free video editing software for Mac, is recommended here. This video trimmer app lets you trim video on Mac easily and quickly. Besides, this tool offers movies and trailers to help you easily create cool movies.
By using this video trimmer app for Mac, you can move the clip's start point or end point to fine-tune the duration of this clip.
Pros
It is a free video trimmer.
It can trim video on Mac easily.
It lets you create Hollywood-style trailers and stunning 4K-resolution movies.
It allows you to start editing on iPhone or iPad, and then finishing on your Mac.
It supports iOS and macOS.
Cons
It cannot edit video in Windows.
Related article: iMovie for Windows
Share 5 best free video trimmer with all of you. Click to Tweet
Final Words
Now, it's your time to trim video to remove some unwanted parts from your video. The above 5 video trimmers can help you easily trim video as well as split video.
Which video trimmer app you want to choose?
If you have any other good video trimmer, please share it with us. Thanks in advance!
Should you have any questions on how to trim video with MiniTool MovieMaker or other video trimmer app, please feel free to contact us. We will solve it as soon as possible.