Automatic video editing is a trend now. An automatic video editor helps users create awesome videos with a few clicks and saves a lot of time during the video editing process. Just know some of the best automatic video editor apps with this guide.
As smartphones and video recording devices become more prevalent, the need for an easy video editor has stimulated people's interest in automatic video editing. For those who lack video editing experience or skills, automatic video editors help them simplify the editing process and spend less time.
Part 1: 6 Automatic Video Editors
Below are 6 auto video makers for all levels.
Microsoft – Windows 10's Hidden Auto Video Editor
Magisto – Best Auto Video Editor with Styles/Templates
Wisecut – Best Auto Video Editor with AI & Voice Recognition
Kapwing – Best Auto Video Editor to Remove Silences
Muvee Reveal Encore – A Comprehensive Auto Video Editor for Windows
Clipify – Best Free Auto Video Editor for All Levels
#1. Microsoft Photos
Microsoft Photos is the hidden video editor that's built into Windows 10. Also, it's the best free automatic video editor for Windows 10.
You can select several video clips or pictures, and then it will automatically create a video with music.
How to use this Windows 10's auto video creator?
Firstly, type "photos" in the search box, then open the Photos app.
Then, click the New Video in the top right corner and then select Automatic video from the drop-down list.

Next, choose two or more items to make this video in the Create new video window.
You can choose from the recently added videos and images, or you can click the Import button to import files from your PC or copy items from a connected device like a phone or camera.
After choosing your items, click the Create button at the top. Then name this video and click OK. The Photo app will produce your video quickly.
Now, you can click the Play button to view this video. If you don't like the style of video or the background music, you can click the blue circle button to change it.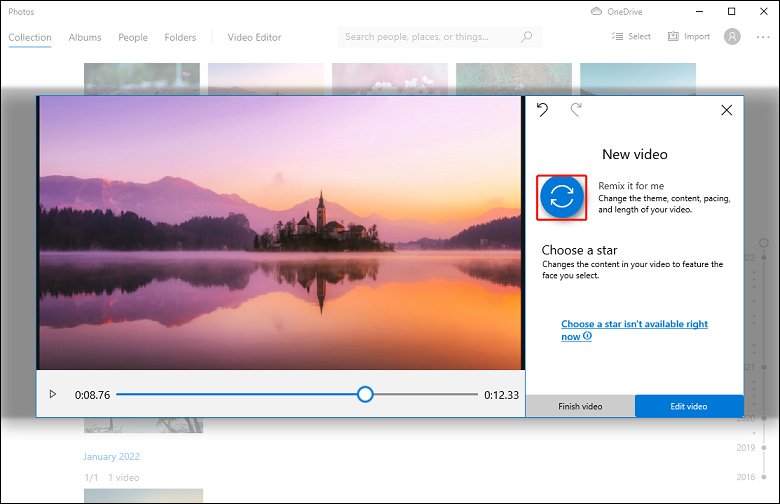 When you're happy with the result, click the Finish video button, then choose video quality (High 1080p, Medium 720p, and Low 540p), and click Export.
When the Save As window appears, choose a folder and click the Export.
It's simple and quick to create a video using the Photos app, right? Before exporting the video, you can continue to edit this video. You can change the clip's duration, add text to the video, apply a filter, change the clip's speed, and more.
Clipchamp will be preinstalled on Windows 11 devices? Check this post Clipchamp – New Video Editor to Be Installed on Windows 11 PCs to get more information.
#2. Magisto
Powered by artificial intelligence, Magisto is a simple online auto video editor designed for automated video editing and production. And it also has mobile apps for Android and iOS devices.
With the Magisto web application, you can choose photos and videos from your computer or Google Photos, or you can use the stock clips and images.
Then, select aspect ratio and duration. Next, choose a video style. And finally, choose music for the video. Then the artificial intelligence engine begins analyzing your footage from 3 aspects, visual analysis, audio analysis, and storytelling.
Magisto can check the camera motion, object detection, and in-frame action of your footage, and if necessary, it will apply automatic stabilization, color correction, and other edits. Then, it will choose the best parts of your footage to create a new video.
After that, you can save this video on your device or continue to edit it. You can add a title sequence or captions to the video, add stickers to the video, and change the music, style, etc. To make automatic video editing easier, Magisto has a variety of video styles and templates, a huge library of music, and 100+ stickers.
You can use Magisto with a free account, but your video will be watermarked. If you choose a paid plan, it produces watermark-free videos. And paid plans start at $9.99 per month now.
#3. Wisecut
Wisecut is also an online auto video editor app. With the help of AI and voice recognition, it edits videos automatically.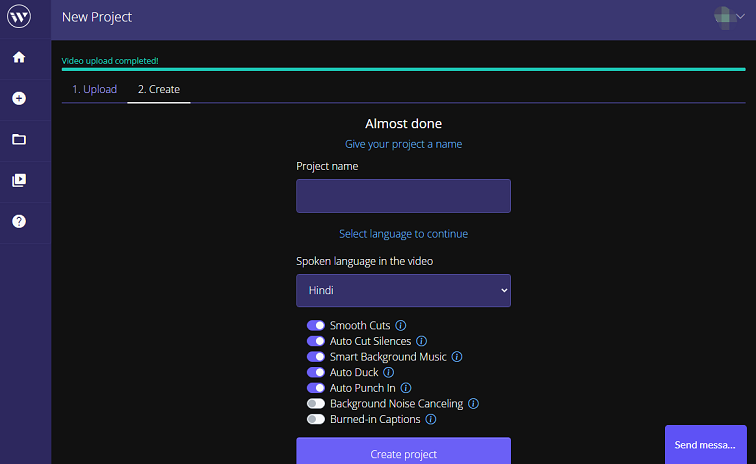 This automatic video maker is simple to use. Just upload your video, choose a style, then pick a soundtrack from the music library. That's it!
Then Wisecut analyses the dialogs in the video. It can automatically remove long pauses and create subtitles. And the subtitles auto-translation supports 9 languages. 
What's more, Wisecut Auto Duck can balance the audio in the video. When someone is speaking, it automatically lowers the background music and increases music volume when there's no speech.
Wisecut offers a free Basic plan with video length limits, file size limits, storage limits, etc. The Professional plan is $57 per month now.
Also read: How to Add Closed Captions and Subtitles to Vimeo Videos
#4. Kapwing
Kapwing is another automatic video editor. It uses the Smart Cut tool to automatically detect silences and remove them from the video simultaneously.
It means that you don't have to check each second of your footage and repeatedly split it to cut out silences or dead space in the video.
The Smart Cut tool from Kapwing delivers a user-friendly interface and requires two clicks to edit this video.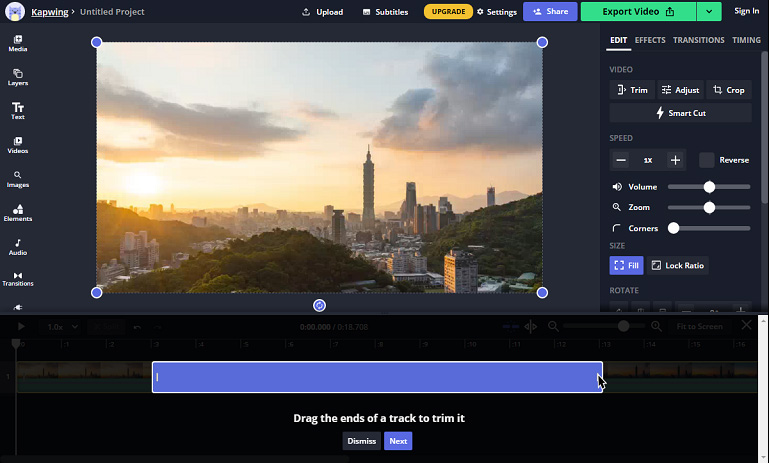 Moreover, Kapwing offers tools to resize, trim, convert, blur, loop, split, rotate videos, edit video speed, create GIFs, edit video color, translate video, and more.
#5. Muvee Reveal Encore
Developed by muvee Technologies, this automatic video maker is also one of the best auto video editing programs for Windows. It can turn your videos and photos into a video with one click after uploading them and choosing a style.
Then this auto video creator automatically zooms, crops, adds music, applies effects and transitions, and makes other edits together. And this software also includes photo enhancement, text animation, music trimming, and more.
Reveal Encore Automatic Video Editor's original price is $79.99, and now it only costs $14.99. And it has a free trial of 15 days.
Do you want to identify the song in a video? Check this post: How to Shazam a Video to Identify the Song from It – Solved.
#6. Clipify
Clipify is a free auto video creator for people of all levels, and it's compatible with Windows 11, 10, 8, and 7.
Clipify provides video templates for many occasions like weddings, birthdays, and Christmas. To start the auto video creation, you should choose a template, then add your videos and a soundtrack, and drag them to the timeline, and Clipify automatically enhances the quality of your footage. Finally, Clipify remixes them into a video.
Another great feature of Clipify is the auto stabilization feature that helps to get rid of a shaky-cam effect. Clipify has 150+ filters and effects to recolor videos and achieves a new look.
This auto video creator has more than 200 royalty-free music tracks of different genres, moods, and tempos. Thus, you're sure to find the perfect music for your video.
More importantly, Clipify has a nifty Chroma Key tool that allows you to change the background of your video. And it offers audio editing tools, cinematic transitions, speed adjustments, and more.
Also read: A Step-by-Step Guide on How to Use Green Screen on CapCut
Part 2: A Free Video Editor for Beginners
MiniTool MovieMaker is a free video and simple video editor for beginners. It has a user-friendly and well-organized interface. You can learn how to use it in a short time.
MiniTool MovieMakerClick to Download100%Clean & Safe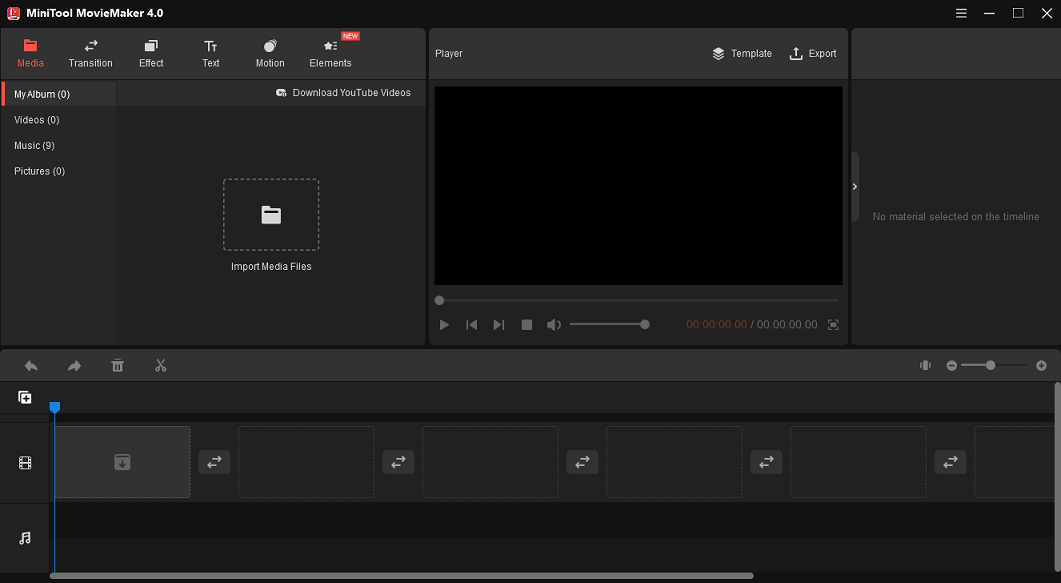 With MiniTool MovieMaker, you can easily merge your video clips and images with music into a video. And you can customize it as you like. MiniTool MovieMaker enables you to trim, split, rotate videos, add music to videos, and more.
Besides, MiniTool MovieMaker has several video templates. You can choose a template and then upload your videos and pictures, and you're allowed to replace music in the video template. It's a quick way to create a video with a template.
Moreover, MiniTool MovieMaker can function as a GIF editor. It allows you to make an animated GIF from your favorite video and convert a GIF into a video file. And it also lets you trim, split, rotate GIFs, and more.
Benefits of MiniTool MovieMaker:
Rotate video at any degree and split video precisely.
Nearly 100 transitions of 3 modes to make your video clips smoothly.
47 filters of several types to give your video a new look.
Add text to your video to make it easy to understand.
30+ pan and zoom effects to give motion to still images.
30+ animated stickers to create funny videos
The capability to edit audio in the video (fade in, fade out, volume control).
Support of 12 media formats for output (including GIF and MP3).
Tyr these online video editors to edit and enhance your videos without downloading any software. 
Part 3: 3 Auto Subtitle Generators for Videos
It might be tedious to manually add subtitles to your video recordings. It could be easier to use an automatic subtitle generator. You may have already used YouTube or Facebook automatic caption feature, and this post introduces other 3 auto subtitle generators.
#VEED.io
VEED.io is an online auto subtitle generator. After you upload a video, it can automatically add subtitles to the video by transcription. And it supports multiple languages. And then you can edit the subtitle text style, size, and font. And you can save the subtitles as a separate file.
Also, VEED.io helps you manually add subtitles or upload a subtitles file for your video.
Also read: How to Download Subscene Subtitles & Top 5 Subscene Alternatives
#Flixier
Flixier also adds auto subtitles to video online. Like VEED.io, Flixier can make subtitles manually or upload subtitle files (SRT, VTT, ASS, SSA, TXT).
#Amara
Amara is a professional subtitle editor to create video captions, subtitles, and text translations. And it helps you sync the subtitles with videos. Amara supports more than 50 languages.
Conclusion
That's all about the 6 automatic video editors. They offer automation for some tasks, and most of them are easy to use, while others are a little complex but with extra creative tools. And they make the video editing process simple and quick.
Alternatively, you can try MiniTool MovieMaker to create amazing videos with great ease. And if you have any problems with MiniTool MovieMaker, you can contact us via [email protected].