Wondershare Filmora is a well-known video editor in the world. Although it provides a wide range of features to creators, it has an obvious downside - it isn't free. Therefore, this post will introduce several free alternatives to Wondershare Filmora, such as MiniTool MovieMaker.
Wondershare Filmora is a professional and powerful video editor. Is Filmora free? The answer is negative. Therefore, many video creators are looking for a video editor like Filmora9 for free. Fortunately, the following will discuss the top 10 best free alternatives to Filmora. Before that, let's have an overall look at Wondershare Filmora.
About Filmora
What Is Wondershare Filmora
Wondershare Filmora is a great video editor, designed especially for beginners.
Filmora9 is the latest version, available on both Windows and Mac, which simplifies the video editing process and allows you to enhance the colors in a video clip, create split screen and PIP effects, and perform countless other video editing tasks in just a couple of clicks.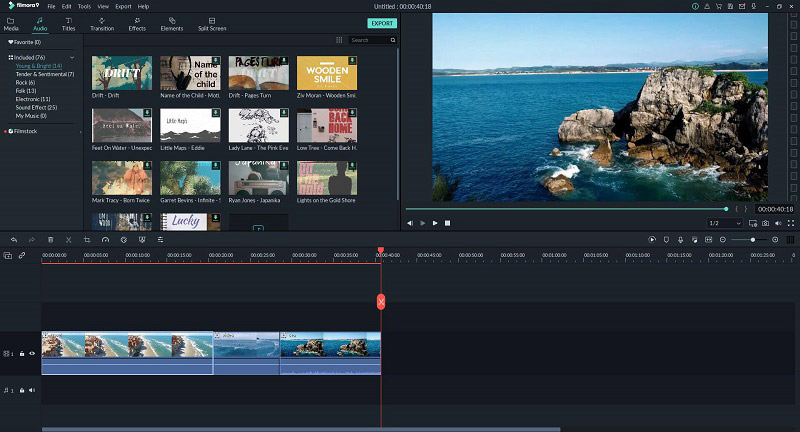 Features:
Wide support for different formats.
Intuitive user interface and powerful video editing features.
A large number of stunning effects and transitions.
Thousands of high-quality free loyalty videos and images.
Upload video to social media directly.
Is Filmora Free
Is Filmora free? No, Filmora only offers a 30-day free trial.
During the free trial, you are completely free to use the full-featured editing tools and built-in effects and templates in Filmora9, but a watermark will appear in the exported video. If you want to remove the watermark from Filmora9, you need to subscribe.
Top 10 Best Free Filmora Alternatives
Is Filmora free? The above has given you the answer. Since Wondershare Filmora only provides you a free trial, I decided to pick up some more equally effective and easy-to-use video editors. You can download and use them for free.
Top 10 Best Free Alternatives to Filmora
MiniTool MovieMaker
VSDC
Blender
Shotcut
OpenShot
Kdenlive
Windows Movie Maker
iMovie
HitFilm Express
Avidemux
1. MiniTool MovieMaker
Compatibility: Windows
MiniTool MovieMaker, designed for Windows users, is the best free Filmora alternative so far. It is a 100% free yet powerful video editor without bundle, ad, virus, and watermark, and it has a simple and intuitive user interface, supporting to import various file formats as follows:
Image: BMP, ICO, JPEG, JPG, PNG, GIF.
Audio: MP3, WAV, FLAC, M4R, M4A, AAC, AMR, APE.
Video: MP4, 3GP, FLV, MKV, MOV, AVI, MPG, VOB, WMV, RMVB.
Besides, it provides you with numerous cool movie templates for video production and impressive advanced features for video editing. Therefore, you can easily create or edit videos without any professional knowledge.
MiniTool MovieMakerClick to Download100%Clean & Safe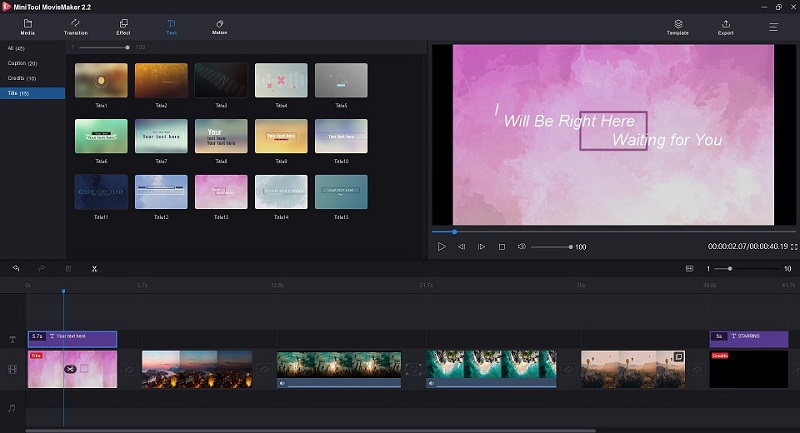 Features:
Easily make movies or videos with cool movie templates.
Numerous popular video effects, transitions, and motions.
Add text (titles, captions, and credits) into video.
Quickly split, trim and combine GIF & video & audio clips.
Reverse video & GIF.
Speed up or slow down GIF & video.
Change video resolution to reduce file size.
Extract audio from popular video formats.
Reduce GIF size by trimming.
Support conversions between commonly used file formats.
2. VSDC
Compatibility: Windows
VSDC is a free and user-friendly video editor designed for Windows. The program is a free Filmora alternative built on non-linear editing and supports all popular video and audio formats. More importantly, it won't leave any watermark on edited videos, and you will be impressed with the quality of edited videos.
With it, you can create video projects from a combination of video clips, audio files, or still photos with Full HD resolution. It enables you to cut, merge video files, apply visual and audio effects, add audio, use multi-color Chroma Key, and advanced parameter settings to make your video looks professional.
Features:
All the popular video/audio formats and codecs supported.
Powerful Chroma Key tool to make professional videos.
A large set of trendy sound effects and video effects, filters, as well as transitions.
Essential tools like cut, zoom, color correction, etc.
Extract audio tracks of the video project or export individual images.
Lowest system requirements.
3. Blender
Compatibility: Windows, Mac, Linux
Blender is a free and open-source program. Video editing is only a small fraction of what it can do. It is actually a professional-grade 3D creation suite, which is usually used as an alternative to Filmora and Adobe After Effects for creating models, animations, and various visualizations.
However, its video editing features are powerful enough to enable you to perform basic editing tasks, like splice, cut, add track/captions, and apply filters. The video editor also allows you to perform more complex tasks, such as video masking.
Features:
Cut and trim videos.
Add keyframes to a video clip.
3D modeling, animation, motion tracking, and much more.
Audio mixing, syncing, scrubbing, and waveform visualization.
Up to 32 slots for adding video, audio, images, and effects.
Speed control, adjustment layers, transitions, filters, and more.
4. Shotcut
Compatibility: Windows, Mac, Linux
Another excellent Filmora alternative is Shotcut. Like Blender, it is a free, open source, cross-platform video editor. When considering the video-editing features, it offers almost everything that you would ever need.
This video editor supports hundreds of different audio and video formats and boasts a great collection of tutorial videos. There are two most striking features – 4K HD resolution support and its timeline editing.
Features:
Support popular video/audio/image file formats.
Add unlimited video and audio tracks.
A collection of video and sound effects.
Support for 4K resolutions.
Create perfect opening titles or end credits.
Resize, scale, trim, snap, rotate, and cut video.
Real-time preview.
Audio mixing across all tracks.
Compositing, image overlays, watermarks.
5. OpenShot
Compatibility: Windows, Mac, Linux
OpenShot is a free, and powerful video editor with an easy-to-use interface. It provides many basic features like unlimited layers and tracks, time-mapping, real-time previews, trimming, snapping, clip resizing, curve-based keyframe animations, etc.
One of its advantages is the various powerful audio-editing tool. Using it, you can not only focus on perfecting your video but audio as well. This open-source tool is an excellent choice for those who only want to perform simple edits without having to waste too much time.
Features:
Support many video/audio/image formats.
Clip resizing, cutting, trimming, snapping, scaling, and rotation.
Render beautiful 3D animated titles and effects.
Reverse, slow down, and speed up video.
Powerful curve-based Key frame animations.
Video transitions with real-time previews.
Compositing, image overlays, watermarks.
Audio mixing and editing.
Visualize audio files as waveforms.
6. Kdenlive
Compatibility: Windows, Mac, Linux
Kdenlive is a good free alternative to Filmora. It is an open-source video editor available for popular platforms and its interface is intuitive and easy to use, and can also be customized according to your needs or habits.
Kdenlive offers a bunch of features such as multi-track video editing, various effects, stunning transitions, and stylish titles. Additionally, it supports all popular video and audio formats. The software is suitable for both beginners and professionals.
Features:
Support all kinds of audio/video formats.
Customizable interface and shortcuts.
Support unlimited video/audio tracks.
Visible audio waveforms.
Create 2D titles for your projects.
Dozens of video transitions, effects, and filters.
Basic video editing functions such as cut and crop.
Automatic backup.
7. Windows Movie Maker
Compatibility: Windows
Without Windows Movie Maker, the list of the best Filmora Alternatives is incomplete. Windows Movie Maker is a free yet professional Windows video editor released by Microsoft and it was officially discontinued on January 10, 2017, but you can still use it to edit your videos.
This free video editor used to be quite popular among video content creators because it grants you access to a huge collection of transitions and visual effects and offers you the option to export videos directly to YouTube, Vimeo, Flickr, or Facebook.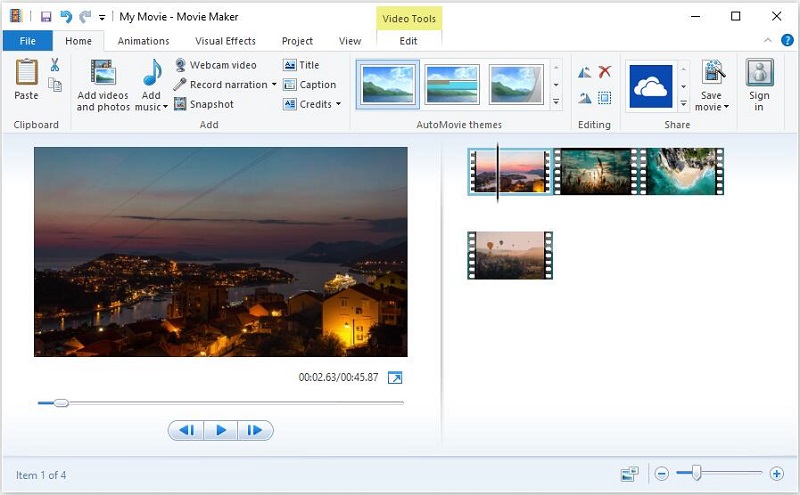 Features
Add music, adjust music volume, fade in & fade out music, and more.
Easily organize photos and videos.
Stabilize video to remove the distracting camera shakes.
Quickly trim, split, and speed up or slow down your movie.
Add effects, transitions and text to videos.
Perform basic audio editing or record a screen.
Post your video or audio files to popular sites like Facebook, YouTube, Vimeo, and more.
8. iMovie
Compatibility: Mac, iOS
As Apple's version of the Windows Movie Maker, iMovie is a free video editing application developed by Apple Inc. for macOS and iOS devices. This video editor is an ideal Filmora alternative when it is used for simple video editing tasks on Apple devices.
iMovie lets you create PIP and split-screen videos, change video playback speed, and create engaging opening titles or end credits. Besides, the royalty-free music, sound effects, or the voiceover recording feature can help you create a perfect soundtrack for each video you edit.
Features:
A large number of creative video filters and stunning transitions.
Add beautifully animated titles and credits.
Create sophisticated picture-in-picture, side-by-side, and green screen effects.
Add built-in sound effects or record your own voiceover.
Make Hollywood-style trailers.
Customize movie studio logos, cast names, etc.
Stabilize shaky videos for a smoother picture.
Share directly to YouTube and Vimeo at up to 4K resolution.
9. HitFilm Express
Compatibility: Windows, Mac
HitFilm Express is a free video editing software, perfect for beginners, film students, YouTubers, or any video content creators with a limited budget. It supports basic editing features like trimming, splicing, slicing, and audio editing, and it offers over 180 special effects.
In addition, this versatile video editor is equipped with a wide range of keying, compositing, color correction, and color grading tools, which can be used to create beautiful visual effects or enhance the color of each clip used in a project.
Features:
Support 2D and 3D effects compositing, as well as 4K and 360-degree videos.
Over 410 effects and presets.
Free video tutorials and projects.
Unlimited tracks and transitions.
Create a video with a superior soundtrack.
Built-in YouTube uploading.
10. Avidemux
Compatibility: Windows, Mac, Linux
The last best Filmora free alternative on the list is Avidemux. It is one of the best free open-source video editing software for beginners. And the software enables you to edit the most popular video file formats.
This simple video editing software provides all the tools needed to quickly complete the video, for example, cut or trim video clips. Besides, you can also use its audio and video effects to make your video look more professional.
Features:
Fade in and fade out shots.
Crop or rotate video.
Add logos to your videos.
Apply blur or sharpen effects to enhance videos.
Adjust contrast, brightness, saturation, or hue values.
Bottom Line
After reading this article, we already know that Filmora is not free to use. If you don't have a budget, you can try any of the 10 best free Filmora alternatives mentioned above.
If you have any other better free video editors to recommend, please let us know via [email protected] or share them in the comments section below.
Is Filmora Free FAQ
Is Filmora9 for free?
No. Filmora only provides a 30-day free trial period. During this period, you can use all editing tools and built-in effects and templates for free, but a watermark will be added to the exported video.
Is Filmora good for video editing?
Yes. Wondershare Filmora is one of the best video editors on the market, with powerful features and affordable cost.
Is Filmora better than iMovie?
Wondershare Filmora is a simple and user-friendly video editor. Many video content creators position this software as an alternative to iMovie and Windows Movie Maker. But iMovie is completely free.
Is Filmora Pro better than Filmora9?
Filmora9 is an intuitive and easy-to-use video editor with a wide range of editing tools and tons of video effects, while FilmoraPro is more powerful with advanced features designed to give you more control over your videos. Filmora9 is relatively cheaper.