How to mix several music tracks into one? Actually, you just need an excellent audio mixer. Here we will provide you with some excellent audio mixing software that is perfect for you. To add background music to video, we recommend MiniTool software.
Music mixing is the process of mixing and merging multiple sounds into one. The ultimate goal is to present audio that appeals to the audience. To achieve this goal, you need a professional music mixing software.
1. Adobe Audition
Compatibility: Windows & Mac
Price: Free Trial & Paid
Adobe Audition is one of the best music mixing software. Its multi-track editing and mixing features can definitely make your audio editing experience easier. It supports most audio formats such as MP3, WAV, AIFF, AAC, FLAC, PCM, OGG, WMA, etc., as well as video formats such as AVI, MP4, MOV, FLV, etc.
Related article: How to Add Audio to Video Free
2. Audacity
Compatibility: Windows & Mac & Linux
Price: Free
Audacity is a free, open-source, feature-rich music software, making it one of the commonly used free music mixing software. And its simple and easy-to-use user interface is suitable for both tech-savvy and beginners. It supports almost all audio file formats, such as MP3, WAV, AIFF, PCM, OGG Vorbis, FLAC, AC3, AMR, WMA, MP4, etc.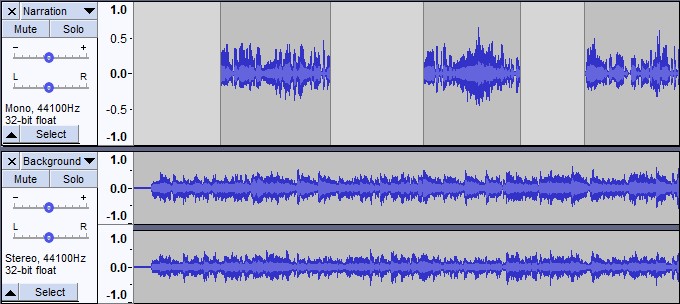 3. Logic Pro X
Compatibility: Mac
Price: Paid
Without Logic Pro X, the list of best music mixing software is incomplete. Logic Pro X is Apple's DAW, compatible with macOS systems. It combines all basic and advanced features, including Flex Time, Flex Pitch, arpeggiator, automatic time matching of different tracks, etc. And it supports multiple audio formats, such as WAV, AIFF, CAF, PCM, ALAC, AAC, MP3, etc.
4. WavePad
Compatibility: Windows & Mac & iOS & Android
Price: Free
WavePad is another full-featured professional yet free music mixing software. It enables you to record audio and edit music, voice as well as other audio recordings with multiple functions. This audio mixing software supports MP3, WAV, VOX, GSM, WMA, AU, AIF, FLAC, OGG, AAC, M4A, MID, AMR, etc.
5. HyaWave
Compatibility: Web-based
Price: Free
HyaWave is an online editor that can be run in your Internet browser. This online music mixer allows you to cut and trim audio, record live audio files using the built-in audio recorder. It also provides 18 filters and effects. This is an ideal choice if you don't want to install large programs on your laptop.
Related post: Top 6 Best Free Music Visualizers
6. Mixxx
Compatibility: Windows & Mac
Price: Free
Mixxx is another open-source music mixing software that you can use freely without additional software integration. Mixx supports MIDI controls, provides a variety of real-time effects, and allows synchronization of the tempo of four music pieces to achieve seamless beat mixing. It supports MP3, M4A, AAC, OGG, FLAC, WAV, and so on.
7. Reaper
Compatibility: Windows & Mac & Linux
Price: Free & Paid
Reaper is another audio mixer software that is very powerful and cheap. It has multiple tracks, real-time, pitch-shifting, and time-shifting features. It supports many popular file formats, including AIFF, AVI, BWF, FLAC, MIDI, MOV, MP3, MPEG, OGG, WAV, WMV, and more. 
Recommend article: Top 8 Unblocked Music Sites to Listen to Music Anywhere
8. Audiotool
Compatibility: Web-based
Price: Free
The last one in this list is Audiotool. It is a free online audio editor with powerful mixing functions. You can use this online audio mixing software to record a 30-second sound clip and use it as a sample, and then mix it with the built-in digital instruments.
Bottom Line
To mix music at ease, you can choose any one of the above-mentioned 8 best music mixing software. If you have any questions or suggestions about it, please let us know via [email protected] or share them in the comments section below.