If you have edited a video before, you will know how much the sound effects will make the video different. This post will show you where to download free sound effects for video production. After downloading, you can use MiniTool MovieMaker to add sound effects to video.
Are you a video creator? If yes, then you are probably often searching for sound effects suitable for your videos. 
Finding free sound effects is hard unless you find the right website. Check out the top 16 free sound effects download websites, some of which offer great search functionalities with filtering, so you can find exactly what you need!
About Sound Effects
What is a sound effect?
A sound effect is an artificially created or enhanced sound, or sound process used to emphasize artistic or other content of films, television shows, live performance, animation, video games, music, or other media.
It is usually synchronized with certain actions, such as the door slamming accompanied by appropriate noise. Sound effects can also be used in the background of the scene to produce expected or other emotions, such as the rustling of leaves, the light footsteps and the whistle in the distance.
Where Can I Get Free Sound Effects
#1. Free Sound Effects
Free Sound Effects ranks first on the list, which contains the best sound effects on the web. It provides both free and paid sound effects to satisfy your needs.
The Free Sound Effects section offers over 10,000 free sound effects available for personal and educational projects, while the Pro Sound Effects section offers more than 100,000 high-quality sound effects that come with a license for commercial use.
#2. SoundBible
Sound Bible is a great website that provides thousands of free sound effects. The site divides its content into free sound effects or royalty free sound effects. You can download free sound effects for video editing without having to log in or create an account.
Some sound effects on Sound Bible are protected by commercial or non-commercial use licenses, so make sure you choose from the Royalty Free Sound section, and its resources are updated once a week.
Recommend post: Top 8 Best Audio Enhancers to Improve Audio Quality
#3. Freesound
Freesound aims to provide users with a new way to find and use the sound effect they need. It has thousands of free sound effects, which are released under the Creative Commons license and can be reused. Besides, you can add your audio samples to contribute to the database.
However, not all sound effects are available for commercial use. Therefore, you need to make sure to check the license type: zero (no license), attribution (credit the author), and attribution-noncommercial (can't be used for commercial purposes).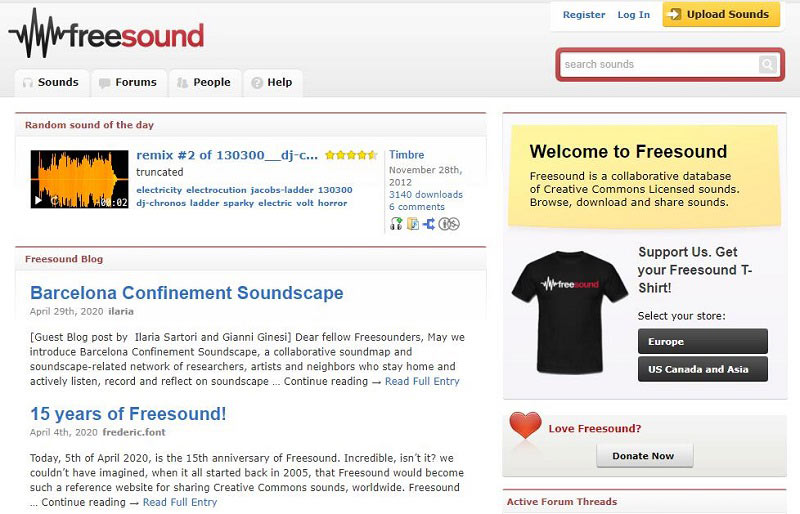 #4. ZapSplat
Zapsplat is one of the best free sound download sites, with 26 different categories, providing more than 50,000 music and sound effects. All of these sounds can be downloaded in the WAV or MP3 file format and used for personal, commercial, and broadcast purposes.
ZapSplat has a growing community where you can upload your own sound effects. Moreover, you can even request new sound effects, meaning that you can customize specific sound effects as needed.
#5. freeSFX
With free sound effects in 25 categories and hundreds of subcategories, freeSFX is a huge library of sound effects initiated by Alan McKinney. It provides more than 4,500 sound effects and 850 different types of music tracks.
The interface of freeSFX is simple and intuitive, making navigation very easy. You can either use the large search bar at the top, click on one of the categories on the left, or use tags to find sound effects. However, you need to create an account to download sound effects.
Related article: 8 Best Audio Recording Software | You Must Have
#6. AudioMicro
Audio Micro is one of the best tools for downloading free sound effects. It provides stock music and sound effects. There are more than 420,000 sound effects, about 2,000 of which are free. At the same time, it provides high-quality audio content for commercial use at a competitive price.
You can see Audio Micro's Free Sound Effects collection from its homepage navigation bar, making your search easier and faster. After registering, you can easily download your favorite sound effects for free.
#7. SoundEffects+
SoundEffects+ provides more than 5000 free sound effects. All the sound effects on the site are designed, recorded, and produced by the professional team of the site. Therefore, these sound effects are royalty-free and available in MP3 and WAV formats.
Like most of these sites, registration is required to download sound effects. Furthermore, although these clips can be used for free in your project, there are some important restrictions in their license agreement.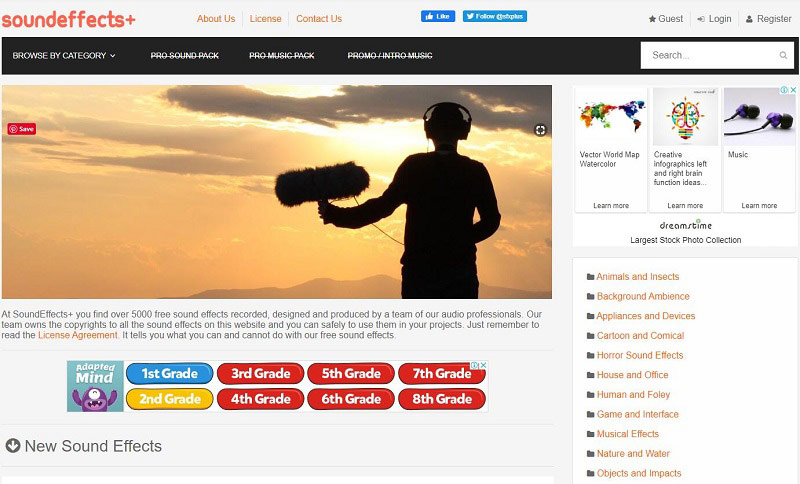 #8. 99 Sounds
99 Sounds aims to provide free sound effects and commercial quality sample libraries. Both musicians and video creators can find high-quality sounds to meet their needs. And all sound effects are 100% royalty-free and can be used for commercial and non-commercial purposes.
Unlike other websites in the list, 99 Sounds does not support searching and downloading individual sounds. You can only download theme collections.
#9. GRSites
GRSites is one of the few websites that allows users to download free sound effects without registration. It has 1,980 sound effects in 30 different categories, and all are provided in WAV or MP3 format.
Any sound effects on this site is a one-time effect that is free, fast, and easy to download, but only for personal purposes. For commercial use, you need to purchase a license for $50. 
You might be interested in: Top 8 Best Music Mixing Software of 2020
#10. Partners In Rhyme
Partners In Rhyme is another website that provides a large collection of free sound effects. It provides thousands of royalty free sound effects at a high quality for musicians, film producers, multimedia producers, etc. And all sound effects are provided in WAV or MP3 format.
Partners In Rhyme has a well-organized catalog of sound effects. All sound effects are classified to help you find the content you need easily. There is also a search bar that allows you to choose to search by keywords.
#11. Sounds Crate
Offering over 10,000 royalty-free music and sound effects, Sounds Crate is a great source of sound for creative and independent filmmakers. You can choose from a variety of sound effects, and easily download and use royalty-free sound clips.
In addition to sound effects, Sounds Crate also provides various graphics and textures for video production. The site also provides a preview option.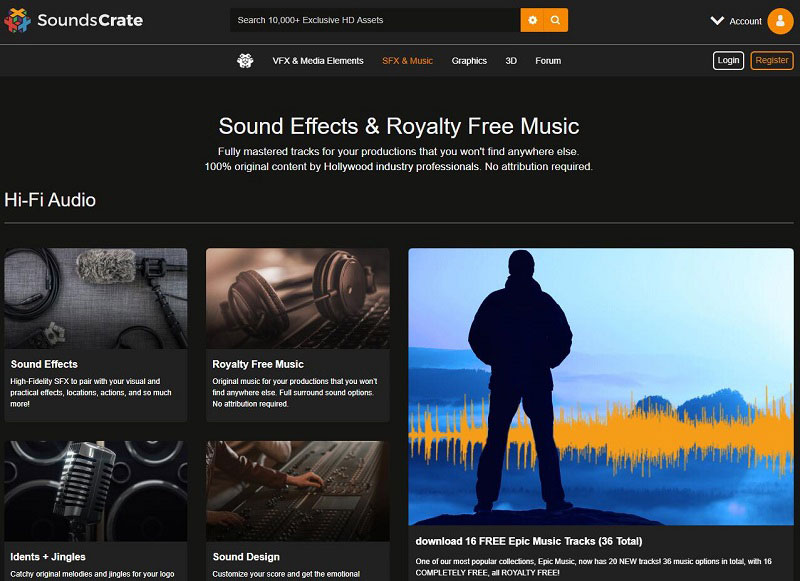 #12. SoundGator
SoundGator is also one of the best sites to download free sound effects for video editing. Although SoundGator's sound effects library is not huge, it is still a good choice. In addition to sound effects, it also includes voice clips.
Similar to Zapsplat, SoundGator comes with some functions of social media sites, including the ability to make friends with other users and send messages back and forth.
#13. PacDV
Since 2001, PacDV has been providing free sound effects for filmmakers, music producers, and multimedia developers, and our sound has been reflected in various movies and videos, TV shows, games, and radio.
Most sound effects on PacDV are provided in WAV and MP3 formats. However, the program does not have a search bar, and the only way to find the sound effect you want is to use the ten categories on the left.
#14. BBC Sound Effects
BBC Sound Effects provides 16,000 sound effects in WAV format, which you can download and use for personal, educational, or research purposes under the RemArc license terms.
If you want to use a certain sound effect in a commercial environment, you need to click the link to open another site called ProSoundEffects, where you can purchase a license for use.
#15. Orange Free Sounds
Orange Free Sounds provides a large number of free sound effects, music loops, background music, ringtones, and so on for commercial and non-commercial use. And the database of this site is updated regularly.
Music producers, video game developers, video producers, and other professionals can browse the catalog of Orange Free Sounds to get the perfect music.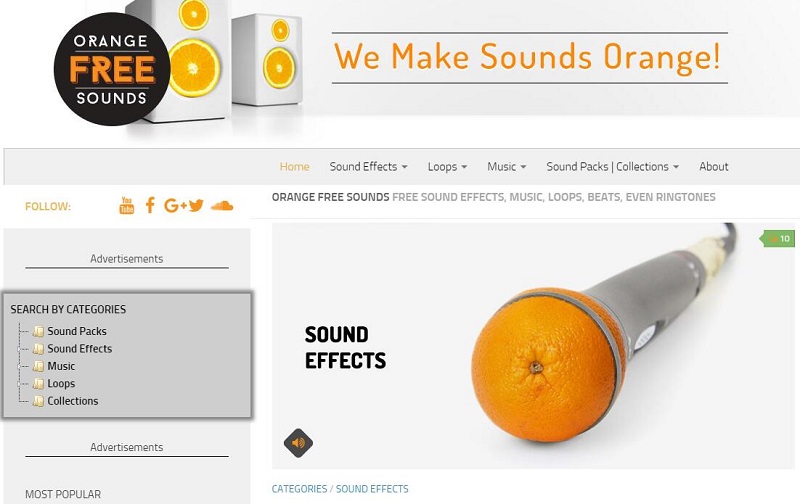 #16. YouTube Audio Library
YouTube Audio Library is an audio library provided by YouTube, including millions of free sound effects and music options. You can quickly find the sound effect by selecting the relevant category or entering the keyword in the search box.
If you just want some YouTube free sound effects for your videos, then you can't miss YouTube Audio Library.
How to Add Sound Effects to Video
To help you add sound effects to your video, we highly recommended an easy-to-use video editor – MiniTool MovieMaker to you. It is a 100% free video editor without watermark, ad, virus, and bundle. What's more, the software comes with several free sound effects.
Now, let's get started to learn how to add sound effects to a video.
Step 1. Free download, install and run MiniTool MovieMaker on your PC.
MiniTool MovieMakerClick to Download100%Clean & Safe
Step 2. Tap on the Full-Feature Mode button or hit the X icon at the upper right to shut down the templates window and enter the main interface.
Step 3. Click the Import Media File button to import the video, and then drag and drop it onto the timeline. After that, you can edit the video, such as trimming, rotation, color correction, etc.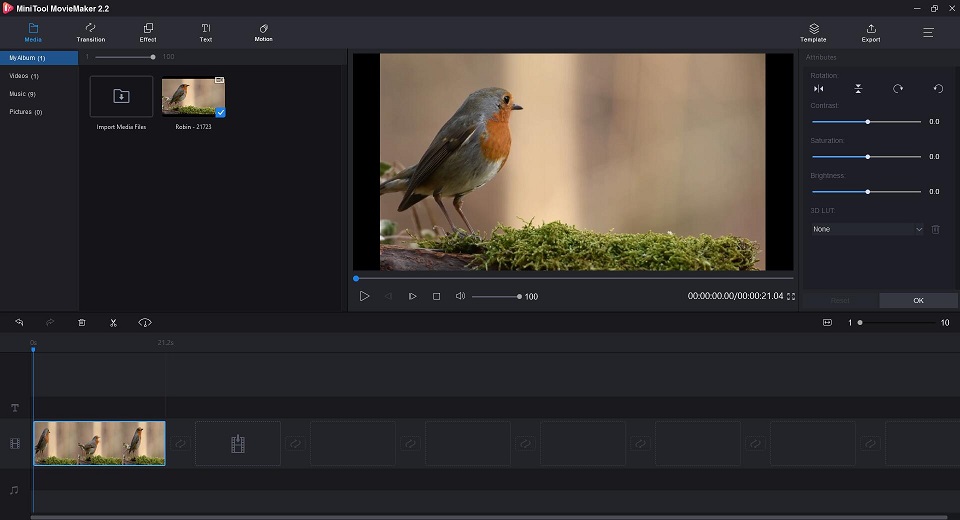 Step 4. Select Music from the left pane to import the audio effect you downloaded and then add it to the audio track. Alternatively, you can select a built-in audio effect and click the + icon on the thumbnail. Now, you can change sound volume or fade in/out.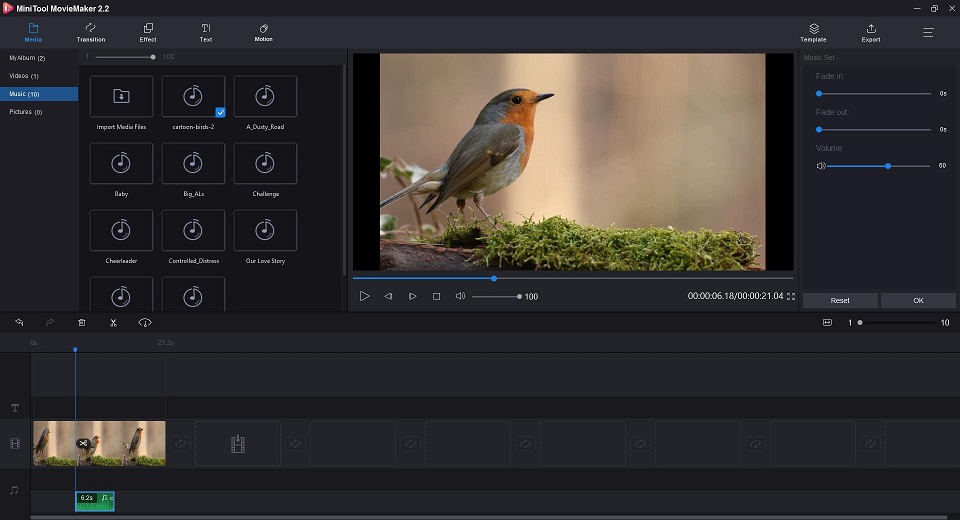 Step 5. Click the Export button to open the export window. Here you can give a name, choose an output format, specify the destination folder as well as changing video resolution for the new video file. Then tap on Export to save it.
Is it pretty easy to add sound effects to video? Actually, MiniTool MovieMaker also comes with many other impressive features as follows:
Make cartoons or music videos with cool movie templates.
Add audio to video.
Extract audio from video.
Add text (titles, captions, and credits) to video.
Split, trim and combine GIF/video/audio.
Reverse GIF/video.
Change GIF/video speed.
Convert popular video and audio file formats, such as 3GP to MP4. 
Bottom Line
Now that you know where to download your free sound effects, it's your turn to download the sound effects that you need and apply them to your project.
Of course, if you have any great hidden free sound effects to recommend, please let us know via [email protected] or share them in the comments section below.
Free Sound Effects FAQ
What are sound effects?
Sound Effects are sounds other than the sounds of human speech or music, widely used to accompany action and supply realism in various forms of media, such as drama, film, television broadcast, radio broadcast, podcast, video game, etc.
Where to download free sound effects?
Many sound effect sites provide free sound effects download services, such as Free Sound Effects, SoundBible, Freesound, ZapSplat, freeSFX, AudioMicro, SoundEffects+, 99 Sounds, GRSites, Partners in Rhyme, Sound Crate, SoundGator, PacDV, and so on.
What are the different types of sound effects?
Common sound effects can be roughly divided into 10 types – Crowd Sound Effects, War Sound Effects, Game Sound Effects, Doorbell Sound Effect, Animal Sound Effects, Cartoon Sound Effects, Movie Sound Effects, Thunder Sound Effect, Vehicle Sound Effects, and Siren Sound Effect.
Can I use sound effects from YouTube?
Log in to your YouTube account and click your profile.
Choose YouTube Studio.
Click Audio library from the left pane.
Select the Sound effects tab and scroll down the page to check the list.
When you find the sound effect you like, click the Download.