HitFilm Express and DaVinci Resolve are both great video editing software programs and have a huge base of loyal users. HitFilm Express vs DaVinci Resolve which is better for you? To help make a better decision, this post will give you some details about the comparison between them. If you want an alternative to them, try MiniTool MovieMaker.
DaVinci Resolve vs HitFilm Express: Both are amazing tools in the video editor category. What are the differences between DaVinci Resolve vs HitFilm Express? Which one suits you best and has the features you need?
To help you to find the difference, this post covers the main difference between HitFilm Express vs DaVinci Resolve in 5 aspects: ease of use, hardware requirements, features, pricing, and support for file formats and resolution. Let's move on and find out!
HitFilm Express vs DaVinci Resolve
HitFilm is a comparatively new video editor created by FXhome. It is often used by experienced YouTubers and independent filmmakers for inventive editing. This software is very famous for its visual effect composition tools.
DaVinci Resolve was created by the developer Blackmagic Design. It is not a new software and has been in the market for quite a while. It originally started as a color correction tool and later evolved into a professional video editor for advanced filmmakers.
Now that we know a bit more about these two programs, let's make a "HitFilm Express vs DaVinci Resolve" comparison to see which is better for you.
HitFilm Express vs DaVinci Resolve- Ease of Use
Well, not all users are professionals for video editing, the comparison of HitFilm Express vs DaVinci Resolve begins with ease of use because we need to take the users editing skills into account.
HitFilm targets casual video editors like vloggers, YouTube users, TikTokers, influencers, and more. It is perfect for beginners. HitFilm Express provides them with many free tutorials and built-in projects to help them learn the program.
Generally speaking, this application is easy to use provided you have mastered the basics of editing.
Davinci Resolve video editor is used by some companies for professional film editing and video post-production. It is designed to meet the demands of professional production. Great for veteran video editors and colorists. Its quality is so high that it is used in the color grades of Hollywood animal films.
But if you need a simple video editing project, many of the powerful systems will eventually just collect dust.
HitFilm Express vs DaVinci Resolve- Hardware Requirements
Let's go on with the comparison of HitFilm Express vs DaVinci Resolve. The hardware requirements are also important factors that make the two different. The following part will give you clear information about that.
DaVinci Resolve is compatible with Windows, Mac, and Linux.
DaVinci Resolve system requirements are as follows:
Windows users will need at least 16 GB of system memory, GPU supporting OpenCL 1.2 or CUDA 11, Integrated GPU with at least 2GB of VRAM.
Mac users can get by with 16 GB of system memory, GPU that supports Metal or OpenCL 1.2, Integrated GPU with at least 2GB of VRAM.
Linux users need CentOS 7.3, 32 GB of system memory, GPU which supports OpenCL 1.2 or CUDA 11, Discrete GPU has at least 2GB of VRAM.
HitFilm Express system requirements are a little more modest. It is available for both Windows and Mac.
Windows users can use the program with at least 4GB of RAM (8 GB is ideal). As for processors, HitFilm recommends a 4th generation Intel Core processor or an AMD equivalent. Mac 10.13 is the minimum recommended requirement for Apple users.
HitFilm Express vs DaVinci Resolve- Features
These differences are not so significant, especially for beginners. Both applications provide you with many features for basic editing. You can import your clips, cut, apply transitions, effects and export them in many different formats.
Davinci Resolve studio has developed more creative coloring tools than HitFilm Express (after all DaVinci started as coloring software). While you can only get some of the advanced tools in HitFilm Express by adding a plugin.
DaVinci offers the features of the paid version that only high-level professionals will need, but the free version of HitFilm is a bit more restrictive.
That is to say, the paid version of DaVinci Resolve allows you to export 8K video, use some of the complex effects, collaborate on projects, automatic mask faces for color correction, or use some of the 3D tools. Unless you're a professional editor, you will find that these are rarely needed.
HitFilm, on the other hand, has removed many commonly used features from the free version. For example, most effect libraries require a fee. The good thing is that you don't need to buy the full version of the app to get one effect. In most cases, you can get the feature or effect you need separately.
Also read: 5 Best 3D Video Makers You Must Know
HitFilm Express vs DaVinci Resolve- Pricing
When it comes to DaVinci Resolve vs HitFilm Express, pricing is an important factor that influences your decision.
As for DaVinci Resolve, you can choose the free or paid DaVinci Resolve version for full features. The price for the paid version is a one-time payment of $ 299. After you pay, the upgrades are permanently free.
HitFilm Express offers modular approach. You can start from the free version, buy HitFilm Pro (priced at $ 299), or add upgrades to HitFilm Express. You can pay a few dollars to add the features you want.
HitFilm Express gives you a pay as you want situation: set the slider to adjust the donation. You can often come back later on and make a real donation.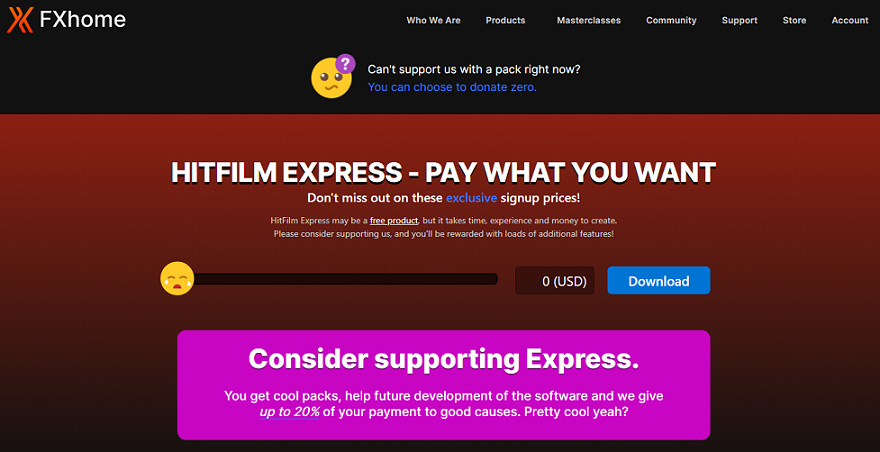 HitFilm Express vs DaVinci Resolve- Support for File Formats and Resolution
Both programs allow you to export and edit 4K videos. If you need a higher resolution for some reason, you will need to pay for the pro version.
DaVinci supports the majority of the most commonly-used file formats in video production like ARI, DPX, MXF, MTS, R3D, AVI, MP4, MOV, and more. The commonly processed image file formats like TIF, PSD, PNG, DNG, JPG, and more. It supports audio file formats including AAC, MP3, AIFF, WAVE, etc.
HitFilm Express video editor supports the video formats like MP4, AVCHD, AVI, M2T, M2TS, MTS, MXF DV, HDV, WMV, and so on. HitFilm Pro also supports OpenEXR, Apple ProRes (Mac), GoPro CineForm (Win). Image formats include BMP, GIF, JPG, PNG, TIFF, and OpenEXR. Audio formats include AAC, MP3, M4A, MPA, WAV, and WMA
When you compare the two, however, you will notice that HitFilm will ask you to upgrade to HitFilm Pro to get what Resolve can accomplish for free.
Related post: How to Change Video Format? Try Top 6 Free Video Converters Today
This post shares the main differences between HitFilm Express and Davinci Resolve. It helps me a lot to make the decision.Click to Tweet
Top 3 Alternatives to HitFilm Express and DaVinci Resolve
The above part has shared the comparison of DaVinci Resolve vs HitFilm Express. They are both powerful video editing tools with advanced video editing features.
If you are a newcomer to video editing, or you want some easier editing tools, you can see the following part. Here are the top 3 HitFilm Express and DaVinci Resolve alternatives.
MiniTool MovieMaker
Compared with HitFilm Express and DaVinci Resolve, MiniTool MovieMaker is a 100% free and simple video editor without ads and watermark for Windows. It is completely friendly for beginners.
It supports the most popular video, audio, and photo formats. Everyone can use it to make videos from images, video clips, and music without any editing experience required.
This free video editor offers many editing tools you need to optimize your videos. You can split, trim, rotate, flip, reverse videos, speed up or speed down videos, add effects, text, and transitions to videos, and so on.
Apart from the video editing features, it also allows you to make slideshows with pictures and music. You can also edit the audio. You can remove and extract audio from video, merge MP3 files, trim audio, and more.
To help you know better about its editing features, let's see how to edit videos with MiniTool MovieMaker.
How to edit video clips with MiniTool MovieMaker
Step 1. Download and install MiniTool MovieMaker on PC.
Step 2. Run the program and close the pop-up window to enter the main interface.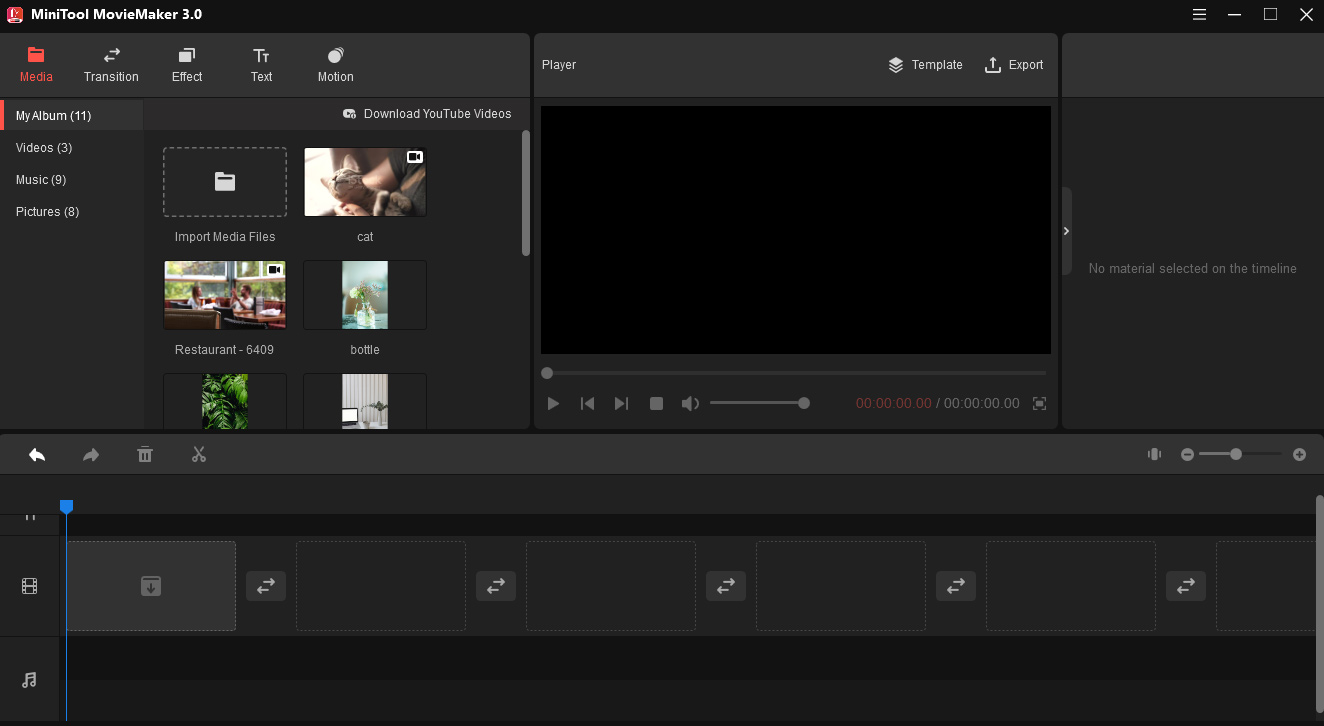 Step 3. Click the Import Media Files button to import the desired files. And then drag and drop them onto the timeline.
Step 4. Split video: Select the video clip on the timeline, drag the playhead to the desired place and click the scissor icon to split, or click the scissor icon toolbar and choose Quick Split.
Step 5. Add transition: Select the clip where you want to add a transition next to it. Go to Transition. Drag and drop the desired transition to the location between two clips. Or right-click the transition, select Apply to All to add the same transition to all clips on the timeline.
Step 6. Add background music: Choose the Music option under Media, and then use the built-in music tracks. Click the "+" icon to add the music to the video, or drag and drop the music to the video on the timeline.
Step 7. Tap on Export to open the export window. After optimization, click Export to save video on PC.
MiniTool MovieMaker is an easy-to-use and powerful video editor. With it, I can finish my editing in just a few steps.Click to Tweet
Shotcut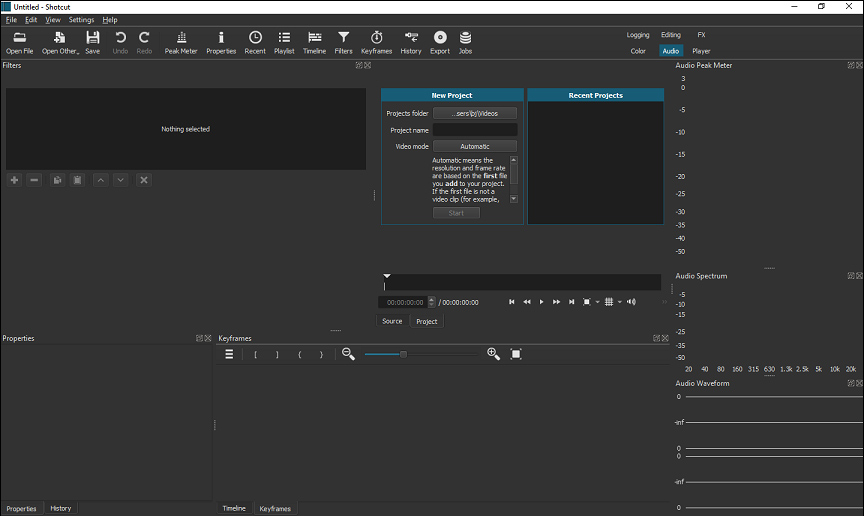 Shotcut is also one of the best HitFilm Express and DaVinci Resolve alternatives. It is a free video editor for Windows, MacOS, and Linux.
It supports many popular audio, video, and image formats, such as MP3, AVCHD, AVI, MP4, MOV, BMP, GIF, JPEG, etc.
When you startup, you can choose many resolutions and framerates, which are set to adjust to the first media file you add to the project automatically. The track editor allows you to add video and audio tracks, and adjust individual volumes and visibility settings.
This software is being constantly updated and it has an amazing community forum and video tutorials to share tips and tricks among the users.
OpenShot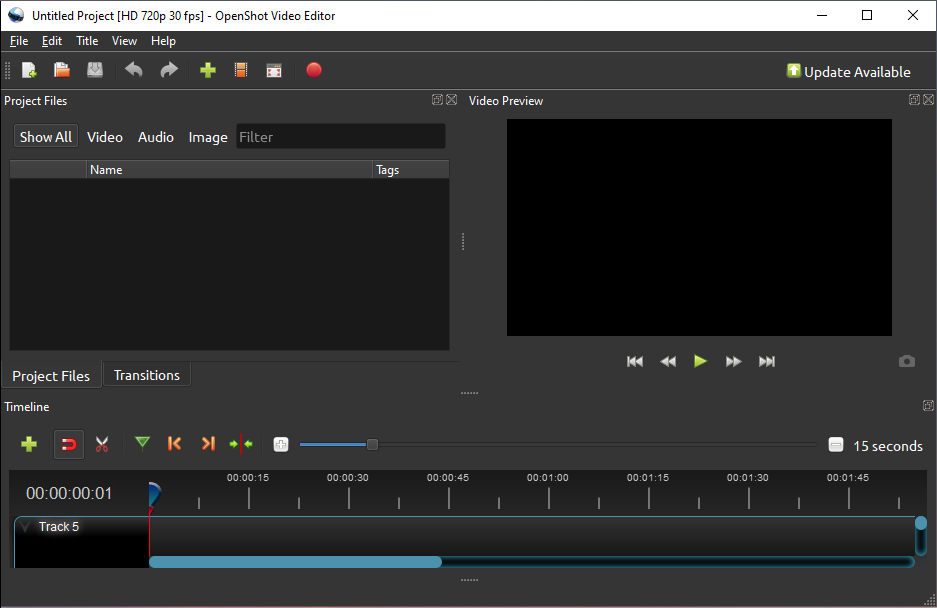 OpenShot is one more great alternative to HitFilm Express and DaVinci Resolve. It is simple to use and easy to learn, while still maintaining some advanced features.
The first thing you notice is the sleek and clean UI. It brings us straight to the Timeline or track editor.
Clips on the timeline can be adjusted in many ways, including scaling, trimming, rotating, snapping, and adjusting XY location. You can also use the transform tool to resize the clips.
More importantly, OpenShot supports over 70 languages and documentation. It is awesome for non-native English speakers.
Conclusion
Based on the above discussion, we've shared main differences of HitFilm Express vs DaVinci Resolve and introduced the top 3 alternatives to HitFilm Express and DaVinci Resolve. What is your favorite one? Feel free to share your ideas in the comments area or contact us via [email protected] if you have any question while using MiniTool MovieMaker.