MiniTool MovieMaker is an easy-to-use video editing software designed for Windows. High-quality and attractive videos can easily be created in minutes. This free movie maker is the best video editing software for beginners and content creators.
MiniTool MovieMakerClick to Download100%Clean & Safe
This program is packed with many basic and advanced video editing tools. Now, let's move on to the next part to have an overview of this free Windows movie maker.
Overview of MiniTool MovieMaker
MiniTool MovieMaker is one of the best free video editing software without bundle, ad, virus, and watermark. With a well-organized and intuitive user interface, it is perfect for beginners to create high-quality videos easily.
On this platform, you can transform your video into a piece of art and gives the video a stunning look. The resources are updated in line with trends to make your video creation shine.
After knowing the basics about this free movie maker software, you may be wondering how to get this amazing tool. Follow the guide below.
Way to Get MiniTool MovieMaker
MiniTool MovieMaker is specially designed for Windows operating system. You can install this free Windows movie maker on Windows 7/8/8.1/10/11.
The installation method is simple and easy, you can follow the below-mentioned steps:
1. Go to MiniTool MovieMaker's official website and click the Free Download You can also click the button below to get this video editing software free download.
MiniTool MovieMakerClick to Download100%Clean & Safe
2. After downloading MiniTool MovieMaker, follow the installation guide to install MiniTool MovieMaker.
3. After installation finished, launch this program.
Video Editing Features
Starting a video editing project is easy if you have software like MiniTool MovieMaker. You can import different media files by dropping and dragging them to the timeline.
Let's take a look at the video editing features of this Windows video editor:
Quickly make an attractive video with templates
Import video, image, and audio in different formats
Merge, split, and trim the target video
Apply stylish transitions, effects, titles, captions, credits, motions, or animated elements into a video
Speed up, slow down, reverse, rotate, flip the video
Adjust contrast, saturation, brightness, or add 3D LUT effects to videos
Fade in/fade out audio or change its volume
Transform video to GIF
Support up to 9 tracks to add text and animated elements
Change video quality, video bitrate, and video resolution
Wide Media Format Support
MiniTool MovieMaker supports different formats of video, image, and audio. After you accomplish editing, you can export the final work in a commonly used video format that is compatible with most media players.
Here is a table of the supported input media formats:
| | |
| --- | --- |
| Media File | Formats |
| Video | MP4, AVI, MOV, WMV, FLV, MKV, TS, 3GP, MPEG, VOB, WEBM, RMVB |
| Image | BMP, ICO, JPEG, JPG, PNG, GIF |
| Audio | MP3, FLAC, M4R, WAV, M4A, AAC, APE, AMR |
As we can see, MiniTool MovieMaker has a wide media format support. No matter which option you choose, you can save video into different video formats, or directly export it to your PCs, or other devices like iPhone, Apple TV, iPad, Smartphone, Nexus, Xboxone, Galaxy note 9, PS4, and Sony TV.
When you are ready to export your result video, you can customize the export settings like renaming the video, selecting the video format, changing the location where the video will be saved, and customizing the video resolution, video quality, and bitrate.
Full Review of MiniTool MovieMaker
MiniTool MovieMaker is the to-go video editor for many users for quite some time now. Therefore, we are going to look at MiniTool MovieMaker in detail in this section.
Media Library
The Media library is a big part of organizing your assets. At this point, all the imported media, including videos, photos, and music files are stored in My Album. You can also find the media files in Videos, Music, and Pictures.
To make your work much easier, this best free video editing software comes with updated built-in soundtracks. You can choose to set the inbuilt music or your local audio files as the video background music.
Interface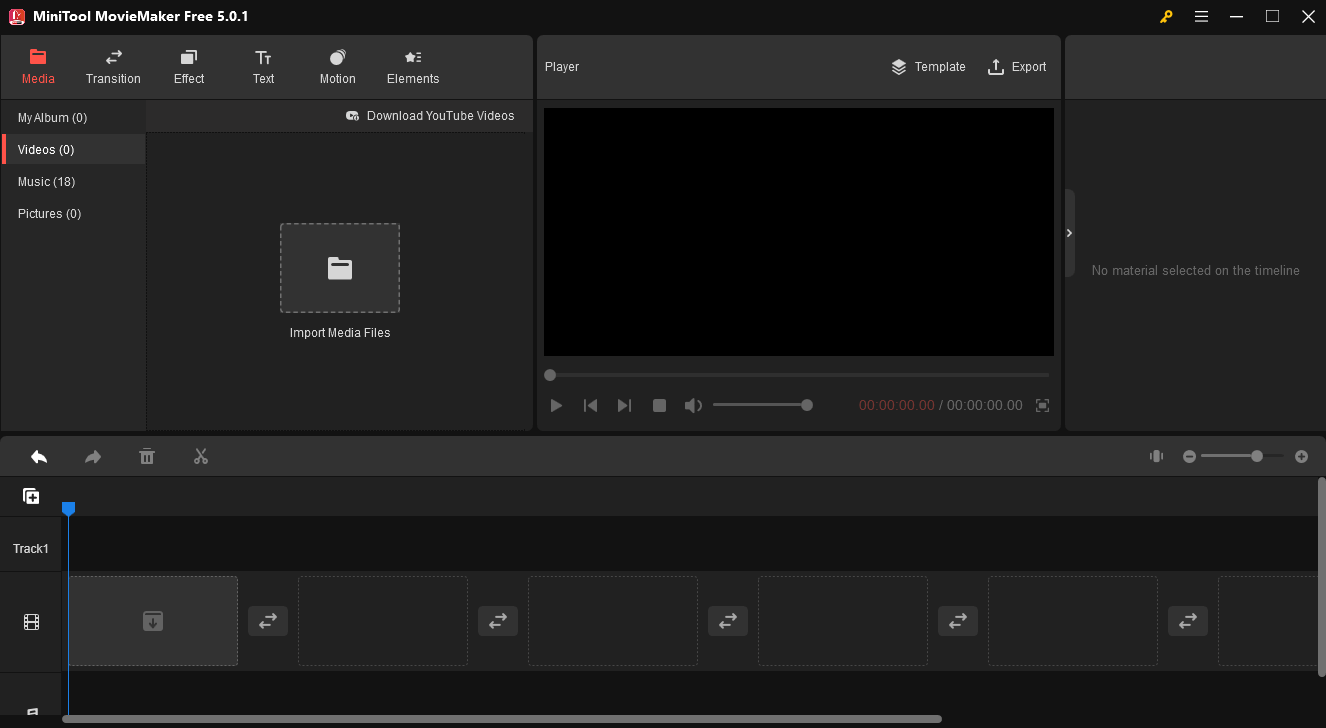 When it comes to interface, MiniTool MobieMaker is a very user-friendly video editor. It has a clean interface that can easily be understood even the very first time. A neat interface touch enables you to scrub through any clip in the Media view simply by hovering the cursor on it.
The standard three-pane video-editing interface shows up on MiniTool MovieMaker, with source content at the top left, a preview window top right, and the timeline spanning the bottom of the screen. All tools are distinguished to make the interface straightforward.
Transitions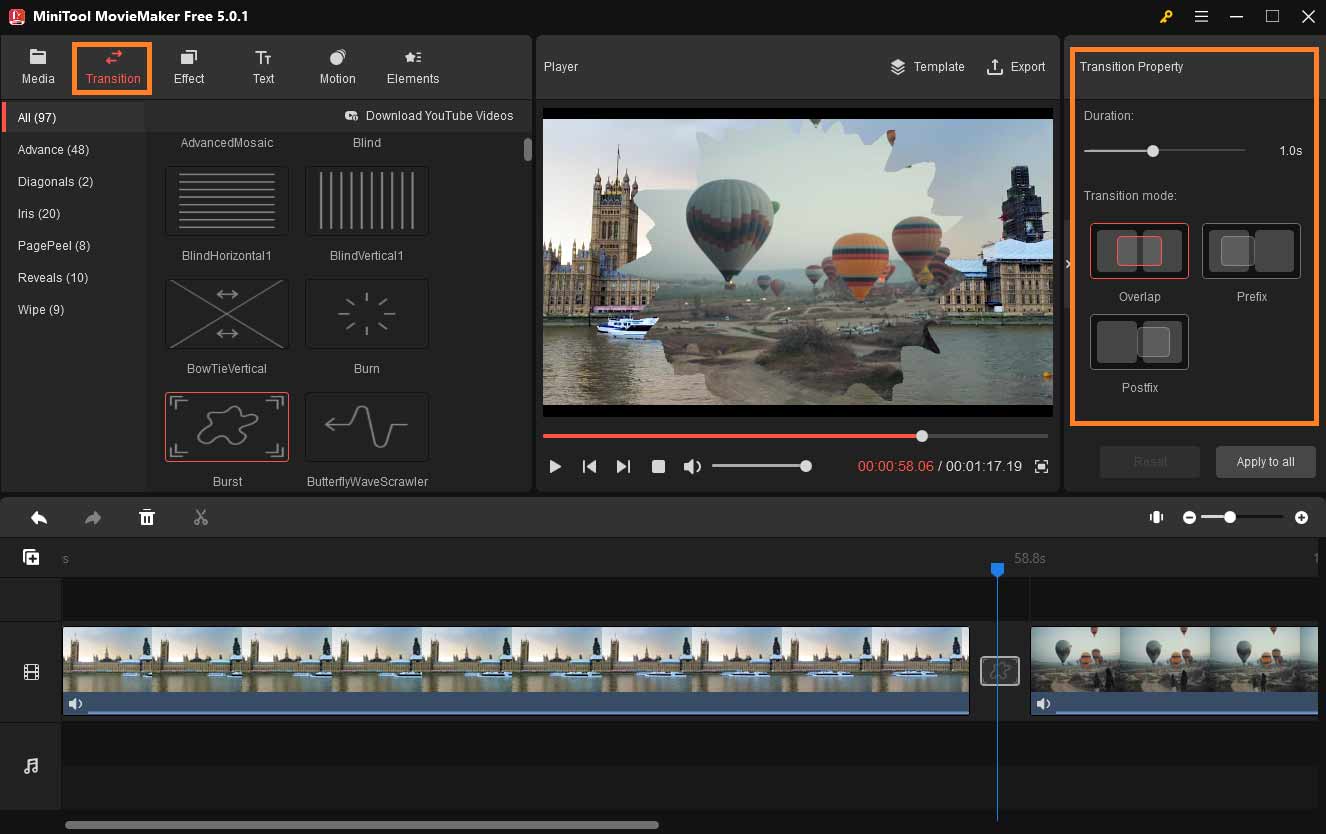 To make the video clips go seamless, you add transitions simply by dragging one of the 90+ good-looking options between two clips. It handles any required overlapping automatically. All you need to do is click the Transition tab to find the desired option and drag and drop it between two clips. You can change the duration and Transition mode.
Effects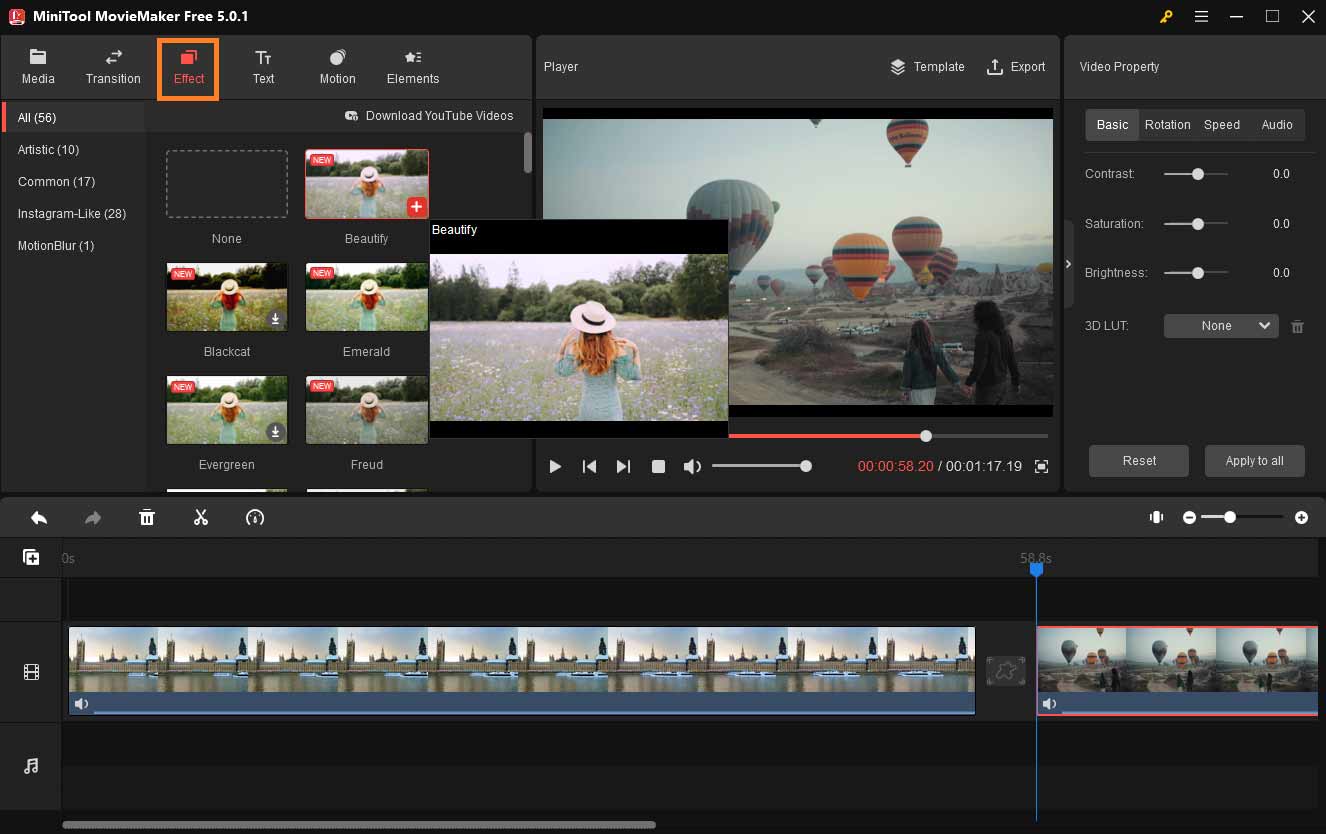 50+ updated filters deliver a range of looks, from Artistic to Instagram-Like. You can hover over them to see them applied to the clip in the preview window. Among these effects, there are color correction tools such as contrast, saturation, and brightness adjustment. You can also apply 3D LUT effects to your videos.
Applying an eye-catchy effect to your video with MiniTool MovieMaker is a simple job. Just go to the Effect tab and find the one you like, then drag and drop it to the target video clip.
Text
Titling and adding text in MiniTool MovieMaker are nicely done. You can add captions, credits, and titles to the video easily. Many of the title options animate, and there is no problem with changing font, size, color, opacity, and alignment.
To add text to your videos, just head to the Text tab. After choosing from a selection of well-designed text styles you can enter text and edit it right in the preview window.
Motion
Motion, aka Pan & Zoom or Ken Burns effect, is a type of panning and zooming effect used in video post-production to make the video look more dynamic. MiniTool MovieMaker provides more than 30 motion options for you to choose from, such as Pan down, Pan up, Zoom in left, Zoom in right, Zoom out center, etc.
To apply the motion effect to the video, just click Motion to the motion library. Tap on the + icon or drag and drop the wanted one to the target clip on the timeline.
Elements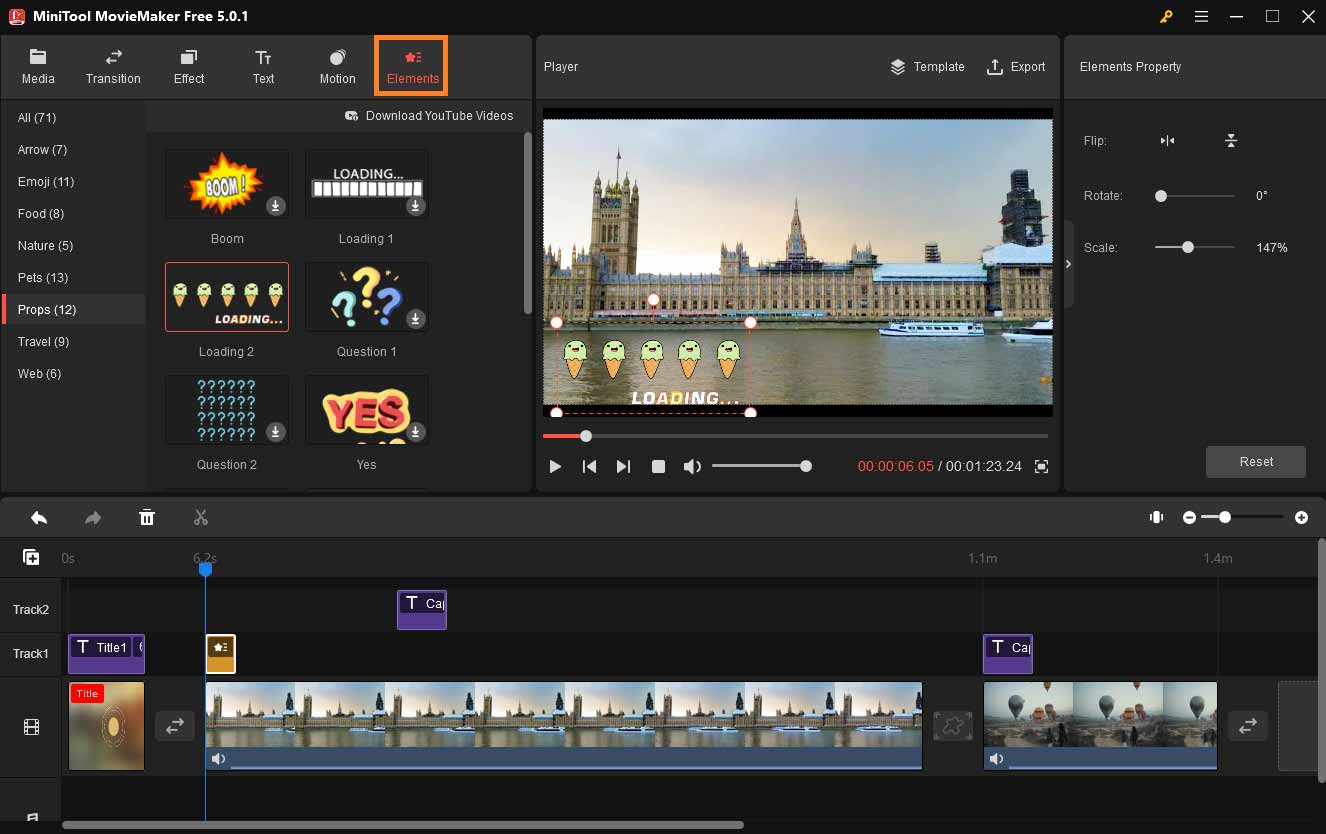 Cartoon animated elements are fun animated graphics to enhance your videos. MiniTool MovieMaker offers 70 + different types of cartoon animated elements such as the arrow, emoji, nature, pets, travel, and the web to decorate your videos.
To add an animated element to the video, just navigate to Element to access the element library and download the updated element source. After choosing the desired element for the video, you can make changes to this element by flipping, rotating, change the position and size in the video.
System Requirements
MiniTool MovieMaker's recommended systems requirements are mentioned below for users who want to know more about this handy tool:
| | |
| --- | --- |
| OS | Windows 7, Windows 8, Windows 8.1, Windows 10, Windows 11 |
| CPU | Intel i5 or better, 2GHz+ (Intel 6th Gen or newer recommended) |
| RAM | 8 GB RAM |
| Disk | 10 GB free hard-disk space (SSD recommended) |
| GPU | Intel HD Graphics 5000 or later; NVIDIA GeForce GTX 700 or later; AMD Radeon R5 or later |
How To Import Videos, Images, Music to MiniTool MovieMaker?
After knowing about this creative free Windows movie maker and downloading it, it is high time to use it to make an attractive video. To apply magic to your video footage, the first thing you need to do is to upload the media files to MiniTool MovieMaker.
To make a stunning video, you can import video clips, images, and audio files to MiniTool MovieMaker to get things done. Here we will show you how to import the three types of media files to this platform.
How to Import Videos and Images to MiniTool MovieMaker?
In this part, we will show you how to import video and image files to MiniTool MovieMaker.
Step 1. Launch the MiniTool editing software.
MiniTool MovieMakerClick to Download100%Clean & Safe
Download MiniTool MovieMaker by clicking the button above and installing it on your computer. Launch the program and enter the main interface.
Step 2. Import the video footage into the program.
When you enter the main user interface, click Import Media Files, and find the video clips and images you want to edit. Choose them and tap on Open to import the media files. And then drag and drop them onto the timeline.
Then, you can make changes to the footage on this platform as you like.
How to Import Music to MiniTool MovieMaker?
MiniTool MovieMaker offers updated inbuilt soundtracks for users to set as the video background. If you want to add your own music to this program, the process is very simple. Follow the steps below to import local audio files to MiniTool MovieMaker:
Step 1. Launch MiniTool MovieMaker.
When you launch this program, then enter the main interface as we mentioned above.
Step 2. Upload music files to MiniTool MovieMaker.
On the main interface, find the Media tab and tap on Import Media Files. Locate the music files you want to add, choose them, and click Open to upload to MiniTool MovieMaker.
After that, your music can be found on My Album or the Music part. Then you can set the music as your video background. MiniTool MovieMaker also allows you to make an adjustment on the music like fade in/out or change the volume of the music.
Final Verdict of MiniTool MovieMaker
MiniTool MovieMaker is an easy-to-use yet powerful tool. It is the best video editing software for beginners, which means it comes with all the standard tools that users need to merge a video, add music, apply effects, and edit the finished work before exporting it to the local device or sharing it on social media.
It is a kind of video editor that is never going to disappoint you, regardless of your editing skills. It suits the needs of both beginners and novice users and has proven to be very efficient in creating high-quality videos and slideshows.
Conclusion
After reading this full review of the free Windows movie maker – MiniTool MovieMaker, you can try this handy tool to make attractive videos and explore more creative features.
If you have any questions or encounter any problems while using MiniTool MovieMaker, do not forget to leave a comment below or directly send us emails via [email protected]. We will solve it as soon as possible.