You must have been confused about how to choose the best video format to upload or export video when enjoying on social media platforms. Fortunately, this article will focus on the topic of the best video format to get you across this question. Want to export videos in various video formats? MiniTool MovieMaker can make it.
When it comes to video file formats, it alludes to types of file formats that can store digital data on the computer, and different video formats mean different ability to contain data and compatibility with software. You need to know that most videos have been compressed when being stored on your computer.
What's more, video file formats consist of two components: containers and codecs. Codecs refer to the ability to compress and decompress your video so that it can store and play successfully, while containers are capable of storing various files, including video, audio, text, etc.
Generally, video formats are the result of the interaction between containers codec, and they are always recognized as file extension, which is the video file name we are familiar with in the below content, like FLV, AVI, MP4, etc. Each video format is designed for a specific use, and we will figure out every video format's use to choose the best video format.
8 Common Video File Formats
Nowadays, there are many kinds of video file formats available on the Internet. But what is the best video format? Maybe it depends on where your videos are. Below are 8 common video file formats we will expound on their compatibility and functions, and you can choose the right video format based on what is your video for.
1. AVI (Audio Video Interleave)
Developed by Microsoft, AVI used to be the top one in the market of video containers. This video format can store audio and video efficiently with high quality, but at the cost of larger size as it had less compression. Furthermore, it can support many operation systems, including Windows and Mac OS.
Pros
Wide compatibility for Windows, Mac, Linux, and most web browsers.
Supports high-quality video and audio.
Supports playing on any media player software.
Cons
A little large to take up much space on the computer.
Compression may bring some losses.
Can't select the aspect ratio.
Related article: 10 Best AVI Players for Windows/Mac/Android/iPhone
2. WMV (Windows Media Video)
Similar to AVI, WMV is also created by Microsoft and its complete name indicates it. And it was designed for streaming to complete with RealVideo format. Moreover, WMV can be embedded in the email. Thus, if you want to send an email with video, WMV is the best video format.
Pros
Has a small video file size.
Supports the Mac system as long as you have downloaded Windows Media Player.
Supports subtitles and metadata.
Supports any streaming site to upload.
Cons
Loss of quality after compression.
Can't select the aspect ratio.
3. MOV (Apple QuickTime Format)
If you are an Apple user, MOV is the best video format for you as it is developed by Apple to store video, audio, text, and effect on QuickTime. And it also supports Windows as long as you install a QuickTime player in it.
Pros
Great video and audio quality.
The ability to store multimedia data with multitrack.
Good compatibility.
Cons
Large video file.
Loses quality when compression.
You may have an interest in: Top 4 MOV Players: How to Play MOV Files on Windows
4. MKV (Matroska Format)
MKV is a popular video format that can run on many platforms. Furthermore, it supports multitrack to contain several languages, audios, subtitles, and uncompressed digital HD videos. If your video is this case, MKV is the best video format for you to edit, make and play high-quality videos.
Pros
Has high video quality.
May play damaged files.
Supports various digital data.
Remains updates all the time.
Cons
Can't run on certain programs and devices.
You may like: How to Edit MKV Files for Free (Step-by-step Guide)
5. MP4 (Moving Pictures Expert Group 4)
As a widely used video file format, MP4 can run on any device, including mobile phones and computers. MP4 can store many media files, not only video and audio but also text and pictures. However, compared with other video formats, MP4 has a lower resolution. Released by Apple, MP4 is the best video format for iPhone users.
Pros
Has good quality.
Universal compatibility.
Fewer losses in quality when compressing it.
Has a relatively small size.
Allows you to mix video with text, 3D layer, and still graphics.
Cons
Related article: Top 7 Best MP4 Editors for Windows and Mac in 2020 – Review
6. AVCHD
AVCHD is the best video format for recording video and digital cameras since it is developed by Sony and Panasonic for their own products. Compressed by h.264/MPEG-4 technology, AVCHD supports high-definition stores with less quality loss, using little data.
Pros
Supports high-definition video and even 3D movies.
Supports Blu-ray format and memory cards.
An ideal format for professional video-making.
Cons
Its video file is too big.
Its compatibility is limited.
7. FLV (Flash Video Format)
FLV is designed for Adobe Flash Video Player that was supported by most web browsers and video streaming websites. And it has a small size not to occupy too much space. Thus, if you want to upload your video to YouTube, etc. social media, FLV is the best video format to stream your video to easily store. Pitifully, it can't support most operating systems to play directly.
Pros
Supports most web pages and websites.
Has a small size.
Suitable for streaming video on the website.
Cons
Has limited compatibility and can't run on Mac.
Related article: Top 10 Best FLV Players – How to Play FLV Files
8. WebM
Developed for HTML5, WebM is the best video format for browsers, including Google Chrome, Opera, Firefox, Microsoft Edge and Internet Explorer. Compared with FLV, WebM is more modern matched with HTML5 and it also has a small size.
Pros
Supports playing the high-resolution video.
Has a small file size.
Supports running on the website without flash player.
Cons
Can't support mobile and some media players.
Recommended article: Top 5 Free WebM Players: How to Open WebM Files
How to Choose the Best Video Format
The above common video file format has been introduced one by one. So let's answer the question of how to choose the best video format? Which is the best format for video quality? The best video format may be the most compatible and qualitative one, while it mainly depends on many kinds of conditions, like media player, device, and the different standard of social media.
Best Video Format for the Social Media You Share on
YouTube
YouTube video formats are numerous, including MP4, MOV, MPEG4, AVI, WMV, MPEG-PS, FLV, 3GPP, WebM, DNxHR, ProRes, CineForm and HEVC (h265). If you don't make sure what is the best video format for YouTube, you need to know that higher quality video is definitely OK, so the best video format for YouTube is MP4.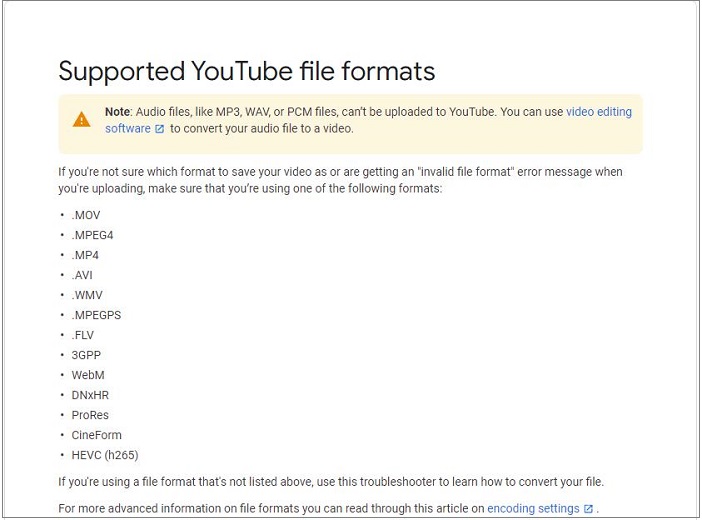 Twitter
According to Twitter's official recommendation, it supports MP4 and MOV video formats on mobile and web, while only the MP4 format is supported on the web. So the best video format for Twitter is MP4.

Instagram/Facebook
Since Instagram has belonged to Facebook, the recommended Facebook video formats are MP4 and MOV. Besides, other technique suggestions include, file sizes must be under 4GB, H.264 compression, fixed frame rates, progressive scan, AAC audio compression at 128kbps+, square pixels, and so on.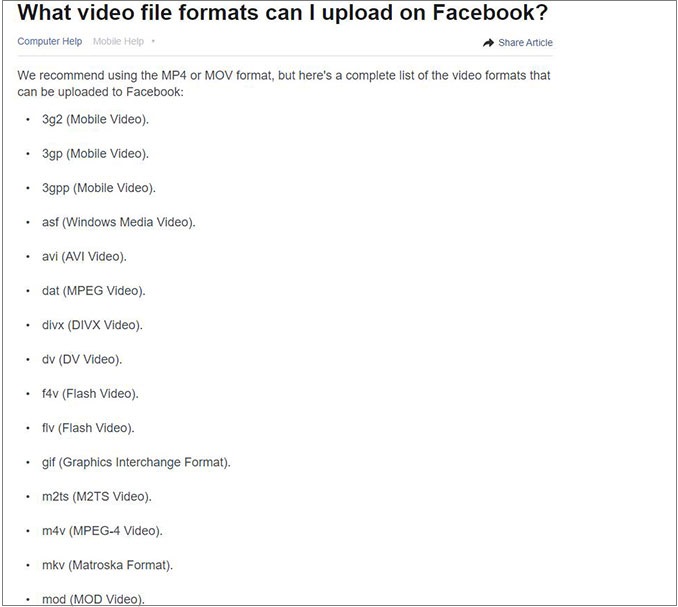 Best Video Format for the Devices You Use
TV/Computer: The best video formats for watching on TV/computer are AVI, MOV, and MKV since they offer high quality and they are the best choice for big screens.
Android/iPhone: As is mentioned before, the best iPhone video format is MP4 as it has high quality and small size. For Android users, 3GP and MP4 can be compatible with the Android smartphone.
Website: If you are browsing a website, together WebM with HTLM5 is the best combination of video formats. Referring to the previous content, they are compatible with most web browsers.
How to Get the Best Video Format You Want
If you want to get the best video format, MiniTool MovieMaker can help a lot. There are many options for video formats when exporting, and you can choose the best one based on your needs. What's more, this video editor is 100% free and without a watermark. With it, you can both create amazing videos, edit the downloaded movies and convert them to the video format you want.
Let's see how to get the best video format with MiniTool MovieMaker.
Step 1. Download MiniTool MovieMaker, and install it on your computer following the guide. When the installation has done, launch it and enter the main interface.
MiniTool MovieMakerClick to Download100%Clean & Safe
Step 2. Upload the video clips.
If you just want to convert your downloaded movie to your wanted video format, click the Import Media Files to upload it. Then click the + button to add it to the timeline.
And then make some edits to your footage, like add music to video, add some transitions, effect, subtitles, and trim, split, cut videos, etc.
Step 3. When editing is done, click the Export button to open the editing window. These export options are customizable that you can set the size, video format, resolution and saving address. Choose one format you want, and click Export to get the best video format.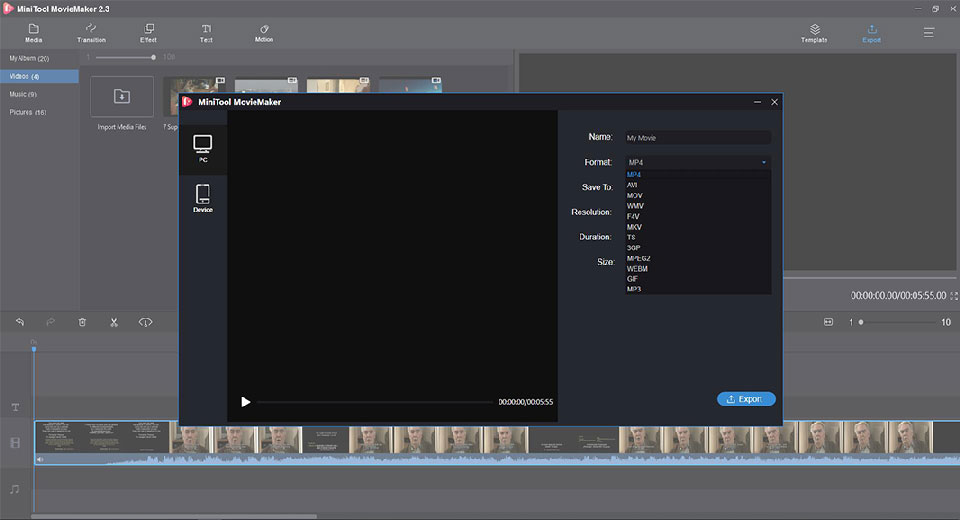 MiniTool MovieMaker also has these amazing features:
100% free and easily available for Windows.
Easily convert image to video without watermark.
Supports any video format to import, like MPEG 2, MOV, etc.
Supports converting one video format to another, like WMV to MP4, etc.
Allows you to add text, caption, subtitle to your video clips with a wide range of fonts.
Supports adding music to video.
Allows you to rotate, reverse, split, trim video.
Provides many kinds of transitions, effects, and motions to edit video professionally.
Supports change video resolution.
Supports extracting audio from video.
Supports exporting in any formats, including MP4, MOV, MPEG2, AVI, WMV, M4V, MKV, TS, 3GP, GIF, MP3, WEBM.
Conclusion
Have you already known what is the best video format and how to choose the best one? Since you have mastered the basic knowledge of video formats, I think you can also choose the best one for different conditions. With MiniTool MovieMaker, you can get any video format you want.
If you have any questions or suggestions about the best video format, please feel free to contact us via [email protected] or leave your comments in the below section.
Best Video Format FAQ
Which is better, MKV or MP4?
MKV and MP4 both support high-quality video. But, if you want to play HD videos or Blu-ray, MKV is better. If you want to transfer to other devices and watch anywhere, MP4 is an ideal one since it's the most popular and compatible one.
What is the best video compression format?
MP4 is the best video compression format because it has a small size and nearly doesn't lose quality when compression. Thus, you can reduce your video file size without losing quality after, making sure it is in MP4 format.
What is the best format to convert DVD?
MPEG-2 is the best video format for transcoding DVD, which can help you get lossless video files to a large extent. This video format is used for converting DVD since they have similar codecs.
What is the smallest video format with high quality?
MP4 is a video format that has high quality as well as small video size, so it is very popular as a universal container and has been recommended by most social media platforms. Besides, it can also run on any device.