Summary :
How to make a cartoon? In fact, there are both software and websites that allow you to create beautiful cartoons for various purposes. But which one is better for you? This article introduces the top 10 best cartoon makers for you to choose from, such as MiniTool MovieMaker developed by MiniTool.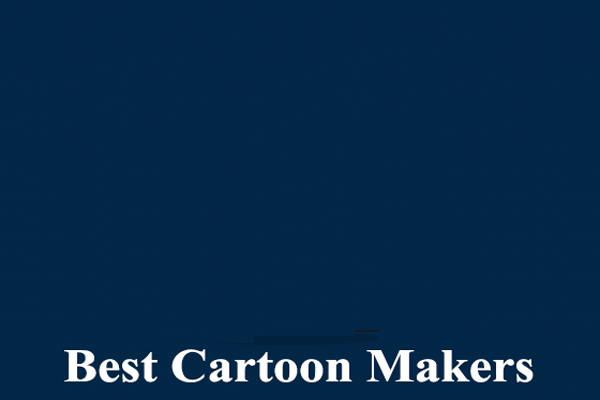 What is a cartoon?
A cartoon is a type of illustration or an animation, which usually appears in an unreal or semi-realistic style. It uses simple, humorous and satirical drawing language to tell the story.
Top 10 Best Cartoon Makers
Let's check out the top 10 best cartoon makers.
Top 10 Best Cartoons Maker Software
MiniTool Movie Maker
Adobe Animation CC
Animiz
Moovly
Animaker
Biteable
Powton
Renderforest
FlipaClip
PicsArt Animator
1. MiniTool MovieMaker (Windows)
If you are looking for a free yet powerful cartoon maker, here recommend using MiniTool MovieMaker, a video editor newly released from MiniTool. It can be used as a free cartoon maker for Windows users.
This free cartoon maker software lets you use a variety of templates so you can make a cartoon in several clicks. Besides, various text, transition, and effect templates are also available for you. It also lets you import audio or voiceover files to make your cartoons complete. After making the cartoon, you can also adjust its color. Just download it now to have a try.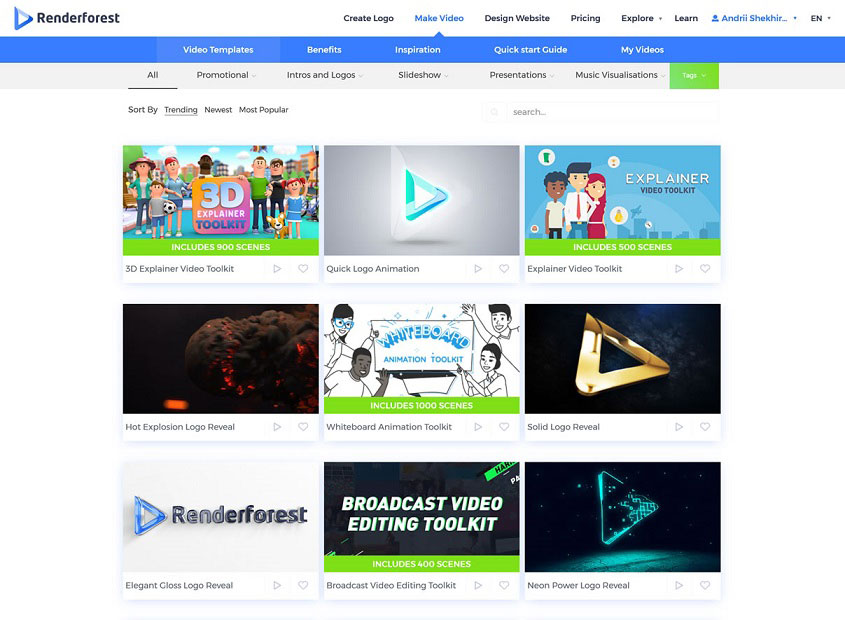 Pros:
An intuitive and easy-to-use interface.
100% free and safe.
No ads, viruses and watermarks.
Easy to import content from the local drive.
Various templates are provided.
Save created cartoons in different formats.
Created cartoons can be played on almost all video players. 
Cons:
It only supports Windows operating system.
No voiceover recording feature.
Related article: Top 10 Best Anime Streaming Sites (Free)
2. Adobe Animation CC (Windows & Mac)
Adobe Animate CC has been one of the most powerful cartoon maker software on the market and it is one of the best 3D cartoon makers. It can be used to create a variety of animated content including cartoons, advertisements, games and other interactive content. 
The software provides a series of animation tools. You can quickly create complex animations because adjacent frames can have different colors. In addition, the tool supports exporting 4K + videos with custom resolution.
Pros:
Excellent choice for complex animations.
Easy to import content created with Fireworks or Photoshop.
A framework specifically designed for text.
Export Flash animations to more programs.
Auto video syncing.
Con: Possibly require other Adobe's software while working on a project.
3. Animiz (Windows)
Animiz is an ideal cartoon maker software, centered on character creation and character design. It is one of the best 3D cartoon makers. It provides more than 300 scene templates and shapes, characters or audio, etc., which enables you to create amazing animations.
This online cartoon video maker is also equipped with animation effects that can ensure a smooth transition between scenes or make your animation more attractive. The platform enables users to create cartoons of various styles in just minutes.
Cons:
Thousands of pre-designed assets like scenes, characters, icons, images and shapes.
Powerful voiceover and subtitling features.
Flexible output options: BMP, JPEG and TIFF
Upload cartoons to Animiz cloud for free.
Pros:
Not support importing content or data from other software.
Videos can be exported in only six different file formats.
The quality of cartoon videos depends on the subscription plan.
4. Moovly (Online)
Moovly is an online cartoon maker, so there is no need to download any software. This free cartoon maker can also be used as an Instagram cartoon maker. It has a unique graphics library with over one million media assets, including stock videos, motion graphics, music, sound effects, photos and illustrations.
Before you start making a new cartoon, you must log in to the Moovly platform. Moovly allows you to create your own content library in your project. All visuals you add to your project will appear on the timeline, and you can edit them from the Properties menu on the right side of the screen.
Pros:
A user-friendly interface.
No high budget or expertise required.
Allow importing content from online sources like Shutterstock.
Voiceover or music can be easily added to the cartoon. 
Cons:
All videos created during the free trial are watermarked.
Exporting HD 1080P quality videos requires you to purchase a plan that is available.
5. Animaker (Online)
Animaker, launched in 2014, is an online cartoon maker. It can help you make excellent cartoon videos using thousands of animated characters, over fifty background music tracks, nearly two hundred sound effects. 
Animaker offers six video styles, such as infographic, typography or 2D, which can be used for different types of projects. And its Direct Voice Recording option makes this cartoon video maker one of the best online animation applications.
Pros:
Easily create cartoons using pre-built characters and templates.
Adjusting audio volume and trimming audio clips are permitted.
Created cartoons can be exported to Facebook and YouTube or downloaded as an MP4 file.
Available as a chrome extension in the Chrome Web Store. 
Cons:
Creating an account is mandatory, even if you opt to use the free version of the platform.
Animated videos created with the free version of the app contain a watermark.
Video duration and export restrictions in the free version.
6. Biteable (Online)
Biteable is also an online cartoon maker. It provides an endless list of template categories to meet all your cartoon production needs. In addition to providing fun cartoon templates, the platform also allows you to create Facebook covers, dynamic graphics or content for social media channels.
Biteable is completely free, but the number of watermarked videos you can make in a month is limited to five. Choosing an available monthly subscription plan will remove the watermark from the cartoon and enable you to upload media files and enjoy unlimited storage space.
Pros:
A user-friendly interface.
Create entertaining cartoons quickly.
Easily customizable templates.
Share your cartoons to social in seconds.
Cons:
Registration is mandatory.
The Download option is disabled on the free version of the platform.
Don't support uploading your own footage.
7. Powtoon (Online)
It's easy to make a cartoon with Powtoon because you just need to select the template you want and customize it. The visual and text elements of the template can be adjusted to your needs. In addition, you are free to choose characters or music added to the cartoon.
Besides, this free cartoon maker allows users to choose between Presentation mode and Animation mode, which is different from other cartoon makers on the list. To meet different needs, it offers different licenses, including limited free licenses, Pro and Business licenses.
Pros:
Fully customizable templates.
Multiple layers of text.
Free image and music sources.
Great file-sharing capabilities.
A clean interface. 
Cons:
No voiceover recording feature.
The maximum duration of a cartoon depends on the pricing plan.
Storage space is limited to 100MB on the free version of the platform.
8. Renderforest (Online)
Renderforest is an online video, logo, website and cartoon maker. You can use it to create different animations for different purposes. You can create small cartoon and interpreter animations as well as whiteboard animations. The most important thing is that using this tool to make all kinds of professional cartoons will not take too long.
Renderforest allows you to use various templates, and you only need to add your own images, videos and sounds to the template. In the meantime, you can add text overlays, change the background color or use some royalty-free music provided by the platform.
Pros:
A cloud-based video maker.
Tutorial videos are provided.
A large library of templates is available.
The maximum duration of a video is 120 minutes.
Offers up to 250GB of online storage space. 
Cons:
No possibility to incorporate characters and animate them.
Don't support basic audio editings, such as audio merging and trimming.
9. FlipaClip (Android & iOS)
FlipaClip is a cartoon maker application developed by Visual Blasters LLC for both Android and iOS users. If you want to make cartoons, then FlipaClip can definitely help you. With it, you can easily draw your own cartoon with frame-by-frame animation.
In addition to importing videos, it also allows you to import, add, edit, delete audio to make unique cartoons. It supports almost all popular formats, such as MP4 and GIF, so you can export cartoons in popular file formats.
Pros:
Several drawing layers.
Add dialogue to your animation with voice recording.
Post to YouTube, TikTok, Instagram, Facebook, or Tumblr.
Samsung S Pen is supported.
Cons:
Upgrade to the Pro version to add layers.
Only support saving your cartoons as MP4 or GIF files.
Related article: Convert GIF Animations to MP4 Videos
10. PicsArt Animator (Android & iOS)
PicsArt Animator is an easy to use and powerful cartoon maker. It can run on both Android or iOS devices. You can easily make cartoons, GIF videos and funny doodles without any advanced skills.
It allows you to draw frame-by-frame cartoons and preview them using the Playback Mode option. Some advanced drawing and sketching tools are listed in this application. In addition, you can also use multiple layers for complex animations to control the length and speed of the animation.
Pros:
100% free and clean.
Draw frame-by-frame cartoons.
Draw with advanced drawing and sketching tools.
Offer multiple layers for complex cartoons.
Record sounds and voiceovers for your cartoons.
Cons:
It tends to crash sometimes.
Some buttons are not sensitive.
How to Make a Cartoon
The above have discussed 10 best cartoon makers. However, none of them have introduced how to make a cartoon. Therefore, let's start to learn how to make a cartoon with the best free cartoon maker - MiniTool MovieMaker. Of course, you can use this tool to make a music video.
Step 1. Free download, install and launch MiniTool MovieMaker on your PC.
Step 2. Tap on Full-Feature Mode or click the X icon to enter the main interface.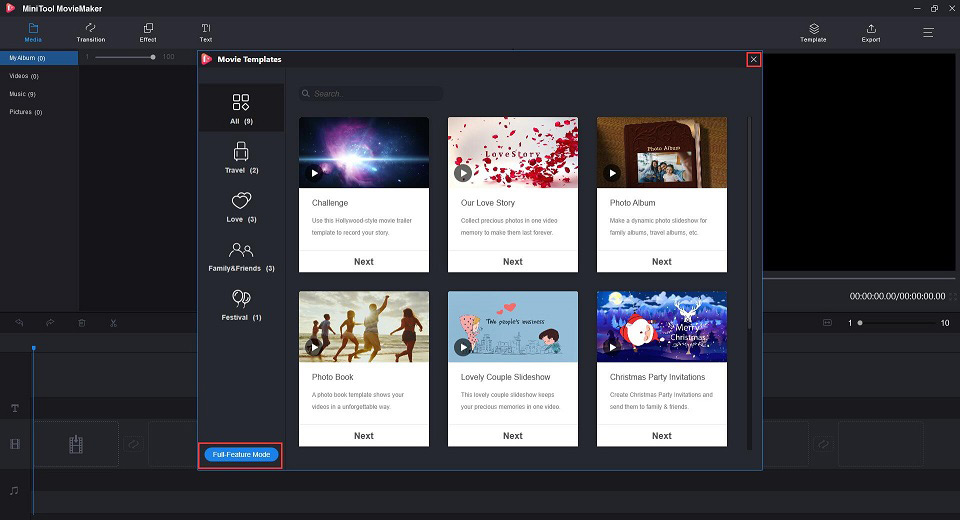 Step 3. Click Import Media Files to import your cartoon footage. Click + on the footage or simply drag and drop them to the timeline. Then you can rearrange, split, and trim these clips, add transitions & effects, make color correction, etc. Press OK to save the settings.
Step 4. Click Music > Import Media Files to import your audio clips and then add them to the audio track on the timeline. Double-click on the audio clip to open its editing window where you can merge audio clips, adjust audio volume and set up fade in & fade out. Press OK to save the changes.
Step 5. To add subtitles, click Text to enter the text library. Drag suitable credits from the text library to the video clip and then edit it. Type in the subtitles and change text font, color and size as you like. 
Step 6. Click Export and make some advanced settings, such as choose an output format, give a name, specify a destination folder, choose a suitable resolution for this cartoon. Tap on the Export button again.
Awesome! I made my first cartoon with MiniTool MovieMaker. Making cartoons is much easier than I thought.Click to Tweet
Bottom Line
So many excellent cartoon video makers are introduced above. Will you use them to make a cartoon? If you have any questions or suggestions about it, please let us know via [email protected] or share them in the comments section below.
Cartoon Maker FAQ
👑What is the best app to make a cartoon?
MiniTool Movie Maker
Adobe Animation CC
Animiz
Moovly
Animaker
Biteable
Powtoon
Renderforest
FlipaClip
PicsArt Animator
💄What app can you cartoon yourself?
Cartoon Yourself
My Cartoon
Prisma Photo Editor
Bobble GIF Stickers Keyboard
Clip2Comic & Caricature Maker
Sketch Me! Sketch & Cartoon
Moments Cartoon Caricature
Cartoon Camera Free
Cartoon yourself video effects
Cartoon Sketch Camera PRO
💎What is the most influential anime?
Astro Boy
One piece
Dragon Ball
Akira
Sailor Moon
Evangelion
Ghost in the Shell
Pokémon
Gundam
Death Note
💰How do you make a cartoon video?
Visit Moovly on your browser.
Create your free account to get started.
Choose a template for your animated video.
Choose a graphical style.
Add a music track or voice-over.
Publish, share or download your cartoon video.