Developed by Adobe, After Effects and Premiere Pro are both professional applications used for video post-production. They have some of the same features. For example, you can use them to cut, split, crop, and speed up videos.
After Effects and Premiere Pro have some overlapping functionalities, but they have different focuses on the video editing process.
Adobe After Effects vs Premiere Pro: which one you should choose? The following part will illustrate the main differences between them in editing functions to help you decide when you should use Adobe Premiere vs After Effects.
Adobe After Effects vs Premiere Pro: Differences
After Effects and Premiere Pro have their strengths to turn your footage into a masterpiece. It's important to select the right one for your editing tasks to help you create professional-looking videos.
Learn about the main differences between After Effects and Premiere Pro so you can decide when to use them.
When to Use Premiere Pro?
After you finished shooting, it's time to use Adobe Premiere Pro to arrange, edit, and enhance your footage. Adobe endows this application with a set of editing tools to edit your raw footage, improve image quality, and edit the audio.
The following are the main features of Premiere Pro that help you separate it from After Effects so that you'll know when to use Adobe Premiere Pro.
#1. Timeline Editing
Adobe Premiere Pro is a timeline-based and non-linear video editing application. The video timeline is the mainstay of digital video editing and the place where you can reorder your video clips and make other edits.  
The timeline in Premiere Pro supports unlimited visual and audio tracks where you can add videos, pictures, audio files, animations, and graphics.
The intuitive timeline in Premiere Pro has a set of tools that give you incredible control so you can accurately edit your videos, including the Selection tool, Track Select Forward tool, Ripple Edit tool, Razor tool, Slip tool, Pen tool, Hand tool, and Type tool.
Adobe Premiere Pro also allows you to customize the timeline panel to suit your editing style.
#2. Audio Editing
As an industry-leading video editing software, Adobe Premiere Pro provides tools to fine-tune the audio in the original footage or the audio you recorded and add music or sound effects to your video.
Audio (background music, dialogue, sound effects, noise, etc.) is a key factor that will decide the video quality. To help you edit audio in your video, Adobe Premiere Pro offers many options.
You can synchronize the audio, cut trim, arrange audio clips, add audio effects, add background music, and more.
In Premiere Pro, you can tag audio clips as dialogue and music. You can adjust the dialogue to make it clear from the background music。
Also, Adobe Premiere Pro lets you edit background noise by adjusting loudness, adding reverb, and mixing the sound.
With audio editing tools and professional sound effects, Premiere Pro makes it simple to edit audio for your video.
#3. Color Correction
Although you can do color correction in After Effects, Premiere Pro is a better choice by virtue of a series of professional color grading, correction, and rendering tools. These tools help you edit the color of your footage on the timeline.
Premiere Pro offers many color correction effects to adjust the clip's brightness, contrast, hue, lightness, and saturation, the image's levels of hue, luminance, and saturation, and others.
Also, you can add LUT effects and adjust the white balance. All in all, Premiere Pro is a great video color editor and provides professional tools to enhance your video.
Generally speaking, Adobe Premiere Pro is used for organizing and transforming media files and doing color correction and color grading to enhance your footage. Also, it can convert media file formats.  
When to Use After Effects?
Adobe After Effects is a motion graphic and visual effects software for video post-production. This application is intended to "make your ideas move".
Here're the main features of After Effects. You should use it when you want to do the following tasks.
#1. Motion Titles and Text
Titles and text help viewers understand your content. Premiere Pro lets you add text to your video and edit them, but After Effects features motion titles and moving text.
This means you can create animated text in After Effects and it will make your video more interesting.
#2. Visual Effects
After Effects offers various visual effects that you can add to videos. You can use them to create 3D animations, add or remove a moving object, blur unwanted elements, even control the weather onscreen, and more.
In a word, After Effects can create incredible special effects for your video.
#3. Animation
After Effects has powerful motion graphics tools that help you create animated characters, backgrounds, and logos, and convert 2D animation to 3D modeling.
This application provides many high-quality motion graphics templates that you can customize. Alternatively, you can start from scratch to make your own.
Motion tracking is another benefit of After Effects. It can track the movement of an object in a video. With this feature, you can create text, logos, and graphics that can follow the movement of everything in your video.
Other Information About Adobe Premiere Pro vs After Effects
After learning the main differences between Adobe Premiere vs After Effects, now, let's take a look at other basic information about the two Adobe video editing applications.
1. Compatibility
They both work on Windows 11/10 and macOS. According to Adobe, Premiere Pro and After Effects 2022 versions are compatible with Windows 11.
Adobe Premiere Pro free download & free trial
After Effects free download and free trial
3. Price
As we all know, Adobe Premiere Pro and After Effects are both paid services. You can buy them for $20.99 per month separately. Also, you can buy Creative Cloud All Apps for $54.99 per month to get them.
Adobe Creative Cloud All Apps includes:
Premiere Pro
After Effects
Photoshop
Illustrator
Acrobat Pro
InDesign
Lightroom
Adobe XD
Lightroom Classic
Dreamweaver
Dimension
Audition
InCopy
Character Animator
Capture
Adobe Fresco
Bridge
Adobe Express
Premiere Rush
Photoshop Express
Aero
Adobe Scan
Fill & Sign
Adobe Reader
With other Adobe products, Premiere Pro and After Effects can be more powerful. For instance, you can send an audio clip to Adobe Audition to edit it with professional tools.
3. Workflow Integration
Through Adobe Dynamic Link, you might import and play compositions from After Effects to the Premiere Pro timeline. Then, you can modify them in Premiere Pro.
Likewise, you can add Premiere Pro projects into After Effects and copy clips between the two editors. What's more, Premiere Pro supports many After Effects plug-ins and third-party extensions like music libraries and graphics elements.
Moreover, Premiere Pro can open Premiere Rush projects, Photoshop, Illustrator files, etc.
4. After Effects Plug-ins/Scripts/Extensions
For further function expansion in After Effects, you can have the aid of third-party plugins, scripts, and extensions.
Adobe After Effects vs Premiere Pro Final Verdict
After Effects and Premiere Pro are both professional applications for the video post-production process and have their respective advantages.
You can use Premiere Pro to edit, beautify, and enhance your footage. After Effects is used for animation, compositing, Chroma Key compositing, and motion tracking.
In other words, Premiere Pro is the first step in video post-production, and After Effects is the second.
More importantly, After Effects and Premiere Pro can be integrated with each other. This is their greatest advantage. You can take full advantage of them to turn your footage into professional-looking content.
Where to Find After Effects & Premiere Pro Tutorials
When it comes to editing in After Effects and Premiere Pro, people always have different questions like how to export After Effects to MP4 and how to add text in Premiere Pro.
Luckily, Adobe provides Premiere Pro tutorials for beginner to experienced users. Alternatively, you can click here to view all Adobe Premiere tutorials.  
Likewise, you can check After Effects tutorials to learn how to use this software to create motion graphics and visual effects. This guide is also sorted by beginners and users of rich experience.
Apart from official editing guides, you can also go to YouTube to search for your desired video tutorials.
Alternative to After Effects & Premiere Pro
Adobe Premiere Pro and After Effects are powerful enough to create high-quality videos, but they're a little difficult for beginners without any skills and they're paid products.
If you're new to video editing and want to find free or cheaper alternatives to Premiere Pro and After Effects, MiniTool MovieMaker is recommended here.
MiniTool MovieMaker has a user-friendly and well-organized interface and many editing functions. You can learn how to use it quickly and for free. By the way, you can use it on Windows 11/10/8/7.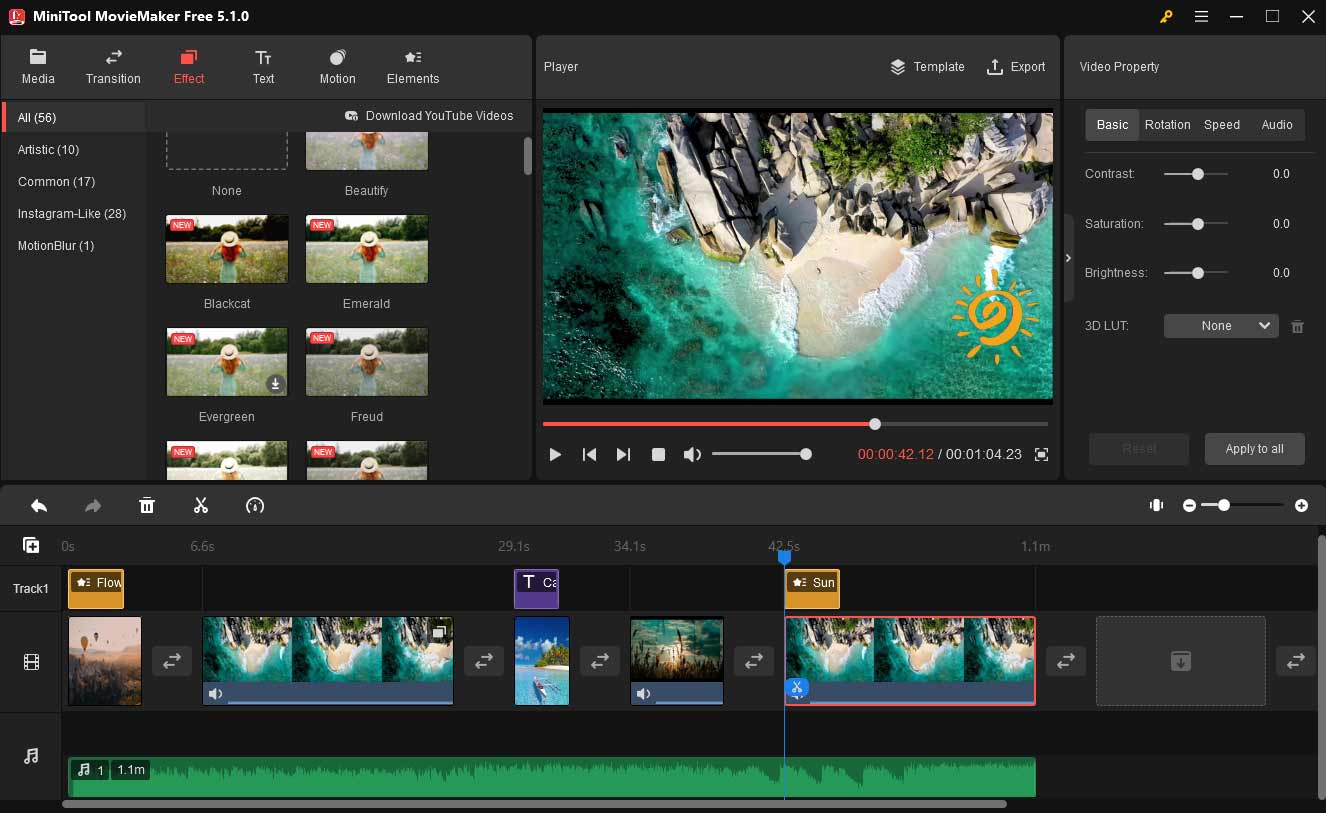 Here're the main features of MiniTool MovieMaker:
Make a video from photos, video clips, and music.
Trim, split, rotate, and flip videos/photos.
Edit the clip's contrast, saturation, and brightness, and apply 3D LUT effects.
Slow down, speed up, and reverse videos.
Add a transition between the two clips.
Apply filters and motion effects to the video/photos.
Add titles/captions/credits to the video.
Add stickers to video/photo.
Add background music to the video.
Edit audio in the original video clip (fade in, fade out, and adjust volume).
Choose video quality, resolution, and bitrate when exporting videos.
Export videos up to 1080p for free and without watermarks.
With MiniTool MovieMaker, you can quickly make amazing videos for different purposes like birthday videos, time-lapse videos, slow-motion videos, and more.
What's more, MiniTool MovieMaker enables you to make animated GIFs from a video. It supports many popular video/audio/image formats, so you can use it to convert your video files.
But if you need a more powerful video converter, you can try another MiniTool product – MiniTool Video Converter. It's a free video converter and supports a wide variety of conversion tasks between video and audio files. It lets you convert up to 5 files simultaneously.
Conclusion
This post analyzes some of the main functions of After Effects vs Premiere Pro for your reference. Now, you should know when to use them for your video/film project.
If you need to arrange and cut videos or adjust the clip's color, Premiere Pro is the right choice. It's designed to enhance your footage.
If you want to create impressive motion graphics and visual effects to your videos, After Effects will meet your needs.
Alternatively, you can try MiniTool MovieMaker to edit your videos. If you have any questions about this video editor, please contact us via [email protected] for help.