About Adobe Inc. and Adobe Products
Adobe Inc. formerly known as Adobe Systems Incorporated is an American multinational computer software company incorporated in Delaware and headquartered in San Jose, California. It has historically specialized in software for the creation and publication of a wide range of content including graphics photography, illustration, animation, multimedia/video, motion pictures, as well as print.
The following is the collection of Adobe products.
# Adobe Graphic Design Software
Adobe Photoshop: an image editing software.
Adobe Photoshop Elements: a raster graphics editor for Windows and macOS.
Adobe Photoshop Express: a raster graphics editor for Windows and macOS (the same as Elements).
Adobe Illustrator: a vector-based illustration tool.
Adobe Acrobat Document Cloud (DC): a family of apps and services to view, create, manipulate, print, and manage PDF files. It includes Adobe Acrobat Reader, Acrobat and Acrobat.com.
Adobe FrameMaker: a document processor designed for writing and editing large or complex documents like structured documents.
Adobe XD: a vector design tool for web and mobile apps.
Adobe InDesign: a desktop publishing and page layout designing program.
Adobe Lightroom: a creative image organization and image manipulation software as a part of Adobe Creative Cloud (CC).
Adobe InCopy: a professional word processor that integrates with Adobe InDesign.
# Adobe Web Design Software
Adobe Dreamweaver: a proprietary web development tool.
Adobe Flash: a multimedia software platform used for the production of animation, rich web apps, desktop apps, mobile apps, mobile games, and embedded web browser video players.
# Adobe Video/Audio Editing, Animation, and Visual Effects Software
Adobe Premiere Pro
Adobe After Effects
Adobe Spark Video
Adobe Audition
Adobe Character Animator
Adobe prelude
# Adobe eLearning Software
Adobe Captivate: an authoring program that is applied to create eLearning content like software demonstrations, simulations, branched scenarios, and randomized quizzes in Shockwave Flash and HTML5 formats.
Adobe Presenter Video Express: a screen-casting and video editing software.
Adobe Connect: a suite of utilities for remote training, web conferencing, presentation, and desktop sharing.
# Adobe Server Software
Adobe ColdFusion: a commercial rapid web-app development computing platform.
Adobe Content Server: a program designed to add digital rights management to e-books.
Adobe LiveCycle: a service-oriented architecture Java EE server software product.
Adobe Digital Marketing Management Software
Adobe Experience Cloud (AEC) / Adobe Experience Manager (AEM): formerly Adobe Marketing Cloud (AMC), a collection of integrated online marketing and web analytics products.
XML Document add-on for AEM
# Adobe Created Formats
Portable Document Format (PDF): a file format to present documents including text formatting and images in a manner independent of app software, hardware, and OS.
PostScript (PS): a page description language in the electronic publishing and desktop publishing realm.
ActionScript: an object-oriented programming language.
Shockwave Flash (SWF): an Adobe Flash file format used for multimedia, vector graphics, and ActionScript.
Flash Video (FLV): a container file format used to deliver digital video content over the Internet.
Filmstrip
# Adobe Web-hosted Services
Adobe Color
com: a service for saving PDF files in the cloud and accessing them remotely.
Adobe Behance: a social media platform that focuses on the showcase and discovering creative work.
# Adobe 3D and AR
Mixamo: web-based services for 3D character animation.
Adobe Aero: an augmented reality authoring and publishing program.
Adobe Dimension: a 3D rendering and design software for Mac and Windows.
Adobe Substance 3D
# Adobe Other Products
Adobe Media Encoder: a video and audio media processing program.
Adobe Stock: a microstock agency that offers millions of high-resolution, royalty-free images and videos available to license.
Adobe Experience Platform: a family of content, development, and customer relationship management products.
Adobe Video Editors
After having a brief view of the applications and services provided by Adobe, next, let's focus on the Adobe video editing products. The tools we are going to introduce are most included in Adobe CC.
#1 Adobe Premiere Pro Video Editor
Adobe Premiere video editor is one of the best programs to deal with footage for web, TV, and feature productions. It can trim, edit, apply transitions/effects, adjust color, as well as add titles/graphics.
Premiere Pro can easily edit videos from start to finish for everything from motion pictures to videos for the web.
Adobe Premiere video editor download trial >>
Supports importing most types of videos, audio, and graphics.
Trim, crop, or rearrange clips.
A variety of effects and transitions.
Export videos with presets for social media, TV, or cinema.
Color correction.
Dynamic audio.
Professional video editing including greenscreen effects, track transitions, multi-cam editing…
VR video editing / 360 video editing.
#2 Adobe After Effects
After Effects is another Adobe video editor that takes your video editing to a higher level with its motion graphics and visual effects. With those stunning graphics and fascinating effects, it can bring your videos to life.
Adobe video editor free trial of After Effects >>
Add and organize videos
Create, arrange, and compose layers
Add animations and effects
Render and export customized videos
Master title design
Edit like a VFX pro
#3 Adobe Rush Video Editor
Adobe Premiere Rush is an all-in-one and all-new free video editor that makes editing and sharing videos simple and quick. It supports almost all devices including desktop computers and mobile phones. Premiere Rush enables you to shoot, edit, and share high-quality videos on your social media for free.
Adobe Premiere Rush has the creative flexibility to make your video stand out from the others. It provides simple tools for audio, motion graphics, etc.
Adobe video editor free download >>
Easy editing
Tailor transitions
Customize titles
Adjust speed
Add audio/music
Motion graphics templates
Export to any social platform
Available cross-device
Built-in camera (mobile app)
#4 Adobe Online Video Editor
The Adobe Online Video Editor refers to the Adobe Spark Video editor (Adobe Express), which can generate beautiful movie stories, slideshows, presentations, ads, and invites. With it, you can get all you need to create fast and compelling videos. You do not need to download and install an app to start creating your video.
Adobe free video editor for pc and Mobile >>
Use a template or start from scratch.
Add graphics and visual themes.
Merge with music or songs.
Directly share to social channels or emails.
A plenty of layouts, colors, and fonts.
#5 Adobe Express Video Editor
Express is another free online Adobe video editor that you can make use of. It enables you to edit videos in minutes. Even if you are not a professional, you can make impactful video stories and motion graphics with Adobe Express.
Adobe Express has a simple and intuitive user interface. It also offers pre-formatted templates for its users to quickly create teaser videos, explainer videos, lesson plan videos, campaign videos, recap videos, promo videos, music videos, and more.
Use this online video editor for free >>
Trim videos
Add music to videos
Add messaging to videos
Add images to videos
Merge video clips
Resize videos
Add video theme
Compare Adobe Video Editors
Next, let's compare the video editing features of the above video editors of Adobe.
Y: support
| | | | | | |
| --- | --- | --- | --- | --- | --- |
| | Premiere Pro | Premiere Rush | After Effects | Spark Video | Adobe Express |
| Trim clips | Y | Y | Y | Y | Y |
| Templates | Y | Y | Y | Y | Y |
| Editing on the timeline | Y | Y | Y | | Y |
| Effects | Y | Y | Y | Y | Y |
| Transitions | Y | Y | Y | Y | Y |
| Video composition | Y | Y | Y | | |
| Advanced effects | | Y | Y | | |
| Advanced transitions | | Y | Y | | |
| Special effects | | | Y | | |
| Advanced composition | | | Y | | |
| Motion graphics | | | Y | | Y |
| Multicam editing | | Y | | | |
| VR editing | | Y | | | |
| Audio editing | Y | Y | | | Y |
| Desktop app | Y | Y | Y | Y | |
| Mobile app | Y | | | Y | Y |
| Web app | | | | Y | Y |
Free Video Editor Like Adobe Premiere
Although Adobe Premiere and other Adobe video editors enable you to create wonderful videos with their powerful features, most of them are charged and you can't use them free forever. Thus, many people want to find a reliable video editor like Adobe Premiere, but it is free lifetime.
There are a lot of tools that can function like Adobe video editor. There are many free video editing programs. But for software that is both powerful and free forever, there are few choices. Within the limited choices, MiniTool MovieMaker is recommended for its intuitive user interface (UI), various video editing utilities, as well as lifetime free usage.
MiniTool MovieMakerClick to Download100%Clean & Safe
The following are the features of MiniTool MovieMaker:
Create a video with photos, videos, and audio.
Add transitions, effects, texts, motions, and animated stickers to a video.
Trim photos, videos, and music.
Change a photo or video's duration, contrast, saturation, brightness
Slow down or speed up a video.
Fade in/out the audio and change its volume.
Quickly make a video with templates.
Customize the format, quality, encoder, resolution, and bitrate of the exported video.
Export 1080p videos.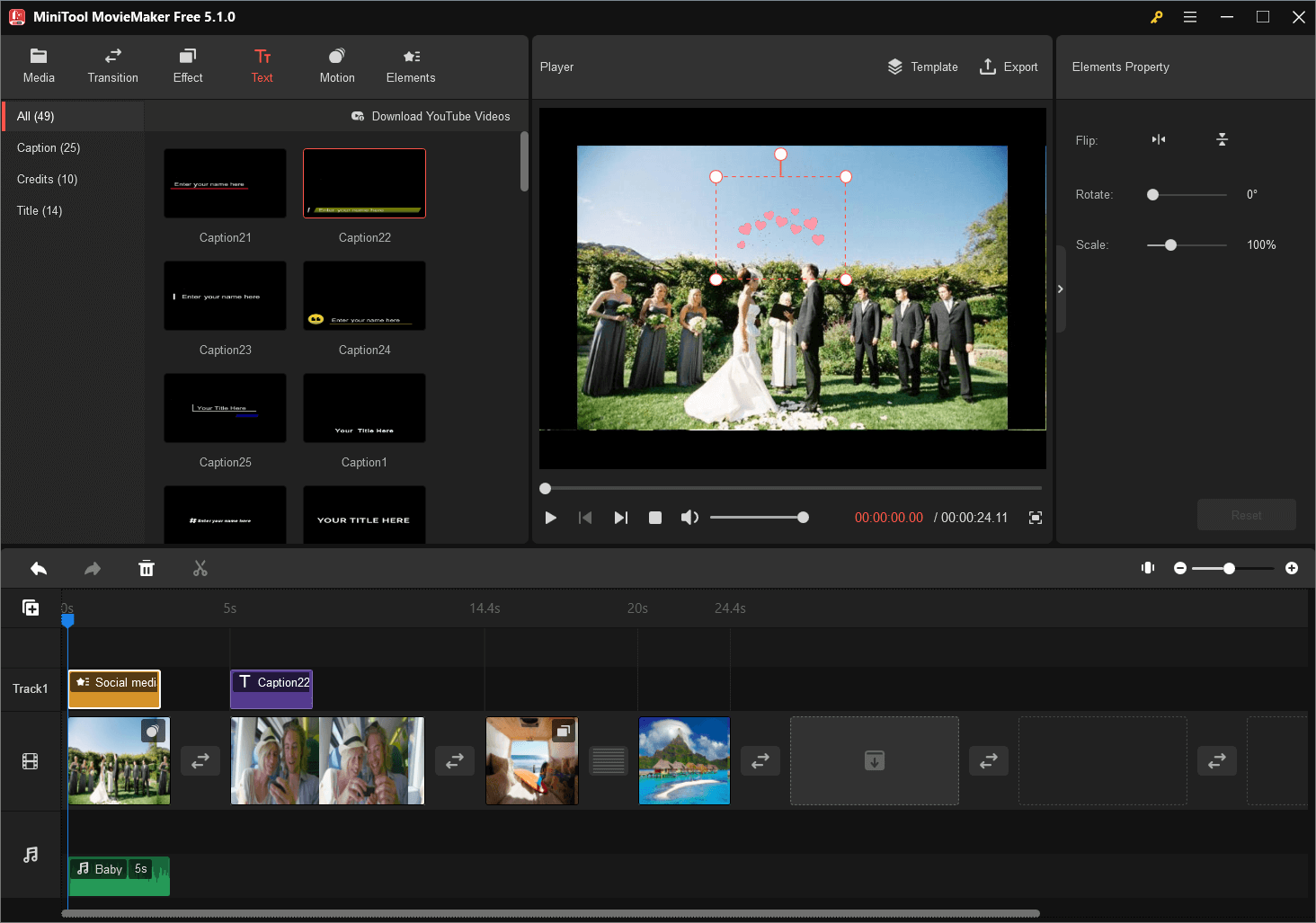 MiniTool MovieMaker supports all Windows operating systems including the latest Windows 11. It allows you to freely build free videos without any watermark.
How to Edit a Video?
Finally, let's have a look at the brief process of editing a video!
Choose a video editor you like.
Download and install the video editor on your device.
Prepare your source materials and save them on the device.
Add your photos, videos, songs, etc. material to your video editor.
Add those media to the timeline or tracks.
Add transitions, effects, motions, etc. to specific media on the timeline.
Edit the media with their quality parameters.
Preview the new video. If there is something you don't like, continue editing.
Export your video.
Now, you can pick up a video editor from Adobe or MiniTool and start making your masterpieces!
Related Articles