OpenShot and Shotcut are both professional video editors. If you often create videos, you must have learned about the two applications. Do you know their differences? OpenShot vs Shotcut, which one is better? What's your answer? To help you make a decision, this post will show some differences between them. 
As two of the most popular and powerful video editors, OpenShot and Shotcut are often be compared with each other. And sometimes you may also wonder OpenShot vs Shotcut, what're the differences? Which one should you choose?
To help you understand their differences, this post will compare them with the 3 aspects: supported platforms, system requirements, supported formats, and editing features. Want an alternative to OpenShot and Shotcut? Try MiniTool MovieMaker.
OpenShot vs Shotcut – Supported Platforms and System Requirements
When it comes to Shotcut vs OpenShot, it's impossible to ignore their compatible platforms and system requirements. And the following part will give you some clear information.
OpenShot is a free, stable, user-friendly, and open-source video editor, and it's also a cross-platform application compatible with Linux, macOS, and Windows operating systems. Here're the minimum system requirements from the user guide on the OpenShot website.
64-bit Operating System (Windows 7/8/10, Linux, OS X)
Multi-core processor with 64-bit support
4GB of RAM (16GB recommended)
500 MB of hard-disk space for installation
Optional: Solid-state drive (SSD), if utilizing disk-caching (and an additional 10GB of hard-disk space)
Shotcut is also a free, open-source, and cross-platform video editor available on Windows, macOS, and Linux. What are the minimum system requirements? Here's the detailed information from Shotcut FAQ.
Operating system: 64-bit Windows 7 – 10, Apple macOS 10.10 – 10.15, or 64-bit Linux with at least Glibc 2.27.
GPU: x86-64 Intel or AMD; at least one 2 GHz core for SD, 4 cores for HD, and 8 cores for 4K.
GPU: OpenGL 2.0 that works correctly and is compatible. On Windows, you can also use a card with good, compatible DirectX 9 or 11 drivers. We do not have a list.
RAM: At least 4 GB for SD, 8 GB for HD, and 16 GB for 4K.
Also read: Final Cut Pro VS Premiere – Which One is Better?
OpenShot vs Shotcut – Supported Formats
Before editing videos, you must learn the supported file formats of a video editor. When you wonder about the differences between OpenShot vs Shotcut, the formats come as the second important factor. And the following section will provide you with relative information about the two video editors.
To make videos, you need to import compatible media files. As one of the best video editing software, OpenShot can work with the most video, audio, and image formats thanks to the powerful FFmpeg library, such as WebM, HEVC, MP3, AAC, etc. To help you upload videos on some sites, OpenShot can render MPEG4, OGV, Blu-ray, and DVD video, and Full HD videos.
Shotcut offers wide format support. Based on the FFmpeg, it's compatible with the most common video and audio formats, and the supported image formats include BMP, GIF, JPEG, PNG, SVG, TGA, TIFF, WebP as well as image sequences. If you want more information, just click here. And this software has no import required, which means the native timeline editing.
Besides, Shotcut offers precise frame search in multiple formats and support for 4K resolutions. It also supports webcam capture and audio capture. It enables you to export a single frame as a video or an image. These video files come with an alpha channel and they can be both read and written.
Related article: Best Video Format – How to Choose the Best One for Yourself
OpenShot vs Shotcut – Editing Features
Editing Features of OpenShot
1. A simple and friendly user interface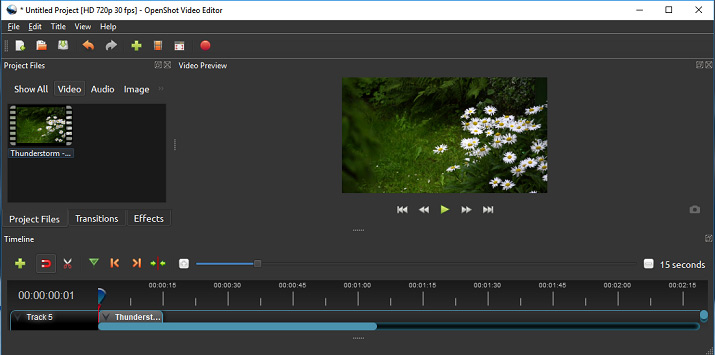 OpenShot is designed with a simple and well-organized interface, enabling you can easily import media files and find any tools you need. And you can click the Help > Tutorial to quickly upload files, create and export a video.
2. Animation and Keyframes
OpenShot is equipped with a powerful curve-based keyframe animation framework, allowing you to create any animation without effort. With this feature, it's easy for you to fade, slide, bounce, and animate anything in the video.
3. Video Effects
OpenShot includes many video effects like brightness, gamma, hue greyscale, greenscreen, and more. With this powerful video effects engine, you can easily invert colors, adjust brightness, remove the background from a video, and much more.
4. Transitions
OpenShot also lets you apply transitions to video clips. It provides more than 400 video transitions that enable you to fade from one clip to another. Transitions are automatically created when you overlap two clips, and they can also be dragged to the timeline from its Transitions panel. And you should put the transition of the beginning or the endpoint of a clip.
5. Title Editor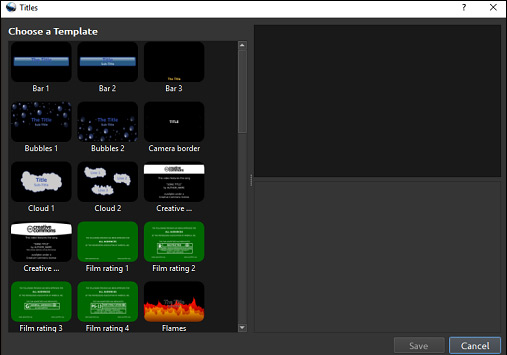 For video production, adding text is a very important and necessary aspect. To help you add text to the video with ease, OpenShot offers a simple title editor. It provides more than 40 vector title templates for you to choose from, and you're allowed to preview the title template. Moreover, you can adjust the text font, text color, background color, etc.
And OpenShot can create 3D animated titles thanks to the support of Blender. It also has 3D animated title templates and permits you to change text colors, size, length, and more.
6. Video Editing
OpenShot gives you many choices to edit the video on the timeline, which means you can rotate videos, flip videos, trim videos, crop videos, split videos, slow down or speed up videos, revere videos, zoom and slide a clip, remove a clip from the timeline, and more.
7. Audio Mixing and Editing
OpenShot also offers many built-in audio editing features. It can visualize the audio files as waveforms on the timeline. And you can split the audio from a video clip, and edit each track individually.
What's more, OpenShot supports 70+ languages. In general, OpenShot is incredibly simple and powerful and it almost gives you all tools you need to edit a video.
Editing Features of Shotcut
1. The Interface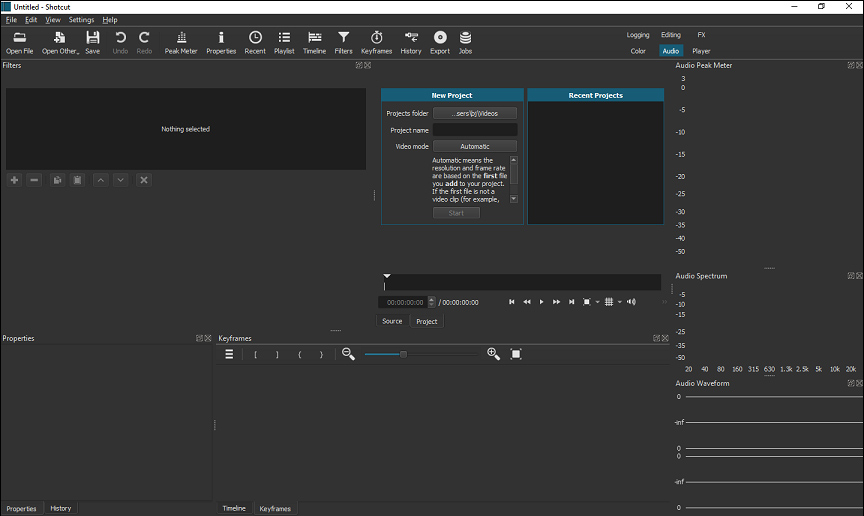 Shotcut has a sleek and intuitive interface. All of the commands are on the screen, you can find all menus on the top of the interface and tools above the timeline. Also, you can reposition these panels as you like.
2. Video Filters and Transitions
Shotcut provides a variety of video filters, including alpha channel, adjust, chroma-key, audio waveform visualization, and much more. And it has support for 360° video filters like an equirectangular mask, and it also offers a speed effect for video or audio clips. And it lets you rotate videos, fade in or fade out audio, fade video, reverse videos, and more.
As for transitions, Shotcut supports video wide transitions, including bar, barn door, matrix, custom gradient image, etc.
3. Audio Features
The audio scopes of Shotcut include loudness, peak meter, waveform, and spectrum analyzer. And you're allowed to control the volume. This video editor provides many audio filters, such as Balance, Bass and Treble, Delay, Copy Channel, Downmix, and more. And it can mix audio across all tracks, make pitch compensation for video speed changes. And it also works as a tone generator.
4. Video Editing
Shotcut comes with easy-to-use cut, copy, and paste operations and it supports append, insert, overwrite, lift, and ripple delete editing on the timeline. It offers the hide, mute, and lock track controls and it also supports three-point editing. Moreover, it can save and load trimmed clips as MLT XML file, detach audio from a video clip, and more.
With this professional video editor, you'll find it easy to add filters to a video, rotate videos, trim videos, add text to the video, create picture-in-picture and split-screen videos, and more.
After learning about the main features and differences between OpenShot and Shotcut, the following part will introduce several alternatives to them.
Top 4 Alternatives to OpenShot and Shotcut
If you're looking for OpenShot alternatives or Shotcut alternatives, you've come to the right place. Here's a list of the 4 alternatives to them.
The Best 6 Equivalents of OpenShot and Shotcut
MiniTool MovieMaker
Kdenlive
VideoPad Video Editor
VSDC Free Video Editor
1. MiniTool MovieMaker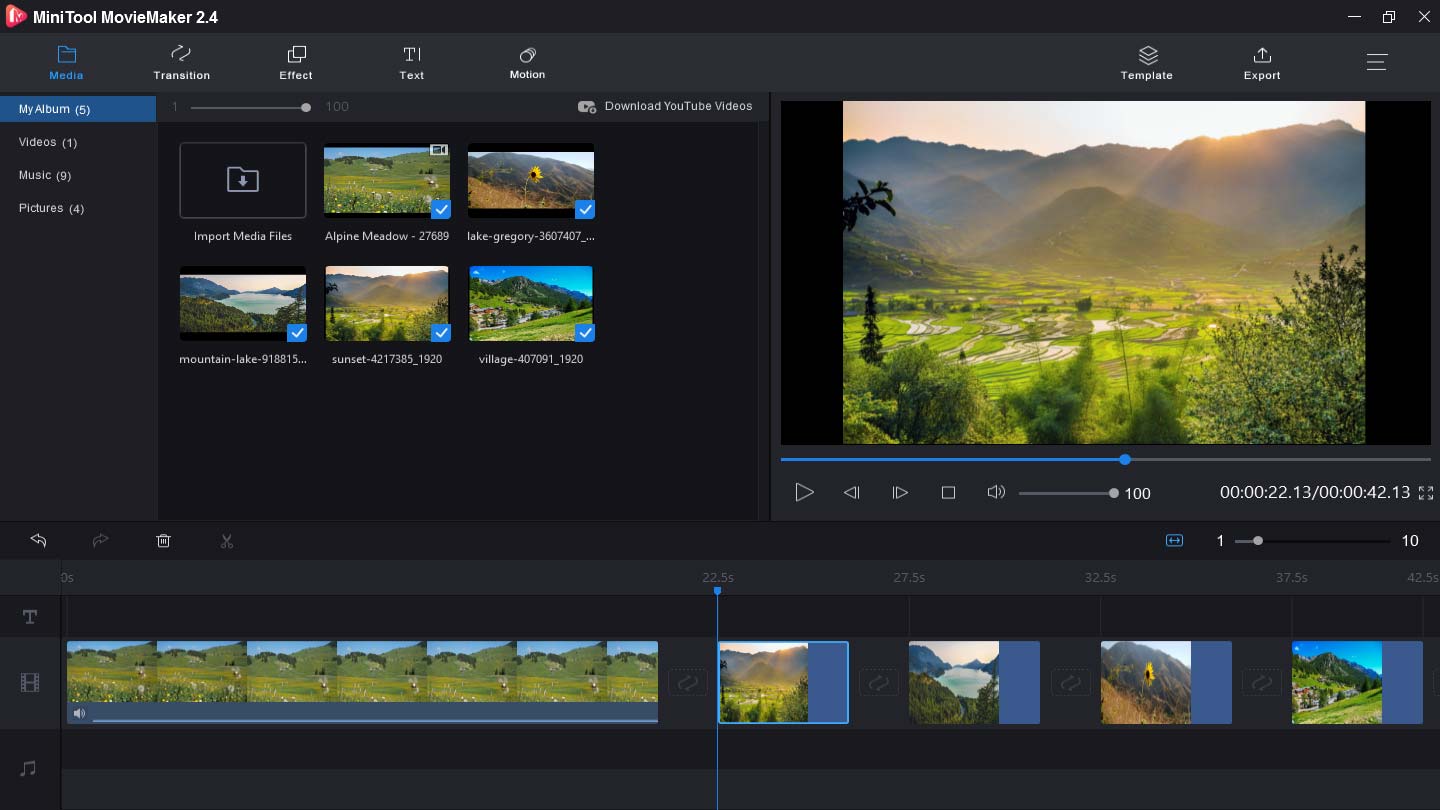 MiniTool MovieMaker is one of the best Shotcut alternatives for Windows. It's a 100% free and simple photo video maker app without watermarks and works with the most popular media formats, and so you can easily create a video from video clips, images, and music.
MiniTool MovieMaker offers many editing tools you need to optimize your videos. It enables you to rotate, flip, reverse, trim, split videos, adjust video speed, add text, effects, and transitions to videos, and more. Besides, it can convert video to GIF, GIF to video, rotate GIF, add music to the GIF, and more.
MiniTool MovieMakerClick to Download100%Clean & Safe
2. Kdenlive
As one of the free and open-source video editors, Kdenlive is also a good Shotcut alternative or OpenShot alternative. It also supports all formats supported by FFmpeg, and it supports 4:3 and 16: 9 aspect ratios. With the built-in title editor and tools, you can easily add text to video and image clips, move, crop, and delete video clips.
Kdenlive provides a variety of effects and transitions, but it's also able to add custom effects and transitions. And the visual effects include choices for masking, blue-screen, distortions, rotations, blurring, and more.
3. VideoPad Video Editor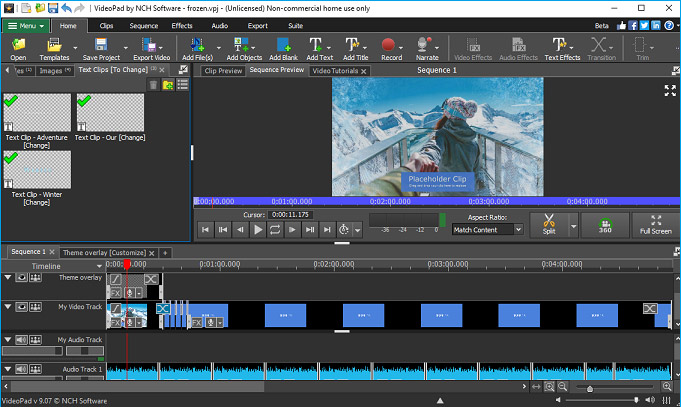 VideoPad Video Editor is another alternative to OpenShot and Shotcut. It offers a wide range of video transitions and effects, and it lets you add text or overlays to the video, create green screen videos, make animated text with templates, etc. Also, it helps you to split, crop, mix, trim videos, create looped GIF videos, and export videos in many resolutions including full HD, 2K, and 4K.
4. VSDC Free Video Editor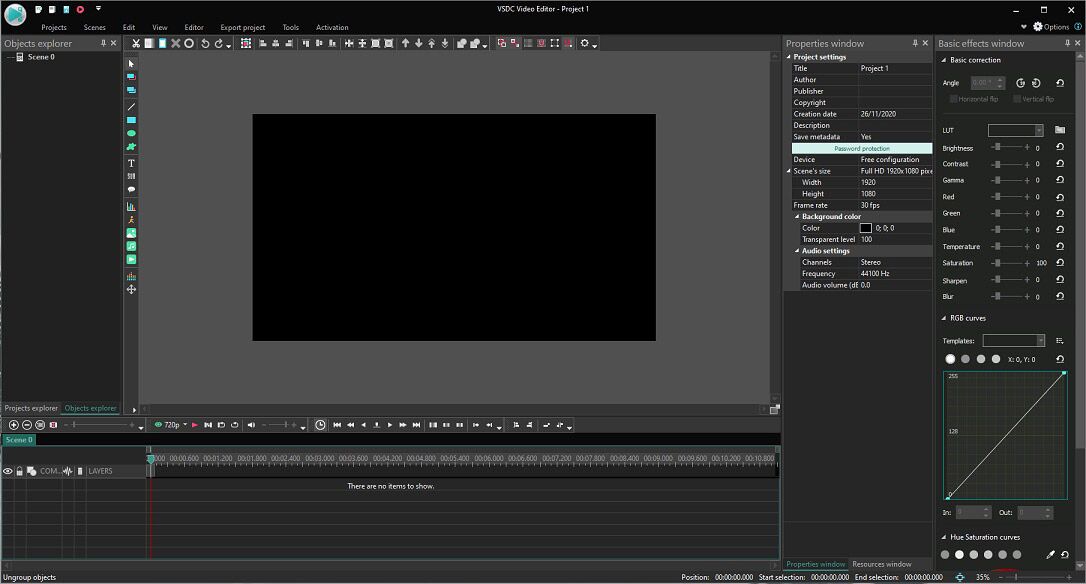 As a light professional and non-linear video editor, VSDC is also a must-try application for Shotcut alternatives or OpenShot alternatives. It works with all popular video and audio formats and codecs, and it has a powerful Chroma Key tool to remove the green background. VSDC is loaded with a wide range of video filters, effects, and transitions. Other tools include zoom, color correction, and 360 video editing.
Conclusion
After viewing this post, you must have learned about the main differences between OpenShot and Shotcut. And this post also introduces 6 alternatives to them. Which one is your favorite video editing software? Just share it with us.
And if you have any questions or want to recommend other equivalents of OpenShot and Shotcut, you can contact us via [email protected] or leave your suggestions in the below comments area.
OpenShot vs Shotcut FAQ
Will OpenShot add a watermark to the video?
No, OpenShot won't watermark your video project. It's a free video editor without watermarks, and so it won't brand its name on your videos. But to enhance your video, OpenShot enables you to add text watermarks to the video.
Is Shotcut good for beginners?
Yes, it's a perfect choice for beginners. It provides many tutorial videos on the official website including adding text, keyframes, voice-over recording, film restoration, and more. And it's 100% free of charge.
Does Shotcut have watermarks?
Similar to OpenShot, Shotcut is a free video editor without a watermark, and so it' won't add watermarks to the video.
Does Shotcut have a chroma key?
Yes, Shotcut has a chroma key. Go to Filters, click on the + (Add a filter), browse those choices, and you'll find the Chrome Key: Simple and Chrome Key: Advanced.