Want to edit videos in your browser? This post from
MiniToool
 has compiled a list of the 8 best online video editors that offer free options and paid services.
When it comes to video editing, you might think of many powerful video editing applications that need to be installed on your computer like MiniTool MovieMaker, Adobe Premiere Pro, Final Cut Pro, or DaVinci Resolve.
These video editors are perfect for the professional and experienced. If you have some simple editing tasks, an online video editor is a great solution.
Online video editors don't require downloading and this helps to save your hard drive space. Compared with desktop video editing programs, online video editors are simple to learn and easy to use. They're suitable for beginners.
What's the best online video editor? This post has collected 8 simple video editors that let you edit videos in your browsers to create videos for different occasions and platforms. Read the following part and find your favorite online video editor.
#1. Clipchamp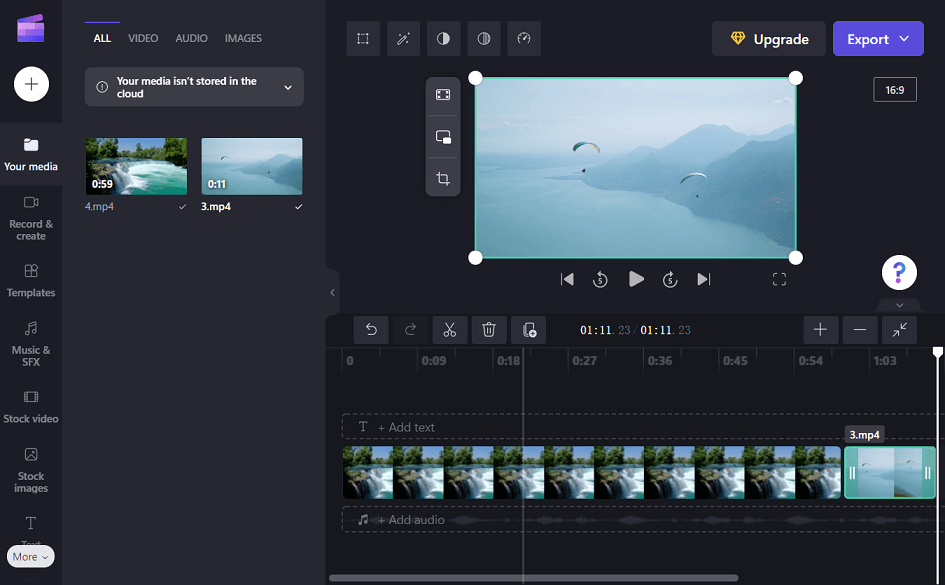 Clipchamp is one of the best online video editors, equipped with many editing features, such as transformation, filters, transitions, video color editing, and speed control.
Clipchamp also features a library of stock videos, images, and music tracks. It also allows you to add text to video and choose the aspect ratio for the output video.
After exporting, you can directly download the video to your computer. Also, Clipchamp will generate a video link and lets you upload the video to YouTube, send it to TikTok, share it to LinkedIn, and save it to Google Drive/OneDrive/Dropbox, etc.
Moreover, Microsoft acquired Clipchamp in 2021, as an alternative to Windows Movie Maker for Windows 11 PCs. You can download Clipchamp for your Windows 11/10 PC.
If you want to use Clipchamp without limitations, choose the Essentials plan, starting at $11.99/month.
#2. VEED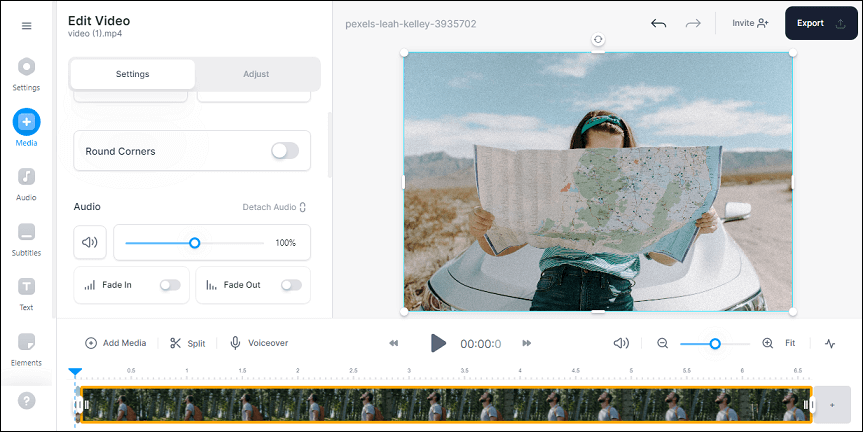 VEED can also work as a free online video editor. It also has many basic editing functions. You can use it to split video, apply transitions and filters, change video speed, remove video background, draw on the video, add text and create subtitles.
VEED also has a library of stock videos and audio. If you don't have any footage, just search and find clips you like to make your video.
The free version of VEED allows you to export videos in 720p with a watermark. To export videos without a watermark and unlock more features, you should select a VEED paid plan, starting at $18 per month.
After exporting, VEED lets you save the video to your computer, gives you a shareable link, or directly shares the video to Facebook, Twitter, LinkedIn, or via email, and generates the embed code.
Also read: The Top 4 Ways to Download Embedded Videos
#3. InVideo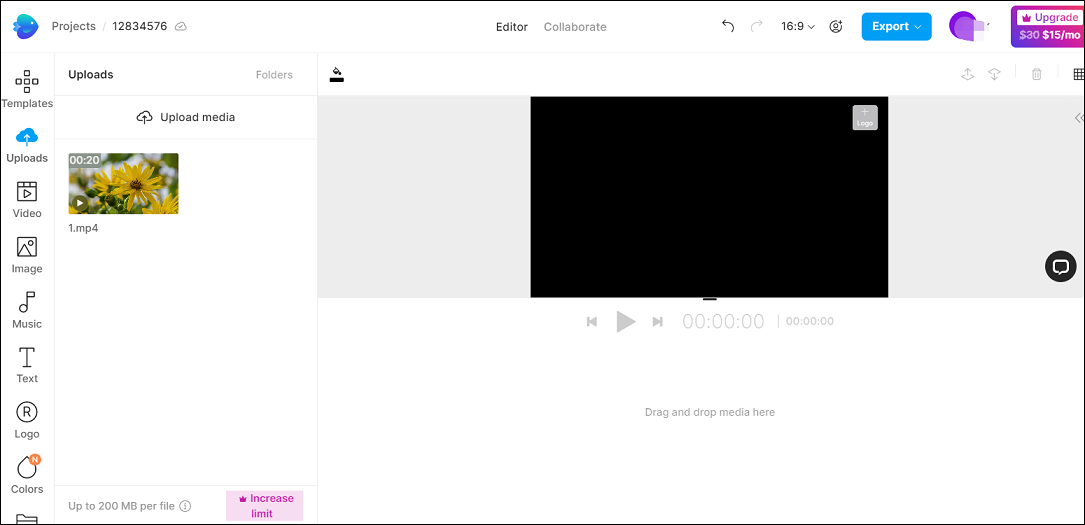 InVideo is another online MP4 video editor. You can use it to crop, trim, flip, and loop videos, slow down or speed up videos, change the video position, upload your logo, add stickers, and apply color filters.
What's more, InVideo provides stock videos, images, and music tracks. Also, this online video editor enables you to add video overlays and make video collages.
More importantly, InVideo offers numerous video templates. Even the free plan includes 5,000+ video templates. You can filter these templates by aspect ratio (landscape, square, portrait), type, and industry.
InVideo also has free and paid plans. The free plan lets you export 720p videos with a watermark. The monthly subscription plan starts at $30/month and it allows you to export videos in 1080p without a watermark.
You can save the video on your PC after exporting or share it on YouTube, Facebook, and Twitter.
You may also like: Top 3 Methods to Convert Landscape Video to Portrait.
#4. Kapwing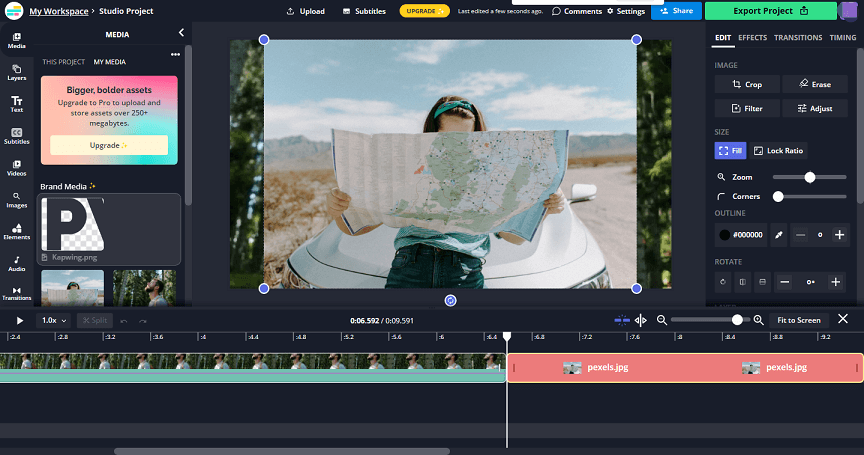 No matter you need an online mp4 video editor or an online video editor for YouTube, Kapwing is a reliable solution.
Kapwing's video editor offers tools to trim, crop, split, speed, reverse, and rotate videos, and adjust the look of your video via opacity, brightness, contrast, saturation, and blur. It also gives some filters and transitions.
You can use Kapwing to auto-generate subtitles, type subtitles manually, and translate existing subtitles.
As for output, Kapwing offers 4 formats, MP4, GIF, JPEG, and MP3. You can export a video in MP4 and then share it on Twitter and Facebook or get the embed code to embed this video into websites.
If you use Kapwing with a free account, you can get unlimited exports but with a watermark. Pricing plans start at $24 per month.
What's more, you can use Kapwing to make memes, create photo collage & GIF collage, make YouTube thumbnails, and more.
#5. WeVideo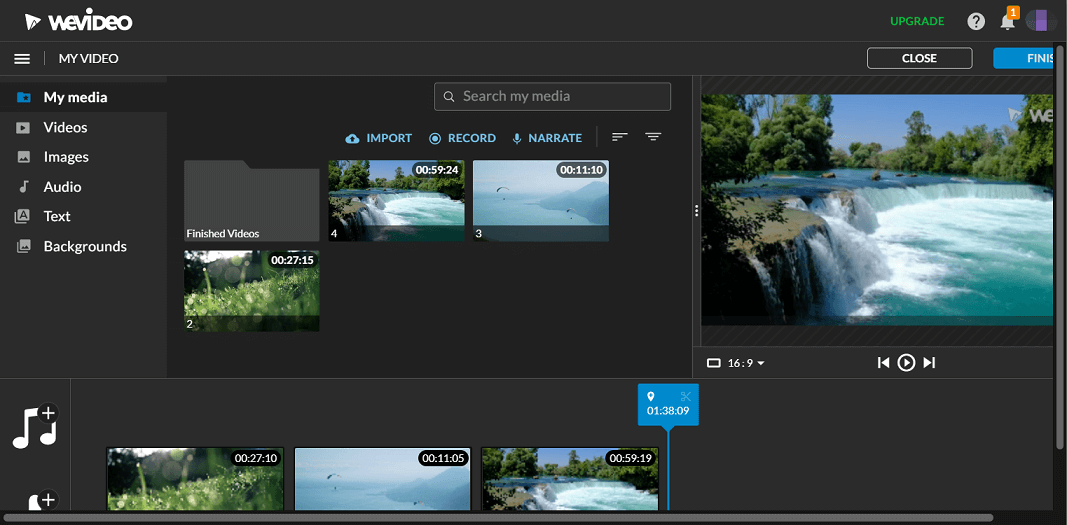 WeVideo is another online video editor. You can use it to add text to the video, trim, rotate, flip, crop, and scale video, edit video speed, and fade audio in the video.
With WeVideo, you can adjust the clip's color by brightness, contrast, saturation, hue, temperature, and tint.
WeVideo provides a library of videos, images, and audio tracks and a set of trendy transitions and filters.
After editing, WeVideo lets you export video in SD (852×480), HD (1280×720), Full HD (1920×1080), and Ultra HD (4K), but only the SD resolution is available for free accounts. You can also share the video to Google Drive, Dropbox, YouTube, Vimeo, Dailymotion, etc.
#6. FlexClip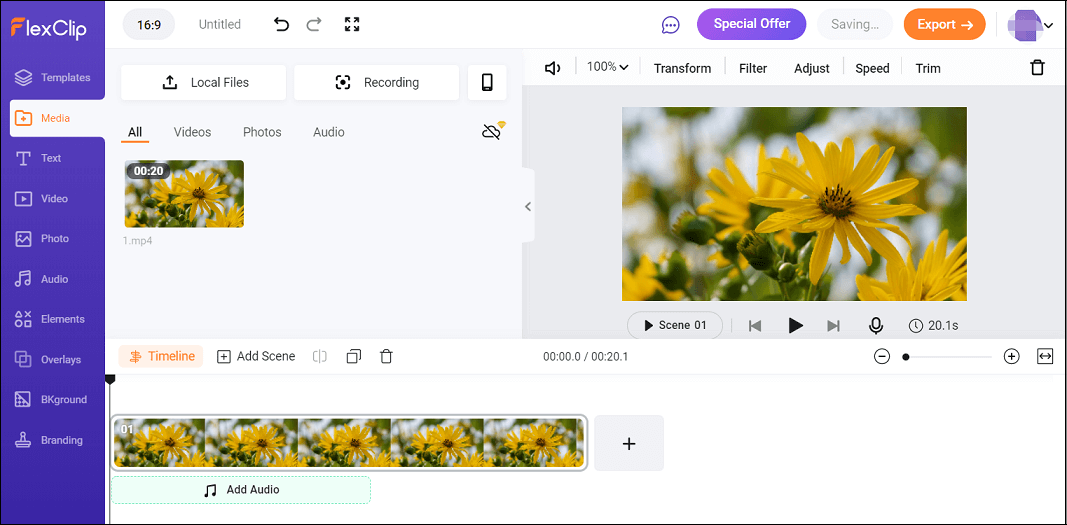 FlexClip is also a good option to edit videos in your browser. This simple online video editor has some basic editing features, including zooming, rotating, flipping, trimming, filters, speed adjustment, and color correction.
FlexClip features an element collection of shapes, social buttons, GIFs, bubbles, emojis, and other styles of stickers. You can add these elements to enhance your video.
FlexClip offers 3 resolutions for exporting videos, 480p, 720p, and 1080p. After exporting, you can save the video to PC, get a shareable link, and share it to YouTube, Dropbox, and Google Drive.
You can use FlexClip for free but only the 480p resolution is available. The subscription plans start at $6.99 per month.
#7. Magisto
Magisto is an AI-powered online video editor and makes it easy to create a video with 3 steps, adding media files, selecting a style, and adding music.
This online video editor gives you options to connect to Google Photos to add your videos and images, search over 30 million stock videos and photos, or upload media files from your PC.
Next, you need to choose a style for your video. Magisto has various themes. It also offers a library of music tracks for your video.
Magisto also has the capability of adding text and stickers and changing the aspect ratio.
You can use Magisto for free but it will watermark your exported videos. By the way, Magisto has mobile apps for Android and iOS. You can download it from the Google Play Store and Apple Store.
Magisto has monthly and yearly subscriptions. The former starts at $9.99 per month and the latter start at $59.9 per year.
Note:
You can use the above simple video editors in browsers to edit videos. All of them have both free options and paid services. The price of the subscriptions may change later.
#8. Video Candy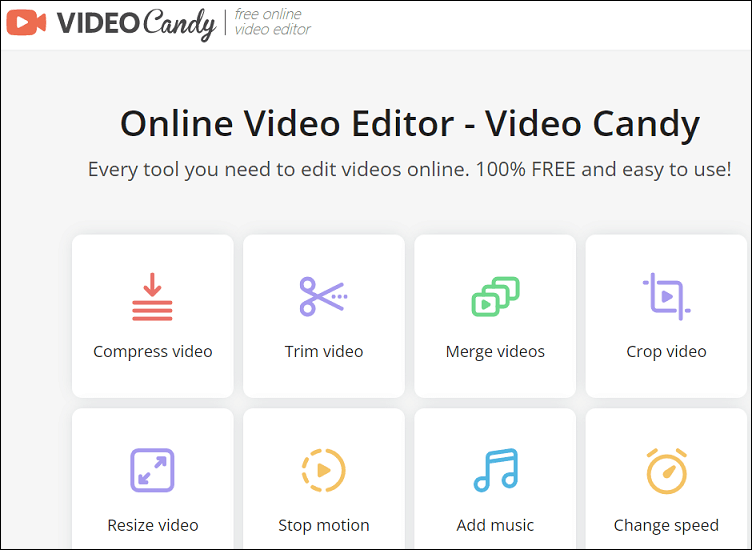 Video Candy is a free online video editor. It does not require registration and won't add a watermark to your video.
Video Candy offers many tools to compress, trim, merge, crop, resize, reverse, rotate, flip, loop videos, and more.
Best Video Editor for Windows 11/10 PCs
MiniTool MovieMaker is one of the best video editors for Windows. It's simple to use and doesn't need any skills. Everyone can use it to make awesome videos.
MiniTool MovieMakerClick to Download100%Clean & Safe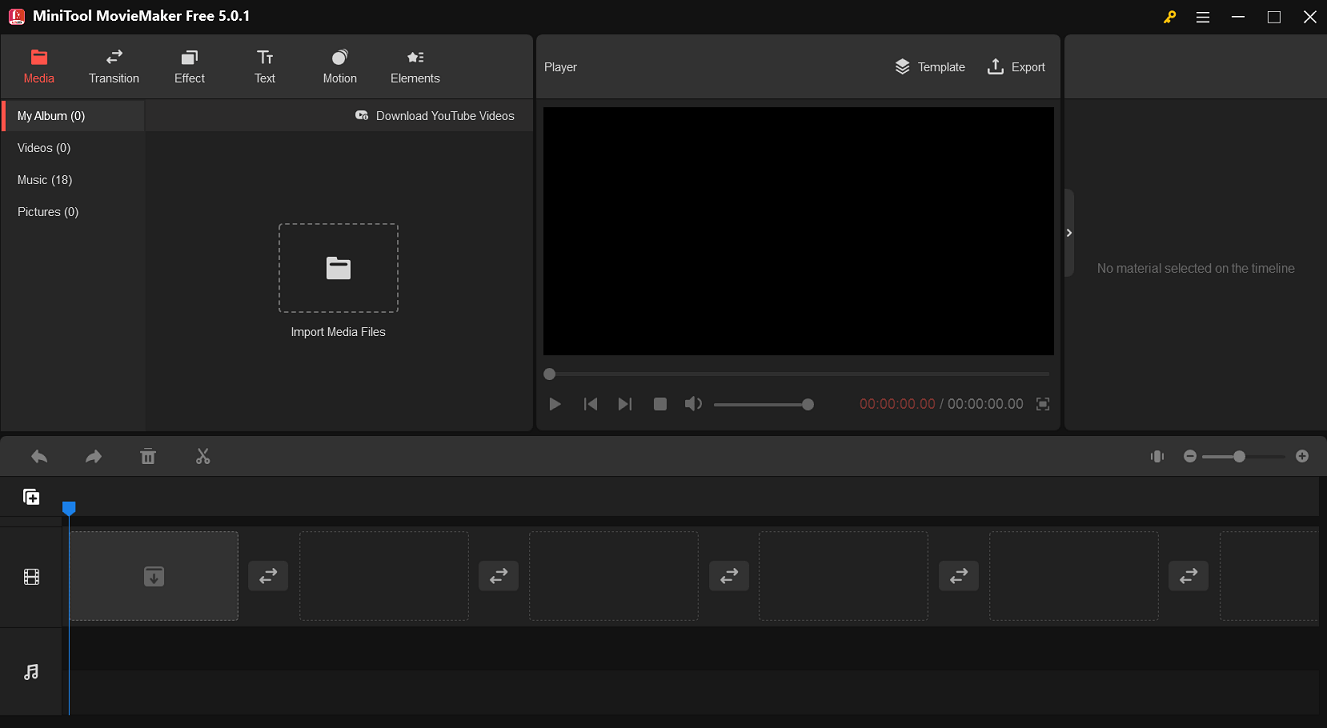 MiniTool MovieMaker has multiple editing features. It allows to you flip videos horizontally or vertically, rotate videos at any angle, split and trim videos with precise control, and change the video speed to make fast motion or slow motion videos.
Moreover, MiniTool MovieMaker offers rich resources of transitions, filters, animated stickers, motion effects, text styles, and music tracks, and it will keep updating these resources.
Also, MiniTool MovieMaker lets you edit audio in the video. You can fade in and fade out the audio or mute the original track and add your background music.
MiniTool MovieMaker allows you to export videos in 1080p for free without watermarks. You can also change the output resolution. It also offers multiple video formats.
What's more, you can use MiniTool MovieMaker to extract audio from video and create an animated GIF from video.
Here's a quick guide to use MiniTool MiniTool MovieMaker:
MiniTool MovieMakerClick to Download100%Clean & Safe
Step 1. Import your video
Download and install MiniTool MovieMaker on your PC and launch it.
Click Import Media Files to add your video.
Drag it to the timeline.
Step 2. Edit your video
Basic: Adjust clip's contrast, saturation, and brightness, and apply a 3D LUT effect to change the look of your video.
Rotation: Rotate the clip at any angle.
Speed: Slow down or speed up the video.
Audio: Edit audio in the video
Transition: Add a transition between two clips.
Effect: Apply artistic/common/Instagram-like filters to videos.
Text: Add title/captions/credits to the video.
Motion: Add camera motion effects to the clip.
Elements: Add animated stickers to the video.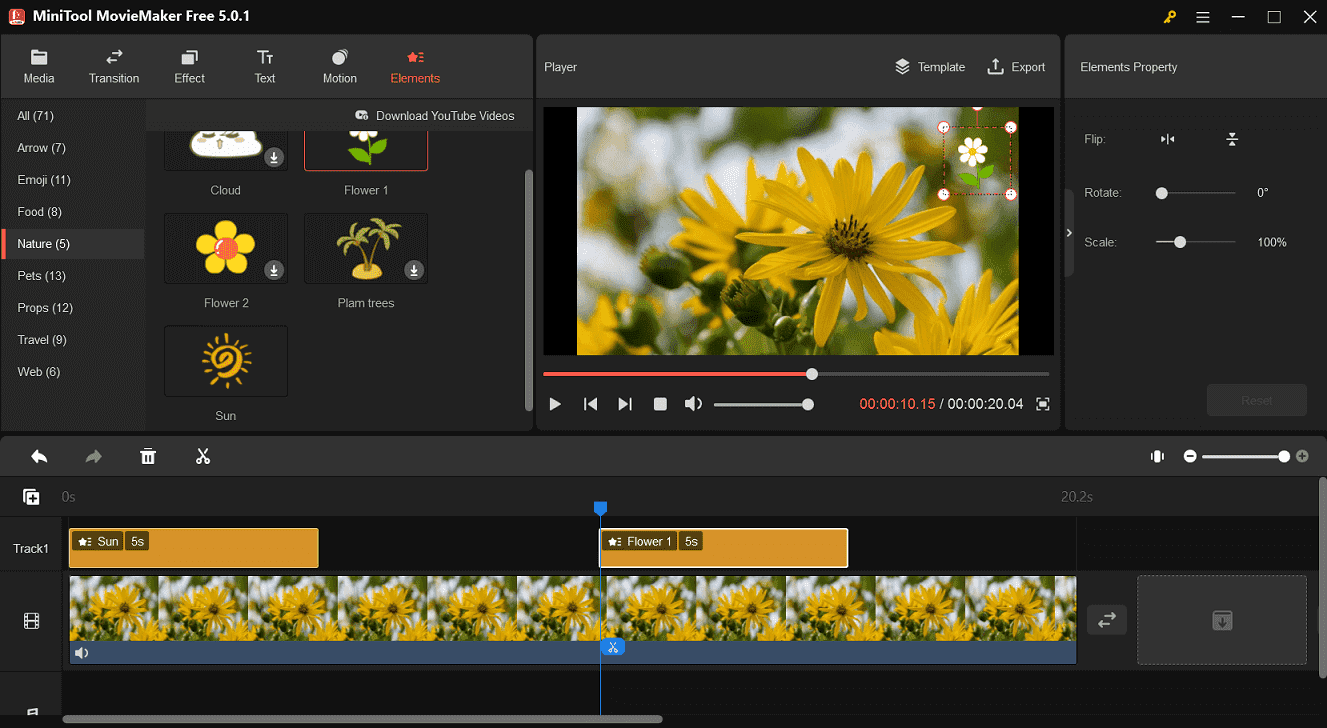 Step 3. Export the video
Click the Export button and adjust the output settings.
Click the Export button to export your video.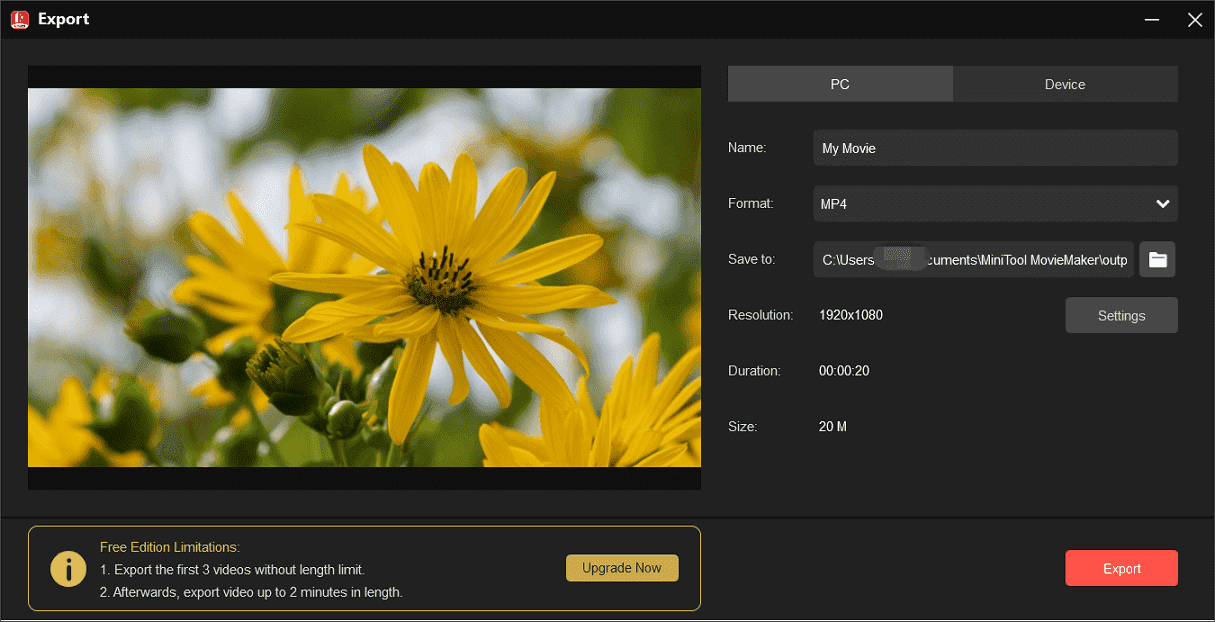 Conclusion
That's all about the 8 online video editors. All of them are simple to operate and have similar editing features. You can use them for common video editing tasks in browsers.
You can use these simple online video editors for free with registration, but most of them don't support 1080p output for free.
If you wish to export videos in 1080p for free, MiniTool MovieMaker is a great choice. You can quickly get it on your PC, and it's %100 safe and no ads.
If you have any questions while using MiniTool MovieMaker, you can contact us via [email protected].