Adobe Premiere is a powerful video editing software, but it's a little expensive. If you try to find some free or cheaper applications with similar functions, you've come to the right place. This post will give you 6 Adobe Premiere alternatives. If you want a free and simple video editor, MiniTool MovieMaker should be the best option.
Currently, there are many available video editing applications in the market to meet different users' demands. When it comes to professional video editing software, the majority of users will recommend Adobe Premiere, one of the best choices to create high-quality videos.
If you think Adobe Premiere price is too high or want to try other video editing applications, just follow the post and you will find a suitable alternative to Adobe Premiere.
About Adobe Premiere
Before talking about alternatives to Adobe Premiere, firstly let's look at its basic characteristics.
What is Adobe Premiere? It is a powerful, non-linear, and customizable video editing software that is available on Windows and macOS and it enables you to optimize your videos with ease. It provides a sleek and very intuitive interface, a flexible timeline, various editing shortcuts, and managing options.
It almost offers you the all video editing tools and features. With this comprehensive application, you're able to add text, apply effects and video transitions, do color correction, edit audio files, and more. And it supports multiple file formats, multi-camera angle editing, and 3D editing.
The new features in the July 2020 release include the ability to detach proxies and close all other projects, and other performance improvements and file format support. You may have heard that Adobe Premiere is expensive. But what is the Adobe Premiere price? How much is Adobe Premiere?
It offers you 3 payments to choose from. The monthly-paid annual plan costs $20.99/m, the prepaid annual plan needs $239.88/y, and the monthly plan costs $31.49/m, both including 100GB cloud storage and allowing you to access the latest features and updates.
Now, you've learned how much is Adobe Premiere and you may be astonished at the Adobe Premiere price. Adobe Premiere is extremely powerful, but it still has some limitations, such as its system requirements.
To help you find other applications with similar Premiere's functions, and free or cheaper alternatives, this post will list 10 applications that can be capable of replacing Adobe Premiere. The following is detailed information.
Top 6 Alternatives to Adobe Premiere
Final Cut Pro
HitFilm Express
MiniTool MovieMaker
iMovie
OpenShot
Lightworks
Adobe Premiere Alternative – Final Cut Pro
Compatibility: macOS
Price: One-time price $299.99 for 6 years + 30-day free trial.
Final Cut Pro, a professional-level video editing software, is the most widely used alternative to Adobe Premiere. It combines all high-performance digital editing features and support for almost all video formats to enable you to create, customize, and produce high-quality videos.
It's available to import and edit videos from standard-definition to 8K video, including most major professional camera formats. And it can also upload and customize 360° video with 360° titles, effects, graphics, and VR headset playback.
As for the basic project editing, it enables you to create and manage projects, select clips and ranges, add or remove clips, make three-point edits, cut and trim videos, correct shaky videos, and more. And it can zoom in to audio waveforms, solo and mute audio clips, add music and sound, record voiceovers, fade audio in and out, adjust volume, apply and adjust audio effects, sync audio to video, enhance audio, etc.
Also, it can add and edit titles, such as modifying titles in motion, and it also enables you to add and adjust 3D titles. About effects, you can apply many transitions, built-in effects, animate video effects, including resize, rotate, crop video clips, add backgrounds, and more.
As for the advanced editing, it can manage clips and organize the timeline using roles, create, edit, convert, export, and share captions, create and edit compound clips, support multi-cam editing, put storylines, and more. What's more, it lets you export files in various formats, publish and share videos to many video streaming websites, and optimize it for other Apple devices.
Adobe Premiere Alternative – HitFilm Express
Compatibility: Windows and macOS
Price: Free
HitFilm Express, a free version of FX Home's video editor, is an excellent Adobe Premiere free alternative. It is a perfect choice for beginners, YouTubers, film students, and other users without a budget. More importantly, its official website offers a variety of tutorials. With its professional tools, you have the opportunity to create amazing content.
This comprehensive video editing software has 410+ effects and presets, numerous video transitions, plenty of advanced animation tools, and other powerful non-linear editing tools. For instance, you are allowed to add unlimited video and audio tracks to the timeline, trim, split, and rotate clips.
Furthermore, it can edit audio functionally to normalize your audio files. And it's also an audio mixer to fine-tune the sound for high-quality output and modify, balance, and mix tracks.
Adobe Premiere Alternative – MiniTool MovieMaker
Compatibility: Windows
Price: Free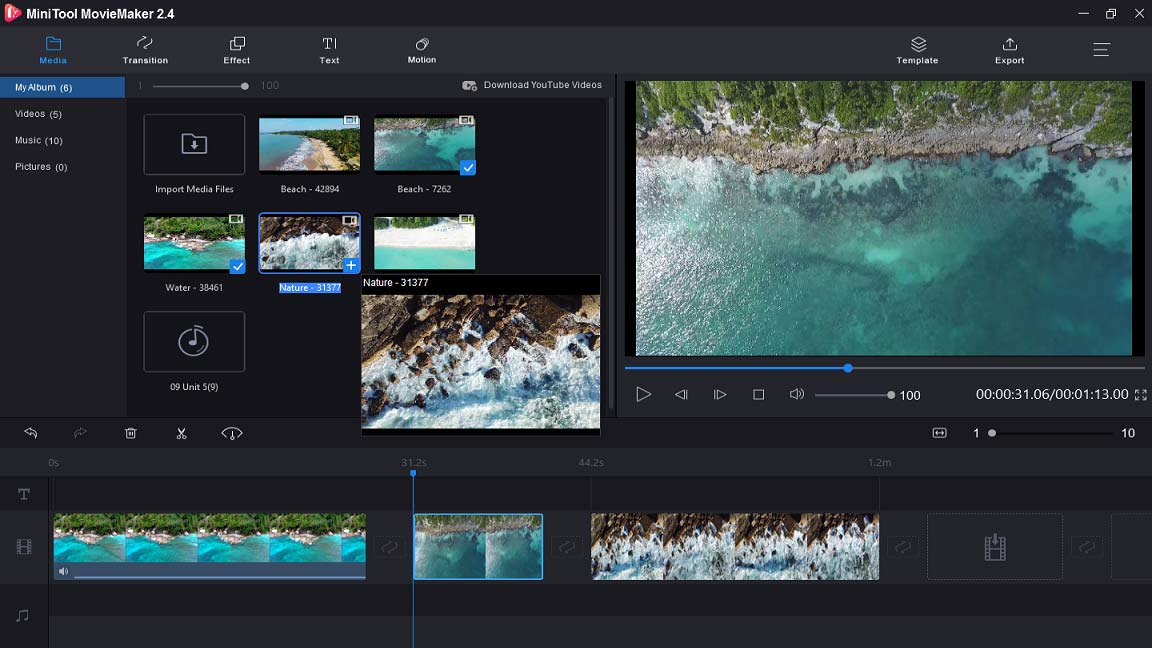 If you begin to try video editing and want to find a 100% free and easy-to-use video editing software, MiniTool MovieMaker is the best Adobe Premiere free alternative you must try. It's a free, clean, no watermark, no bundle, and no ads video editor. And it guarantees a fast, safe, and free download, so you can easily download and install it.
MiniTool MovieMakerClick to Download100%Clean & Safe
First, it's a video maker and editor that enables you to create videos with images, video clips, and background music. It supports the most common media formats. The supported video formats include MOV, AVI, MP4, WMV, etc. The supported image formats include JPEG, JPG, GIF, PNG, etc.
And the supported audio formats include MP3, FLAC, WAV, M4A, etc. It's very simple to use even though you don't have any skills or experiences. The user-friendly interface gives you all the basic tools to customize your videos. To let you make a movie easily, it provides several Hollywood-style video templates.
After importing and adding video clips to the timeline, you can start your creative editing. With MiniTool MovieMaker, you can rearrange clips, split and trim videos, combine multiple clips into one video, merge video files, flip videos vertically or horizontally, reverse videos, slow down or speed up videos, rotate videos 90° clockwise or anticlockwise, and more.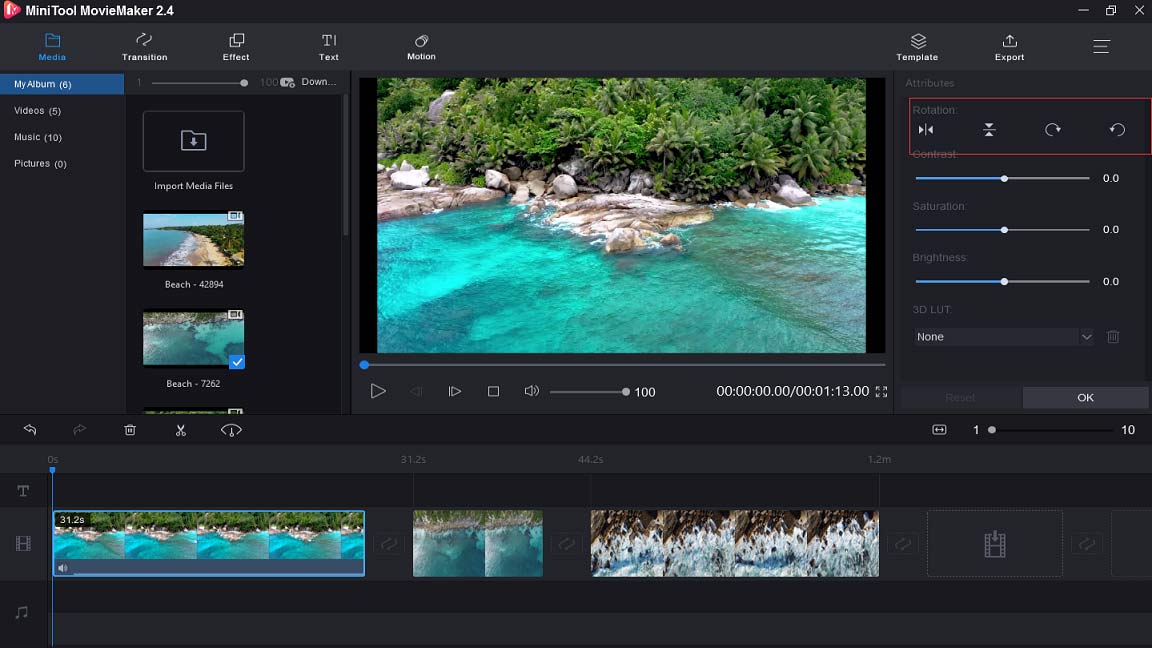 Besides, it enables you to add text to videos. It offers you different styles of titles, captions, and credits and allows you to change the text size, color, position, and font. To make your videos more amazing, you can apply video transitions and effects.
Second, it's one of the best GIF makers, supporting image or video to GIF. With it, you can convert your favorite YouTube or Twitter videos to GIF, AVI to GIF, and supports GIF to video, etc. For example, you can make funny Merry Christmas GIFs. And it also permits you to add music or text to GIF, rotates GIF, cut GIF, and change the GIF speed, etc.
Moreover, it's an audio editor to remove audio from video, split audio, merge MP3 files, etc. And it's also one of the best photo slideshow makers to create slideshows with pictures and music.
Note: Before start your audio editing, please add images and videos first. Or you cannot add audio to the timeline directly.
MiniTool MovieMaker is very easy to use and free of charge. It makes me create wonderful videos. Click to Tweet
Adobe Premiere Alternative –iMovie
Compatibility: macOS and iOS
Price: Free
It's another Adobe Premiere free alternative. With an intuitive interface and powerful editing features, iMovie makes you create awesome videos and movie trailers. It can edit videos at up to 4K resolution with clips form iPhone 6S or later, GoPro, and other compatible HD cameras.
And it supports 1080p HD video at 60 frames. To optimize your project, you can add transitions, 3D globes and travel maps, logos, cast names, music, animated titles, and credits to videos. What's more, with the fast-forward and slow-motion effects, iMovie makes you change the video speed. And it gives 10 cool video filters, audio effects, and extra special effects like picture-in-picture effect to you to choose from.
It also can stabilize the shaky videos and automatically zoom in on faces and glide across panorama images with the Ken Burns Effect. More importantly, it can send your project to Final Cut Pro and edit it with its advanced editing tools.
Adobe Premiere Alternative –Lightworks
Compatibility: Windows, macOS, and Linux
Price: Free and paid version, $24.99/m, $174.99/y, $437.99 for an outright license.
Lightworks is also an excellent alternative to Adobe Premiere. It's equipped with versatile tools to create videos for 4K film projects, Vimeo, and YouTube. It supports a wide range of file formats, and it has a simple and intuitive interface. It also offers you free royalty audio and videos and enables you to export videos for YouTube/Vimeo, SD/HD, up to 4K.
And it makes you trim videos, add text to videos, put music in the video, resize, crop, rotate, split, and cut video clips. Of course, you can apply transitions and effects to videos, change the video background, adjust video color, and more.
Adobe Premiere Alternative – OpenShot
Compatibility: Windows, macOS, and Linux
Price: Free
It's another Adobe Premiere free alternative. It's an open-source and cross-platform video editing software and it is easy to use and quick to learn. It is compatible with most popular video, audio, and image formats. And it's packed with a powerful keyframe animation framework. Also, you can create layers to videos, images, and audio. In the timeline, it's easy to resize, trim, snap, scale, rotate, and cut video clips.
Apart from this, OpenShot includes more than 400 transitions with real-time previews and can overlap two clips to create a new transition automatically. To help you create stunning text, it offers 40+ vector title templates and permits you to adjust the font, size, and color. OpenShot also can edit audio tracks, like splitting audio in the video, displaying waveforms in the timeline, etc.
Bottom Line
This post introduces 6 Adobe Premiere alternatives to you. All of them are professional video makers and editors to let you create awesome content. If you're looking for an alternative to Adobe Premiere, you can choose one from them and have a try. Which alternative do you prefer? Do you want to share other brilliant alternatives? Or do you have any questions? If yes, you can contact us via [email protected].
Adobe Premiere Alternative FAQ
Is it possible to buy Adobe Premiere permanently?
No, it's impossible to buy Adobe Premiere permanently. Because it only offers annual payment and month payment. You can pay for it annually $239.88 or monthly $20.99.
Where can you get the free trial of Adobe Premiere?
You can download a trial version of Adobe Premiere Pro with a free Creative Cloud membership. And with the membership, you can also download other applications for a trial. After you buy it, you can have the full version.
How to download and install Adobe Premiere?
Sign in to the creativecloud.com/app, select Adobe Premiere, and click the Download or Install.
Double-click the downloaded file to start the installer.
Install it on the desktop according to the onscreen instructions.
How to start editing in Adobe Premiere?
Collect your footage and other media files.
Check the system requirements.
Launch Adobe Premiere on your PC.
Open an existing project (Click Open Project) or start a new project (Click New Project).
Import your video and audio files.
Move or rearrange the order of video clips.
Add titles, apply transitions and effects, edit color, mix audio.
Export and save the video.