Nowadays, most video editing is non-linear, which means that you can edit your videos in any order with great flexibility. In the video editing industry, non-linear video editing has replaced linear editing systems. Read on to find out what is non-linear video editing definition exactly and some of the best non-linear video editing software (including MiniTool MovieMaker).
MiniTool MovieMakerClick to Download100%Clean & Safe
Non-linear Video Editing Definition
Firstly, Let's figure out what does non-linear video editing mean. Basically, non-linear editing (NLE) is a non-destructive video editing process. In non-linear editing, your original media files are not lost or modified during editing. You can make changes to video clips or other media elements from any point and work on them on the timeline in any order.
It allows you to duplicate the original footage and make edits without worrying about changing the original content. Moreover, you can work on whichever clip you want in any order instead of following the sequence from beginning to end. It makes your editing more productive and efficient.
Difference Between Linear and Non-linear Video Editing
Non-linear Editing Vs Linear Editing
Now, there are two types of video editing methods available during post-production, linear video editing, and non-linear video editing. Let's distinguish the two editing methods as follows.
Just as the name suggests, in linear editing, edits are done in a prearranged, ordered series. You need to edit your videos linearly or sequentially. Because of this, you're not able to isolate an individual clip for editing without touching the rest. This leaves little room for error, which can be troubling when reviewing and editing large raw footage.
After you are done, you may find that it over-complicates the post-production, forcing you to make changes in a specific order, save copies of original sequences, and create complicated modification histories. Fortunately, most video editing software applies non-linear editing and has substituted linear editing.
In contrast, non-linear editing has significantly simplified digital video editing. This new kind of editing allows you to make changes where and when as you like. It also uses digital tools to enable you to avoid storing multiple copies and can even integrate to save your storage space. We will explain the non-linear editing advantages in the following part.
Non-linear Editing Advantages
You may find many non-linear video editing advantages. Firstly, you have great flexibility and freedom throughout the editing process. You can capture and edit footage without having to follow a sequential order. It allows you to start working wherever you like and drag and drop individual video clips on the timeline.
Secondly, you can preview your changes edits in real-time. It enables you to view the effects of your editing immediately after performing the action without delay. Because non-linear video editing allows for flexibility, you won't feel obligated to produce a perfect final project at the very beginning of edits. If you find something is missing when you review, you can immediately address this without any hassle.
Furthermore, you can make changes without affecting the original media files. Since the original files are kept untacked when you use a non-linear video editor, you always have the original and full-quality media on hand. also, it reduces the space for multiple copies and saves both time and storage costs.
Best Non-linear Video Editing Software
Non-linear editing (NLE) software is the most common way of editing videos. Most of the video editing software applies non-linear technology. What is the best non-linear video editing software? The answers to this question may vary from person to person based on skill, experience, goals, and more.
The following part will introduce you to some of the best non-linear video editing software, both free and paid. You can make the choice according to your preference.
Free Non-linear Video Editing Software
MiniTool MovieMaker (Windows)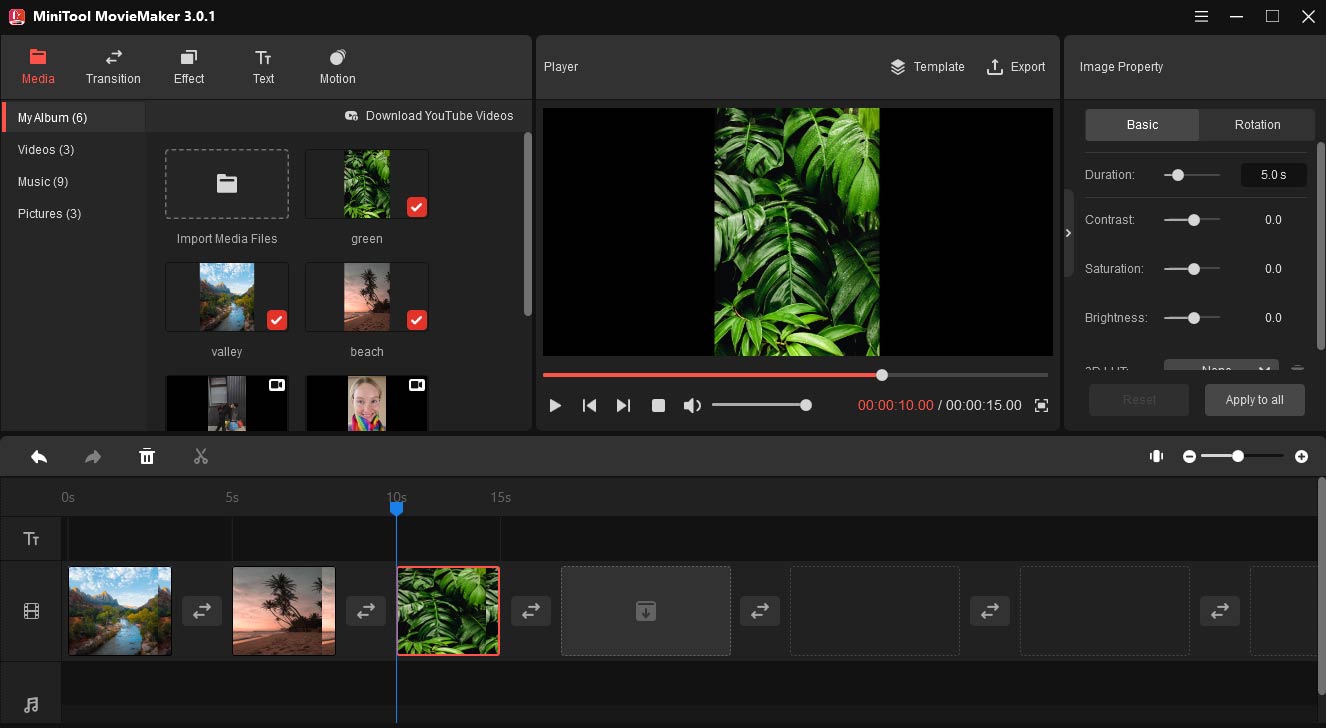 MiniTool MovieMakerClick to Download100%Clean & Safe
If you want free and easy-to-use non-linear video editing software, MiniTool MovieMaker is one of the best options for you. It is one of the best video editors for Windows with no watermark, ads, or bundle. Although it is completely free, it covers all the basic video editing features.
With a user-friendly and simple interface, even if you have no editing experience, you can edit your videos easily and quickly. It supports many popular video, image, and audio formats. You can upload your media files and then use the drag and drop tools to make changes to your videos on the timeline.
To customize your videos and make them impressive, you can employ its cool transitions, filters, and motion effects in your videos. It also enables you to rotate, flip, split, trim, cut, reverse videos, change video speed, adjust the contrast, brightness, saturation of the video.
Most importantly, this free software allows you to change the video resolution and video format. After you complete all the editing, you can change the format of your video file to make it compatible with other platforms and media players.
MiniTool MovieMaker is a useful and amazing video editing software. With it, I can modify my video footage in just a few clicks.Click to Tweet
iMovie (macOS)
If you work on your videos on Mac, iMovie is one of the best non-linear video editing software for you. It is user-friendly and designed to work seamlessly across all your Apple devices, which means you can interactively edit the same video file on your iPhone, iPad, and Mac.
Aimed at entry-level users, it provides a simple drag-and-drop function and gives you many basic editing tools to edit your imported video clips. After you crop, trim, rotate and combine the video clips, you can employ beautiful transitions, titles, themes, backgrounds, soundtracks, and audio to your videos.
There is a green screen and blue screen support available if you want to use special effects. It also has lots of trailers and templates to choose from that will help to make your videos look more professional.
VSDC Free Video Editor (Windows)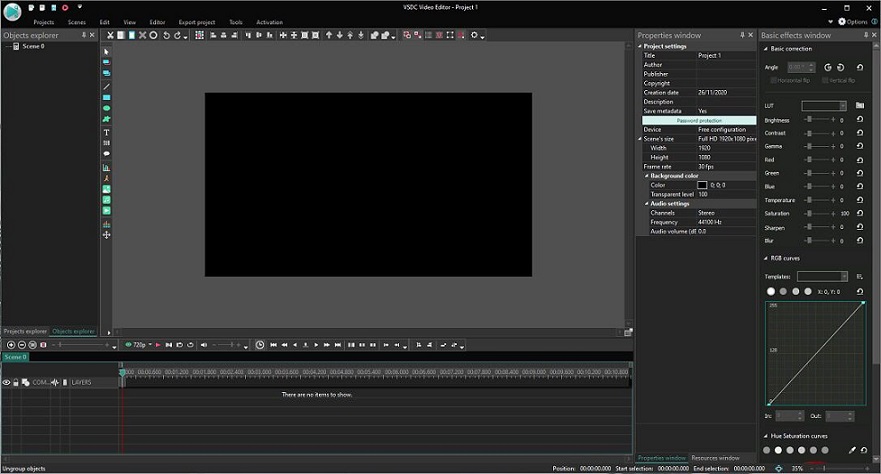 Developed by Flash-Integro LLC, VSDC Free Video Editor is also a full-featured non-linear video editing solution to deal with your video, audio, and images.
With a simple and clean interface, it allows you to edit videos without any hassles. You can apply filters to videos and add other beautiful visual effects. You can also use its features like object transformation, color correction, transition effects, blur filters, and more.
While working with it, you can easily add water markers to the video, extract audio tracks of the project, apply sound effects, and much more. Additionally, this software includes a built-in disk burning tool for DVDs. You can burn the video clips to a disc.
It also provides a Pro version that costs $19.99 per year for more professional-level users. It offers advanced features including video masking, motion tracking, hardware acceleration, and audio waveform. As for basic video editing, you will probably find the free version has met your needs already.
Paid Non-linear Video Editing Software
Avid Media Composer (Windows, macOS)
Originally created non-linear editing, Avid Media Composer is a solid choice for many professional editors. It is a robust and all-around non-linear video editing software for working on blockbuster films and award-winning television shows.
Designed to handle high-quality mixed media, it enables you to deal with high-resolution, HDR, and HD editing with reliable media management. With it, you will access and edit ARRI, QuickTime, Sony, Panasonic, and other file-based formats without transcoding or copying media.
It allows you to design stunning visuals. Ranging from creating amazing visual effects, green screen composites, motion effects, and transitions, to correcting color, tinting scenes, and designing graphical titles and animations, it is easy to give your projects a professional look.
As an original non-line video editing suite, it provides a free version (Media Composer First) that targets non-commercial users. If you want to jump into professional filmmaking, you may need to pay $24 per month on a one-year contract, $209 upfront for one year, or $35 on a monthly basis. A perpetual license is also available for $1,500.
Adobe Premiere Pro (Windows, macOS)
As a highly professional non-linear video editing software, Adobe Premiere Pro is acclaimed worldwide for its impressive editing functions. This versatile software may have become a true industry standard in the world of video post-production.
It provides almost everything you need for professional video editing and creation: powerful video stabilization, advanced color correction, a large collection of video and audio filters, lots of transitions and special effects, support for 360-degree and Virtual Reality videos, video noise reduction, and integration with different plugins.
With Premiere Pro, you can import and play nearly any format of the video file. It lets you export your result videos in any format, resolution, size, or bitrate, making it easy to optimize your content for playback via social media, streaming services, and Blu-ray.
Due to its professional features, you may need a steep learning curve if you are new to video editing. If you have grasped some editing skills, it is definitely worth trying.
Of course, such a professional non-linear editing software comes with a price tag. After a 7- day free trial, you can choose to pay $31.49 for a monthly subscription or $239.88 for an annual plan (include Creative Cloud subscription).
Final Cut Pro(macOS)
Final cut pro is also professional non-linear video editing software published by Apple Inc. It is a powerful and versatile software for many Mac users.
As it is easy to navigate and features intuitive drag-and-drop functionality, you can produce amazing videos quickly. With a sleek and feature-rich interface, you can drag and drop video footage, images, audio tracks, and more without too many layers.
On the magnetic timeline, you can do non-destructive editing on your video clips. Your raw footage can be moved around, trimmed, and reordered without syncing problems. There are also a host of advanced editing features like video noise reduction, 360-degree VR support, multi-camera editing, color correction, and more.
To polish your video footage, it features many customizable transitions, sound effects, and graphics tools. You can also download and install compatible third-party plugins that integrate with it for more creative and productive creation.
It is also equipped with many motion graphics templates that can be applied to the footage to make them more engaging. As for editing the audio in videos, it has a built-in audio editor and there is no need to invest in a dedicated program to edit sound clips and tracks for the video.
As for the price, it offers a generous free 90-day trial. After that, if you decide to buy it, you need to pay $299. You will receive updates automatically with no subscription required.
Conclusion
This post offers a complete guide for what non-linear video editing is, a comparison of non-linear editing vs linear editing, and some of the best non-linear video editing software both for Windows and macOS.
If you have any questions about this post or encounter any problems while using MiniTool MovieMaker, you can leave your comments below or contact us via [email protected].