Cropping video is a common editing technique that allows you to adjust the edges of your video. What's the best MP4 cropper? This post lists 9 options (like MiniTool MovieMaker) for different devices.
What Is Cropping & Why Crop Video/Photos
Cropping is the process of moving the edges of a video or photo and it will change the dimensions just the width and height of your video/photo.
Cropping lets you remove the outside area from a video/photo. Usually, you may need to crop a video/photo to eliminate the unwanted peripheral area like watermarks, change the aspect ratio to make it fit social media platforms, highlight the subject, etc.
It's easy and quick to crop images using the built-in apps on your devices, such as Windows's Photos app, Android's Google Photos app, iOS's Photos app, etc.  Moreover, many professional image editors like GIMP or Photoshop support image cropping, too.
The default photo apps on your device might allow you to crop videos. Alternatively, you can try out the following MP4 croppers for different devices to crop your video and make it professional with other editing features.
MP4 is the most common video file format, and it works with most devices. MP4 is also supported by all social media platforms, browsers, video editors, media players, etc. Depending on the supported input formats, the following MP4 video croppers might allow you to crop many other types of video files.
MP4 Croppers for Windows and Mac Computers
What's the best MP4 cropper for your computer? Continue to read this part and find your favorite one.
#MiniTool MovieMaker
MiniTool MovieMaker is an easy-to-use MP4 cropper no watermark and it offers two ways to crop videos on Windows 11/10/8/7, custom cropping or cropping with a preset aspect ratio.
You can manually drag either edge of the MP4 video to crop it as you like. This way is suitable when you want to crop out something on the top, bottom, right, and left corners of the video.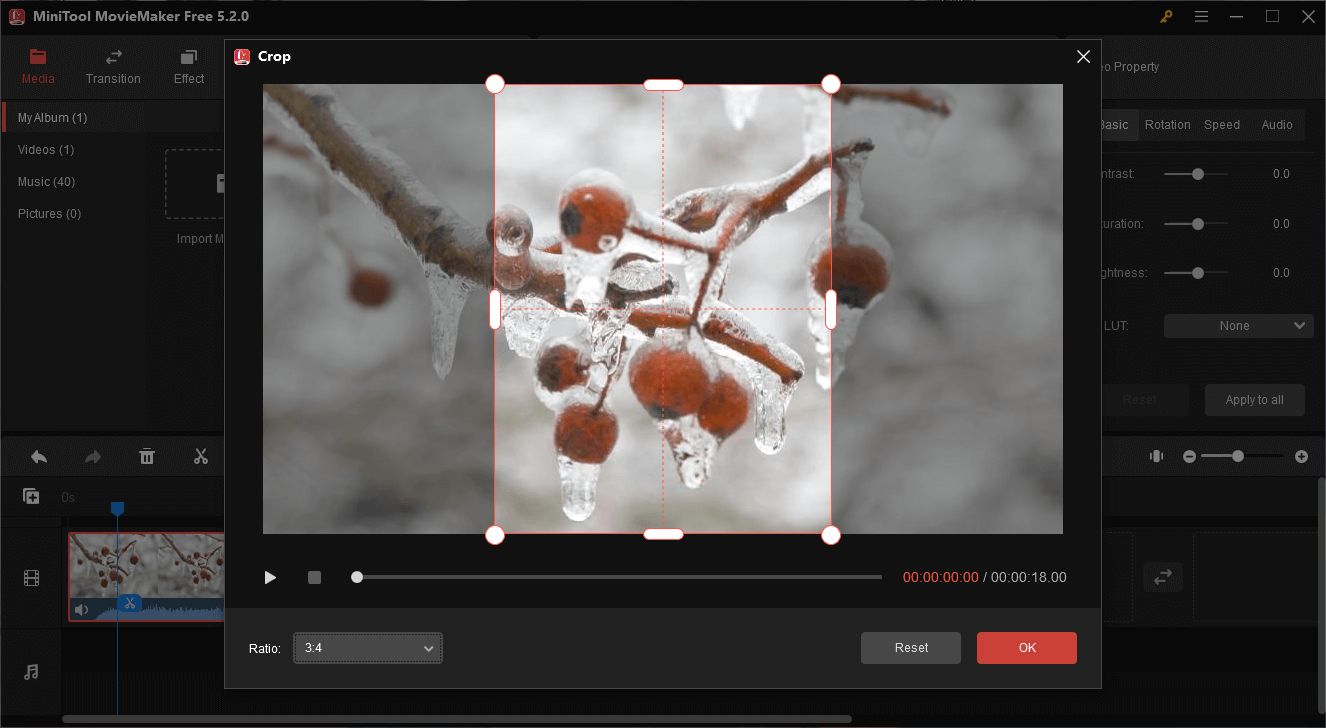 If you need to crop a video to fit a certain aspect ratio, MiniTool MovieMaker also meets your needs. Choose from the 6 aspect ratios and move the red rectangle to choose the parts you'd like to save.
Also, MiniTool MovieMaker allows you to crop GIF, AVI, MKV, WebM, WMV, MOV, and other popular video files. After cropping, you can continue to trim, split, rotate your video, add filters, transitions, and animated stickers, and more to enhance your video.
Benefits:
A flexible and simple cropping tool.
Crop videos without watermarks.
Support many video formats for input and output.
Offer the most basic video editing tools and features.
Export video up to 1080p for free.
#iMovie
iMovie is a free MP4 cropper no watermark for Mac users. This application is pre-installed on macOS devices and thus you can directly launch it to edit your video.
In iMovie, you'll find 3 cropping styles, Fit, Crop to Fill, and Ken Burns. Ken Burns is actually an animation effect to zoom in or out of the video.
 You can choose the Fit options to quickly fit your video into the frame. Crop to Fill will let you remove something off the top and the bottom. You can move and resize the adjustable frame to crop the video as you like. But it doesn't provide preset aspect ratios to choose from.
As one of the best video editors for Mac users, iMovie offers more tools for video post-production. It allows you to adjust the clip's color, rotate videos, stabilize shaky videos, add subtitles, change the clip's speed, and more.
Benefits:
Pre-installed on Mac and free to use.
Offer many video editing tools.
Suitable for beginners and experienced users.
#VSDC Free Video Editor
VSDC Free Video Editor is also a free MP4 cropper for Windows and it has auto-cropping and custom cropping. The former means that the video will be automatically adjusted to fit the scene. By comparison, the latter is more often used by most people.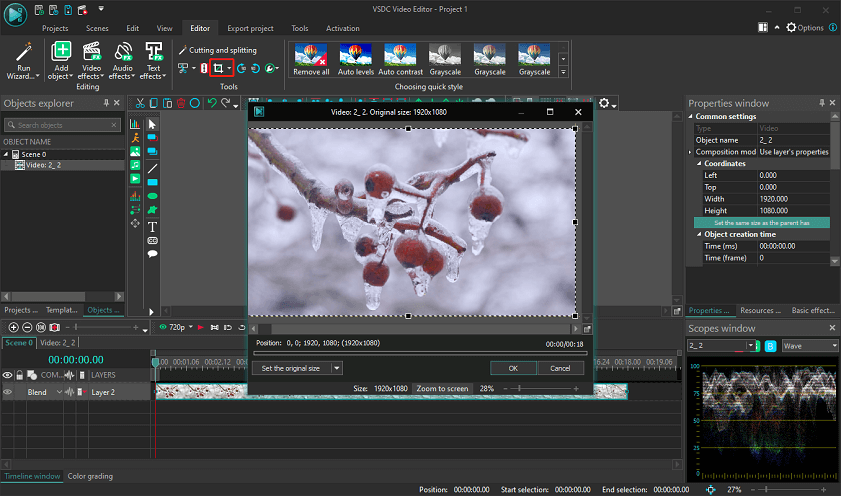 VSDC's custom cropping feature lets you choose what to stay after cropping, and it also offers options to set the size of a video in accordance with the scene's, object's, or image's aspect ratio.
With VSDC Free Video Editor, you can manually crop your video and there's no available aspect ratio preset.
What's more, VSDC Free Video Editor can be used to trim and split videos, add audio effects, add transitions, do color correction, and more.
Benefits:
Support various video file formats for input.
Export videos for different devices and social media platforms.
A set of editing tools.
#Avidemux
Avidemux is another free MP4 video cropper for your computer running Windows, macOS, Linux, and BSD operating systems. To locate the cropping tool, click Video from the top menu and go to Filters, and double-click Crop.
Next, you can reshape the red rectangle on the Crop window to crop the video as you like. Also, you can choose from 21:9, 18:9, 16:9, 4:3, 1:1, and 9:16 aspect ratios to crop a video.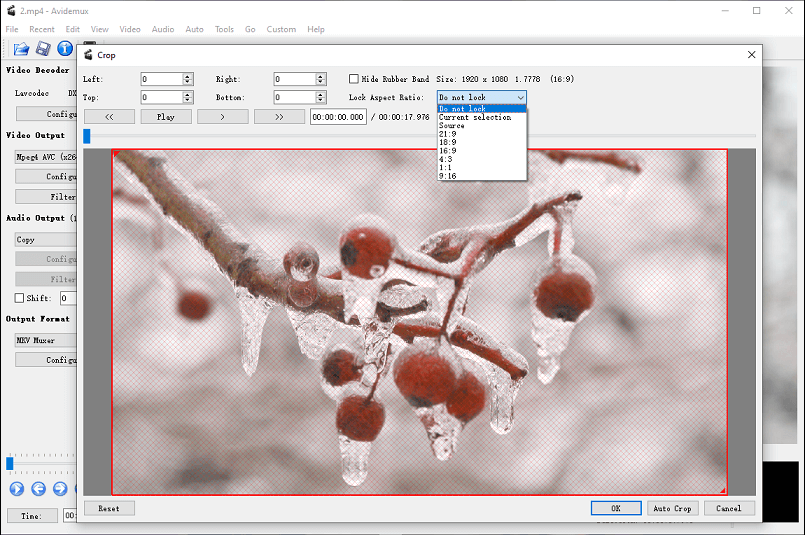 In addition to the Crop filter, Avidemux has many other video filters to edit your videos, such as adding a logo, changing video speed, splitting, rotation, transitions, color adjustments, and more.
Avidemux is not only a video editor but also a video converter. It allows you to import most of the video files to edit and convert them to MKV, MP4, AVI, FLV, WebM, MOV, etc.
Benefits:
Multi-platform support.
Work with a wide range of video formats.
Multiple video filters to edit videos.
If you want to convert your video to other formats like SWF, OGV, MXF, and more or convert a video to make it compatible with some mobile devices, MiniTool Video Converter is recommended here, a free and powerful video converter for Windows 11/10/8/7.
MP4 Croppers for Android and iOS Devices
In addition to the default MP4 cropper on your Android and iPhone/iPad, there're many third-party apps for your device.
#VivaVideo
VivaVideo is one of the best MP4 croppers for your phone. This app helps you crop videos arbitrarily without losing quality. After that, you can continue to cut and split the video, edit the playback speed, decorate it with stickers, and more.
Related:
Benefits:
Multiple editing tools and effects.
Support exporting video in 720p, 1080p, and 4K.
#YouCut
YouCut is also a great MP4 video cropper for your Android and iOS devices. Within this app, you can freely crop a video or fit it in 10 aspect ratios.
As one of the best video editors for your phone, YouCut is equipped with a set of editing tools and a huge collection of video transitions, effects, and music tracks.
Benefits:
No watermark.
Offer almost all basic editing features and several advanced ones.
MP4 Croppers for Web Browsers
Here're 3 online MP4 croppers that are well worth a try.
#Video Candy
Video Candy is a free online video cropper with no watermark. It can crop MP4, AVI, MPG, MOV, MKV, and more video file formats.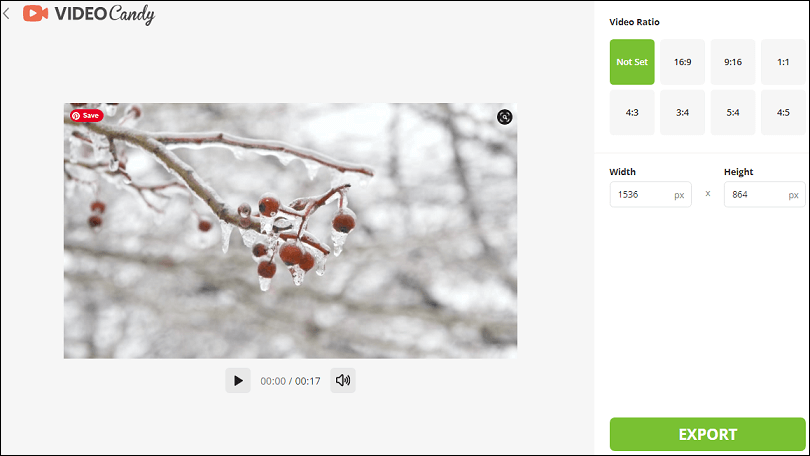 With Video Candy, you can manually crop the video, and while the process you can see the changes in the video's width and height. Alternatively, you can choose a preset aspect ratio to crop the video. After that, you can export the cropped video in MP4 format.
Video Candy has more tools for you to explore. For instance, you can compress, trim, merge, loop videos, make slideshows, and more.
However, these tools can only be used separately. It means that you can only use one of the above tools before exporting.
Benefits:
Free to use and no account is required.
Offer several preset aspect ratios to crop videos.
Won't watermark the exported video.
#CapCut
Currently, CapCut is available for Windows 11/10 and Mac computers. Also, you can use it in your browser. Thus, it's also a free online MP4 cropper no watermark. But the cropping icon is named Trim in the CapCut web application.
After you add a video to the timeline, you'll see the Crop icon above the timeline. CapCut allows you to crop the video free or select an aspect ratio to crop it. Meanwhile, you can rotate the video.
Moreover, the CapCut web application enables you to reverse videos, add filters, animation effects, and more, but it's less powerful than the CapCut mobile app. You can use an emulator to get the mobile version on your PC.
Benefits:
Store your video projects in Cloud.
Offer several templates to create TikTok videos & ads, Instagram posts & stories, and YouTube ads.
Customize video resolution and frame rate when exporting.
#FreeConvert
FreeConvert is an online file converter to change the format of videos, audio files, images, documents, etc. It also has tools to crop, trim, and compress videos.
This online video cropper offers 12 aspect ratios for you to choose to crop videos. Of course, it lets you crop video in freedom.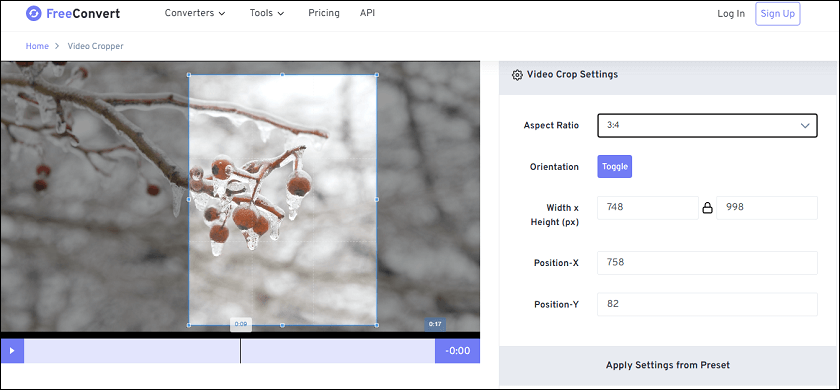 After cropping, you can save the video in the same format as the original video or convert it to MP4, FLV, MKV, WMV, and other video formats.
Benefits:
Support a wide range of video formats.
It can be used for free and without registration.
Best Video Aspect Ratio for Social Media Platforms
Cropping is the process of changing the aspect ratio. In many cases, many people crop a video to make its ratio fit Instagram, Facebook, Twitter, YouTube, TikTok, etc. before uploading.
Now, it's popular to share videos on these platforms so it's important to know their aspect ratio standards.
Common video aspect ratios include 16:9 (Landscape), just like the video you watch on YouTube on a computer; 9:16 Vertical video (Portrait) like the video you watch on TikTok; 1:1 (Square); 4:3 and 1.33:1, 21:9 (Widescreen), 3:2; etc.
What's the best video aspect ratio for these social media platforms?
Instagram video aspect ratio:
Post video: between 1.91: 1 to 4:5, the recommended is 16:9
Story video: 9:16
IGTV and Reels Videos: 9:16
When you create a video post on Instagram, it allows you to crop the video to 1:1, 9:16, and 16:9 aspect ratios. For images, it can crop your photo to 1:1, 4:5, and 16:9 aspect ratios.
Facebook video aspect ratio:
Feed video: from 16:9 to 9:16
Stories: 1.91:1 to 9:16
Twitter video aspect ratio:
On the web: between 1:2.39 to 2.39:1
Mobile app: 16:9, 1:1, 9:16
YouTube video aspect ratio:
For YouTube on a computer: 16:9 is the standard aspect ratio
The YouTube app for Android and iOS will automatically adjust the player size to fit your video no matter it is vertical, square, or horizontal.
TikTok video aspect ratio: 9:16 (recommended) and 1:1
Snapchat video aspect ratio: 9:16
If you want to change the aspect ratio of a video to make it fit a certain platform, MiniTool MovieMaker is recommended here. It supports the most popular aspect ratios including 16:9, 4:3, 9:16, 1:1, and 3:4. You can use it to make wonderful videos for any social media platform.
Conclusion
That's all about the 9 MP4 croppers. Most of them are completely free to use and without watermarks. What's your favorite MP4 cropper? Leave it in the comments area.
If you have any questions while using MiniTool MovieMaker, please contact us via [email protected].