YouTube video editor is no longer available. Don't worry. There are several YouTube video editor alternatives on Windows, Mac OS, Android, and iOS. Try the best alternative to YouTube video editor to easily edit your videos.
Useful Tip: If you want to make cool movies, I advise you to use MiniTool MovieMaker.
YouTube Video Editor is a free and online video editing tool that can help combine videos into one. This tool allows users to edit as many as 500 images, 50 clips, titles, sound or transitions, to make an about hour-long video. However, Google signed its death warrant on September 20th, 2017.
Now, if you want to edit videos for YouTube, you had better find a YouTube video Editor alternative. Here are some choices you can try to edit your YouTube videos on Windows or Mac, to edit your YouTube videos on iOS or Android and to edit your YouTube videos online.
Top 7 YouTube Video Editor Alternatives for Windows
Adobe Premiere Pro CC
Adobe Premiere Rush
Corel VideoStudio Ultimate
CyberLink PowerDirector
Shortcut
MiniTool MovieMaker
Windows MovieMaker
Best YouTube Video Editor Alternatives for Windows or Mac
Before finding the best video editor for YouTube on Windows or Mac, you are recommended to check the comparison table below.

1. Adobe Premiere Pro CC
You've probably heard Adobe. If you are planning on eventually moving into professional video editing software, Adobe Premiere Pro CC is worth considering. It is available for Windows and Mac.
This industry-standard editing program is widely used to create movies, TV shows, music videos, commercials and online video content from major brands. You can create polished films and videos in one seamless workflow as long as you use this tool with other Adobe apps and services, and the power of Adobe Sensei.
Pros
Clear and flexible interface.
Lots of organizational tools.
Unlimited video tracks.
Multi-cam editing, 3D editing.
Cons
Pricey.
Some techniques require additional applications such as After Effects or SpeedGrade.
2. Adobe Premiere Rush
Adobe Premiere Pro CC comes with Premiere Rush CC. It is the first all-in-one as well as cross-device app for creating and sharing online videos.
Premiere Rush is built to simplify the video-editing, motion graphics, and audio mixing capabilities of Adobe's professional software like Premiere Pro, AfterEffects, and Audition.
Premiere Rush is available on iOS, Mac OS, and Windows. You can capture footage on your phone, and then edit and share it to social channels on phone, tablet, or desktop. More importantly, your latest edit is always at your fingertips, anywhere you are because everything is synced to the cloud.
You can read this post "Adobe Project Rush: All-in-one Video Editing Software" to learn this tool further.
Pros
One-click to share.
Available on phone, tablet, or desktop.
Easy sharing to social networks.
Cons
Limited transitions.
Requires subscription.
No storyboard templates.
3. Corel VideoStudio Ultimate
Corel VideoStudio Ultimate can help you easily and quickly edit HD, 4K video, or 360-degrees VR video with precision on the multi-track timeline because of its intuitive interface.
This tool offers over 20000 customizable filters and effects, including premium effects from industry leaders. Besides, it supports for a wide variety of cameras and formats.
Pros
Real-time effects, and color correction.
Clear and simple interface.
360-degree VR, 4K Ultra HD, and 3D media.
Upload directly to social media.
Cons
Middle-of-the-road rendering speeds.
Certain advanced features got really dense.
No audio waveforms.
4. CyberLink PowerDirector
Cyberlink PowerDirector, a prosumer video editor, can bring every feature under the sun, including multiple versions of the proverbial kitchen sink, to a video editor that is accessible and affordable. It's largely successful.
CyberLink PowerDirector not only enables the trimming, joining, and overlaying of clips and effects, but also supports new standards format, such as the H.265 video and 360-degree footage. This program has a 99-track timeline, which gives nearly unlimited versatility.
However, new beginners will find it difficult to use this tool since its interface is not always self-explanatory and it includes many features.
PowerDirector runs on Windows 7 through Windows 10. It is recommended to run it on Windows with 64-bit versions.
Pros
Comprehensive format support.
Fast rendering.
Advanced editing control over 360-degree VR footage.
3D and 4K capability.
Cons
Tough for newbies. (It includes many features. It can be overwhelming and difficult to find things.)
Doesn't have as many UI customization features as some other software.
Cannot export to the MOV file format.
It is needed to reinstall the app following a Windows 10 update.
5. Shortcut
Shortcut is one of the most popular YouTube video editor alternatives. It is a free, open-source and cross-platform video editing application for Windows, Mac, and Linux.
Shortcut has many excellent features like support for a wide range of formats; no import required -native timeline editing, etc.
Pros
Excellent file format support.
Clear, well-designed interface.
Wide range of export and import formats supported.
Cross-platform video editor for Windows, Mac and Linux.
Cons
No ready-made export profiles for different devices.
No social or YouTube exporting.
No 360 VR or 3D support.
Lacks a lot of the flashy transitions and effects other software offers.
6. MiniTool MovieMaker
Here, I find another YouTube video editor alternative. MiniTool MovieMaker, a free and professional video editing software can help you easily and quickly create a movie without watermark.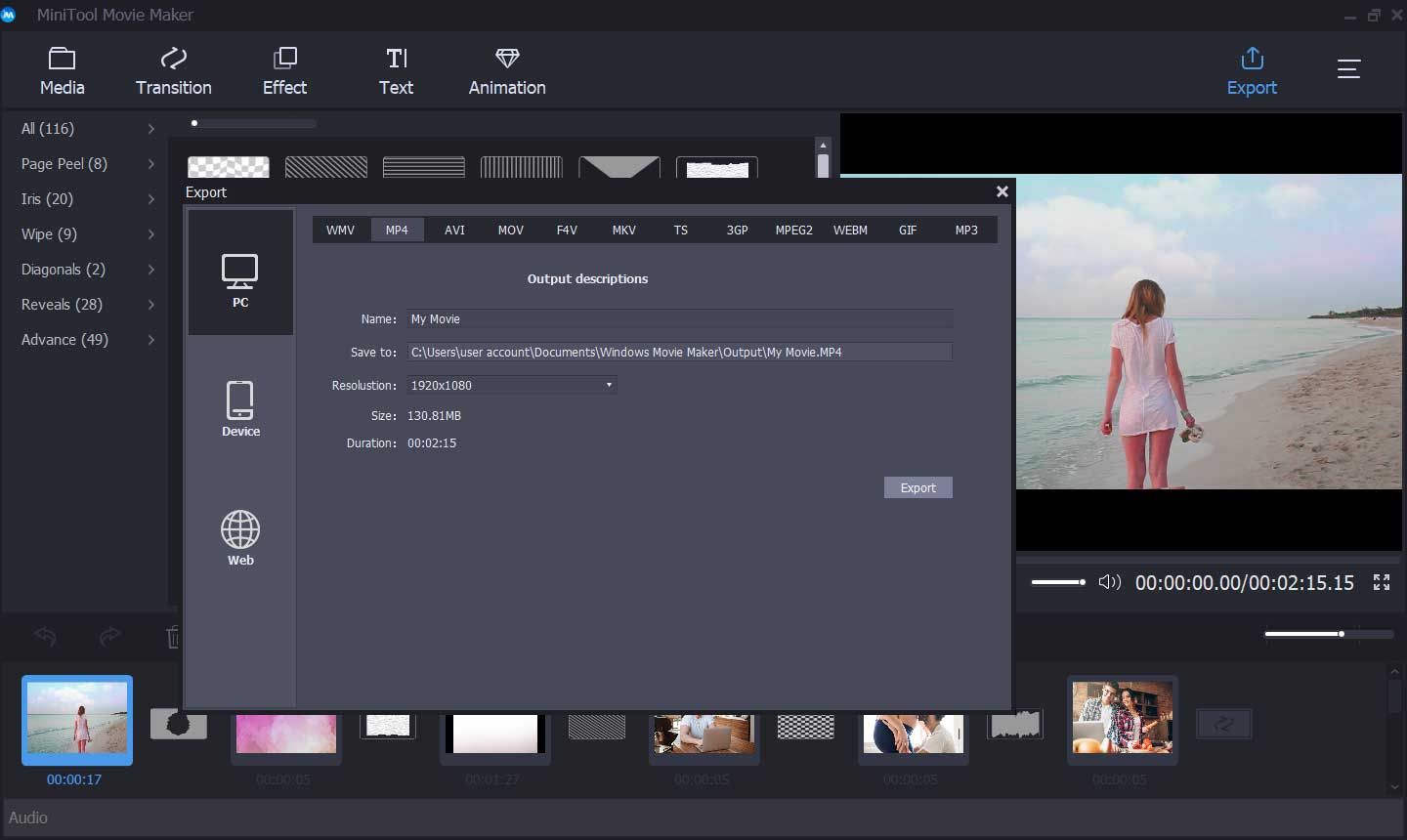 MiniTool MovieMaker offers movie templates. You only need to select a suitable movie template and then import your files including videos and pictures. Finally, you can save your movie on PC or share it on Facebook, or Twitter.
Pros
Free.
Simple and clean interface.
Movie templates.
Cons
No Mac version.
7. Windows MovieMaker
If you are running Windows 7, you can use the built-in YouTube video editor alternative – Windows MovieMaker to edit videos. Read this post "Windows MovieMaker Free Download + 6 Things To Know" to know more details about this free tool.
Pros
Easy to use.
Full basic tools and features.
Cons
Windows MovieMaker is no longer available for download.
Although YouTube video editor is no longer available, you can try YouTube video editor alternatives to edit videos on Windows or Mac. Click to Tweet
Best YouTube Editor Alternatives for Mobile Device
Now, more and more users like editing video by using footages they captured from mobile.
Therefore, they really need a YouTube video editor alternative that is suitable for Android or iOS.
For instance, Premiere Rush can help them edit video in Windows (v1709 or later), or Mac OS 10.13 or later, or iOS11 or later, and CyberLink PowerDirector is available for Windows as well as Android.
Now, some users might be wondering:
"Which is the best video editor for Android or iOS?"
Here are some choices for you if you want to edit video on mobile devices including iOS and Android.
1. iMovie
You can use the free iMovie for iOS to create a professional-looking presentation with any videos you shoot with your iPhone or iPad when you are out and about.
iMovie provides some templates that give you a defined structure for sequencing your clips. Meanwhile, you are able to split, trim, duplicate, adjust playback speed, and add text and special effects at any time.
Pros
Very easy to learn.
Cons
Experienced editors may find the features limited.
2. Quick
Quick, a free video editing software is designed to speed up the editing process. Therefore, you can capture, edit, and post incredible videos on the fly. This free software is suitable for Android as well as iOS users. It can help you create awesome videos extremely quickly
Quick can do automatically. It will search your video footage to find great moments. It can automatically trim and edit your clips. It is able to add transitions into video clips automatically. Of course, you are able to edit your video clips as you like.
Pros
Free.
Automatic editing features.
Cons
Some users may want more editing control.
3. Adobe Premiere Clip
Adobe Premiere Clip is a free video editing software. This tool can create outstanding videos with the clips you shoot with your Android or iOS device. Next, you not only can share this cool video on your favorite social channels but also can sync them to Adobe Creative Cloud to take them further in Premiere Pro CC.
There are two editing modes: Freeform and Automatic.
Freeform allows you to retain the most control over your edit.
Automatic lets Adobe trim your clips and add transitions to speed up the editing process.
Besides, with Adobe Premiere Clip, you are able to automatically color-correct your clips. Besides, if you don't like music from the built-in library, you can add your own music to your videos.
Pros
Free.
Simple to use.
Adobe Creative Cloud support.
Syncs with other Adobe apps.
Cons
Lacks a few basic functions like the ability to rotate clips.
4. KineMaster
KineMaster is available for Android devices, iPhones and iPads. Generally speaking, it is the best video editing software for Android because it goes above and beyond what you'd expect from a mobile app.
KineMaster helps you easily and quickly combine videos into one easily like you would on most desktop video editing programs.
When using this YouTube video editor alternative, you can add effects, texts, and music files. Besides, you can record audio and then add it to your video.
Pros
Incredible features and interface.
Cons
Watermarked videos with the free version.
Reading here, I guess you might have the following question:
"Is it possible to find an online alternative for YouTube video editor?"
Now, keep reading to find the best choice.
Best YouTube Editor Alternatives for Online
Movie Maker Online
Movie Maker Online is a good tool for editing YouTube videos, but you need to spend much time adjusting to the page layout where you drag and drop your videos, still images, and music files.
Movie Maker Online has royalty-free stock images, music files, and some stylish one-click transitions and effects.
Pros
Free.
Import multiple media files.
Cons
The web page is filled with ads.
Adobe Spark
If you want to create YouTube videos in minutes online, you can try Adobe Spark - a web and mobile platform.
Adobe Spark makes it fast and easy to create social graphics, web pages, and video stories anywhere.
Pros
Webpage builder is fast.
The operation is simple.
The Spark suite is available on mobile as well as desktop.
Cons
Don't allow embedding HTML elements.
Bottom Line
Although YouTube video editor is no longer available, there are some alternatives.
Of course, I think I am missing something. If you have found an amazing YouTube video editor alternative, please share it with us in the comments. Thanks in advance!
YouTube Video Editor Alternatives FAQ
What editing software do YouTubers use?
Adobe Premiere Pro CC
Corel VideoStudio Ultimate
Shortcut
MiniTool MovieMaker
Windows MovieMaker
iMovie
Quick
Adobe Premiere Clip
MovieMaker Online
Adobe Spark
What is the best free editing software for YouTube?
MiniTool MovieMaker, a free video editor without watermark, is the best free video editing software for YouTube because of its simple operations and powerful functions. This tool offers video templates, you can select a template, import your files, and share this cool movie with your friends.
Does Google have a video editor?
Unfortunately, Google don't have a video editor, and he is killing the YouTube video editor. To make a video for Google, you need try other video editors. MiniTool MovieMaker, a free video editing software, is a good option for you.
How do I cut a YouTube clip?
Sign in to YouTube Studio.
Click Videos.
Select the video clip you like to cut.
Click Editor.
Select Trim.
Click and drag the sides of the blue box to cut YouTube clip.
Click Save.