How to overlay videos and other objects to your video and composite them to make a PIP video? This post will show you the specific steps. Apart from video overlay, you may also need to add titles and other visual effects to the video. Then you might need
MiniTool
software.
What Is a Video Overlay
Video overlay, also known as the picture in picture effect, refers to two video clips sharing the same display screen at the same time, one of which is significantly smaller than the other. When creating videos, you can use this video overlay effect to insert an additional image/video into the main video to enhance the quality of your video.
How to Overlay Videos
1. Clipchamp
Clipchamp is a free video editor, video compressor, video converter, and webcam recorder and it provides an easy-to-use video overlay effect.
Step 1. Log into your Clipchamp account, or sign up for free to get started.
Step 2. Click the Create a Video button and then select a video ratio that suits your project best.
Step 3. Click Browse my files or simply drag-n-drop your video and image files to the media box. If you want to use free stock footage, click Stock and add the footage you preferred by clicking the + button. Then it will appear in your library.
Step 4. Drag and drop the footage to the editing timeline. Make sure to align the two clips up and down.
Step 5. Click the image/video clip you would like to make it smaller and a small box will appear where you can change the position and size of the clip. Bear in mind that the smaller clip must be placed on the top.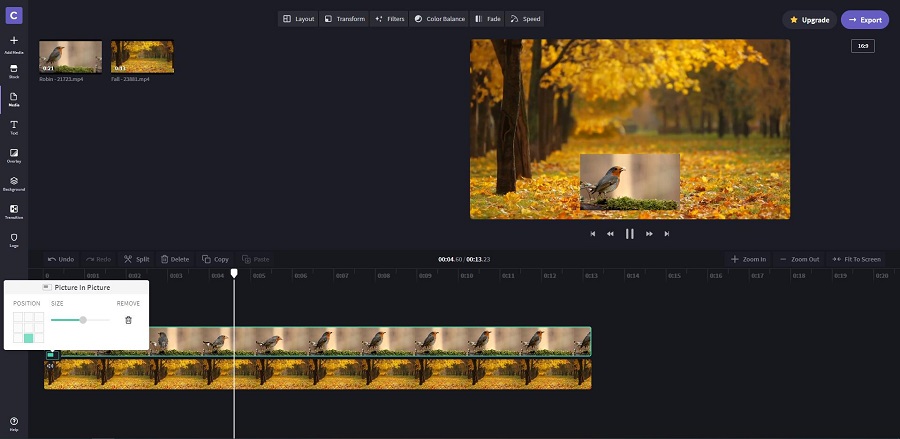 Step 6. Once you have finished all editing, export the project to your device.
2. Kapwing
Kapwing is a collaborative platform for creating images, videos, and GIFs that makes it simple to overlay videos and arrange them relative to each other.
Step 1. Go to kawping.com and choose Start Editing.
Step 2. You can either choose to start with a blank canvas or start by uploading the background picture or video.
Step 3. After uploading, it will play on the Kapwing canvas.
Step 4. Then upload the image or video that you want to overlay.
Step 5. Use the Bring Forward and Send Back buttons in the right toolbar to bring the right layer to the forefront. Then, use the corner circles to resize the layer and drag it to the right position on the screen.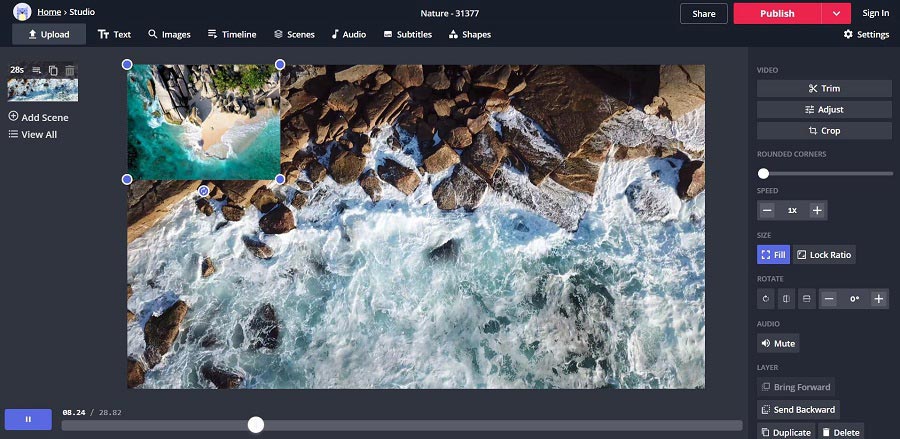 Step 6. Preview the video and click the Publish or Share button when everything is alright.
Related article: How to Make a Video Collage
3. VSDC
VSDC Free Video Editor is a non-linear editor, which is capable of processing high-resolution footage. Using it, you can overlay images/videos to a video at ease.
Step 1. Launch VSDC on your PC, choose New project and then click the Add object button to add your video file.
Step 2. Then video file will appear on the timeline, and then you can edit it if needed.
Step 3. Click the Add object button in the left pane and select Video to upload the overlay video you've chosen.
Step 4. Move to the left side of the timeline, open the Blend menu and select Screen from its drop-down list.
Step 5. After previewing the video, you can go to the Export project tab to save it to your PC.
Bottom Line
Now that you have already known how to create a picture-in-picture video, it's time to try it out! If you have any questions or suggestions about it, please let us know via [email protected] or share them in the comments section below.