At current, everyone is passionate about photographing everything happening in their life, while choosing a reliable and excellent Windows photo viewer is hard. To make things easier, here compile the top 10 Windows photo viewers, including the best photo viewer for Windows 10 released by MiniTool.
Part 1. Top 10 Best Photo Viewers for Windows 10
Here summarize the top 10 best photo viewers for Windows 10 to help you view and organize your images with ease. Let's learn about them one by one.
Top 10 Best Photo Viewers for Windows 10
MiniTool Movie Maker
Microsoft Photos
IrfanView
FastStone Image Viewer
XnView
HoneyView
ACDSee Ultimate
JPEDView
123 Photo Viewer
Google Photos
1. MiniTool MovieMaker
If you are looking for an advanced photo viewer for Windows 10, MiniTool MovieMaker should be your first choice.
Developed by MiniTool, MiniTool MovieMaker is a 100% free photo viewer without any ads or viruses. It is the best photo viewer for Windows 10 with a beautiful and compact user interface, which supports various file formats. Therefore, you can simply make a music video with pictures.
Photo: BMP, ICO, JPEG, JPG, PNG, GIF
Audio: MP3, FLAC, M4R, WAV, M4A, AAC, AMR
Video: 3GP, MOV, AVI, FLV, MKV, MP4, MPG, VOB, WMV, RMVB
What really makes this software stand out is that unlike many other photo viewers, it can be used to edit video files, edit audio files and even convert between most of the common file formats, such as GIF to MP4.
MiniTool MovieMakerClick to Download100%Clean & Safe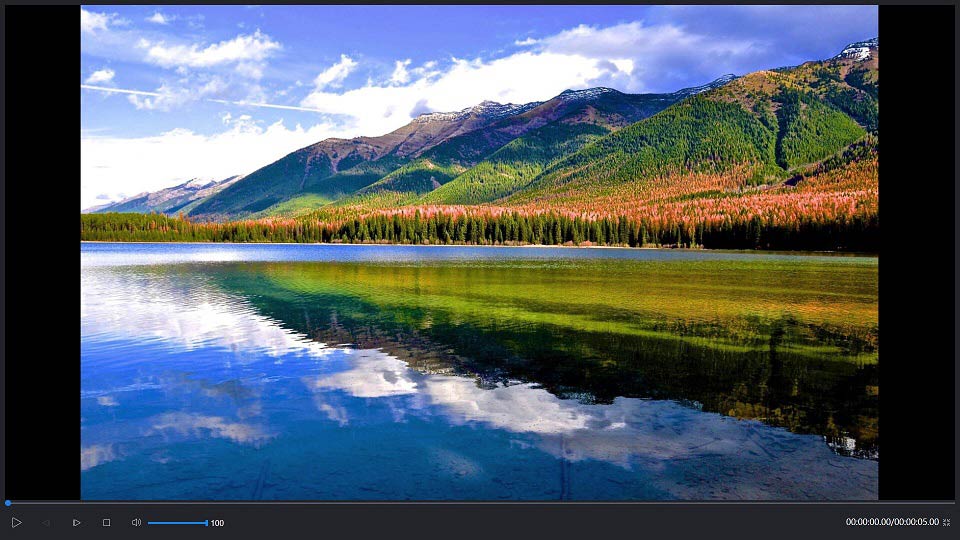 2. Microsoft Photos
People who are using Windows 10 may not realize that there is a built-in photo viewer on their computer. That's Microsoft Photos. It can also be used as a Windows 10 photo editor.
This photo viewer has more editing features than many free programs. You can use some special effects in Microsoft Photos, such as adding 3D butterflies or lasers. Besides, the photos on this photo viewer are well managed. It automatically arranges photos and videos in a scrollable timeline.
3. IrfanView
IrfanView has been available on the market for over 15 years. It remains one of the best photo viewers for Windows 10, allowing you to quickly browse through pictures on your computer and create slideshows. The software is lightweight, intuitive, and supports large graphics file formats.
IrfanView is more than just a basic picture viewer. It also offers other tools. For example, it supports OCR to recognize text on an image and export it to an editable format. Apart from that, if you need to make color correction, add watermarks and filters, it can also help you complete these tasks effectively.
4. FastStone Image Viewer
FastStone Image Viewer is another best photo viewer for Windows 10, which comes with full-screen mode and multiple language support. It has a slideshow option with many attractive transition effects. The photo viewer supports a multi-monitor configuration, which is useful if you need to process a large number of images. It also supports viewing, renaming, and converting files in batch.
FastStone Image Viewer is a program that works with many different file types, including most image formats on your computer, and the file types that twelve different cameras use. This means you can open, view, and edit the original image files that the camera has.
Related article: 10 Best Photo Slideshow Makers
5. XnView
Despite initially supporting Unix systems, Xnview can now also be used as a Windows photo viewer. It supports multiple languages, more than 500 image formats and some other codecs such as camera RAW and more. It can even be used as a multimedia viewing platform where you can open and view video and audio files. 
XnView lets you quickly browse through images, view them in full screen and slideshow modes, and categorize them with various options. The program has basic picture editing functions such as image rotation, cropping and resizing. In addition to handling these things, XnView can also help users create slideshows, web pages, and video thumbnails.
6. HoneyView
HoneyView is the most basic third-party photo viewer for Windows 10, with a stylish user-oriented interface. The program supports a couple of image formats like PNG, GIF, etc. If an image has GPS information, the location can be viewed on Google Maps with this app.
Honeyview is an easy-to-use photo management tool, which allows you to copy or move photos to the necessary folders, rotate and resize images, bookmark images, and more. What's more, it provides the ability to view files in a ZIP or RAR folder without having to unzip it.
7. ACDSee Ultimate
With ACDSee Ultimate, you can easily view images and quickly access the necessary features to edit them. You can use the mouse or keyboard controls to scroll, rotate, and zoom in and out of pictures. Besides, the program allows you to set an image as your desktop wallpaper in one click.
What makes ACDSee Ultimate become one of the best Windows 10 picture viewers is that it enables you to view files in ZIP archives without extracting them. You can use it to finish some basic photo editing, such as correcting exposure, color, contrast, and fixing the red-eye effect.
8. JPEDView
JPEGView is a streamlined, fast and highly configurable photo viewer and editor that handles JPEG, BMP, PNG, WEBP, TGA, GIF and TIFF images with a minimal GUI.
This photo viewer has a built-in image file browser and rich quick editing tools such as sharpness, color balance, rotation, perspective, contrast, and local under-/overexposure. Moreover, you can set up a slideshow of multiple images in one folder.
9. 123 Photo Viewer
123 Photo Viewer is definitely worth adding to the list of the best photo viewers for Windows 10. This is a fast and user-friendly program with many filters and effects for basic editing that can handle different image formats and make it easy to manage photos on your computer.
This photo viewer supports batch operations for multiple purposes. For example, you can convert file formats, change the size of multiple images, and even rename them. Additionally, it can be used to handle animation file types such as WebP, APNG and GIF.
10. Google Photos
Google Photos is not a regular photo viewer for Windows 10, but it is indeed a very useful tool. With Google Photos, you can store all your pictures and videos in the cloud and access them on your PC or phone at any time without installing any software.
This photo viewer is completely free. All you need to do is save the Google Photos website as a PWA. Then you can use Google's Backup & Sync tool to upload images from your computer. The only drawback is that the tool lacks the ability to create cartoons or movies.
Related article: Top 10 Best Cartoon Makers
Cool! Top 10 best photo viewers for Windows have discussed in this post. Which one do you prefer?Click to Tweet
Part 2. Which Is the Best Photo Viewer for Windows 10
Pros

Cons

MiniTool MovieMaker

Support multiple file formats
Offer basic editing tools

Only support Windows 10/8/7

Microsoft Photos

An intuitive interface
Work with GIF images
Support different file formats

Can't reduce the file size

IrfanView

Lightweight and easy to use
Versatile file format base
Easily handle huge RAW images

Scroll through folders is painful

FastStone Image Viewer

Support renaming and converting in batch
Excellent keyboard controls
Offer the Email sharing option

Some operations may be delayed

XnView

Create slideshows, web pages, and thumbnails for videos
Compatible with Linux, Windows and Mac OS
The ability to tag photos

It is free only for private use

HoneyView

Ease of usability
Slideshow supports numerous transition effects

No inbuilt editing tools

ACDSee Ultimate

View images inside zipped archives without extracting
The ability to zoom in

The mouse wheel is too sensitive

JPEDView

An extensive set of editing tools
Support renaming and converting in batch

Can't scroll the mouse to change photo size

123 Photo Viewer

Support OneDrive
Batch image format conversion
Offer various filters and effects

No other functions

Google Photos

Back up unlimited photos and videos
Access photos and videos from any phone, tablet, or computer

Require an internet connection to view your image stored in the cloud
After comparison, have you figured out which is the best photo viewer for Windows 10? Actually, all of them have their advantages and disadvantages. However, here recommends MiniTool MovieMaker most, because it can not only be used as a photo viewer but also a video player.
Part 3. Best Photo Viewers for Mac/Android/iOS
ApolloOne – Best Photo Viewer for Mac
ApolloOne is the best photo organizing software for Mac that lets you organize and view photos in an efficient way. The application has a built-in camera RAW processing engine, so you can quickly view the details of the image and camera-related information. Besides, its slideshow mode can show you photos with 12 different transition effects and loops.
QuickPic – Best Photo Viewer for Android
QuickPic is considered the best photo viewer for Android. The app is completely free with no ad insertion. It also has a simple built-in photo editor that supports basic editing of most multimedia files, such as renaming photos and creating albums. With just a few clicks, you can copy or move photos and videos between folders. Besides, gestures and multitouch are supported.
Slidebox – Best Photo Viewer for iPhone
Slidebox is the best photo viewer for iPhone users with some amazing features that make it easy to browse your media. The application can sort files beautifully and create different folders for photos, movies and screenshots. If you are just looking for a minimized gallery application with a smooth interface, then Slidebox is worth trying.
Part 4. Bonus Tip – How to Set a Default Photo Viewer?
If you want to change your Windows 10 default photo viewer, follow the below steps.
Installing your desired photo viewer on your PC.
Head over to the search bar and type Default.
Go to Default apps > Photos.
Now you can select the photo viewer you preferred as your default photo viewer.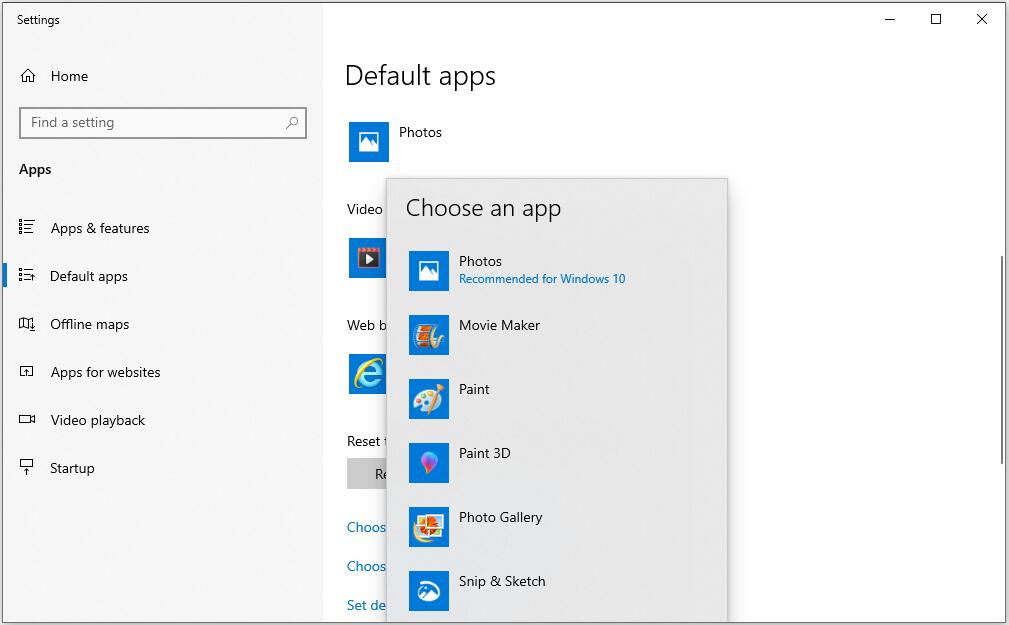 Bottom Line
These are the best photo viewers for Windows 10 that you can use right now. If you want to recommend any other excellent photo viewers, please let us know via [email protected] or share them in the comments section below.
Best Photo Viewer for Windows 10 FAQ
?Does Windows 10 come with photo gallery?
Yes, the Microsoft Photos app is included with Windows 10, which took the place of Windows Photo Gallery.
⚡What is the best photo viewer for Windows 10?
MiniTool MovieMaker
Microsoft Photos
IrfanView
FastStone Image Viewer
XnView
HoneyView
ACDSee Ultimate
JPEDView
123 Photo Viewer
Google Photos
☂️What are the best free photo editors for Windows 10?
Adobe Photoshop
Microsoft Photos
Fotor
PicsArt
GIMP
Canva
Pixlr
NET
PhotoScape
Photastic Collage
?How do I find hidden pictures on my computer?
Open File Explorer on your computer.
Click View and then select Options.
Select View and check Show hidden files, folders, and drives.
Tap on OK to save all changes.