How to make eye-catching social media images to stand out? How can you make your photos more appealing in front of everyone? Don't worry as photo editors such as MiniTool MovieMaker can help you make images become more stunning.
Will you edit your photos before posting them? Most people edit their raw images to make them more beautiful before sharing them. Actually, whether you are a beginner or a photographer, you need to edit your photos if you want to get attention.
The good news is that there are dozens of photo editors. But, which photo editing software is best for beginners and what is the best free photo editing software?
In this guide, we will share 10 photo editors, thus you can choose the best photo editing software to make your pictures look amazing.
1. Adobe Photoshop – Professional Photo Editor
When talking about photo editors, many people imagine Adobe Photoshop. There is no argument that this professional photo editing software remains the best photo-editing application on the market and gives you all the tools you need to create any effect you can imagine.
But at the same time, Adobe Photoshop is a difficult photo editor to master. You need to do a lot of work and have a lot of experience to unlock the potential of Photoshop. In a word, it is not the best video editing software for beginners, but it is the go-to tool for artists, illustrators, and designers around the world.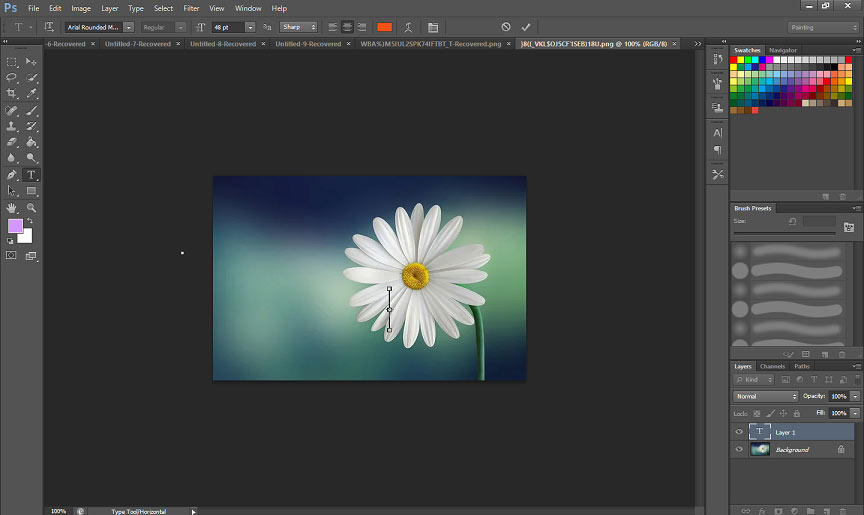 Pros
It includes sophisticated touch-up and retouches features.
It lists a large number of filters and brushes.
It supports multi-layer editing.
It works with PC, smartphone or tablet.
It supports every file format available.
Related article: How to Change Video Format? Try Top 6 Free Video Converters Today
Cons
You must sign in with an Adobe ID to use the app.
It is a complicated photo editor which is not suitable for most common users.
If you just need basic editing and don't want to spend too much money on editing photos, you can try other simpler photo editing software with friendly interfaces.
2. Gimp – Open Source Photo Editor
As the best free alternative to Photoshop, Gimp (GNU Image Manipulation Program) is an open-source photo editing software and is available for GNU/Linux, OS X, Windows, and more operating systems.
Whether you are a graphic designer, photographer, illustrator, or scientist, GIMP provides you with sophisticated tools to get your job done. This free photo editor is perfect for designers who can't or won't shell out hundreds of dollars to Adobe.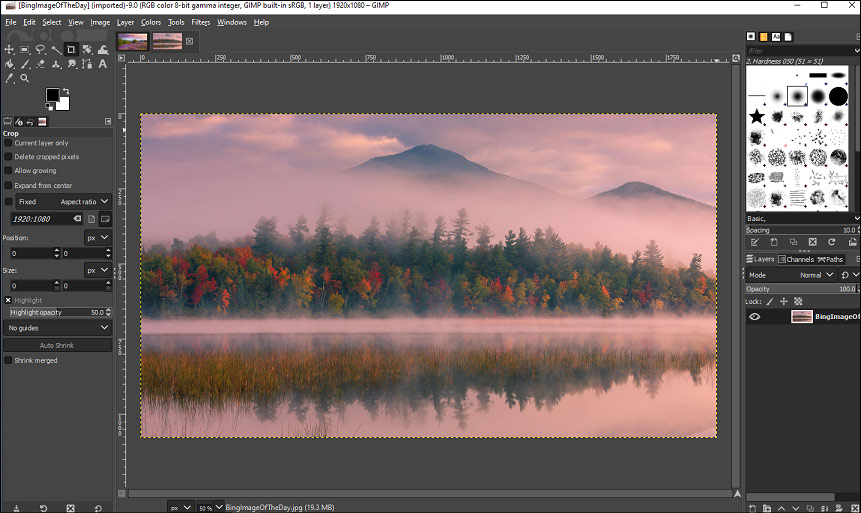 Photo manipulation: It provides the tools needed for high-quality image manipulation, from retouching to restoring to creative composites.
Graphic design: You can create icons, graphic design elements, and art for user interface components and mockups with this free photo editor online.
Original artwork: Artists can transform images into truly unique creations.
After launching this free photo editor, you will see a dedicated window that displays the image, and separate windows to organize the toolbox and layers. Toolbox lists some actions such as the crop, lasso, paint and brush tools. It may seem like Photoshop. But with GIMP, you will save yourself a monthly subscription fee if you do.
Pros
It's basically photoshop but free.
It includes basic and advanced photo editing tools.
Cons
There is no real guidance.
Its interface is a little cluttered.
3. Ashampoo Photo Optimizer 2019 – A Great Bulk Editor
Ashampoo Photo Optimizer is a fuss-free photo editing with automatic optimization tools. This free photo editor is your weapon of choice to optimize your photos because it owns the following 3 features:
Auto-detects dull colors for correction.
Auto-optimizes white exposure.
Instantly corrects poor lighting.
Related article: How to Do Color Correction in Your Videos – Practical Tools
If you've got a lot of photos that you need to edit in a hurry, you can throw them all into the optimizer and select several at once to rotate or mirror, saving your valuable time. It's a shame you can't edit colors all at once.
Related article: How to Rotate a Video Free? Different Ways You Can Try
Pros
It owns a clean interface.
It can save time with automatic photo editing.
It can resize your images or crop individual portions with pixel precision.
Cons
There are no bulk color options.
Auto optimization is hit-and-miss.
It only works for Windows.
4. Paint.NET – Lots of Tools
Paint.NET is a quick, easy to operate free photo editor for trivial tasks. Its most outstanding characteristic is simplicity. If offers a simple, intuitive user interface that helps you enhance image easily.
Paint.NET is totally FREE but comes with advanced editing tools like layers, an undo history, a ton of filters, myriad community-created plugins, and a brilliant 3D rotate/zoom function that's handy for recomposing images.
This free photo editing software lets you add text to images. But, if you want to be able to move it around or experiment with it as you work, you have to create the text in a separate layer.
Pros
It is absolutely free.
It has a clear and well-ordered interface.
It offers online consulting and "how-to" tutorials.
It provides many useful functions, effects, and plug-ins.
Cons
It is too complex for newbies
It takes up a lot of your time to edit photos.
There is no text correction after applying other effects.
5. Canva – Great Selection of Templates
Canva is an online photo editor. There are tons of templates, photos, cards, and icons. So, you can easily turn your favorite snaps into cards, posters, invitations, and social media posts. You only need to drag-and-drop editor and add fonts and templates to your pictures to adjust various elements of your images.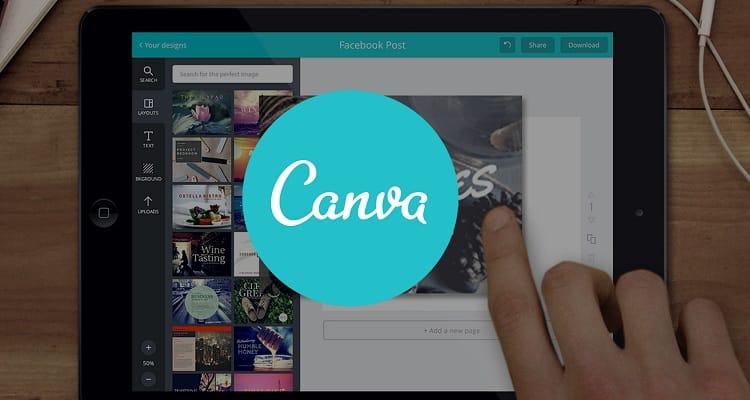 Canva is a simple graphic design software and comes with multiple photo editing tools and products. If you need to make fast changes like cropping or resizing or just want to add a filter, you can try this free online photo editor.
Canva is a bare-bones photo editor, so don't expect much. For instance, you cannot find advanced tools like clone brushes and smart selectors here.
Pros
It is very simple to use.
It is integrated with stock photo image bank.
It provides different templates, colors, backgrounds, grids, outlines, fonts and more to edit your photos.
Cons
Without the internet, you can't access this photo editor.
When you are an unpaid member, there are quite a few limitations as to what you can use.
There have been a few occasions where you cannot paste material you have copied from other sources.
6. Fotor – Photo Collage & Photo Effects
Fotor is a free online photo editor with an extremely easy-to-understand UI that makes it simple to use. It is also a cloud-based photo editing software boasting over 300M users. Cloud-based photo video editing software allows you to save incomplete designs for future editing. In other words, you can start editing from where you left the work.
Fotor photo editing software enhances photos quickly.
Photo Editing: Online photo editing suite lets you easily adjust color, size, light and more.
Photo Effects: A large selection of exclusive and amazing photo filters can give you the magic touch to edit your photos the way you want.
Portrait Retouching: The amazing beauty features give your subject a makeover, add highlights, increase radiance, etc.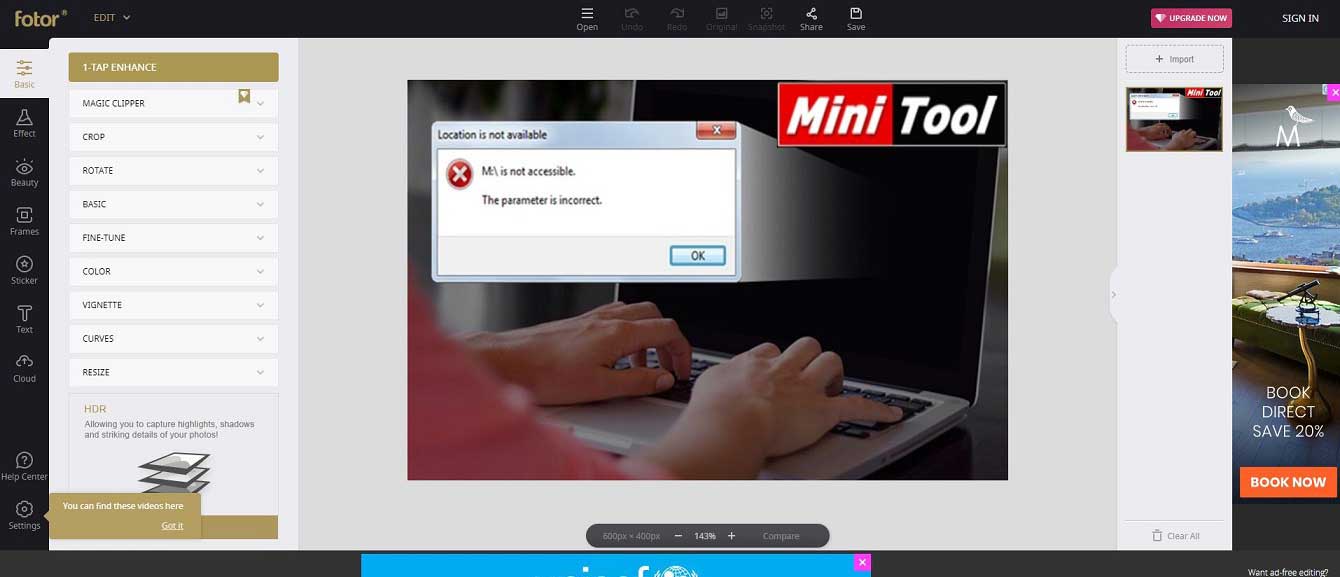 If you just want to make great images, then Fotor is the best photo editor to start with. There is a foolproof tilt-shift tool, a raft of vintage and vibrant color tweaks, etc. Of course, you are able to manually alter your own curves and levels without the complexity of high-end tools.
Fotor photo editor provides thousands of beautiful and professionally-designed templates to meet any of your design needs! You can choose a template like Facebook covers, posters, photo cards, YouTube banner ads, YouTube thumbnail, and others to create all kinds of designs in just a few clicks!
Related article: The Best YouTube Thumbnail Size: 6 Things You Need to Know
Pros
It is high-powered and easy to use.
It offers smart filters and effects.
It supports all the most popular image file formats and even provides RAW file processing.
Cons
Ads are annoying.
It is not as powerful as more complex software.
It is not suitable for creating artwork from scratch.
7. Pixlr – Photo editor online
Both Pixlr editor and its successor Pixlr X are great online photo editing software. Pixlr X makes several improvements on its predecessor.
With Pixlr X, you are able to experience smarter and faster photo editing. With this online photo editor, you are able to crop, resize, cut out or remove background easily, and you can add your own text – or customize a text template from the text tool to use.
Related article: How to remove watermark from pictures and videos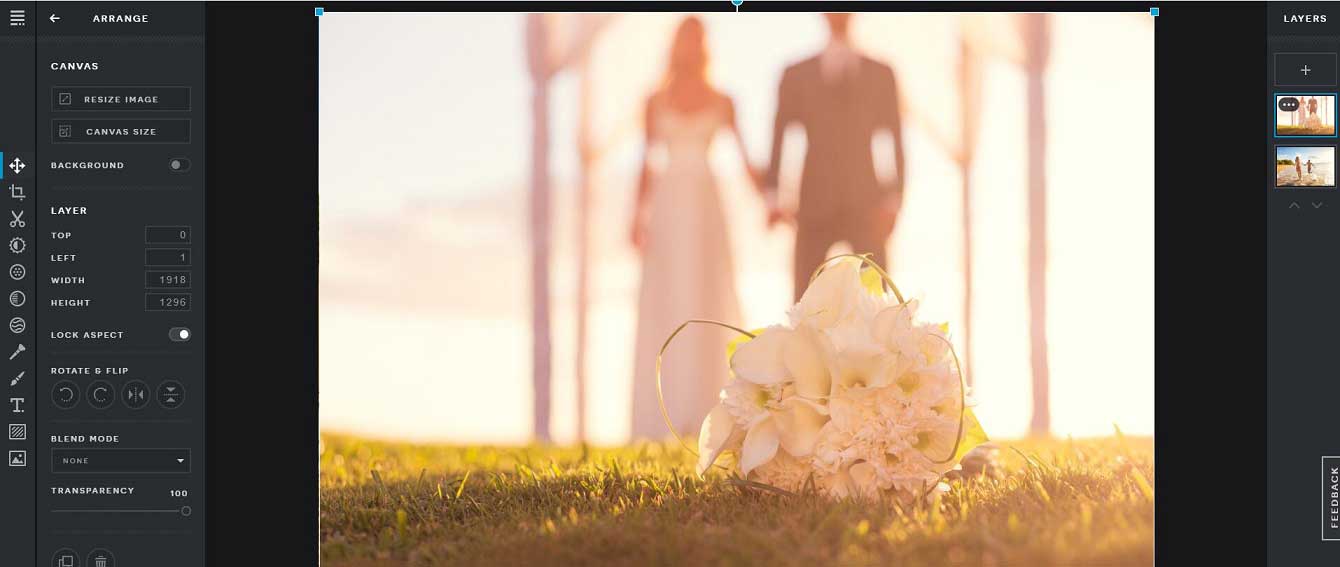 Pixlr X photo editor provides a versatile drawing tool, thus you can draw anything on your photo. You can retouch your photos easily. You can, for instance, easily fix a blemish, remove spots, duplicate parts of your image, or make unwanted objects (even people) disappear from your photos.
Edit your photos on this online photo editor without straining your eyes, any time of day or night. All you need to do is switch from light to dark mode.
If you're looking for a quick way to fine-tune photos or a more advanced tool for complex compositions, you can try this free online photo editing software.
Pros
It supports layers and masks.
It has a clear and customizable interface.
It creates complex compositions from multiple images.
It can open photos from desktop or URLs.
Cons
Some tools are still in beta.
There are some annoying ads.
This photo editor requires Flash.
8. Google Photos – Photo Sharing
Google Photos, a photo-sharing and storage service developed by Google, is another online free photo editor for hobbyists. It is a cloud-based archive for photos and videos that you can access either via a web browser or your smartphone via an Android or iOS app. It gives you free, unlimited storage for photos up to 16 megapixels and videos up to 1080p resolution.
Google Photos is extremely simple and intuitive and it allows you to edit your photographs with very little fuss. With this free online photo editor, you can easily browse your photo library and organize your work without headaches.
Google Photos has a limited feature. But it offers some basic features including adjust, crop, etc. With this online photo video editing software, you can make animations, photo booth-style photo arrangements, holiday-themed effects, interactive stories, and apply frames and filters to your photos.
Pros
It offers free unlimited cloud photo storage within resolution limits.
It owns an attractive, ad-free and simple interface.
Cons
Free storage isn't unlimited for higher than 16-megapixel images.
It has a limited feature set for actual photo editing.
9. BeFunky – Fun Is its Middle Name
Befunky is a simple, intuitive photo editor and it has an amazing collection of tools and features for photo editing, graphic design, and collage making. Here are some favorites:
You can crop, resize and enhance multiple photos all at the same time.
You can make your photos look like classic style paintings, sketches, cartoons and more via its artsy filters.
You can easily remove backgrounds from your images.
You can use the Touch-Up tools to own perfect portraits and selfies.
You can make a collage easily.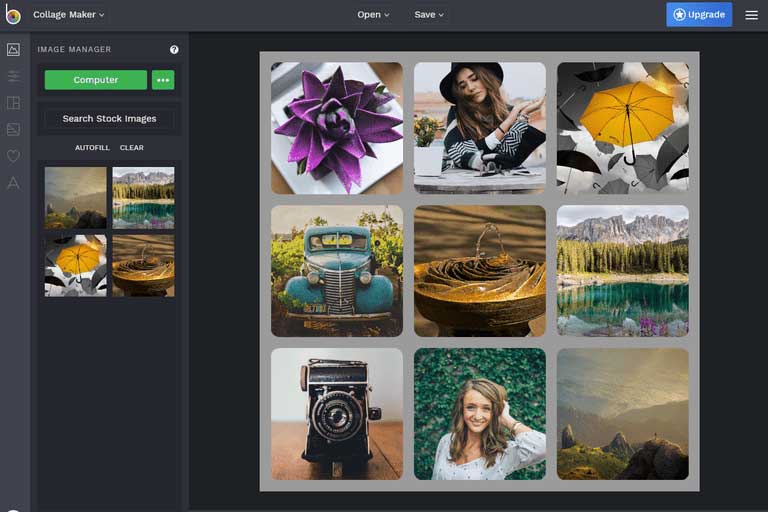 Befunky photo editor provides some elements. You can easily create lovely postcards, brochures, posters, slides for PowerPoint presentations, and invitations with only a few simple steps.
Pros
It is a fun, powerful and simple photo editor online.
It uploads multiple photos simultaneously.
It supports editing in fullscreen mode.
It lets you share your collage after editing.
Cons
Not as many features as Gimp.
Not all features are free to use.
Additional content on the mobile version requires in-app purchases.
10. MiniTool Movie Maker – Free Photo Slideshow Maker
All the above photo editing software can edit pictures to make them more attractive. To be honest, there is another way to draw more attention, making a video with pictures.
Videos capture the moment and videos can have a sound. For instance, you can make a travel video that captures the essence of what you were feeling at the time than take many fitting travel photos.
MiniTool Movie Maker, a free photo slideshow maker, is recommended here. This free tool offers many features to make your raw pictures become more interesting.
Add text to pictures.
Apply filters to pictures.
Change the color of pictures.
Add 3D LUT to pictures.
Combine multiple pictures (or videos) into one to create a compelling video.
Related article: 5 Easy Ways to Combine Videos into One Easily (100% Working)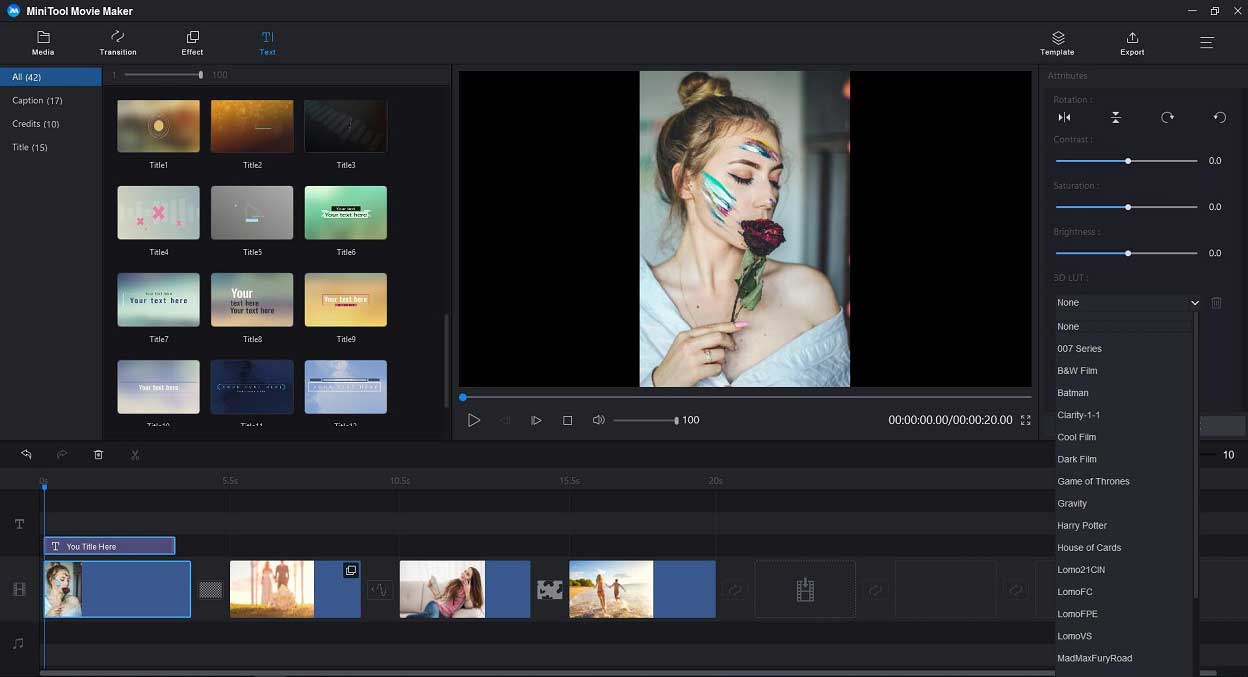 Pros
This photo slideshow maker is free to use and does not require registration.
It can easily turn pictures into a cool video for free.
It allows you to add animated text to pictures. You might be interested in

 

add subtitles to video.
It offers a color correction tool to change the color of the pictures and apply visual effects to pictures.
MiniTool MovieMakerClick to Download100%Clean & Safe
Cons
It only works for Windows now.
After editing photos, you cannot save them to png or jpeg, but you can save them into other formats like GIF.
Related article: How to Make GIF Video in 2020 (for Free)
Which Photo Editing Software Is Best for You?
Are you still looking to find a good photo editor to edit images for the sake of making the raw image more beautiful? Don't stress! Any of the above software would help you.
Which one is the best photo editing software?
When selecting a suitable photo editor, you need to think about your current level of expertise, your budget, and how much time you're willing to devote to learning a new skill.
Let us know which one you chose and if we missed anything important!