How to make a music video? Actually, making a music video is easy and only requires that you have pictures or videos, a music file, and an easy-to-use music video maker, such as MiniTool MovieMaker developed by 
MiniTool
.
A music video is a short film that integrates a song with several images or a complete video and is produced for promotional or artistic purposes. How to make a music video? How to make a lyric video? How to make a video with photos and music? All of these questions can be solved by a professional music video maker.
1. Preparation for Making Music Videos
Choose Music
Pick a song for which you want to make a video. It is recommended to choose a song that has performed well in the past or a song that you plan to release in the future. If this song is not yours, please consider copyright fees. Besides, you need to have a copy of the song already on your computer in order to make your video.
Shoot Footage
Then it's time to prepare corresponding videos or pictures. According to the type of your music, you can shoot the related footage with a nice camera or you can collect footage on the Internet. However, the latter one might infringe others' copyright. For free video stock, read this post: The Best Royalty Free Stock Video Footage Websites.
2. How to Make a Music Video – 5 Professional Music Video Makers
Now, a tough yet significant task comes – choosing the right software for you and your work. As we all know, almost all music video makers can satisfy your requirements for making a music video. However, comparing them one by one is time-wasting.
To save your energy and make sure you can make the best music videos, considering using the following 5 music video makers.
Top 5 professional music video makers in 2020
MiniTool MovieMaker
Windows Movie Maker
iMovie
VideoStudio
Kapwing
#MiniTool MovieMaker
If you are looking for a free music video maker, MiniTool MovieMaker should be your first choice. It is a totally free video maker with a simple and intuitive interface, which lets you make a music video with pictures or videos, regardless of your skill level. You can even use it to make a GIF video or YouTube music videos.
MiniTool MovieMakerClick to Download100%Clean & Safe
Steps on how to make a music video with MiniTool MovieMaker
Step 1. Open MiniTool MovieMaker
Launch the freeware on your PC.
Tap on Full-Feature Mode to enter the main interface or simply click the X icon to enter its main interface.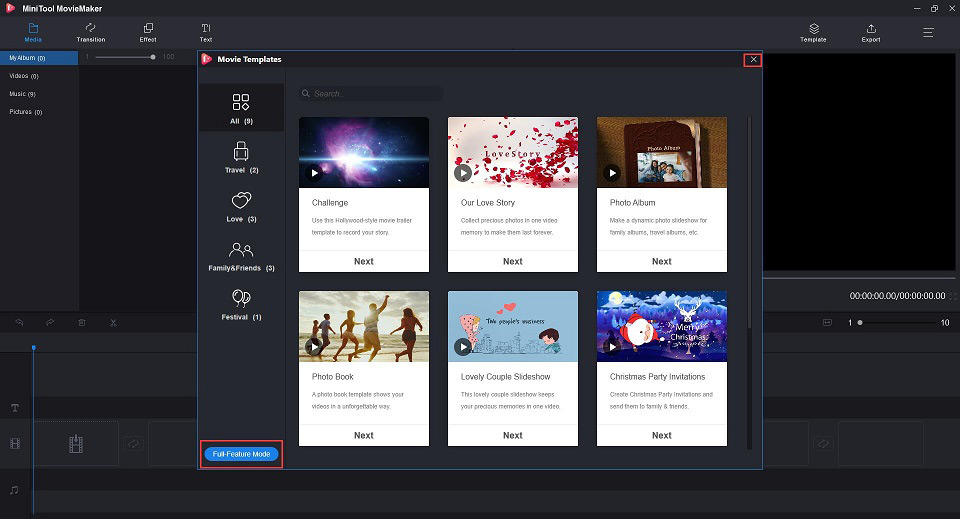 Step 2. Add & edit video
Click the Import Media Files button to import your videos.
Click + to add your videos to the timeline or simply drag and drop them. Then you can rearrange video clips, split/trim videos, combine videos, add transitions & effects, make color correction, etc.
After all editing, press OK to save the settings.
Step 3. Import & edit music
Click Music > Import Media Files to add your music.
Add it to the audio track on the timeline.
Double-click on the audio clip to open its editing window.
Change the audio volume and set up fade in or fade out.
Press OK to save the changes.
Step 5. Add lyrics to the music video
Click Text to enter the text library.
Drag suitable credits from the text library to the video clip and then edit it.
Type in the lyrics according to the music and change text font, color and size as you like.
Step 6. Export the music video
Click Export on the top right and make some advanced settings, such as choose an output format, give a name, specify a destination folder, choose a suitable resolution for this music video.
Tap on the Export button again.
Features:
Convert video to audio files with high speed and high quality.
Easily create movies with cool movie templates.
Quickly split, trim and combine video & audio clips.
Numerous popular transitions and effects.
Add text (titles, captions, and credits) into a video.
Save video or audio files on different devices.
Change video resolution to reduce file size.
MiniTool Movie Maker is not only a music video maker but also a video editor, audio merger and even video converter.
MiniTool Movie Maker helps me to make an excellent music video with a few clicks.Click to Tweet
#Windows Movie Maker
Windows Movie Maker is a free yet professional music video maker released by Microsoft. It is designed to be easy to use and allows you to easily make your own movie from your images and videos. With this free music video maker, almost anyone can make a cool music video and publish it on YouTube, OneDrive, Facebook, Vimeo and Flickr, with or without experience.
Steps on how to make a music video with Windows Movie Maker
Step 1. Free download and launch Windows Movie Maker on your PC.
Step 2. Add & edit video
Click Home > Add videos and photos to add videos to the project, or simply drag and drop files into the main window.
Then you can drag and drop video clips to rearrange them as needed, trim or split video clips and add transitions between video clips.
Step 3. Add & edit music
Tap on Add music in the Home
Select the desired music file and then click Open.
Click the Add music button to add the music file to your video.
Use the Multiple Effects option to apply more than one kind of fade effect.
Click Add credits in the Home tab to add credits to the end of your music video.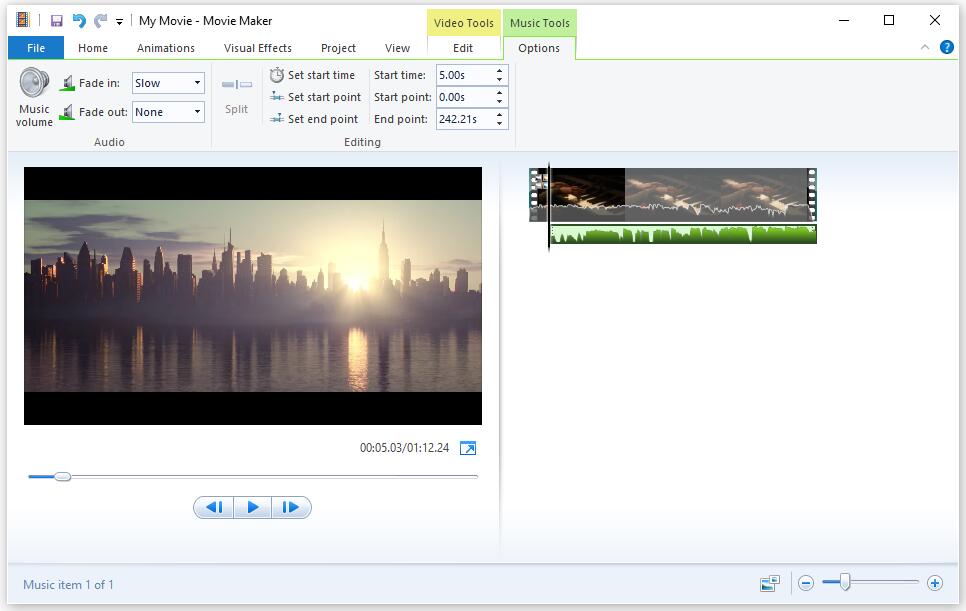 Step 4. Preview & export
Tap on Preview full screen in the View tab to watch the movie from start to finish.
Click the arrow underneath the Save movie button in the Home tab to select an output format.
You can use the Share section in the Home tab to upload your video directly to sites like YouTube and Facebook.
Related article: Windows Movie Maker 2020 Free Download + 6 Things To Know
#iMovie
iMovie is a music video maker developed by Apple Inc. for macOS and iOS devices. Despite its simplicity, iMovie offers many common video-editing features such as dragging and dropping clips on the timeline, cropping and splitting clips, adding transitions between clips, and more.
Remember that if you are importing videos from a digital video camera, you first need to connect the camera to your computer so that iMovie will detect the camera.
Steps on how to make a music video with iMovie
Step 1. Download and install iMovie on your Mac and create a new iMovie project by clicking File > New Movie…
Step 2. Import & edit video
Select the video from the event library at the bottom.
Drag this selection up into the project area to begin the video making process.
Continue to add other desired video clips into the project area.
To make the output video look smooth, add transitions between video clips.
Step 3. Add & edit music
Open your iMovie project and click the Audio tab in the top left. Optionally, you can also click the Show Library List button so that your options displayed on the left side for easy viewing.
Pick iTunes and select the target music from Music, Podcasts or Playlists.
Step 4. Export the music video
Click the File tab and select Share > File…
Type a title and a brief description for this music video, select a format to export and click Next, and then specify a location to save the file.
#VideoStudio
VideoStudio Ultimate 2019 is the easiest way to transform your photos and videos into movies with stunning effects and powerful controls. Whether you are a beginner or an expert, it will help you to create, edit, and share your music video. Once you've captured the footage of your music video, it's time to use VideoStudio.
Steps on how to make a music video with VideoStudio
Step 1. Download, install and run VideoStudio video editing software on your PC by following on-screen instructions to complete the setup process.
Step 2. Add video to the library
Click Import Media Files to import the video that you want to use into the VideoStudio Library.
Highlight the clip in your library, right-click and select MultiCamera Editor.
Then you can split or trim the clip if needed.
Step 3. Import & edit music
Choose the music you wish to use for your music video and add it to the music track.
Drag it to the timeline.
Trim it by dragging the end handles and add fade effects.
Right-click on the audio track in your timeline and selecting fade in, fade out.
Step 4. Save & share
After you are done with your video, click the Export tab and save the video project to a video format on your local drive or upload them directly on Facebook or YouTube.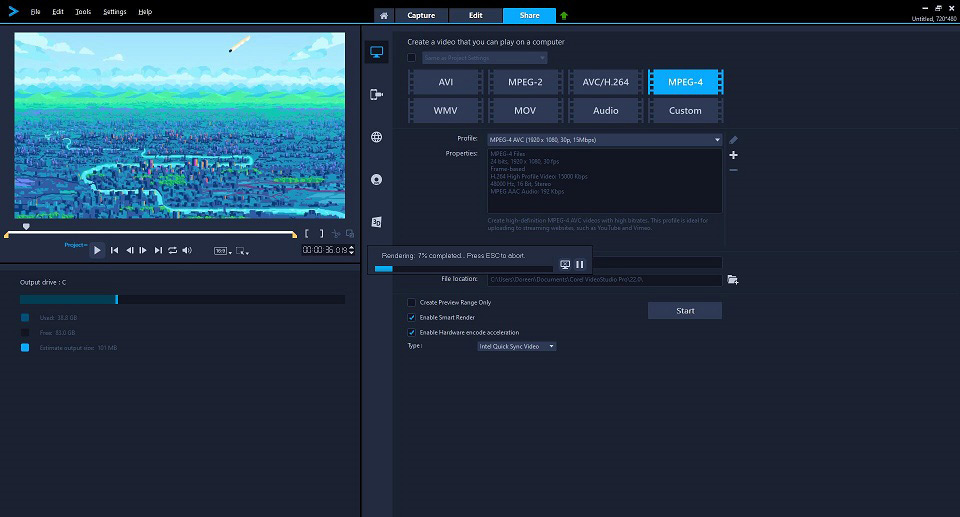 Related article: Best Torrent Site for Music in 2020 [100% Working]
#Kapwing
Have you ever wanted to easily make music videos online? Kapwing, as a free and intuitive editor, supports merging music with videos online. It's great for creating music videos or adding dubbing, sound effects or backing scores to videos.
In addition, Kapwing enables creators to trim audio and specify when the music starts playing in the video. You can import video and audio directly from YouTube, or upload local files from your computer or phone.
Steps on how to make a music video with Kapwing
Step 1. Open the Kapwing site on your browser and click Get Started.
Step2. Import & edit video
Click Upload to import the video that you want to make a music video. You can also choose to paste a link from YouTube, Twitter, etc.
Use the sliders below to trim your video to the right length. If you select the timestamps, you can also use arrow keys for finer adjustment.
Adjust video size, change video speed and rotate video.
Change the look of your video through Brightness, Contrast, Saturation and Blur options.
Step 3 Add & edit music
Click the Audio button on the top toolbar.
To import your music, you can click the grey box to upload it, or simply drag and drop it there, or directly paste the music URL.
Adjust the start time of the music file.
Trim the audio file if needed.
Adjust the volume of the music.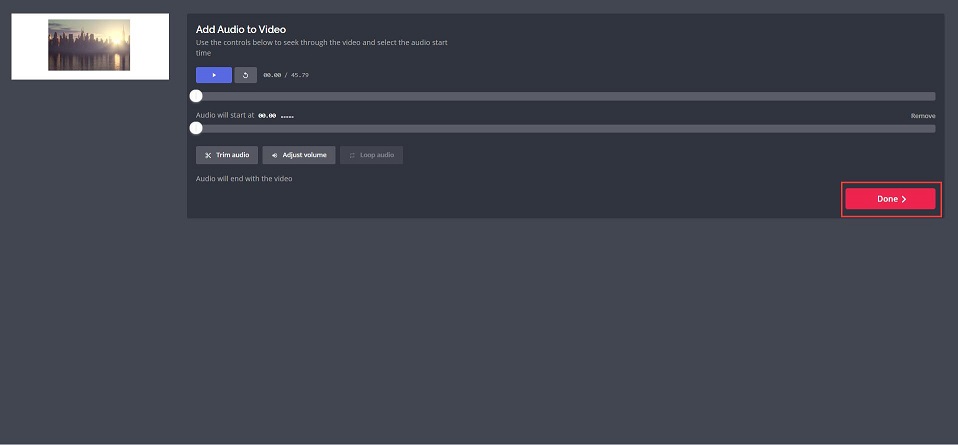 Step 4. Download & share
Preview your video all the way through to make sure it's in the right order and that the video matches up well with the music. Once your video looks right, click the DONE button to process this video. After a few moments, Kapwing will make your music video available for viewing and downloading.
Bottom Line
How to make a music video by yourself? The above has introduced 5 music video makers and details on how to use them to make a music video. It's time to have a try.
If you have any questions or suggestions about it, please let us know via [email protected] or share them in the comments section below.
How to Make a Music Video FAQ
? What is the best app to make a music video?
MiniTool MovieMaker
Windows Movie Maker
iMovie
MAGIX Movie Edit Pro
VideoStudio
Kapwing
Video Star
Music Video Maker
? How do I add music to a video?
Run MiniTool MovieMaker on your PC.
Import video and music to the program.
Add them to the timeline.
Edit video and music as needed.
Choose an output format and export the video.
? How can I copy music from YouTube?
Copy the URL of YouTube music.
Launch MiniTool uTube Downloader.
Paste the URL in the search box and click Download.
Select MP3 and tap on DOWNLOAD.
? What camera is best for shooting music videos?
Canon EOS 5D DSLR Camera
Nikon D500 DSLR DX-Format Camera
Canon VIXIA HF G40 Camcorder
Sony Alpha a6000 Digital SLR Camera
Panasonic Lumix DMC-LX5
Nikon D5200 Digital SLR Camera
Canon EOS Rebel T2i
GoPro HERO5 Black Edition Camera