Are you in search of some of the best 3D animation software? Although there are a great number of animation software in the market, only a few are completely free. In this article, you can explore and try out the 4 best free 3D animation software. If you just need 2D animation software, MiniTool MovieMaker is recommended.
A professional 3D animation software tool can be used to create animated characters, movies, etc. So, what is the best free 3D animation software for beginners?
Below, we'll highlight 4 best free animation software. These tools are not just video editors or GIF makers, but the software that will actually allow you to create animations from the ground up.
1. Blender
Blender is a free 3D animation software available on Windows, Mac, and Linux. With a powerful arsenal of tools, you can easily create animations, video games, renders, and other 3D based projects.
It enables you to turn stills into 3D animation. Blender also offers a fast rigging tool that allows you to turn 3D models into animated characters. You can even create 2D animations using this software. All in all, this feature-rich 3D suite software is suitable for beginners, as well as professionals.
Features:
Real-time viewport preview
CPU & GPU rendering
PBR shaders & HDR lighting support
VR rendering support
Advanced sculpting tools and brushes
3D painting with textured brushes and masking
Powerful visual effects
Full animation support
2. KeyShot
KeyShot is a fast and user-friendly 3D rendering software with animation capacities for both Windows and Mac. This tool allows users to go from a simple model to a stunning visual effect in a matter of minutes.
KeyShot is designed to simplify 3D rendering and animation. It allows you to quickly apply materials and lighting and provides the most accurate material appearance and real-world lighting. It also enables you to view all changes in real-time.
Features:
With the widest 3D file format support
Utilize either CPU or NVIDIA GPUs for rendering
Scale linearly for unmatched performance
Advanced lighting capabilities
Real-time preview
Related article: Top 5 Best Animation Maker for Kids | 2020
3. Clara.io
If you really hate to download any animation software on your PC, check out Clara.io. It is a full-featured cloud-based 3D modeling, animation, and rendering software tool that doesn't need any downloads or plugins to work.
With Clara.io, you can access a library of 3D models to use in your own animations and get a good combination of basic stick-figure animation and polygonal modeling. This free 3D animation software also allows you to embed your 3D models and 3D animations into websites.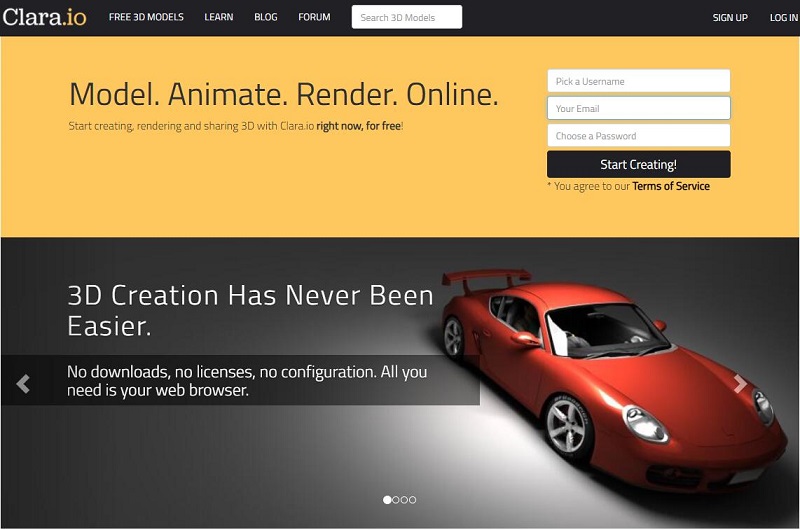 Features:
No installation required
A great range of mesh instruments
Basic modeling techniques
Basic keyframe animation
Huge photorealistic material library
Over 30 common 3D files formats supported
4. Daz3D
Daz3D is a free 3D animation software that is primarily geared towards beginners. That means this tool takes some short cuts to ease the workflow. In other words, 3D animation has never been more straightforward.
Daz3D is loaded with a variety of tools and Motion capture data that can be edited to fit your needs is only one of many possibilities this 3D animation software has to offer. It is also worth mentioning the Daz3D offers a 3D content marketplace where you can buy and sell models, poses, and props.
Features:
Largest 3D model library
Built-in premier character system and smart content
File formats ready for your preferred program
Photo-realistic renders
Bottom Line
The above details the 4 best free 3D animation software on the market. Which one do you want to try first? If you have any other excellent 3D animation software to recommend, please let us know via [email protected] or share them in the comments section below.