This article provided by MiniTool video-creating application delves into the world of short video making and editing, and how they have become an integral part of our daily online experiences.
In today's fast-paced digital world, short-form video content has taken the Internet by storm. Platforms like TikTok, Instagram Reels, YouTube Shorts, and Snapchat have paved the way for the explosion of short videos, providing an avenue for creativity, entertainment, and even business promotions.
The Short Video Maker: Unleashing Creativity in Seconds
The advent of short video creator apps has transformed the way we create content. These applications offer users an opportunity to showcase their creativity, storytelling abilities, and talent in a matter of seconds. Whether you want to produce engaging content for social media or simply express yourself in a fun way, short video editor apps have got you covered.
With a myriad of options available, you can find both free and premium short video maker apps that cater to different needs and skill levels. Some popular choices include TikTok, Instagram Reels, YouTube Shorts, Vine, Triller, and Dubsmash, among others. These platforms provide users with intuitive editing tools, special effects, filters, and music libraries to make the content creation process enjoyable and efficient.
How to Make a Short Video: A Step-by-Step Guide
Creating a short video is an enjoyable process that allows you to experiment with various elements. Here's a step-by-step guide to help you get started:
Step 1. Conceptualize Your Idea
Begin by brainstorming ideas for your short video. Define the theme, message, or story you want to convey to your audience.
Step 2. Choose the Right Platform
Select the platform that aligns best with your target audience and content goals. Different platforms have unique audiences, so choose accordingly.
Step 3. Plan Your Content
Sketch out a rough storyboard or outline for your short video. This will help you organize your shots and streamline the filming process.
Step 4. Shoot the Video
Use your smartphone or camera to shoot the scenes as per your storyboard. Ensure good lighting, clear audio, and stable shots.
Step 5. Edit the Short Video
Transfer the video to your chosen short video maker app. Trim, cut, and arrange the clips to create a seamless and engaging final product.
Step 6. Add Effects and Music
Enhance your video with filters, effects, and background music from the app's library. Ensure that the audio complements the visuals.
Step 7. Preview and Adjust
Watch the video in preview mode to check for any necessary adjustments. Fine-tune the timing and transitions as needed.
Step 8. Publish and Share
Once you are satisfied with your short video, publish it on the platform of your choice and share it with your audience.
How to Make a Short Video on Windows Movie Maker?
After learning the brief process of creating and publishing a short video on your desired social platform, you can't wait to practice by yourself? Then, let's learn how to make a short video with pictures and music with the help of an easy-to-use and free short video maker – MiniTool MovieMaker on a Windows PC.
MiniTool MovieMakerClick to Download100%Clean & Safe
1. Download, install, and launch MiniTool MovieMaker on your computer.
2. In its first welcome window, select a short video aspect ratio according to your needs and click the New Project button from the upper-left area to go on. Or you can directly close the window to enter its main user interface (UI) and choose an aspect ratio in the lower-right part of the Player section.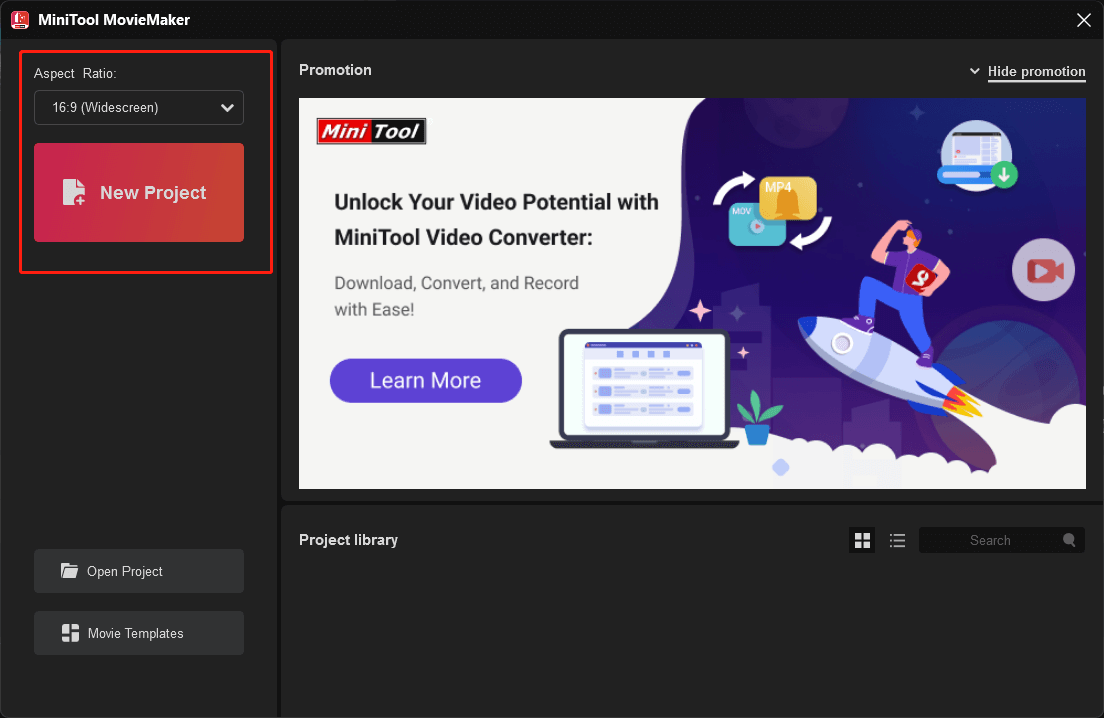 3. In the main window of the short video creator, click the Import Media Files option to upload the photos and songs that you would like to use to build a short video.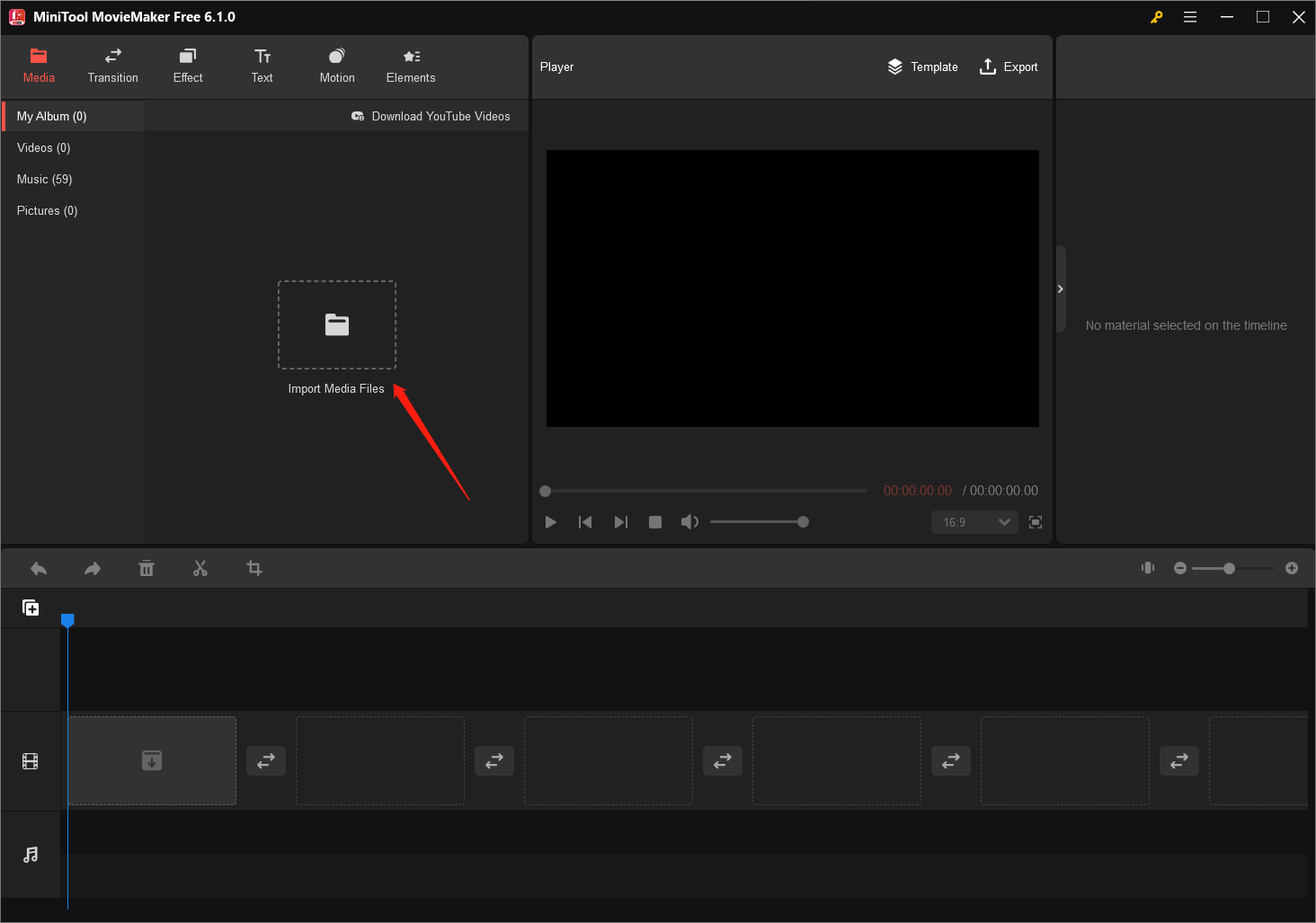 4. Then, drag and drop the uploaded media files to the below timeline respectively on the video and audio track.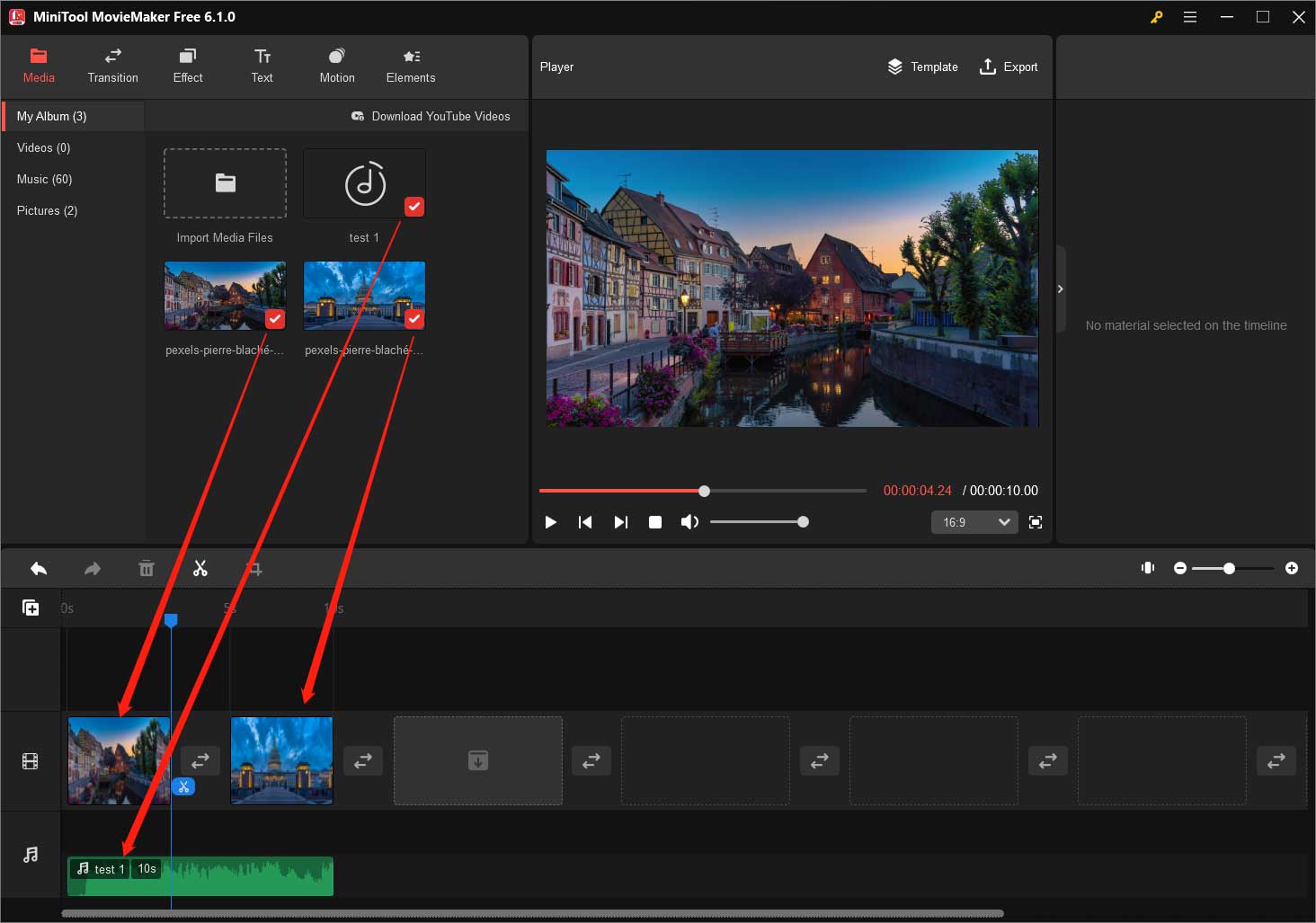 5. Next, you can fully edit your short video. For example, you are able to shorten or prolong the duration of each picture in the Image Property section, which will appear when you click on the target photo. Besides, you can adjust the contrast, saturation, and brightness of the image or add a 3D LUT filter to it. You can also flip or rotate the picture to a preferred angle.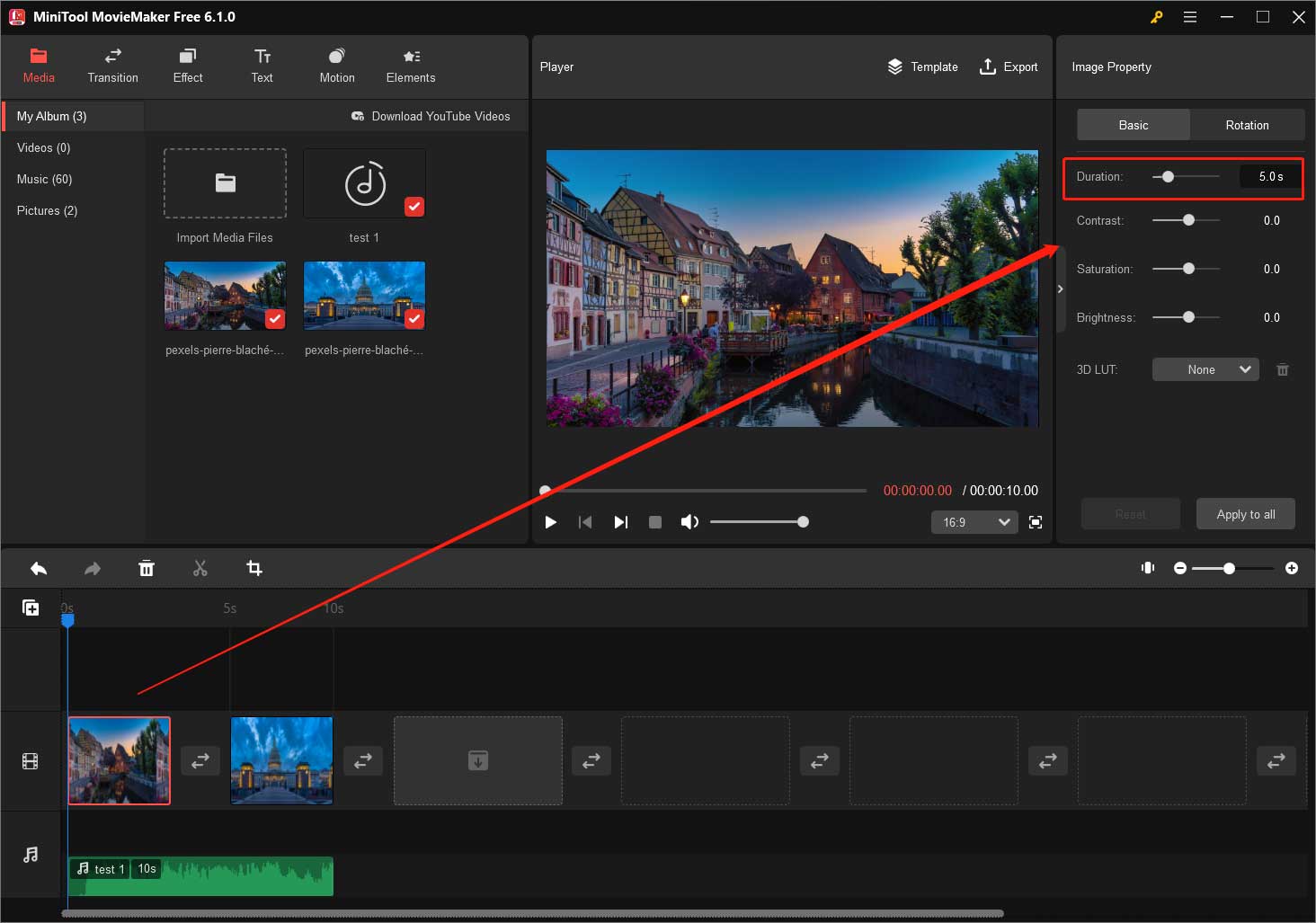 Moreover, you can add a transition between two pictures; add effects, texts, motions, as well as animated stickers to your short video. You can further edit those added effects either in their properties in the upper right of the main window or in the Player section.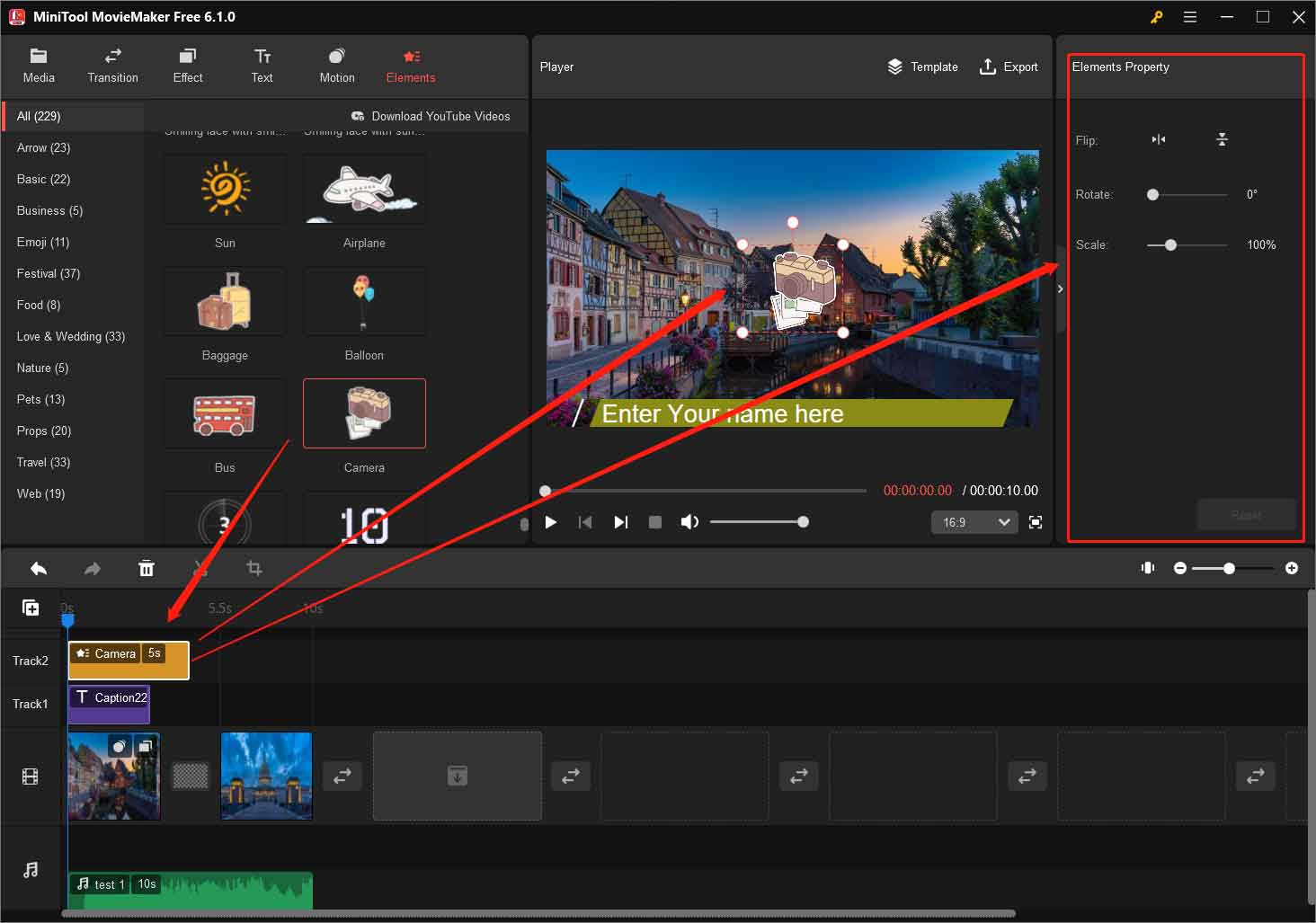 The music you add to the timeline will automatically be shortened to match the length of the images. Additionally, you can change its speed and volume. Or you can fade in or fade out the song as you prefer.
6. Finally, click the Export option in the Player section to save your edited short video. You can specify the name, format, encoder, resolution, frame rate, as well as bitrate of the short video. How to make a short video into a gif? Just pick up the GIF option as the export video format.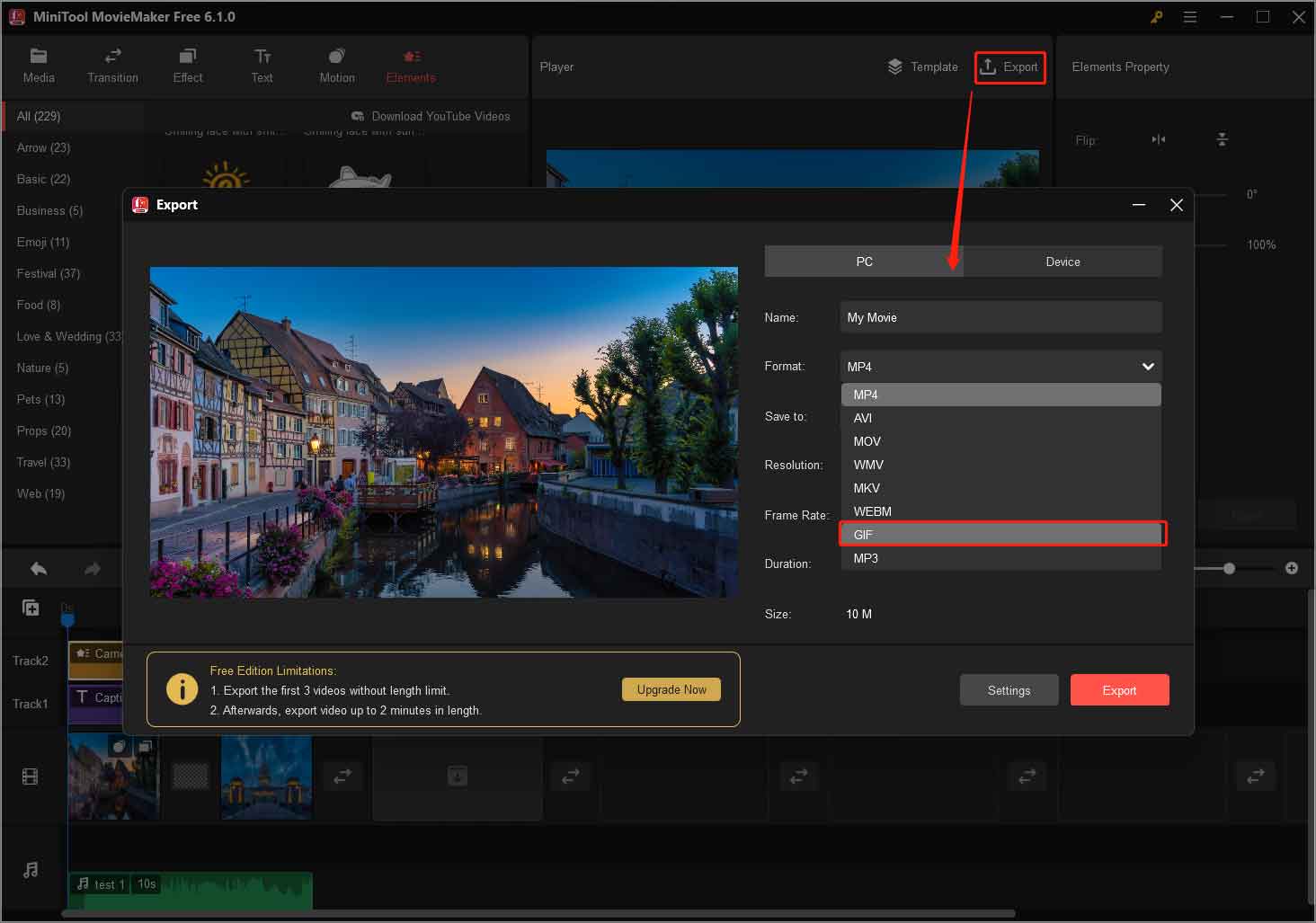 Moreover, if you would like to play this short video on other devices like an iPhone or Android smartphone, you can directly export the short video clip in a format that is compatible with the desired hardware. Then transfer the video to the device for playing or sharing.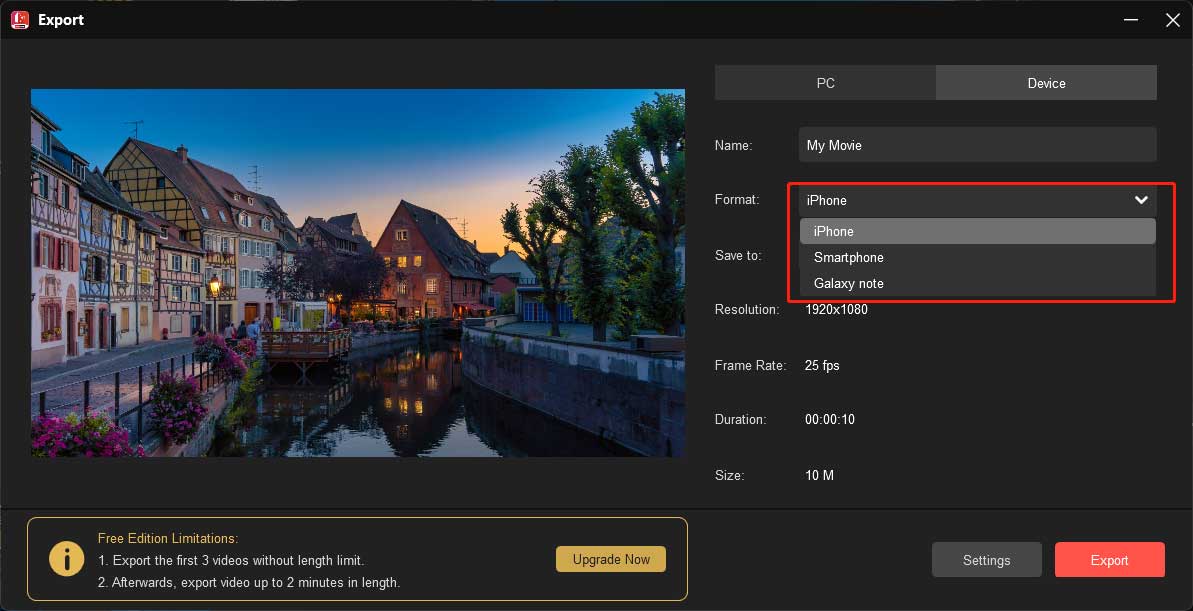 Eventually, this short animation video maker has successfully helped you complete your task. Then you can enjoy your wonderful short video as you like.
Tips:
As for short videos that do not exceed 2 minutes, MiniTool MovieMaker offers unlimited services including editing and exporting.
How to make a video with short clips like short video clips? The process is similar to the above guide.
How to make a short animated video? How to make a short video with music? How to make a short video for free? The best way to make a short video is to use the best app to create short videos for social media free of charge. Here, I recommend MiniTool MovieMaker.Click to Tweet
How to Make a Short Video on iPhone?
The above content has described how to make a short video on computers. In this part, it will talk about how to create a short video on an iPhone. The following will take iMovie for example to show you the steps.
1. Open iMovie and select a mode (Magic Movie or Movie) to start a new project. Here we take Magic Movie for example.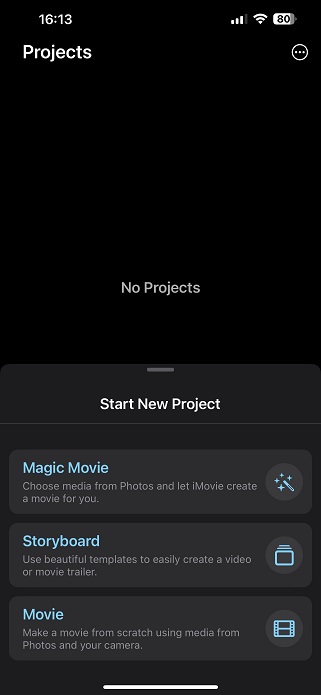 Tips:
Since we intend to create a short video, it is not recommended to select Storyboard mode here since its templates won't let you manage the duration of the video.
2. Choose the media clips you want to include in your short video and click the Create Magic Movie option at the bottom of the screen.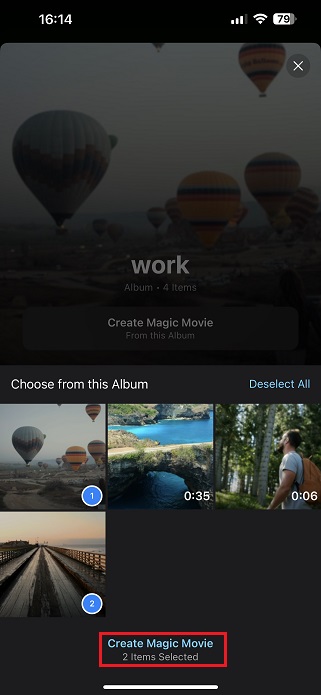 3. If you want to add more media files, click the Add option in the bottom left corner and select a proper option.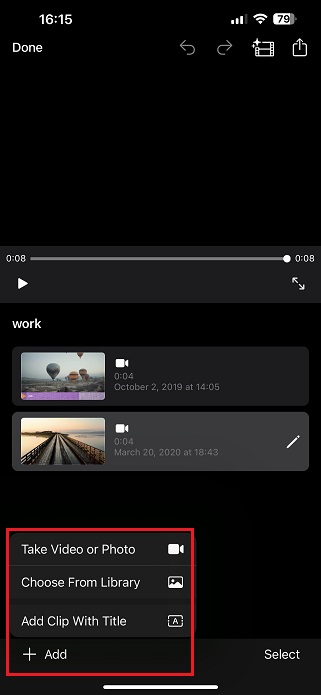 4. Click the film icon on the upper right of the screen to choose a style for your short video.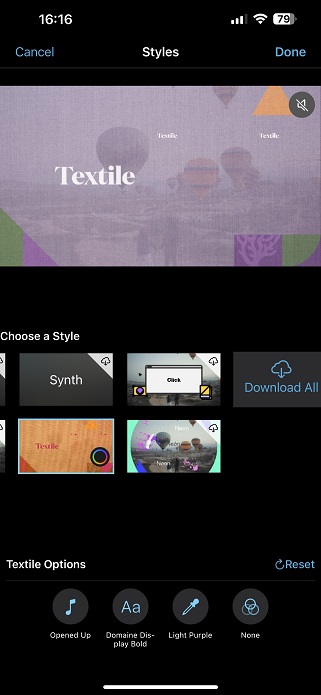 5. You can click the share icon in the top right to share this short video to the social media platform that is installed on your iPhone such as Facebook and Twitter.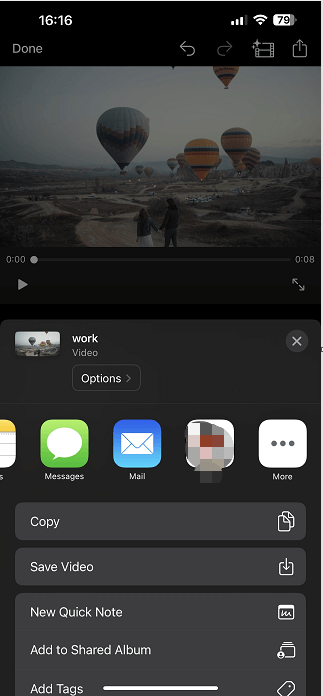 6. After all settings are done, click the Done option on the top left to save the changes to your short video.
It is just so easy to create a short video on an iPhone with the help of iMovie. Of course, you can take advantage of other video editing apps on your cellphone to make your own short clips.
Editing Short Videos: The Power of a Compelling Cut
Editing is a crucial aspect of short video creation. To captivate your audience within a short period of time, precise and effective editing is essential. Here are some tips to help you edit your short videos like a pro:
Keep It Concise: Every second counts in a short video, so cut out any unnecessary footage or pauses to maintain a fast-paced, engaging experience.
Create a Hook: Begin with an attention-grabbing shot or moment to hook your viewers from the start.
Seamless Transitions: Use smooth transitions to connect scenes and maintain a cohesive flow.
Enhance with Effects: Add appropriate visual effects and filters to elevate the visual appeal of your video.
Align with the Beat: When using background music, sync your edits with the rhythm to make the video more dynamic.
Optimize for Mobile: Remember that most short videos are consumed on mobile devices, so ensure your content is mobile-friendly.
From Crossword Clues to Emotional Tales: The Versatility of Short Videos
Short videos are not limited to casual entertainment; they can also be utilized for various purposes. They have become an essential tool for content marketing, business promotions, education, and more.
# Short Video Marketing
Brands and businesses leverage short videos as a way to connect with their target audience quickly. These bite-sized snippets help convey brand messages effectively and increase engagement with potential customers.
# Educational Content
Short educational videos have gained popularity as a practical and engaging way to disseminate information. They are used by educators, subject matter experts, and e-learning platforms to simplify complex concepts and make learning enjoyable.
# Emotional Impact
Some short videos are designed to tug at our heartstrings, evoking powerful emotions in just a few seconds. These videos often feature heartwarming or inspiring stories, leaving a lasting impact on viewers.
# Humor and Entertainment
One of the main purposes of short videos is to entertain. Comedy skits, pranks, dance challenges, and lip-sync videos dominate platforms like TikTok, providing endless entertainment for millions of users worldwide.
Do Short Videos Make Money on YouTube?
Can you make money on short YouTube videos? Short videos have not only become a source of entertainment and information but also an avenue for content creators to monetize their efforts. On platforms like YouTube, creators can participate in the YouTube Partner Program (YPP) to earn revenue through ads shown on their short videos.
However, it's important to note that monetization eligibility criteria may vary, and creators need to meet specific requirements, such as the number of subscribers and watch hours. Additionally, creators can explore sponsorships, brand deals, and merchandise sales to further monetize their short video content.
Conclusion: The Evolution of Short Videos
From the rise of short video maker apps to the widespread use of short-form content on various platforms, short videos have undoubtedly become an integral part of modern digital culture. As creators continue to find innovative ways to produce engaging content and brands capitalize on the potential of these bite-sized creations, the short video phenomenon shows no signs of slowing down.
So, whether you're looking to entertain, educate, or promote, harness the power of short videos to leave a lasting impression on your audience, one brief moment at a time. Happy creating!
Also Read