What Is 360 Degree Video?
The 360-degree video is a video recording where a view in each direction is recorded at the same time. It is also called a spherical video, a surround video, or an immersive video. 360 degree videos are shot with an omnidirectional camera or a collection of cameras.
During the 360-degree video playback on a normal flat display, the viewer has control of the viewing direction like a panorama. The video can also be played on a display or projectors arranged in a sphere or some part of a sphere.
How to Create a 360-Degree Video?
Typically, a 360 degree video is recorded using either a special set of multiple cameras or a dedicated camera containing multiple camera lenses embedded into the device and recording overlapped angles simultaneously. Usually, the only area that can't be viewed is the angle toward the support of the camera; that is the camera itself.
Specialized omnidirectional cameras and rigs have been developed for the purpose of recording 360 degree videos. Such cameras include GoPro's Omni and Odyssey, and Nokia OZO. There are also handheld dual-lens cameras like Samsung Gear 360, Garmin VIRB 360, Ricoh Theta S and Kogeto Dot 360, a panoramic camera lens accessory for mobile phone cameras.
Recording with 360-degree video cameras, the separate footage is merged into one spherical video piece. The color and contrast of each shot is calibrated to be consistent with the others. Those are done either by the camera itself or relying on specialized program that can analyze common visuals and audio to sync and stitch the different camera feeds together.   
360 degree videos are formatted in an equirectangular projection and is either stereoscopic viewed as 2 distinct images directed individually to each eye for a 3D effect or monoscopic with one image directed to both eyes. Thus, equirectangular video exhibits a lower quality in the middle of the image than at the top and bottom.
For spherical videos, usually, they are in curvilinear perspective with a fisheye effect. The heavy barrel distortion often needs rectilinear correction before applications in detection, tracking, and navigation.
Playback of 360 Degree Video
Typically, 360-degree videos are displayed through personal computers (PCs), mobile devices like cellphones, or dedicated head-mounted displays such as virtual reality (VR) headsets. Viewers are able to pan around the video by clicking and dragging. On mobile phones, internal sensors like the gyroscope can be used to pan the video based on the orientation of the phone.
Relying on that behavior, stereoscope-style enclosures for smartphones (e.g. Samsung Gear VR and Google Cardboard) can be used to view 360-degree videos in an immersive format similar to VR. The phone display is viewed via lenses contained within the enclosure, as opposed to virtual reality headsets that contain dedicated displays.
360-Degree Video Publishing
In March 2015, YouTube released support for publishing and viewing 360 degree videos with playback on its website and its Android applications. Its Parent company Google also claimed that it would collaborate with camera manufacturers to make it easier for creators to upload 360 degree content that was recorded with their products to YouTube.
However, in 2017, both YouTube and Google began to promote an alternative stereoscopic or monoscopic video format named VR180 that is restricted to 180-degree of view. They claimed that the 180 degree video is more accessible to produce than the 360 degree video, allowing more depth to be maintained by not subjecting the video to equirectangular projection.
In September 2015, Facebook, the parent company of VR headset manufacturer Oculus VR, followed to add 360-degree video support. Subsequently, Facebook unveiled the reference designs for its 360 degree camera systems called Facebook Surround 360.
In March 2017, Facebook said that more than one million 360 degree videos had been uploaded to its platform. Vimeo also launched 360-degree videos support within the same month.
What Is 360 Degree Video Editing?
After learning the definition of 360-degree video, let's see what does 360 video editing mean.
In general, editing 360 degree video is to adjust, refine, or optimize the 360-degree video with a 360 video editing software. For example, you can change the brightness, contrast, and saturation of the video; rotate its angle, speed up or slow down the playback speed; reverse the video; add filters, texts, or stickers to the video; you can also alter the focus of the video by add motion to it.
How to Edit 360 Video?
Just as mentioned above, you need a professional and reliable 360 video editing app to help you with the editing. Here, MiniTool MovieMaker is recommended for its easy-to-use features and watermark-free output video for free version.  
Step 1. Get MiniTool MovieMaker for Free
Just download MiniTool MovieMaker by clicking the above downloading button. Then, install it on your computer. MiniTool MovieMaker supports desktops, laptops, notebooks, etc. devices running Microsoft Windows operating systems such as Windows 11, 10, 8, and 7.
Step 2. Add 360-Degree Video to MiniTool MovieMaker
Launch MiniTool MovieMaker. Upload your 360-degree video to the target PC. Under the default Media tab in the upper-left section, click the Import Media Files option to add your 360 videos to the platform.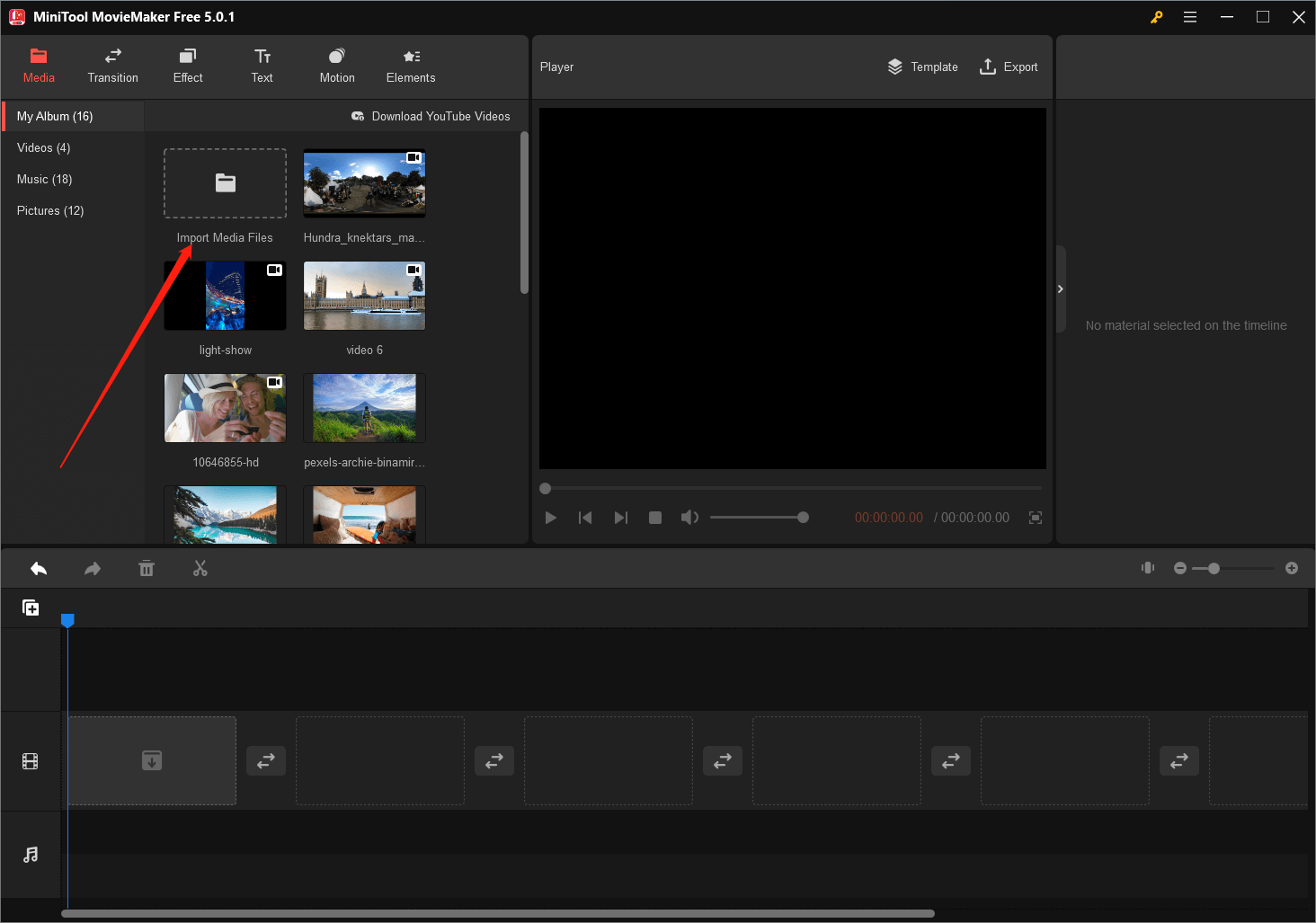 Step 3. Edit 360 Degree Video
Just put your mouse on the target 360-degree video and click the + icon appearing on its bottom right corner to add the video to the below timeline. Then, you can start editing 360 videos.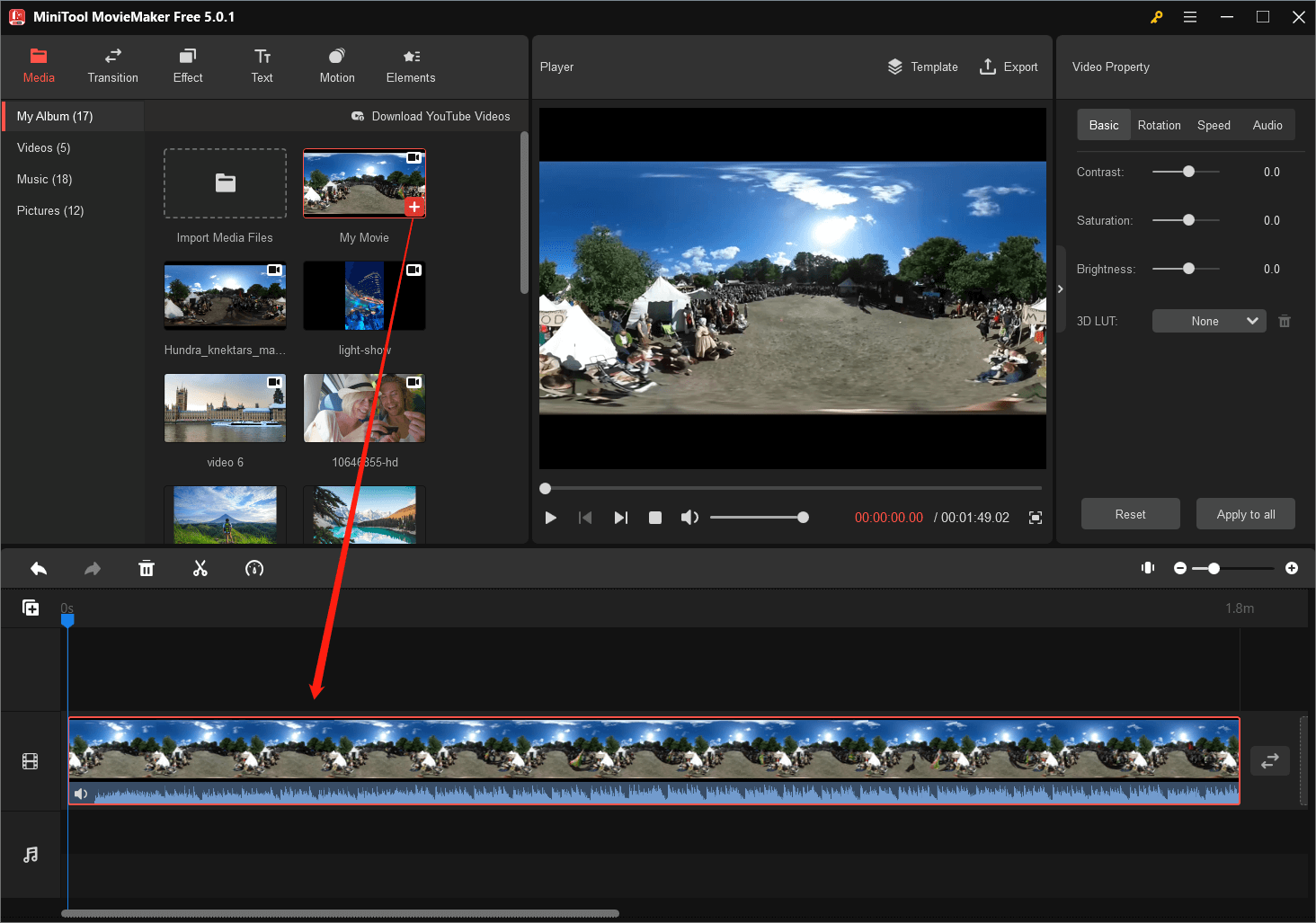 #1 Split/Trim 360 Video
In the first place, you can simply split the target 360-degree video into several clips or pieces or just trim its start and end to make it shorter. This can also enable you to remove the unwanted parts in the video.
In detail, on the video track of the timeline, click on the 360 video to select it (marked with a red frame), drag and drop the playhead where you want to cut the video. Then, click the scissors icon on the toolbar above the timeline to choose an option to split your video.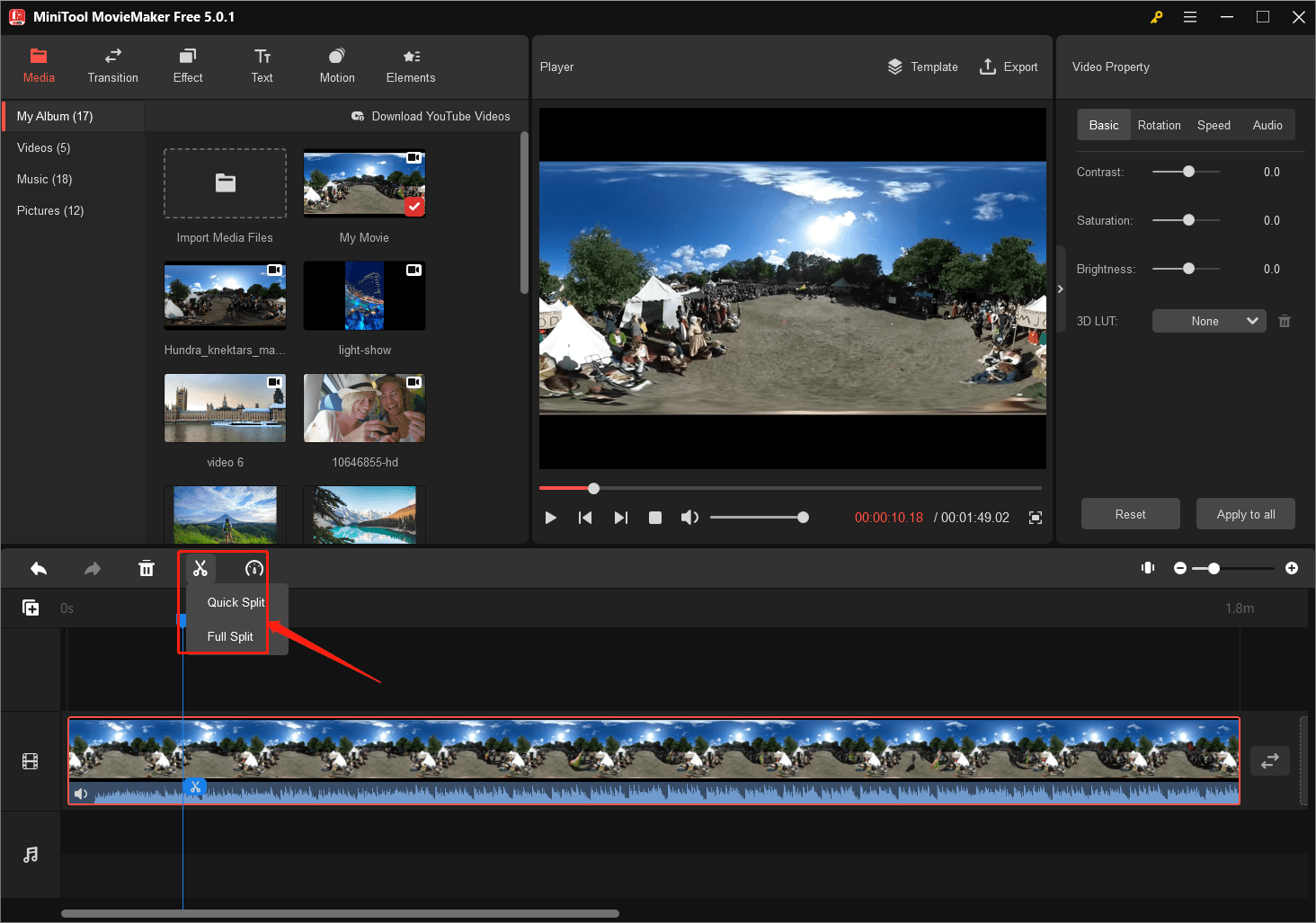 Quick Split: quickly cut off the entire video into two clips.
Full split: to split the video precisely. You can use the zoom out/in feature to help you split the video accurate to second.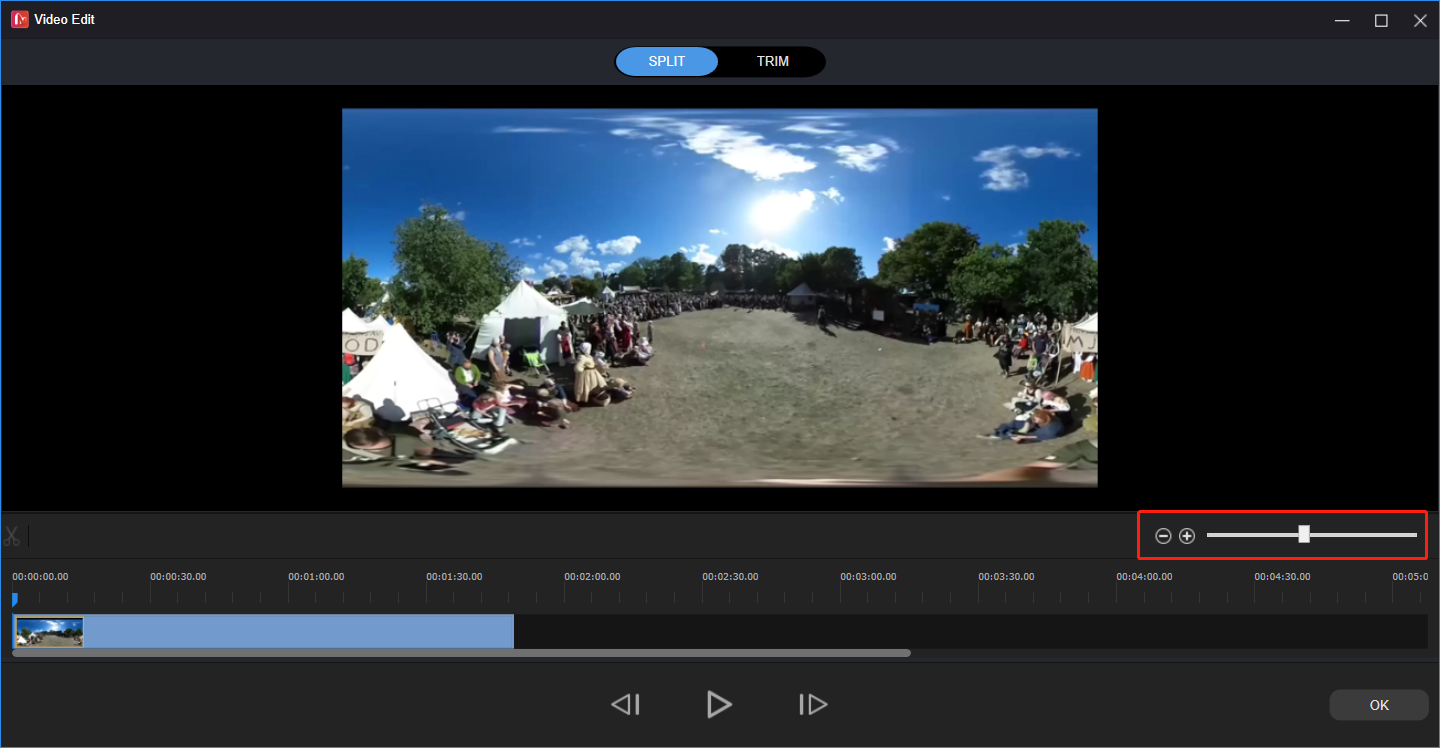 Switch to the TRIM tab from the above screenshot. There, you can precisely remove the start and end of the 360-degree video. Just put the playhead at the specific time (before then is unwanted) and click the scissors behind the Start to cut the former period off; put the playhead at the time point (after then is unwanted) and click the scissors behind the End to remove the latter clip.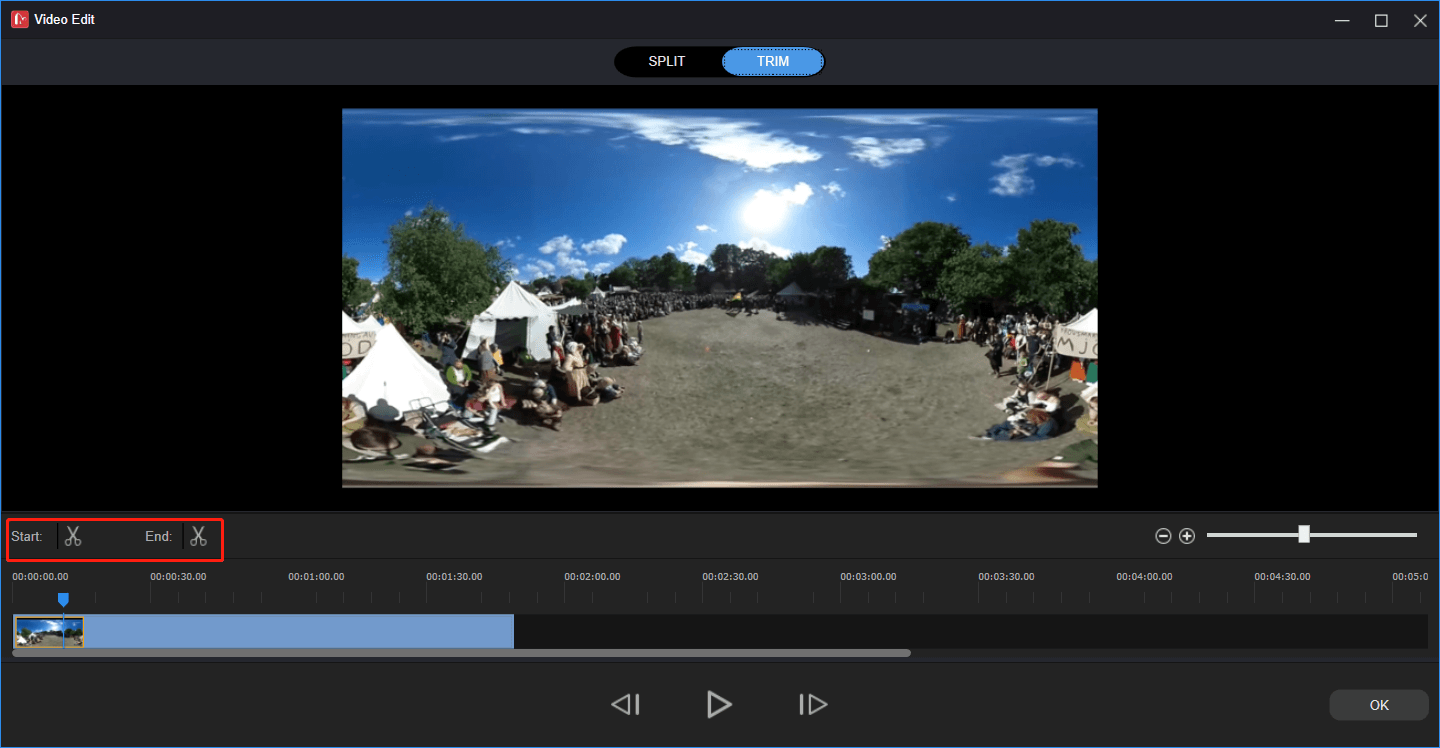 #2 Add Transition to 360-Degree Video
After splitting the video, you can add a transition between two small video pieces to merge them naturally. Just skip to the Transition tab, drag and drop the preferred transition to where you need it to be on the track. You are able to specify how the transition occupies the two footages on the upper right, in the Transition Property section.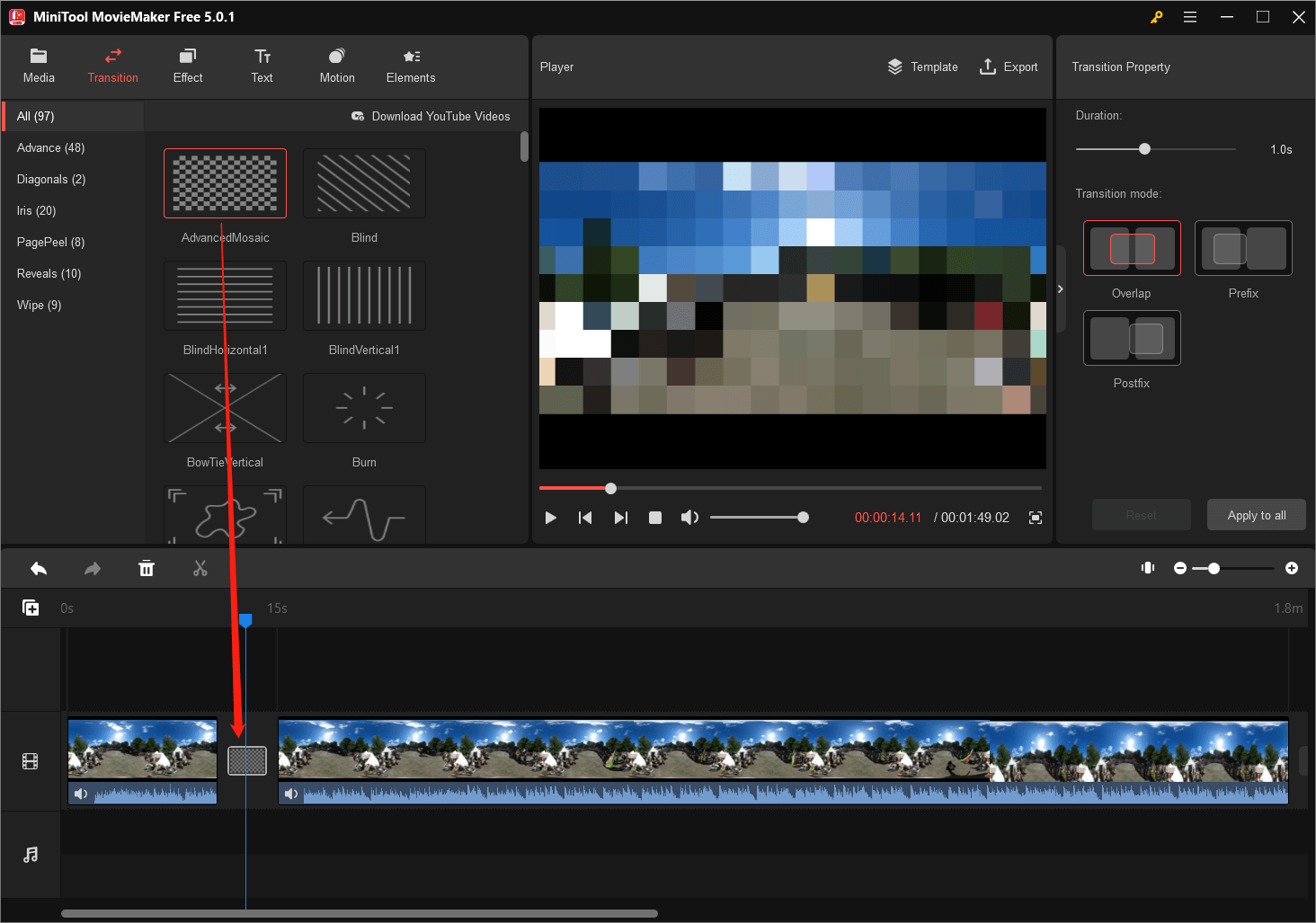 #3 Filter 360 Video with Special Effect
Thirdly, you can add specific effect to the video. Click on the target clip, move to the Effect tab, preview and download the effect you like, and add it to the video piece.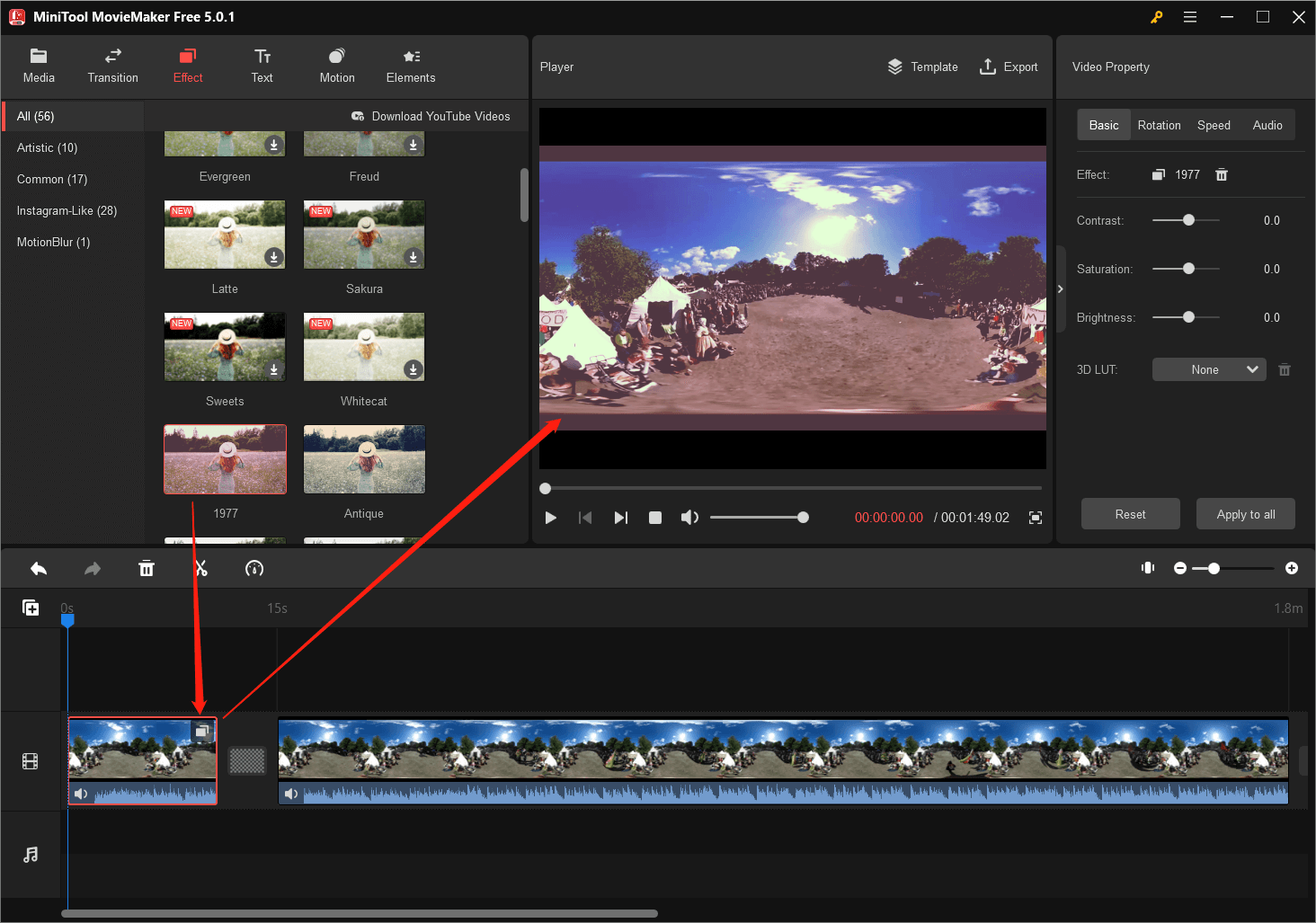 #4 Add Texts to 360-degree Video
Also, you can add captions, titles, or credits to the destination video. Simply click on the video footage to activate it. Then, choose a type of text. Next, customize the words, font, color, opacity, etc. of the text in the Text Property section.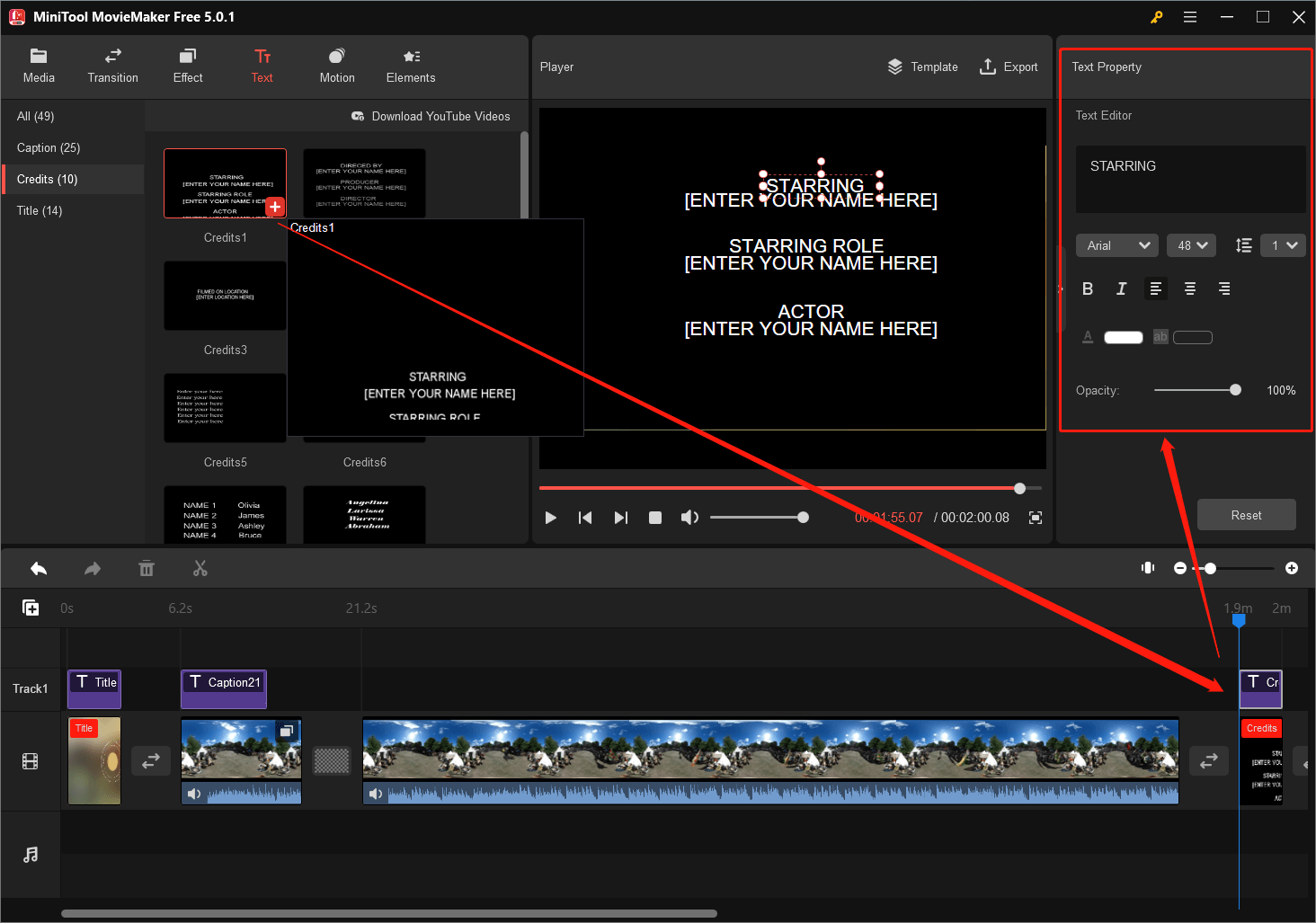 Title: the start or cover of a video. So, only one title is recommended.
Credits: the end of a video usually include the contributors of the video; just like the end of a series or movie.
Caption: anything you want to say during the video. Just add proper words at the proper time point. You can add multiple captions to a video.
#5 Add Motion to a 360 Video
The motion in MiniTool MovieMaker decides the movement routine of the camera within the video. It doesn't mean the motion can change the recording content of the video. Motion just determines how you see the 360-degree video, from left to right, bottom to top, upper-right to lower-left…
Click on the clip you want to add a motion and click the + icon on the target motion under the Motion tab. That's it!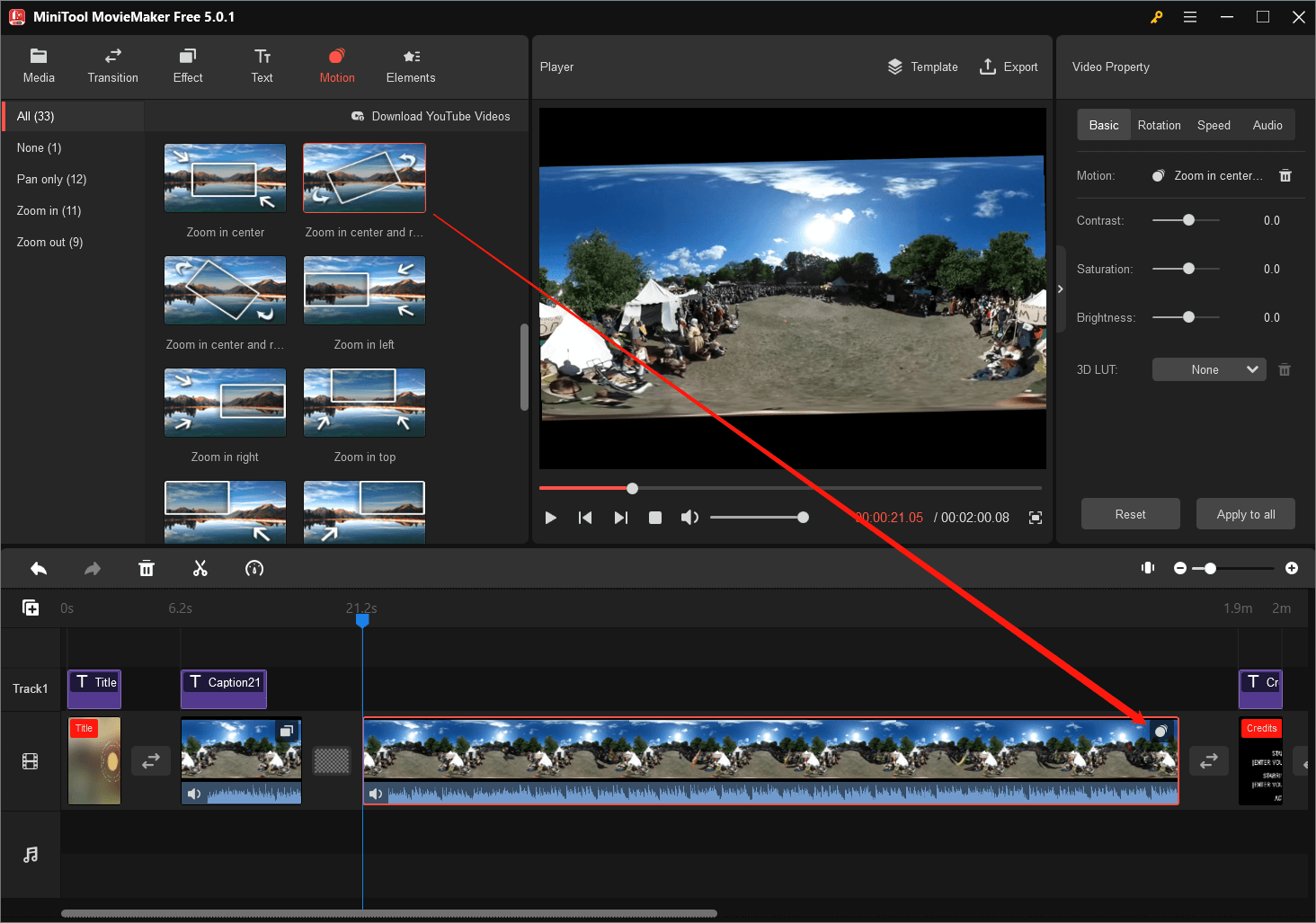 #6 Add Stickers to 360 Degree Video
Besides, you can add funny stickers to your 360 videos. Also, you need to choose the target video period first, then go to the Elements tab, and add the stickers you want one by one. Yes, you can add more than one sticker at the same time.
Step 4. Add Music to 360 Video
Moreover, you can add a proper song or rhythm to the target video. If you have your own audio file, just upload it to the Media tab and add it to the music track. If not, you can use the MiniTool built-in music. You can find it in the Music section under the Media tab.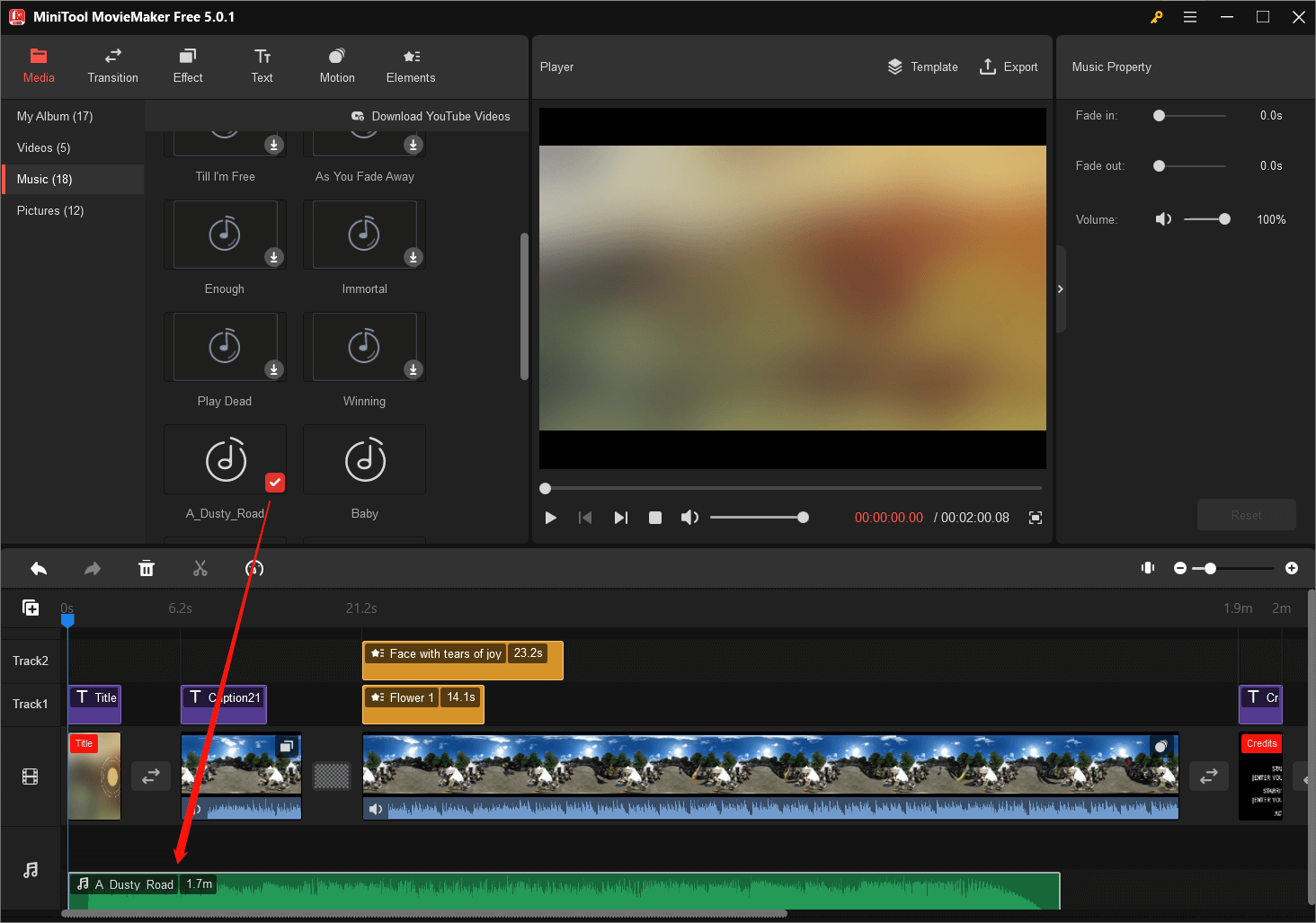 Note: If you plan to use the edited 360 video commercially, you are not allowed to use the built-in music for it is only for non-commercial use.
Step 5. Preview the Edited 360 Video
Before exporting the edited 360-degree video, you can preview it to see whether you are satisfied with it. just preview the video in the Player section located in the center of the user interface. If you are not satisfied with the current editing, you can continue to optimize the clips. Actually, you can preview the video anytime during the editing.
Step 6. Export 360-Degree Video
Finally, you can export the edited video. Click the Export option in the Player section. Then, a new window will popup enabling you to personalize the video output format.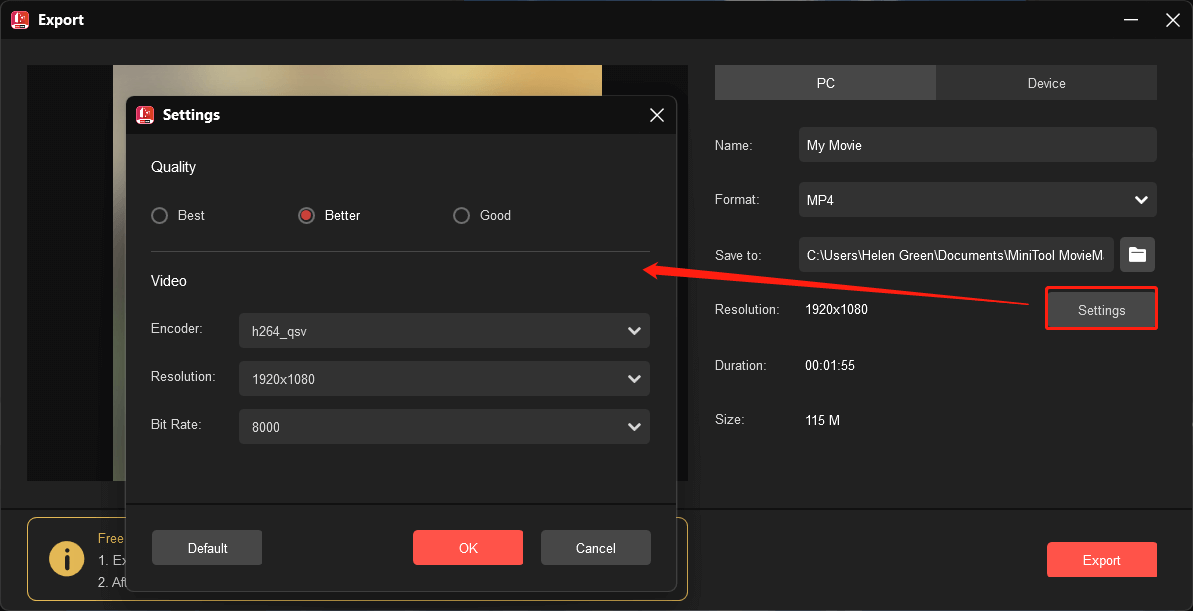 Firstly, you need to choose to export the 360 videos to be played on PC or other devices including iPhone, iPad, Apple TV, Sony TV, Nexus, Xbox One, PS4, and Samsung Galaxy. Then, specify the name, quality, resolution, encoder, and bitrate of the video.
Eventually, click the Export button to export the well-edited 360-degree video.
Top 5 Best 360 Video Editors
The following are a list of best free 360 video editing software. Each has its own advantages and disadvantages.
#1 Adobe Premiere Pro CC
Adobe Premiere Pro is a timeline-based and non-linear best 360 video editing software for PC and Mac. Yet, it is geared towards professional video editing providing only a free trial version. The sibling of Premiere Pro – Adobe Premiere Elements targets the consumer market.
#2 iMovie
iMovie is a preinstalled 360 video editing software for macOS, iOS, as well as iPadOS. It was developed by Apple Inc. for the consumer market. iMovie is free to all users but it only support Apple devices.
#3 Final Cut Pro X
Final Cut Pro is a series of non-linear 360 video editors. They were original developed by Macromedia Inc. and later by Apple Inc. Mainly users of Final Cut Pro are hobbyists and independent filmmakers. The app has also made inroads with film and television editors. Unlike iMovie, Final Cut Pro is aimed at professional market.
#4 MiniTool MovieMaker Free
MiniTool MovieMaker Free is a windows-based offline really free 360 video editor. "Really free" means that the Free Edition includes all features of the product and does not have available time restriction. Most importantly, you can export the edited video without watermark. The only limitation is that you can freely export maximum 2-minute video from the third time on.
#5 PowerDirector Essential
PowerDirector Essential is a free 360 video editing software developed by CyberLink. It can operate on Windows, Android, and iOS. This free edition of PowerDirector video editing suit contains all the features that the advanced edition have and you can use them without time limit. Yet, you can't export the edited video.
#6 Movavi 360 Video Editor
Movavi Video Editor Plus can bring your creative ideas to life and share them with the world. You can try this advanced software for free either on Windows or Mac computers. Its trial version contains all the features and is easy-to-learn. But its output video has a watermark.
#7 DaVinCi Resolve
DaVinCi Resolve is a color grading, color correction, visual effects, and audio post-production 360 degree video editing software. It supports Windows, macOS, and Linux. DaVinCi Resolve is free with reduced functionality.
360 Video Cameras
Below are some popular 360-degree cameras.
GoPro Max
GoPro Fusion
Insta360 One X2
Insta360 One RS
Insta360 Pro 2
Insta360 Evo
Vuze VR Camera
Kandao QooCam 8K
Ricoh Theta SC2
Samsung Gear 360
Videos/Audio/Photos Management Tools Recommended
These applications are completely compatible with Windows 11/10/8.1/8/7.
MiniTool uTube Downloader
Free download YouTube videos, audio, and subtitles without ads or bundles. It can operate multiple tasks simultaneously at a high speed and supports multiple file formats.
MiniTool Video Converter
Quickly convert videos and audio from one file format to another to apply to more devices. It supports 1000+ popular output formats and batch conversion. Besides, it can also record PC screens without any watermark.