GIMP and Photoshop are two wonderful image editing applications. GIMP vs Photoshop, which one is better for you? To help you recognize them deeply, this post will illustrate the main differences between Photoshop and GIMP. If you need an excellent photo slideshow maker, MiniTool MovieMaker is recommended here.
When it comes to the best photo editor, GIMP and Photoshop appear in minds of the most users. But when you're asked Photoshop vs GIMP: which photo editing software do you prefer? What's your answer? Just check out this post and you will distinguish between Photoshop and GIMP.
Brief Introductions About GIMP and Photoshop
What is GIMP?
GIMP, short for GNU Image Management Program, is a free and open-source raster graphics editor. It is usually used for image retouching, image editing, drawing, converting images in different formats, and more. And it's extensible, designed to be augmented with plug-ins and extensions to do almost everything.
With its advanced and intuitive scripting interface, it's easy to perform both simple and complex image manipulation procedures. By the way, it's an amazing alternative to Photoshop.

What is Photoshop?
Adobe Photoshop, a part of the collection of Adobe Creative Cloud applications, is a professional and pixel-based image editing and manipulating program. It's the unquestioned choice for designers, graphic artists, photographers, web developers, and creative professionals.
It offers many available tools, including an AI-powered portrait selection tools, 3D tools, automatic font download, raw camera file conversion, and other tools for photographers, artists, and designers.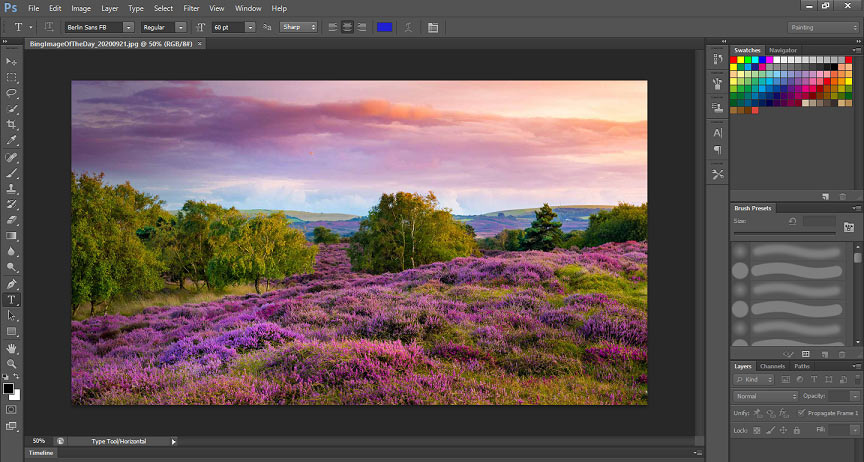 GIMP vs Photoshop
To help you make a decision of Adobe Photoshop vs GIMP, the following part will show you their key features, tools, pros, and cons.
Key Features of GIMP
A customizable interface and a great full-screen mode.
Efficient color management.
Compensate for digital photo imperfections.
Advanced photo retouching techniques.
Supported output formats: JPEG, PNG, GIF, TIFF, and more.
More than 100 available plugins.
Compatible with many platforms.
Support for the full alpha channel and different hardware devices.
Key Features of photoshop
Connection to Behance
Camera raw features.
Smart sharpen filters.
Access to Lightroom pictures.
360 panorama workflow.
Generator technology.
Special effects and distortion features.
Also read: Lightroom vs Photoshop
Tools in GIMP
Selection tools: select square or rectangular regions, free-form selecting, create paths to select shapes, etc.
Transform tools: move selections and layers, align or arrange layers, crop, rotate, and flip images, etc.
Brush tools: sharpen or blur images, lighten or darken an image's shadows, mid-tones or highlights, erase pixels from a layer, etc.
Color tools: adjust hue, brightness, saturation, contrast, modify the color balance, convert all color to shapes of grey, etc.
Other tools: color picker, measure, path tool, etc.
Tools in Photoshop
Selection tools: marquee, move, lasso, quick selection, magic tools.
Crop and slice tools: slice select, crop, slice tools.
Retouching tools: spot healing brush, healing brush, patch red-eye, clone stamp, eraser, sharpen, blur tools, etc.
Painting tools: brush, pencil, color replacement, mixer brush, gradient, paint bucket tools, etc.
Drawing and typing tools: path selection, type, type mask, pen, custom shape, shape, line tools.
Navigation, notes, and measuring tools: hand, rotate view, zoom, note, count tools, etc.
3D tools: 3D object rotate, 3D object roll, 3D object slide, 3D object scale, 3D pan camera tools, etc.
Also read: Remove Background from Image Photoshop
After learning about their main features and available tools. What's your answer to GIMP vs Photoshop? If you are still in trouble with this question, please continue to read this post. Here are other differences between Adobe Photoshop vs GIMP.
Differences

GIMP

Adobe Photoshop

Price

100% Free

Free of low-feature version, $29.99/month, $239.88/year

Supported Platforms

Windows, Mac, Linux, Sun OpenSolaris, FreeBSD

Windows, Mac, Linux, web-based, mobile versions for Android and iOS

Pros

A faster image editing speed.
Friendly for beginners.
Open Photoshop files.
Organized tools.
Advanced editing features.

More layer options.
Support panorama images.
Adjust the skin tones of persons in the picture.
Create and edit new artwork images.

Cons

Cannot handle anything other than 8bit RGB.
Limited third-party plugins.

Higher system requirements.
Not well suitable for beginners.
Less support for vector graphics.
Bottom Line
This post tells you the key features, tools, and other differences between GIMP and Photoshop. Now, what's your answer to GIMP vs Photoshop? If you'd like to share your opinions, please leave them below.