Vimeo is a video hosting and sharing platform and it also allows users to create videos from the templates, watch videos, broadcast live steaming, and more. And it also has an embeddable GIFs tool for its members to create GIFs. This post will show you how to convert Vimeo to GIF with 5 methods.
Most of you may upload videos to Vimeo and watch videos on this platform. Have you ever tried its GIF creation tool to make a GIF from your uploaded video? How to make a Vimeo GIF? How to make a GIF from Vimeo directly? How to turn a downloaded Vimeo video into GIF online and offline? This post offers clear steps.
If you want to edit a Vimeo video before uploading, you can try MiniTool MovieMaker, and also you can use this tool to make a GIF from a saved Vimeo video.
MiniTool MovieMakerClick to Download100%Clean & Safe
Part 1 – How to Make a GIF from Vimeo
With Vimeo's embeddable GIF tool, all members can upload a video and create a GIF in Vimeo directly. Firstly, you should learn about the supported Vimeo video formats. The acceptable formats include MP4, MOV, WMV, AVI, and FLV. Secondly, you can not make a GIF using a video labeled as 360.
Now, check the step-by-step guide on how to make a GIF from Vimeo directly.
Step 1. Go to the Vimeo website and log in with your account.
Step 2. Click the New video button and then select the Upload, then browse for your video, choose it and click the Open.
Step 3. After uploading is finished, your video will display in the Recent videos section, and click to open it.
Step 4. Then the video management window opens and you'll see a color, thumbnail, GIF, and a scissor icon., and tap the GIF option.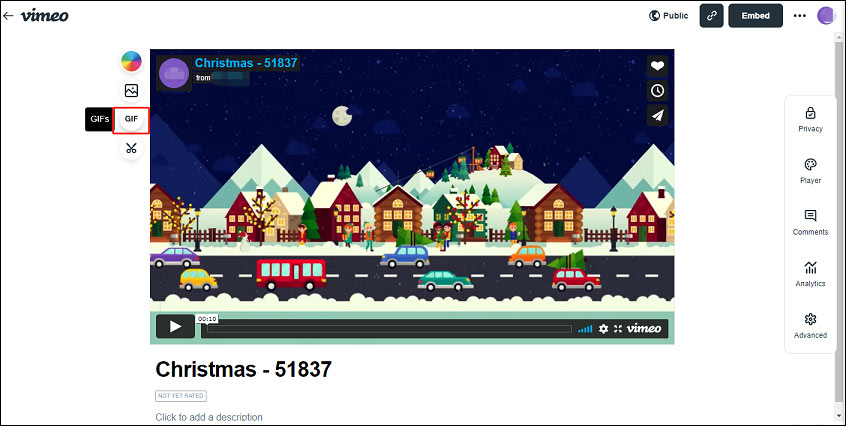 Note:
Alternatively, you can click the Advanced icon on the right side, click the Create a GIF button beneath the Edit thumbnail.
Step 5. Click the Create a GIF from the pop-up menu. Then drag the slider to choose which section to loop and you can also choose the GIF duration up to 6 seconds by moving the blue brackets or editing the value of Start and End time. Once done, click the Create GIF button.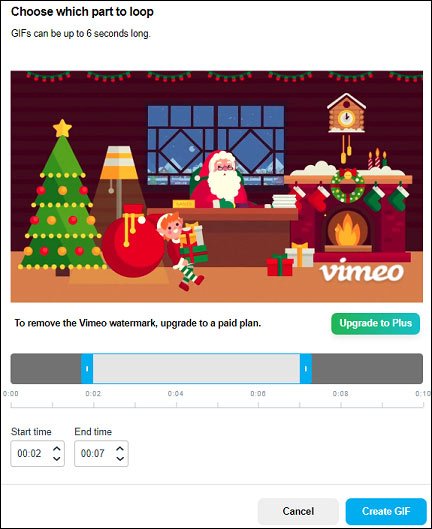 Step 6. You can find the GIF in the GIF panel after a few minutes. Tap the Share and you'll get 3 choices, Download, Copy link, and Embed in email.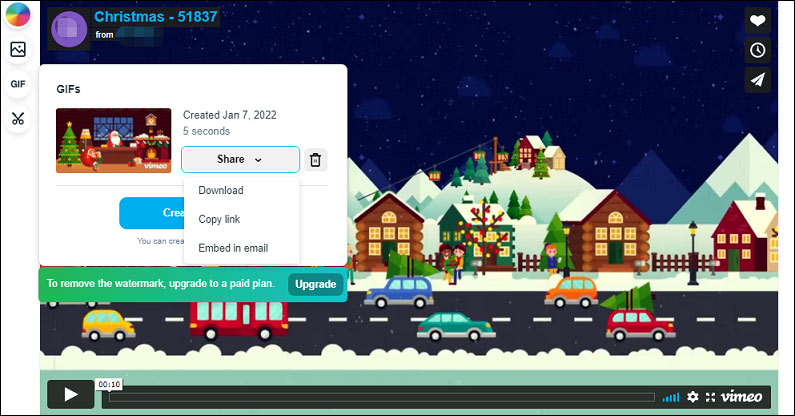 Tap Download to download the GIF in a small file size for email or in a large file size for social media.
Tap the Copy link and you'll get a sharable link to the GIF.
Hit the Embed in email to embed this GIF into an email message. All Vimeo users can use Gmail, but other email providers are only for paid members.
Note:
If you're a Basic (free) user, you'll find a Vimeo watermark on your created GIF. To remove the watermark or make a GIF  without watermark, you should upgrade to a paid plan: Plus $12/month, Pro $35/month, Premium $135/month.
Want to remove the watermark from a TikTok video? Read this post – Ultimate Guide: How to Remove TikTok Watermark from Saved Videos.
Part 2 – How to Turn Vimeo into GIF Online
In addition to the Vimeo GIF maker, you can make a GIF from Vimeo online by pasting a Vimeo link to some online GIF makers. Thus, this part will show you how to turn Vimeo into GIF online with 2 solutions.
#GfyCat
GfyCat is one of the GIF finders to explore and watch trending animated gaming GIFs, reaction GIFs, funny GIFs, and more. Also, you can upload your GIF and create GIF from a video link from Vimeo, Twitter, Twitch, YouTube, Facebook, etc. or a saved video file from your computer.
Here's how to turn Vimeo into GIF with GfyCat.
Step 1. Go to the GfyCat website, click the CREATE button, then paste a Vimeo link, press Enter.
Step 2. After uploading, you can trim the video, and click CONTINUE. Add captions, click CONTINUE.
Step 3. Add tags to the GIF, and tap FINISH.
Also read: A Guide for Gfycat Download to Save Videos and GIFs from Gfycat
#Imgflip
Similar to GfyCat, Imgflip is also a website to create and share GIFs and memes. And it is simple to turn Vimeo into GIF.
Step 1. Open the Imgflip website, click the Create and select the Make a GIF option.
Step 2. From the Video to GIF tab, paste your Vimeo video link.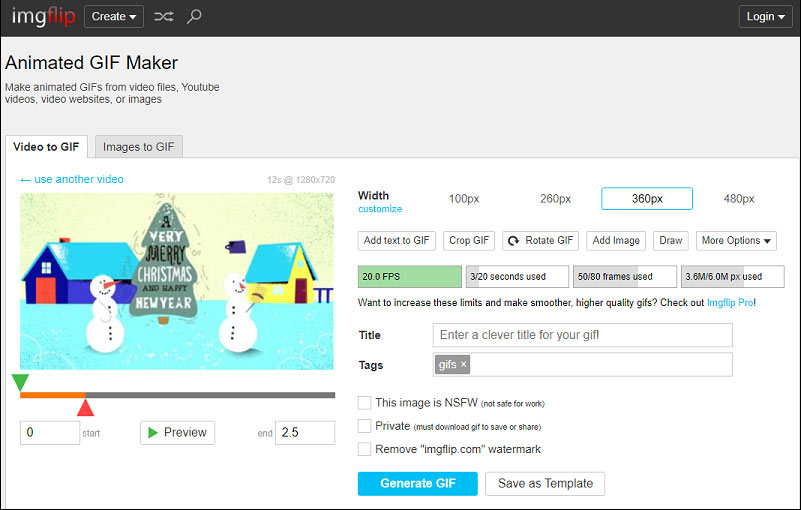 Step 3. Then you can add text to GIF, crop GIF, rotate GIF, adjust the file size, etc. Tap the Generate GIF button, then share and download the GIF.
Part 3 – How to Make a GIF from Vimeo Video Offline
If you want to turn a saved Vimeo video into a GIF on your computer desktop, try the following methods.
First, let's see how to save a video from Vimeo.
Visit the Vimeo website, find and open the video you want to download.
Click the Download button below the video player.
Choose the version of the video, and tap the Download button to save this video.
Note:
Not all videos on Vimeo have the Download button, because some users may disable the ability to download their videos. If you have a paid membership, you can also do that. Just open your video, click the Privacy and toggle off the Allow downloads switch.
#MiniTool MovieMaker
MiniTool MovieMaker is one of the best free GIF makers for Windows. It's simple to use and won't add a watermark to your GIF. This Vimeo to GIF maker allows you to convert many popular video formats like MP4, MOV, AVI, FLV, WMV, MKV to GIF. And before conversion, you can edit the video as you like.
MiniTool MovieMaker enables you to trim, split, slow down, speed up, reverse, rotate, flip videos, add captions to the video, apply filters to the video, adjust the video's saturation, brightness, contrast, and more. And MiniTool MovieMaker also functions as a GIF editor to edit GIFs, a photo video maker to create videos with pictures and video clips, and a GIF to video converter to turn GIF into a video file.
Below are detailed steps on how to turn a save Vimeo video into GIF with MiniTool MovieMaker.
Step 1. Download, install, and then launch MiniTool MovieMaker on your computer.
MiniTool MovieMakerClick to Download100%Clean & Safe
Step 2. Click the Import Media Files to upload your downloaded Vimeo video, and then drag it to the timeline.
Step 3. Now, you can make some optional edits.
Trim video: Drag the clip's start point or endpoint to change the video length.
Split Video: Move the slider to the desired place, click the scissor icon to split the video into 2 parts, and delete the unwanted one.
Add captions: Click the Text, select the Captions, choose a template and click the +. In the Text Editor, type and edit your text.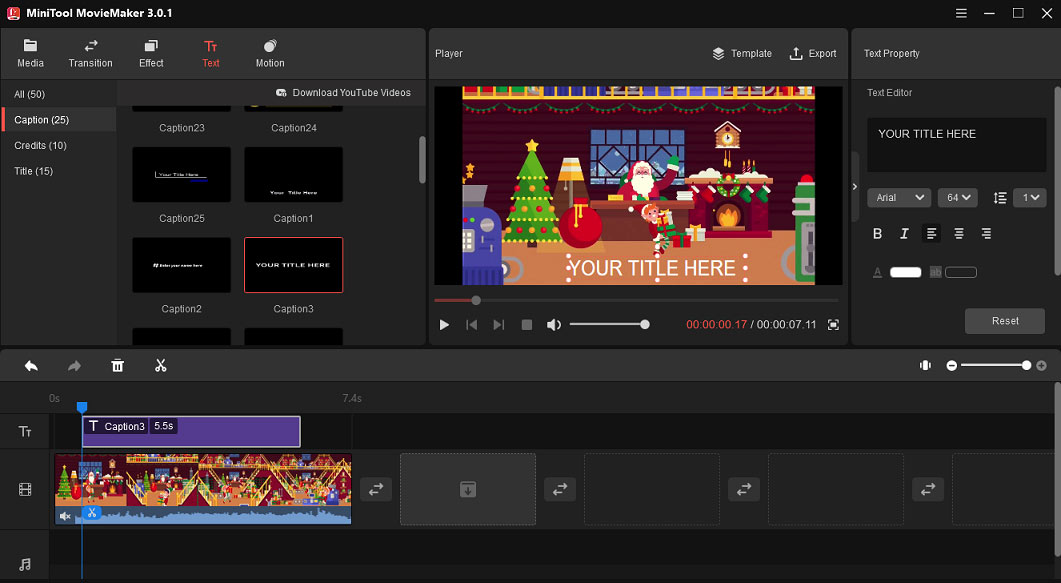 For more information to edit videos, check this post: Solved – How to Edit a Video on Different Devices.
Step 4. After editing, tap the Export button above the video player. Then give the GIF a name and choose an output folder. Then select GIF from the Format list. Click the Export to enable the conversion. Once done, click the Find Target to locate your GIF.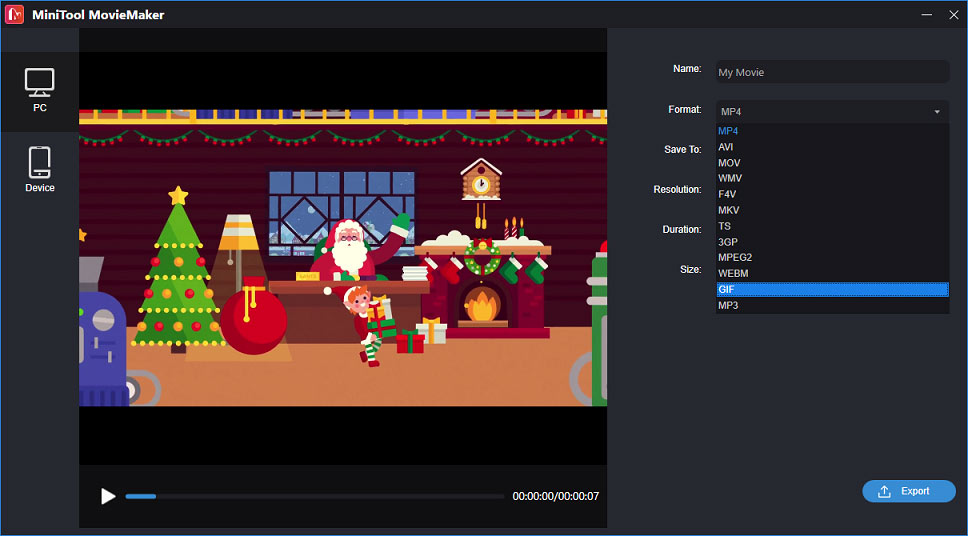 #Format Factory
Format Factory is a multimedia converter to convert video, audio, and image formats on Windows. It also supports GIF format for output, thus it can work as a video to GIF converter. If you want to make a GIF from a saved Vimeo video, Format Factory is also a good choice.
Step 1. Open Format Factory on your computer, click the GIF format, and click Add Files to upload your video.
Step 2. Before conversion, you can clip, crop this video, or change the playback speed. Just tap the Clip button at the end of the source video, then you can trim and crop video, and change video speed. Then click OK > OK to return the main interface.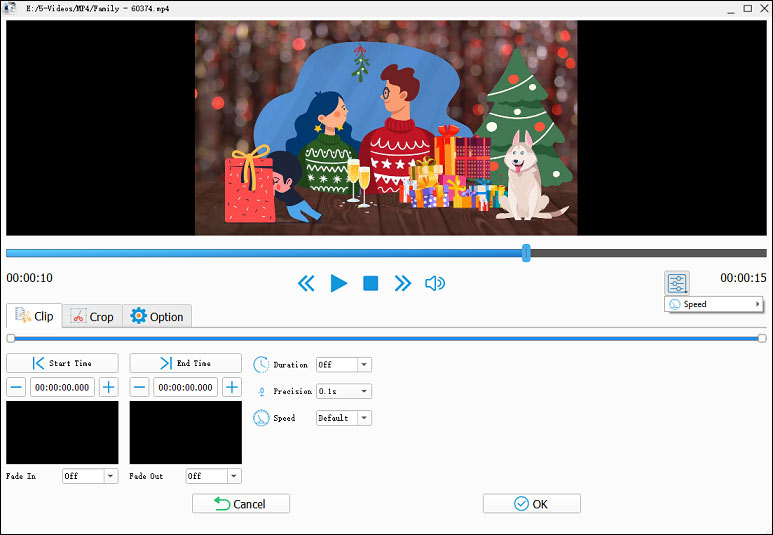 Step 3. Tap the Start menu to start the GIF conversion.
Part 4 – How to Upload a GIF to Vimeo
Does Vimeo accept GIF for uploading? Can you directly upload a GIF to Vimeo?
Vimeo does not support GIF format for uploading, thus you can't directly share a GIF on Vimeo. When you upload a GIF to Vimeo, you'll receive an error message like this.

Vimeo only allows its users to upload MP4, MOV, WMV, AVI, and FLV video files. And it also does not support audio files, image files, or other non-video formats. If you want to upload a GIF on Vimeo, you can try MiniTool MovieMaker to convert it to one of the Vimeo acceptable formats.
MiniTool MovieMakerClick to Download100%Clean & Safe
Also read: An Ultimate Guide on How to Post Videos on Pinterest
Part 5 – How to Fix Vimeo Video Not Playing Issue
Vimeo video won't play on Chrome browser? How to fix Vimeo video not playing? Here're some fixes you can try.
Fix 1. Choose Auto in the quality menu.
With a video playing on Vimeo, tap the Settings icon at the bottom right corner, and make sure Auto is selected. If there's no Auto option, choose another lower quality.
Fix 2. Clear your browser's cache.
Open Google Chrome, click the three vertical dots and choose Settings, type "clear browsing data" in the Search settings box, click Clear browsing data, then choose a time range, and click the Clear data.
Fix 3. Disable any browser extensions, plugins, or add-ons.
Open Google Chrome, tap the Extensions icon next to your profile, clickManage extensions, then toggle all the switches off.
Fix 4. Update your Chrome browser.
Launch Google Chrome, click the three vertical dots and choose Help > About Google Chrome, it will automatically check for updates. Then relaunch Google Chrome.
Fix 4. Check network connection.
Conclusion
With the above Vimeo to GIF makers, you can easily make a GIF from Vimeo and turn a downloaded video into GIF online and offline. Just choose one way and make your custom GIF. And if you want to upload an interesting GIF to Vimeo, try MiniTool MovieMaker to convert it to one of Vimeo's acceptable formats. When you encounter Vimeo videos not playing on Chrome, try our fixes.
And if you have any questions about this post or any problems of using MiniTool MovieMaker, you can contact us via [email protected].