Sometimes you may desire to make a collage of three or four or even more photos together to make people pay more attention to your pictures. A photo collage is a collection of pictures that are put together to create a single picture. At this moment you could think of which websites or apps can help to make a photo collage. This post will introduce 10 free online photo collage editors.
Photo editing and video editing are growing greatly popular these years. When you travel, attend a wedding ceremony, enjoy delicious food, and so on, you might want to take or photos or videos to record meaningful and impressive moments and then share these files on social media. If you feel interested in video editing and photo editing, you can have a try with MiniTool MovieMaker. Now let's focus on the topic today: top 10 free online photo collage editors.
1. BeFunky
BeFunky is a powerful and popular online photo collage website with many functions like photo collage maker, graphic designer, photo frames, resize images, and so on. BeFunky photo collage maker provides many effortless tools and also integrates with its Photo Editor so that you choose more than 200 signature effects to increase the glamour of your photo collage.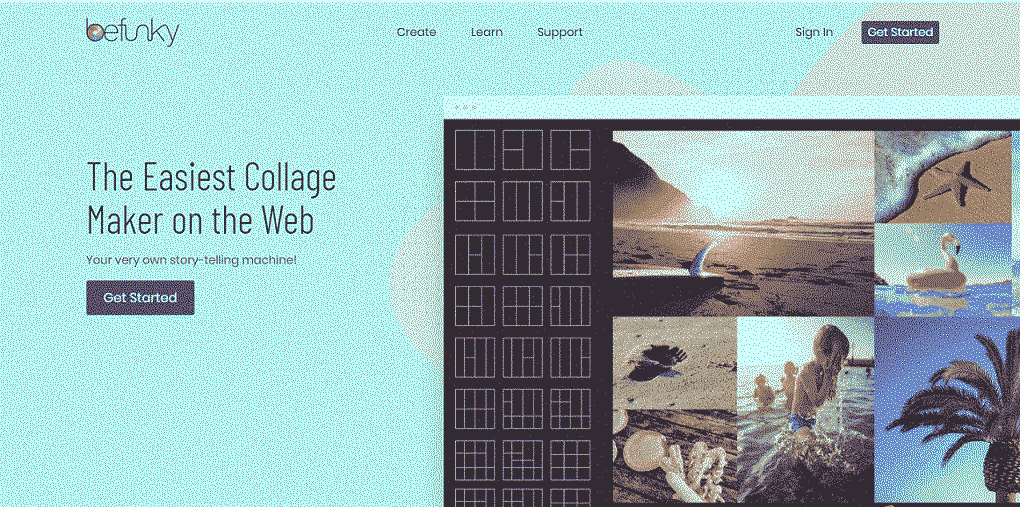 2. PhotoCollage
PhotoCollage is also a nice photo collage editor with a clear interface and easy-to-operate steps. It provides some templates that make your photo collage more fantastic. This website also can create comics and cartoons, resize and crop your photo collage online, and add text and stickers.
3. Abode Spark
Abode Spark is also an excellent online photo collage maker with beautiful typography, Iconic imagery, and professional themes. One of its outstanding features is that it comes with color correction, graphics, and text.
4. Photovisi
Photovisi is an easy-to-use online photo collage maker with free and paid choices, providing simple editing ways to get satisfying results. This online photo collage maker is endowed with filters, frames, stickers, and a great number of image editing capacities. And it offers a photo collage with high resolution and without watermarks.
Related article: Top 5 Online Watermark Removers to Get Rid of Watermarks
5. PicMonkey
PicMonkey is a wonderful and easy online photo collage editor. It can add text to your collage, and make resumes, charts and banners. PicMonkey for Android and iPhone are both ok.

6. FotoJet
FotoJet is a free online photo collage editor with plentiful templates and layouts, and it helps to create stylish collages easily on your Windows and Mac. Its photo collages include photomontages, love collages birthday collages, family collages, baby collages, and anniversary collages. Four reasons for its popularity are 800+ templates and layouts, abundant resources, an easy operation and no registration required.
7. Fotor
Fotor, one of the best free online photo collage makers with massive templates, is available to create different style collages with your unique themes. It offers 8 main languages in the world so it is a global photo collage maker. It works on Mac and Windows, and it has Fotor mobile app.
8. piZap
piZap is a funny and powerful photo collage maker with creative shapes, seasonal layouts, and colorful designs. Except for photo collage, piZap also provides some other functions like photo editor, custom card maker, photo effects filters, Facebook cover maker, Twitter cover maker, and so on. If you want to make a photo collage, you have to register.

9. Canva
Canva is a free online collage maker with abundant templates, such as hair design photo collages, holiday photo collages, school photo collages, travel photo collages, and sports photo collages. It supports Android, iPhone, and iPad.
10. Kapwing
Kapwing is also a fantastic online photo collage maker with story templates, border templates, meme templates, and animated text. Except for a photo collage maker, it is also a video trimmer and video resizer. And it can add audio to video and add subtitles to video.
Related article: How to Add Text to Video
Bottom line
This post offers 10 online photo collage makers with different features. If you are interested in any of them, you can have a try. If you have any questions, please contact us via [email protected]