GIF is one of the most popular and easiest ways to express feelings and share something interesting. Do you want to make a GIF collage for more fun? How to make a GIF collage? This post will introduce 4 online GIF collage makers and GIF collage apps to you. 
If you want to play two GIFs side by side or one on top of the other or if you desire to put 3+ GIFs on the same digital canvas, GIF collage can be a great method to solve your problem. Thus, this post will provide 4 GIF collage makers and show you how to make a GIF collage online.
Want a free GIF maker and editor? MiniTool MovieMaker is recommended here.
MiniTool MovieMakerClick to Download100%Clean & Safe
Top 2 Online GIF Collage Makers
#Kapwing
Kapwing is a free online video editor equipped with multiple tools that allow users to edit videos and GIFs, including rotating GIF/video, resizing GIF/video, cropping GIF/video, adding text to video, trimming video/audio, and more.
And Kapwing is also an effective GIF collage maker online. With the Collage Maker tool, Kapwing allows users to create video, image, and GIF collages with ease. Now, let's see how to make a GIF collage with Kapwing.
Step 1. Go to the Kapwing website, and sign in to your account. Click the Collage Maker in the Tools menu and tap on Get Started to open the Studio Editor.
Step 2. Click the Add Media area to upload your GIFs. Then drag a GIF to the canvas, and you can place it anywhere on the canvas and adjust its size by dragging the slider on each corner. Repeat this step to put all GIFs on the same digital canvas.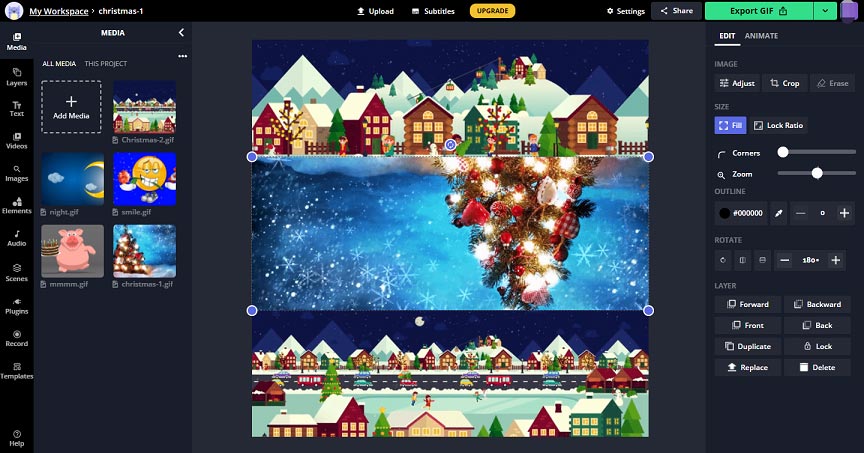 Step 3. Optionally, you can add text, captions, or shapes to the GIF collage. After that, right-click on the blank area, then you can choose the output size (1:1, 9:16, 16:9, 4:5, 5:4) for the GIF collage. Then click the Settings button and choose GIF as the default output format.
Step 4. Tap on the Export GIF button to export the GIF collage. Once done, you can download it on your computer, share it on Twitter or Facebook, or copy its link.
#Ezgif
Ezgif is a free online GIF maker and editor. It lets users make an animated GIF from images and videos and also offers a set of tools to edit GIFs, such as resizing, rotating, cropping, cutting, splitting, applying effects, adding text, etc.
What's more, Ezgif also enables users to make a GIF collage by combining 2 GIFs side by side. Follow the following steps and learn how to make a GIF collage with Ezgif.
Step 1. Open the Ezgif website, click the Effects tab, and choose the Combine GIFs side by side option.
Step 2. Click the Choose Files to select your GIFs, and tap on the Upload button.
Step 3. Drag the GIF to the desired position, and click the Combine button.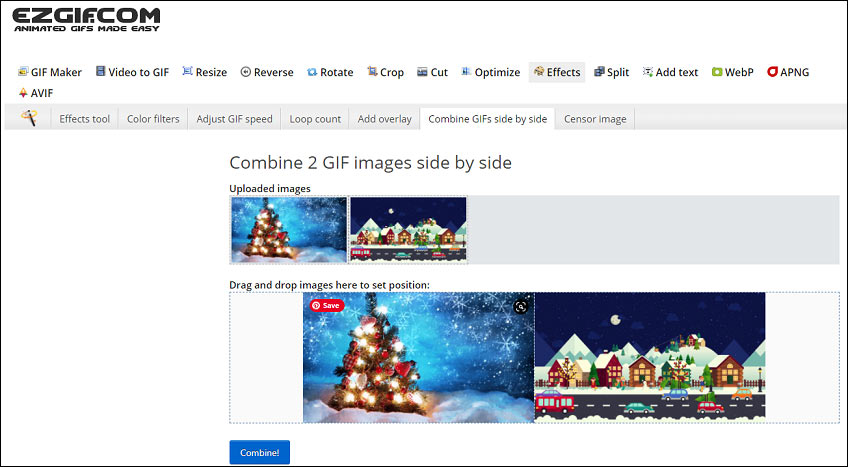 Step 4. Once done, tap on Save to download the GIF collage in GIF format.
Top 2 Mobile GIF Collage Apps
#PicPlayPost
If you're looking for GIF collage apps for your Android, PicPlayPost is a great choice. It is a video editor, slideshow maker, video/photo/GIF collage maker. As a collage maker, it supports up to 3×3 grid, 9 grid, or 9 frames photo, video or GIF collages. When you finish a GIF collage, you can directly share it oo Instagram, Snapchat, TikTok, YouTube, Tumblr, and more.
#GIF Studio
GIF Studio is also one of the best GIF collage apps, allowing you to merge multiple GIFs to one to make a GIF collage. And it also has tools to crop GIF, add stickers, convert video to GIF, play GIFs, etc.
Conclusion
This post offers 4 GIF collage makers and also describes how to make a GIF collage online with Kapwing and Ezgif. Now, it's your turn! Choose one and create your GIF collage.