Are you looking for a unique way to display your videos? Why not combine your favorite videos into a beautiful short video collage? This article selects several powerful video collage makers and provides instructions on how to make a video collage.
What is a video collage? A video collage is a dazzling way of displaying videos that can be combined with music. If needed, try MiniTool software to add audio to your video collages.
Part 1. How to Make a Video Collage on PC
1. Kapwing Collage Maker
Kapwing Collage Maker is a perfect online collage maker, which makes it easy to make a collage online with images, GIFs, or videos. And it allows you to choose a template to create stunning and beautiful video collages quickly.
Steps on how to make a video collage with Kapwing Collage Maker
Go to kapwing.com and navigate to its Collage Maker page.
Choose a collage template like Side by Side or Top and Bottom for your video clips.
Upload the video, GIF or image files you want to use in your new collage video and then choose the Crop options for your new video: 1:1, 16:9, or No crop.
Click Create! to generate the video and then download it or share it directly to other social networks.
Related article: How to Make a Music Video
2. Kizoa Collage Maker
Kizoa Collage Maker is an online video collage tool. It provides more than 100 templates, making it easy for you to create video collages directly in your browser.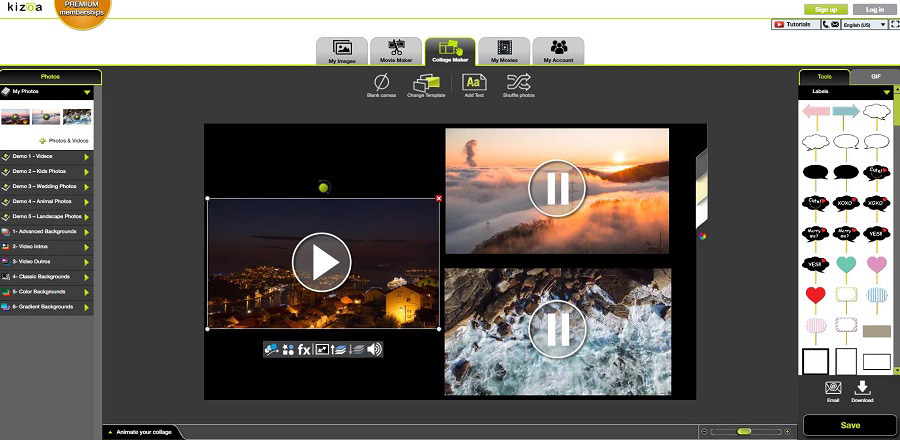 Steps on how to make a video collage with Kizoa Collage Maker
Go to Kizoa on your browser and click Try it Now or My Kizoa to enter its main interface.
Select Collage Maker from the top toolbar and you will see three options – Grids & Magic Collages, Templates, and From scratch. Choose the one you prefer to. Here selects From scratch as an example.
Choose the format and hit Enter.
Click +Photos & Videos to import your local image or video files and then drag and drop them into the main window.
Customize the video collage by adding music, effects, GIFs, etc.
Hit the Save on the bottom right to save all changes and then click Download.
You might be interested in: Top 10 Best Video Cutters of 2020
Part 2. Best Video Collage Apps for Android & iPhone
1. PicPlayPost
If you are looking for an app that lets you create stunning video collages in seconds, here is your destination. PicPlayPost is a free collage maker that helps you turn photos, live photos, GIFs, videos into amazing slideshows, montages, memes or video collages.
Features
Create video collages with a variety of frame ratios.
Create and share video collages in full 1080P HD.
Add transitions, personal watermark, branded logo, and music.
Related article: Add Audio to Video
2. PhotoGrid
PhotoGrid is another proposal for creating a video collage. This video & photo collage maker is available for both Android and iPhone devices and enables you to merge multiple images, GIFs, and videos to the same page and play them simultaneously.
Features
Combine videos and photos with rich layouts.
Adjust the aspect ratio and change the background.
Apply fade in/fade out audio effects.
Bottom Line
Have you mastered how to make a video collage after reading this post? If you have any questions or suggestions about it, please let us know via [email protected] or share them in the comments section below.