What Is Real Estate Video
A real estate video is a kind of video that introduces an overall look to real estate listings, including the location of a house, the house size, the number of rooms, the layout, the price, and much more. It's a powerful way to display the house's condition visually.
Generally speaking, the real estate intro video duration should be between 3-7 minutes. The video should be simple but doesn't miss the key information. So, 3-7 minutes are just extremely appropriate.
The Benefits of a Real Estate Video
Real estate videos have become more and more popular among real estate agents. Why is it becoming so popular? Let's talk about the benefits of a real estate video.
From the real estate agent's perspective, they can make real estate videos and then upload them on websites and social media platforms. By doing so, their real estate listings could be known by more house buyers. And more importantly, maybe it will help them sell these houses successfully.
From the house buyers' perspective, they can gain more real estate listing information from social media platforms. Compared to text or picture introductions, videos transfer the house condition more clearly and vividly. So that they can have a basic understanding of the house and select their preferred listings before they go to see it.
The 6 Best Online Real Estate Video Maker Tools
As we know that real estate video is so vital and has many benefits. A stunning real estate video could draw house buyers' attention instantly. So how to make a video for real estate? We should choose a real estate video maker first. Next, we will explore the 6 best real estate video maker tools together. Let's check it to make your amazing video.
1. Magisto
Magisto is a nice tool for making real estate videos based on artificial intelligence. With Magisto video editor, you can create a real estate intro video in minutes by uploading real estate photos. It pursues to provide a simple way for real estate agents to make their selling videos.
In addition, Magisto is not only a video editing application but also a video marketing platform with an Omni channel that can create videos on social media platforms such as Twitter, Instagram, Facebook, YouTube, WhatsApp, etc. It allows users to track engagement analytics within these platforms to provide insights into their audience's behavior.
It's available on the Web, iOS, and Android. Magisto offers 3 different annual paid plans: $4.99 per month for Premium users, $9.99 per month for Professional users, and $34.99 per month for Business users. You can use the 7-day free trial before you subscribe to it.
How to make a real estate video with Magisto:
Open and sign in to Magisto on the web page, or download, install and open it on iOS, and Android.
Upload your real estate photos and videos to Magisto.
Choose a template for a real estate video from the library.
Magisto video maker will edit and analyze the real estate video based on AI.
Download the real estate video and save it to your device.
2. Animoto
Animoto is also a good real estate video maker with which you can create a real estate video in minutes. Animoto has a wide range of video templates, like celebrations, education, holidays, tutorials, real estate, and more. And it allows you to apply its growing library of licensed music.
As for the current pricing, it provides three plans: $16/month for Basic, $29/month for Professional, and $79/month for Professional Plus. It will be cheaper if you do an annual subscription: $8/month for Basic, $15/month for Professional, and $39/month for Professional Plus.
It doesn't matter to use the free version forever if you don't mind exporting your video with an Animoto brand. All its plans, including the free one, let you create unlimited videos.
How to make a real estate video with Animoto:
Visit the Animoto website and log in to it.
Upload the real estate photos and video clips to Animoto.
Choose the real estate video template or start from scratch.
Edit and customize your videos by adjusting colors, filters, fonts, transitions, and more.
Select a licensed song from its music library.
Preview and export your real estate video.
3. Promo
Promo is a video maker that helps you create video ads, social media videos, explainer videos, and more. It cooperates with many social media platforms, like Meta, Instagram, Facebook, YouTube, etc.
With Promo, you can easily create stunning real estate videos in a moment with its ready-made templates. It's a video maker for every business type and aims at helping expand your brand scale.
However, the price of the Promo may be more expensive than other real estate video makers. Let's have a look at its annual plans: $25/month for BASIC users, $43/month for STANDARD users, and $155/month for PRO users.
How to make a real estate video with Promo:
Log in to Promo.com and choose a real estate video template.
Upload your videos and photos about the house.
Choose music, text style, and font. Then add proper text and your logo to your video.
Once finished editing, download the video in different sizes for YouTube, Instagram, Facebook, and more.
4. Canva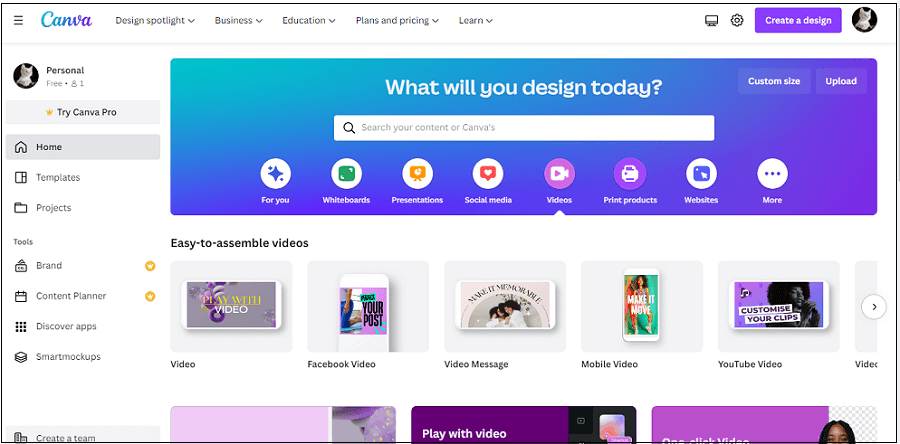 When it comes to real estate video makers, we have to talk about Canva. It allows you to create professional videos even if you are a green hand in video editing. And it has a free version for anyone who wants to use it forever. You can use this free real estate video maker in a web browser or as an app on Mac, PC, Chromebook, iOS, or Android.
Canva is a graphic design platform that is usually used to design professional videos, social media graphics, posters, slides, flyers, and other visual materials. For realtors, you just need a few clicks to make a real estate video because it's packed with various video templates, animated graphics, and music for video.
How to make a real estate video with Canva:
Go and log in to Canva.com.
Preview and choose a video template or click Create New Design to start from scratch if you don't want to use templates.
Customize the template. Or import your files to edit by yourself. Both of them will take you to the editor.
Export your finished video or share it on social media platforms directly.
5. InVideo
InVideo, an online video editing tool, offers more than 5000 pre-design templates, advanced video editing options, and a content library of images and videos. And it's supported to add custom elements such as animations, stickers, emojis, and more.
What's more, you can record a voiceover for your video or input text and transform it into speech. This feature supports multiple languages. Besides, it supports adding power transitions, multiple layers, intelligent frames, company brands, and more.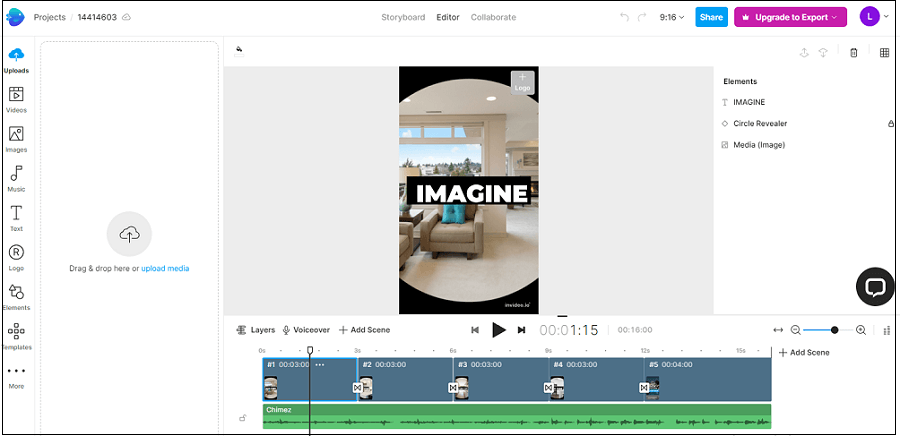 There will be a watermark when you export the video if you get started with the free version. To eliminate the watermark, you need to upgrade to the pro plan. It has two yearly plans: $15/month to get Business and $30/month to get Unlimited.
How to make a real estate video with InVideo:
Visit the InVideo website, and log in to it.
Select a real estate video template.
Upload your photos and videos and add them to the template.
Choose a text effect, customize its text color, and size, and add animations.
Add music to the video from its large music library.
Save and download the video.
6. Biteable
Biteable is also one of the best real estate video makers. As a real estate agent, you won't regret giving it a try. It has a wide range of real estate slideshow and video templates to help you make an excellent video for your business.
You can customize the template according to your needs later, such as adding images, music, text, or transitions. In addition, it allows you to create real estate infographics, real estate lifestyle ads, and real estate slideshows.
Moreover, Biteable lets you add personalized footage, audio, images, and animations including 2D or 3D cartoon characters and effects on the real estate video content to establish brand identity.
How to make a real estate video with Biteable:
Log in to Biteable.com.
Start your Biteable free trial.
Preview real estate video templates and choose a template you like, and click Edit Video. Then this template will open in Smart Editor.
Upload your footage and customize the template by editing text, scenes, media, and audio.
Download this real estate video.
How to Make a Real Estate Video on Windows
We have mentioned the 6 best online real estate video makers above. What about making a real estate video on Windows? Have a try on MiniTool MovieMaker.
MiniTool MovieMaker is a free and simple video editing application without watermarks, ads, or bounds, which supports many video, audio, and image formats. You can import your real estate photos or videos to create an attractive real estate video.
Besides, you can add captions, titles, credits, transitions, filter effects, animated elements, and motion effects to your video. It also allows you to split, rotate, trim, crop, flip, and reverse the video. After editing, you can export videos in many formats and up to 1080P without a watermark.
How to make a real estate video with MiniTool MovieMaker:
Step 1. Click the Free Download button below to download and install MiniTool MovieMaker. Then, open it and close the pop-up window.
Step 2. Click on Import Media Files to import your real estate photos and videos to MiniTool MovieMaker.
Step 3. Choose files and click + on the bottom right corner of the file or drag it to the timeline.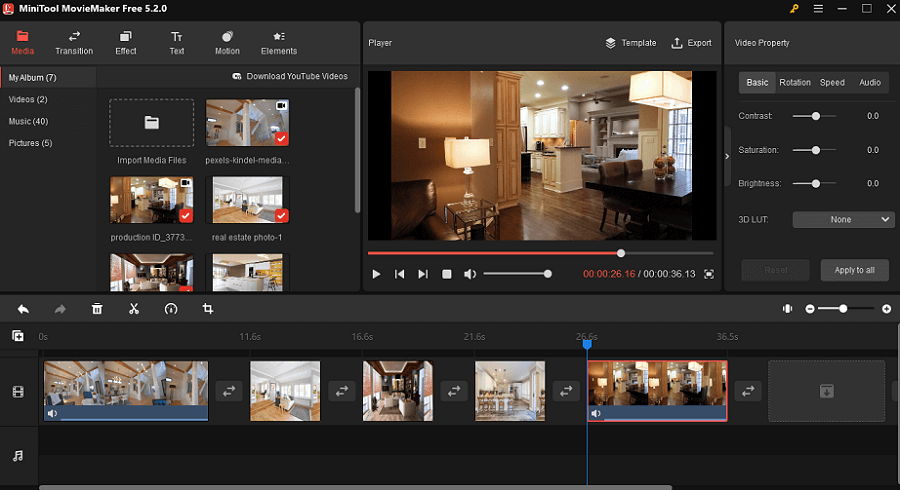 Step 4. Then, you can edit the photos and videos, including splitting, cropping, adding text, transitions, filter effects, motion effects, animated elements, and more.
Step 5. Once you're done, click Export on the toolbar to export your real estate video without a watermark.
With MiniTool MovieMaker, it's easy for you to create an attractive real estate video.Click to Tweet
Real Estate Video Tips
After seeing the 6 best real estate video makers, what should we consider when we make this video? Are there any tips for you? Certainly! In this part, we will offer you tips to help you create effective real estate videos.
Make a plan.
Before you make a real estate video, you should make an overall plan in advance. Think about what should be involved in this real estate video. What type of videos do you want? what's the best angle to display these rooms better when you are taking photos or recording videos? Is this place suitable for a one-take video? Or something like that.
Have an appropriate budget.
Be aware that what you can afford for this real estate video. Make an appropriate budget based on the equipment price, video editing cost, and video ads strategy. Think about how much you will spend on real estate video marketing.
Focus on the selling points.
People tend to view many real estate videos and they need to know the selling point quickly. The selling point could be the quiet environment, convenient transport, excellent layout, cheap price, or others. These points should be put in the first half part of your video and highlighted in the text.
Shoot a 360-degree video.
The video should be shot 360 degrees. This innovative video shoot lets potential buyers know the house more clearly without missing any details. Especially at a time when buying a house is time-consuming, the 360-degree video makes them truly feel the space and be immersed in the house.
Proper time arrangement.
Firstly, the length of a real estate video shouldn't be too long or short. Keep it proper to get more views. Next, notice the time arrangement. For example, how many minutes to introduce the house? How many minutes to talk about the real estate agents? When making this video, just remain the most engaging content.
Conclusion
As video becomes more and more popular, it's the best time to sell your real estate with a video. A real estate video brings new life to real estate marketing. 
We have discussed what a real estate video is, and how to make a real estate video with our recommended tools. No matter what real estate video maker you choose, I believe you can create your stunning real estate videos.
If you have any questions, please contact us via [email protected].