A video mashup combines or merges multiple pre-existing and irrelevant videos into a single video. How to make video mashups? This post will introduce 6 video mashup apps (including MiniTool MovieMaker) to help you  create a mashup video with your favorite clips.
Part 1. What Is the Video Mashup?
The video mashup (also video mash-up) combines several different video clips into one. And usually, these clips are irrelevant to each other and have no connection. And a mashup video is the resulting video created by merging multiple short videos. Movie trailer remixes, YouTube Poop, supercuts are examples of mashup videos.
If you're a fan of music, music videos, short videos, shows, or some actors or singers, video mashup is a great way to merge your favorite clips into a video. And you can also mix videos from any platform like YouTube, TikTok, Facebook. For example, you can make a compilation of music videos to show your favorite songs in a certain period.
In a word, a video mashup allows you to blend any source video clips into one as you like. But how to make a mashup video? The following parts will provide 6 video mashup makers and show you how to make video mashups.
Part 2. Top 6 Video Mashup Makers
#1. MiniTool MovieMaker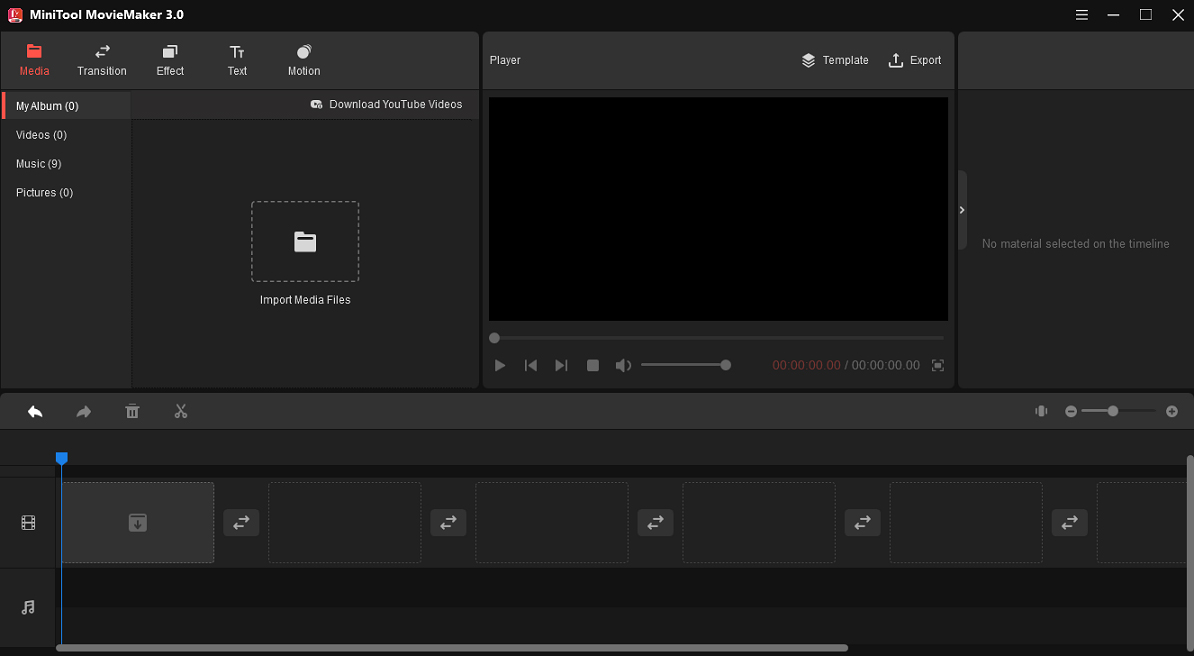 MiniTool MovieMaker is a free video maker and editor. It enables you to create videos with pictures, video clips, and background music, and it also offers multiple features to help you customize videos. Also, you can edit pre-existing videos with MiniTool MovieMaker. If you need a mashup video maker, it comes as the best choice.
This video editor allows you to create mashup videos by merging videos of different formats, including MP4, MPG, MOV, AVI, VOB, WMV, FLV, etc. Thus, you can combine any video type you have into one. And you can also add pictures to the mashup video.
MiniTool MovieMaker lets you rotate, flip, split, trim, speed up, slow down, and reverse videos, add title/captions/credits to the video, adjust the color of the video. And it provides various video filters and transitions to personalize your video. What's more, it helps you edit the audio in the video by fading in/out and changing volume.
MiniTool MovieMaker is available on Windows. It's 100% free, clean, no bundle, and it won't watermark your videos. And with the user-friendly interface, you can learn how to use it and make your mashup video in a few minutes.
MiniTool MovieMakerClick to Download100%Clean & Safe
#2. Windows Movie Maker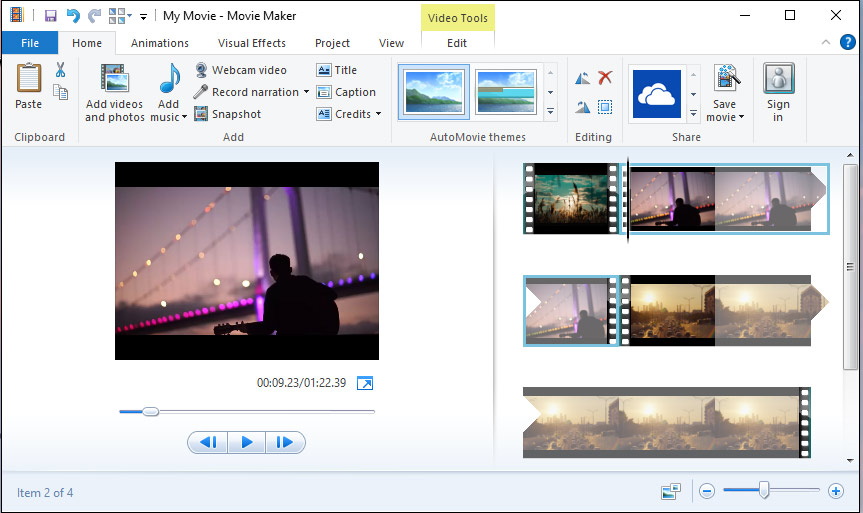 Windows Movie Maker is also a good video mashup maker app that allows you to create mashup videos with ease. Just click the Add videos and photos button and you can import the needed media files. Then edit these video clips as you like.
This photo video maker app enables you to rotate a video right or left, flip the video, trim and split videos, change the playback speed, stabilize shake videos, put text on the video, add music, etc. And it also offers multiple visual effects and transitions to help you make eye-catching and smooth mashup videos.
Windows Movie Maker is no longer available for download from the Microsoft website since 2018, but you can still use it if you already have installed this free video maker or you can find the right way to get it on your PC. Alternatively, you can try some Windows Movie Maker alternatives like Microsoft Photos or MiniTool MovieMaker.
Related article: Windows Movie Maker 2021 Free Download + 6 Things to Know
#3. LightMV
LightMV is also a simple video editor for beginners and experienced users to produce mashup videos for different purposes. This video editor features multiple video templates. If you want to make a makeup video for a wedding anniversary, business, education, family, etc., LightMV is a great choice.
After selecting a template, add the video you need to make a mashup video. And you can also change the aspect ratio before that. To help viewers understand the video better, you can add some text. And you can also rotate videos, add music to the video, etc. You can save the mashup video in HD quality or directly share it on Facebook and Twitter.
LightMV is available on Windows, iOS, Android, and web browsers. But the free version will watermark your video. To make a video without watermarks, you should choose a subscription plan: Monthly $29, Quarterly $39, Yearly $179.
#4. Kapwing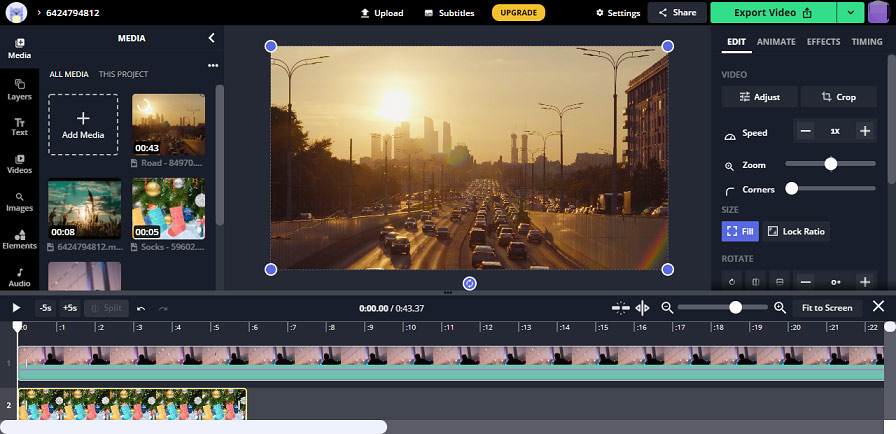 If you need an online video mashup maker, Kapwing is recommended here. After logging in to the Kapwing website and entering the Kapwing Studio, you can easily upload your videos and songs and mix them into one. Then edit your mashup video.
Kapwing Studio allows you to do color correction of the video, rotate, flip, crop the video, change the video speed, split a clip into two parts, add text to the video, add emojis or stickers to the video, etc. Before the output, you can choose the aspect ratio for the resulting video and then export it as MP4.
Kapwing is available on all modern web browsers. And you can sign up for a free account that lets you produce videos under 5 minutes without watermarks. If you want to unlock more features like exporting in 1080p resolution, just choose the PRO account.
#5. FlexClip
FlexClip is also an online video mashup app and a YouTube video mashup maker. It allows you to mix different types of videos to make amazing mashup videos online. To customize your video, you can apply filters and transitions, add text, add a GIF to the video, and more.
Apart from that, FlexClip has tools to make GIFs from images and videos, convert audio to video, make memes, and make video/photo collage. And it offers a huge library of video templates for business, social media, festivals, holidays, and daily life.
The free version of FlexClip has many restrictions and adds Flexclip intro to the video. To access more features, you can choose a plan from BASIC $9.99/month, PLUS $19.99/month, or BUSINESS $29.99/month.
#6. Clipchamp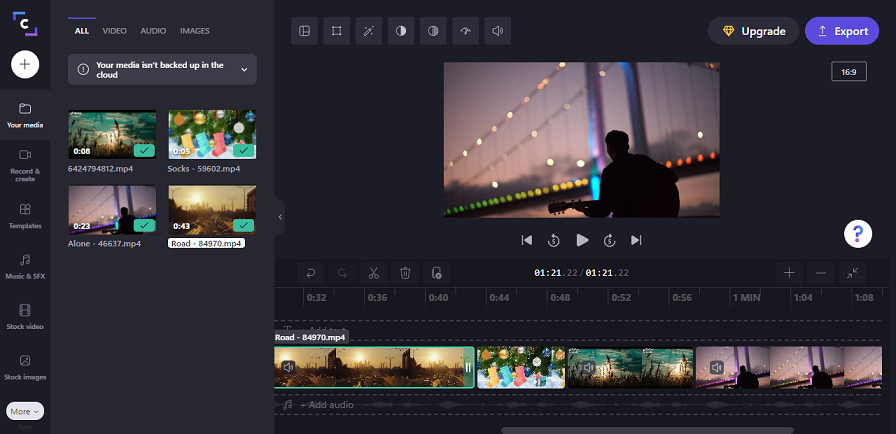 Clipchamp is the last video mashup app on the list and enables you to combine multiple videos into one online with a few clicks. Also, it has many basic tools to help you edit the video, such as filters, color adjustment, speed control, transformation, text, music, and more. And it offers several aspect ratios, 16:9, 9:16, 1:1, 4:5, 2:3, and 21:9.
And with the text-to-speech generator, Clipchamp allows you to convert words to voice-overs of different languages and speeds for your video.
Users with a free account can export videos in 480p without watermarks. You can choose a premium account (Creator $9/month, Business $19/month) to export videos at 720p and 1080p and get unlimited cloud storage and audio stock.
Also read: Text to Speech TikTok: How to Do Text to Speech on TikTok
Part 3. How to Make a Mashup Video with MiniTool MovieMaker
Before your creation, you should make some preparation for your mashup video. First, you should decide the type of your mashup video, hilarious, thoughtful, inspiring, and others. That is to say, you should know what to express in the video. Of course, you can make a mashup video without any purpose and just for fun.
Second, collect and organize the videos you need to make a mashup video. And we do not recommend selecting any copyrighted content as your source video. Next, you should choose a song as the background music, and you can use a music mixer to mix several music tracks into one to make a song mashup.
Then, choose a video mashup maker and create your unique mashup video.
This part will show you how to make mashup videos with MiniTool MovieMaker.
Step 1. Import the video clips you need.
Download and install MiniTool MovieMaker on your PC, then launch this program and close the pop-up window and access the interface.
Click the Import Media Files to locate your source videos and add them to the MiniTool MovieMaker's media library.
MiniTool MovieMakerClick to Download100%Clean & Safe
Step 2. Combine these clips into a mashup video.
Click the first clip, then press Shift and select the last clip, click the + icon on any clip or just drag them to the timeline. Click the Zoom to Fit Timeline to adjust all clips to fit the timeline.
To rearrange the clip's order, just choose one clip and drag it to another place. Then click the Play button to preview the mashup video.
Step 3. Edit the mashup video.
Double-click the clip on the timeline, in the Basic tab you can move the slider to adjust the contrast, saturation, brightness, 3D LUT, and you can click the Apply to all to do the same changes to other clips.
Click the Rotation, you can flip the video horizontally or vertically, or rotate the video to any angle by moving the slider.
Go to the Speed tab, you can slow down or speed up the clip by dragging the speed controller.
Tap the Audio, you can edit the original audio in the video, fade in or fade out, change the volume.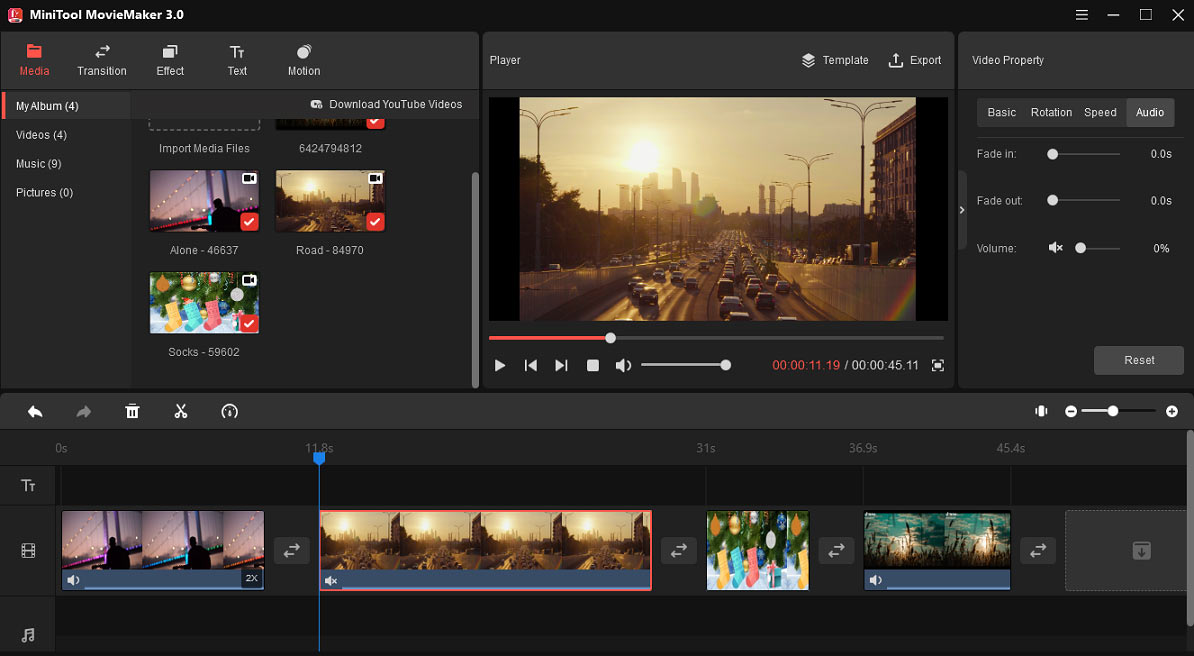 Step 4. Split or trim video, apply video filter and transition.
Split Video: Select the video on the timeline, drag the playhead to the place where you want to split, click the scissor icon on the playhead.
Trim video: Select the video on the timeline, click the Split icon > Full Split > TRIM, drag the playhead to the start point of the portion you want to keep, and click the scissor icon behind the Start. Then drag the slider to the endpoint of the wanted part, click the scissor icon behind the End.
Add filter: Choose a clip, click the Effect, choose a filter and click the +, or right-click it and choose the Apply to All to add the filter to all clips on the timeline.
Apply transition: Select the clip where you want to add the transition next to it, click the Transition, browse for a desired one and click the +.
Step 5. Add music to the video.
Click the Media, then tap on Import Media Files to upload your song mashup.
Drag and drop it to the timeline to add the music to the video.
Right-click the music, then you can fade in or fade out it and adjust its volume.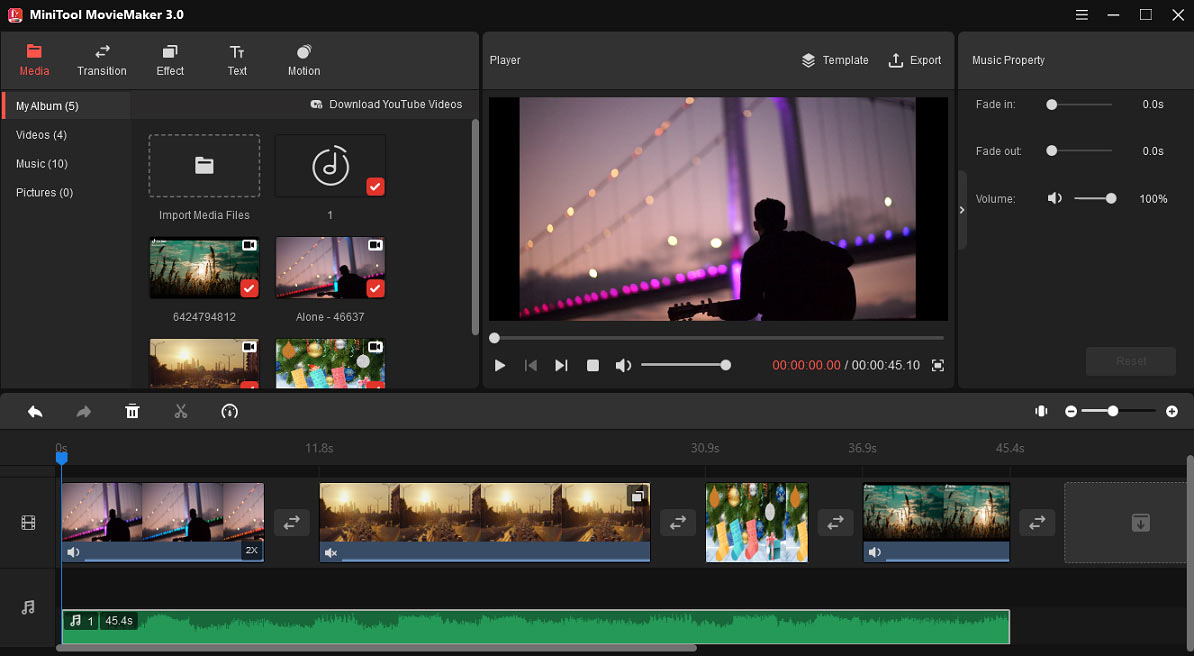 Step 6. Export the mashup video.
Click the Export button to open the output settings window.
Name this file, choose another output folder, and change the default output format MP4 to another like MOV, AVI.
Tap on the Export to export your mashup video.
It is very easy to make a mashup video with MiniTool MovieMaker. Try it and create your mashup video.Click to Tweet
Conclusion
A video mashup is a wonderful way to express yourself and share something interesting with friends by combining various video clips you like into one. And it's easy to make a mashup video and it does not need very professional video editors. With the 6 simple video mashup maker apps, you can create your unique mashup video with ease. Just choose one and have a try!
If you have any questions about this post or MiniTool MovieMaker, please leave a comment below or contact us via [email protected].