Are you thinking about how to create an explainer video for your business? In this article, you'll learn about the definition of an explainer video and the top 7 best explainer video software that people and video creators are using today. If you want to make other types of videos, try MiniTool software.
A great explainer video can have a huge impact. It is a great way to easily convey ideas and deliver messages to your audience. The following is a list of the top 7 best explainer video software to create compelling explainer videos and improve your marketing. Check out the list choose the one that works best for you.
What Is an Explainer Video
An explainer video is a short video commonly used by businesses to quickly tell their brands' stories in a memorable way and tell how they can help solve their customer's problems. Thousands of businesses big and small have found that incorporating a short, compelling video has helped them expand their brand presence.
Top 7 Best Explainer Video Software
1.MySimpleShow
Known as the market leader in professional explainer video production, MySimpleShow aims to help users to make great explainer videos. No matter if you want to explain a complex topic, convince your team, or promote a subject, it will help you to get started in an instance.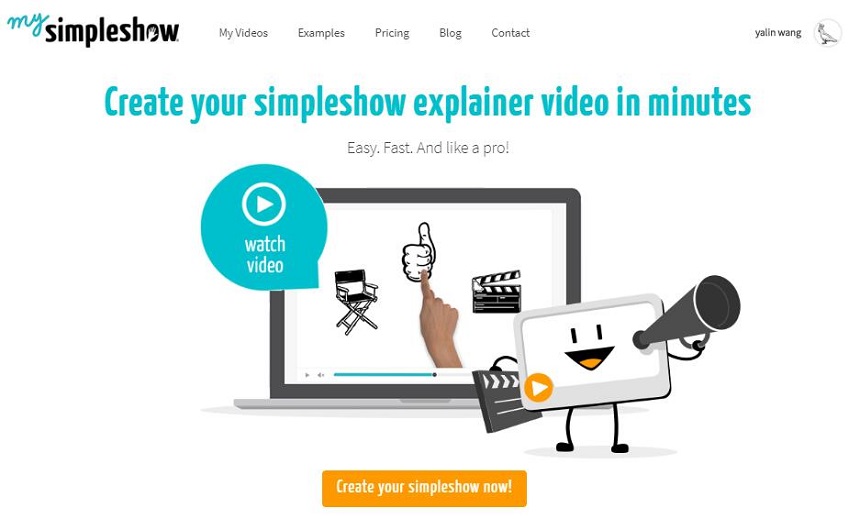 2.iSpring Suite
iSpring Suite is a PowerPoint-based authoring toolkit, as well as a video editor. You can make a screencast, record a webcam video, or take a live-action video and enhance it with images, PowerPoint slides, and captions. The video editor also supports mixing videos and adding music or voiceover. As an option, you can create a presentation explaining your product or service and then turn the PowerPoint into a video with iSpring Suite.
3.Biteable
Biteable provides a fast and efficient explainer video software that allows you to create high-quality explainer videos in minutes. Its studio has a collection of over 85,000 editing and animation tools. You can take advantage of ready-made templates and make explainer videos in seconds. Creating and editing videos on Biteable is free. But extra benefits and endless service is chargeable.
4.Vyond
Vyond is one of the fastest video-making software that lets you engage the audience with fun content and animation. This software lets you use colors, transition effects and characters. You can also import audio tracks and music from your media library to make your videos more appealing. Vyond software has affordable pricing packages designed to meet the needs of anyone.
5.Raw Shorts
Raw Shorts is an online video editor and text to video maker that helps businesses make explainer videos, animations and promo videos for the web and social media. You can create an explainer video simply by choosing ready-made templates, graphics, and characters, and adding media and text. This software stands out among other tools for its specific transitions and animations.
6.Wideo
Wideo is one of the best explainer video software. It provides whiteboard templates, 1300 images and 50 music tracks. Thus, you can create full HD explainer videos at ease. Once you're done, you can share your video to Facebook or YouTube directly from Wideo. You can also download your video as an MP4 to own a copy of your creation.
7. MotionDen
If you want people to know more about your business than just your slogan, explainer videos are here to help you get the job done. MotionDen's animated explainer video software makes it possible for hobbyists, professionals, and businesses to make studio-quality animated explainer videos straight from their web-browsers.
You might be interested in: How to Make a Music Video.
Bottom Line
Have you ever created explainer videos before? If not, try the above-mentioned explainer video software. If you have any questions or suggestions about it, please let us know via [email protected] or share them in the comments section below.