As is known to all, video production is very popular nowadays. Is it difficult to make a compelling video? Actually, with a powerful video editor, such as 
MiniTool MovieMaker
, and easy to customize video templates, everyone can make a compelling video in a fairly easy way.
Creating a video from scratch can seem like a daunting task if you lack inspiration or have no video production experience at all. Fortunately, there is a shortcut to making professional videos. That's using video templates.
There are many creative video templates on the market, such as video intro templates, YouTube video templates, etc. You just need to add your media files to a video template, and the program will automatically generate an awesome video for you, which can help you save a lot of time and energy.
Part 1. Video Templates
Video templates are known as sample videos that are offered to video creators as a framework. The commonly used video template themes are travel, family, wedding, friends, love, etc.
Video templates have all the professional touches you need to create an entertaining video like intros, credits, transitions, background music, sound effects, and animations.
Put simply, with video templates, you can easily and quickly create cool videos without any difficulty.
Part 2. Places to Get Video Templates
Where to get video templates? Continue to read!
8 Places to Get Video Templates
MiniTool MovieMaker
Renderforest
Biteable
Animaker
Wideo
Moovly
Magisto
Clipchamp
1. MiniTool MovieMaker
MiniTool MovieMaker is a totally free video editor and all built-in features and footage of it are free. Compared with its competitors, this software is much better because it contains no ads, viruses, bundles, and watermarks. The only downside is that it currently only supports the Windows system.
It offers different types of free video templates – love, travel, family, friends, festival, etc. There is no doubt that this option is rather helpful for the novice. You just need to choose a suitable template, import footages to it, do some customizations, and then the program will create a cool video automatically.
However, if you don't find a suitable video template, you can close the Movie Templates window to enter the main interface of MiniTool MovieMaker and create a video from scratch.
MiniTool MovieMakerClick to Download100%Clean & Safe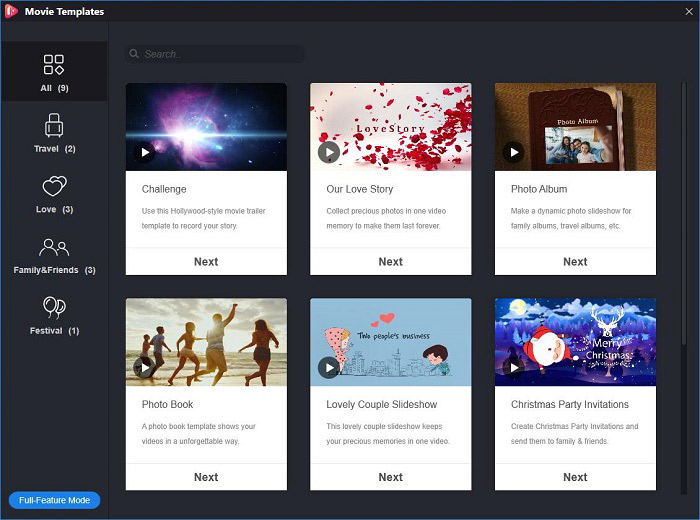 2. Renderforest
Renderforest is an all-in-one online platform that offers you the best online tools to create high-quality videos, logos, mockups, and websites with minimal time and effort.
The site offers hundreds of ready-made free templates in various categories – Animation Videos, Intros and Logos, Slideshow, Presentations, and Music Visualizations to meet all your video-making needs.
All you need to do is to add your own images, videos and sounds to the template. In the meantime, you can add text overlays, change the background color, or use some royalty-free music provided by the platform.
3. Biteable
Biteable is a free online video editor with 800,000+ stock footage clips. It is super easy to use and gives you the power to make stunning videos in minutes.
It also provides an endless list of video template categories to meet all your video production needs. You can change the text, color, music, and even upload your own footage to match your video theme with no video editing skills required.
With it, you can create as many videos as you like. However, if you want to download or share the video you created without the watermark, you need to upgrade to a paid plan. Besides, the platform also allows you to create Facebook covers, dynamic graphics, or content for social media channels.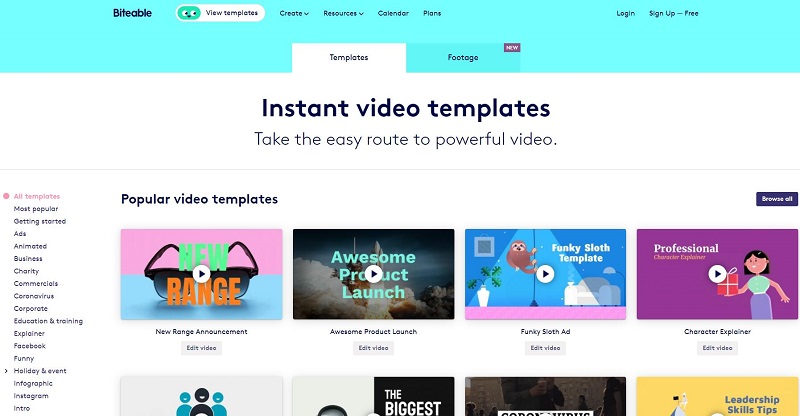 4. Animaker
Animaker is an online platform for people to create, edit, and share funny GIFs, eye-popping animations, and stunning videos in just a few clicks. Meanwhile, it is home to the largest collection of video templates, royalty-free music tracks, and sound effects.
There are tons of professionally made templates that are ready to help you create your social videos, intro videos, and explainer videos, etc.
Pick a template, customize every part of it, and then export the video to over 100 social channels. It has to be admitted that making videos has never been easier.
5. Wideo
Wideo is an online video-creating site for creating animated videos, explainer videos, and other marketing videos in a very easy and user-friendly way.
It provides more than 100 customizable video templates so that you just select one template that fits your needs and customize the image, text, and color in no time without any video editing or design knowledge.
It also allows you to upload your own images and logos in JPG, PNG, or GIF format and choose a video aspect ratio such as 16:9, 1:1, and 9:16. The only thing you won't be able to do with a Free plan is to download the video you created or upload them to YouTube.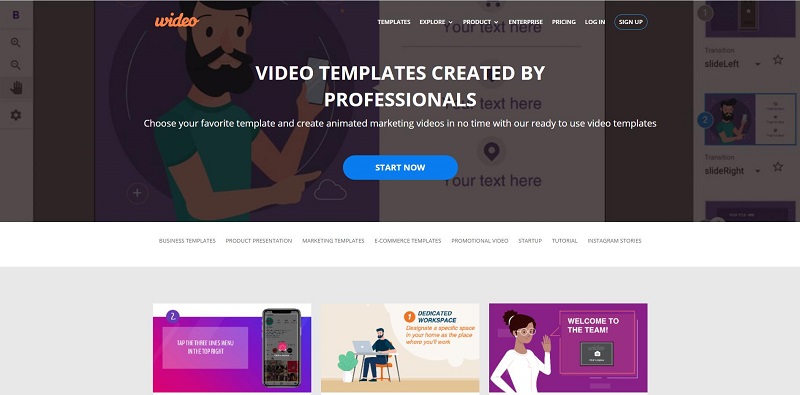 6. Moovly
Moovly is a cloud-based platform that enables users to create and generate multimedia content: animated videos, video presentations, animated infographics, and any other video content. There is no software installation required, and all you need is a browser.
It offers free video templates for business, education, marketing, etc. Simply pick a template from the list of professionally made video templates, and then adjust anything you want: text, color, image, footage, music. Or you can start from a blank canvas and create your video in the way you like.
It has a unique graphics library with over one million media assets, including stock videos, motion graphics, music, sound effects, photos and illustrations.
7. Magisto
Magisto is a great online video maker that is really popular for turning your videos into memorable moments with captions, music, and special effects.
It provides thousands of video templates, which cover different types such as birthday, wedding, social media, sport, food, etc. You can preview the style by hovering the cursor over the thumbnail, but some styles may need to upgrade to use.
Then, you can choose music from the built-in music library or upload your own music. The online program will complete the editing tasks and add transitions to the video automatically.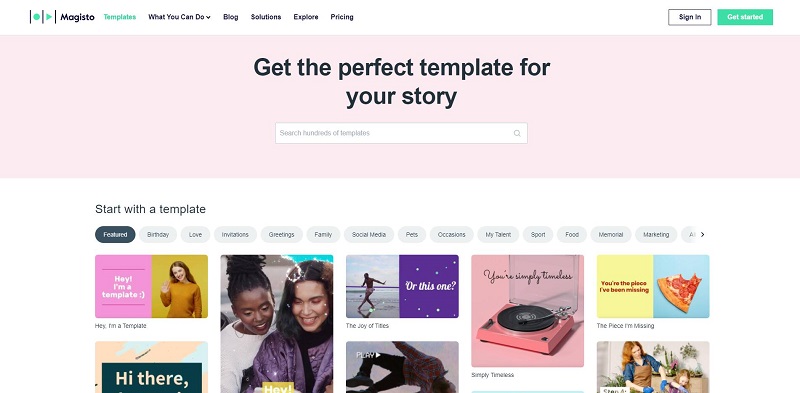 8. Clipchamp
Clipchamp is a well-known free online video editing tool. It comes with all of the features required to create great videos – no video-editing experience needed.
It has a user-friendly interface and provides you with various customizable video templates for ads, education, slideshows & more. Besides, the stock library is overstocked with all genres of videos and music.
With it, you can select different aspect ratios such as 1:1, 9:16, 4:3 or 16:9, split a large video into smaller sections, rotate videos as desired, and remove unwanted parts of your video clips.
Part 3. How to Use Video Templates to Make Videos
Whether you're promoting your sale on social media, starting a vlog, or creating a slideshow presentation, using video templates are the easiest way.
Since the above have detailed several sources to get video templates, let's learn how to make a video with cool video templates in the following.
1. MiniTool MovieMaker – Desktop
MiniTool MovieMaker is the best home to free video templates. Here are the steps on how to make a video using a video template within the program.
MiniTool MovieMakerClick to Download100%Clean & Safe
Step 1. Import files
Click the Template option in the menu bar, choose the template you like and click the Next button to import your media files such as video, photo, and GIF files.
Step 2. Arrange clips
Select any clip and then drag and drop it to where you want to put. If you want to add more videos or images, tap on the picture icon on the blank thumbnail to import the clip you need.
Step 3. Trim video
Select the video clip that you want to trim and click the scissor icon on the thumbnail to get the Trim window.
Step 4. Edit text
Click the T icon on any clip, enter the text you like in the black box, and then do some customization on the text such as change the size, location, etc.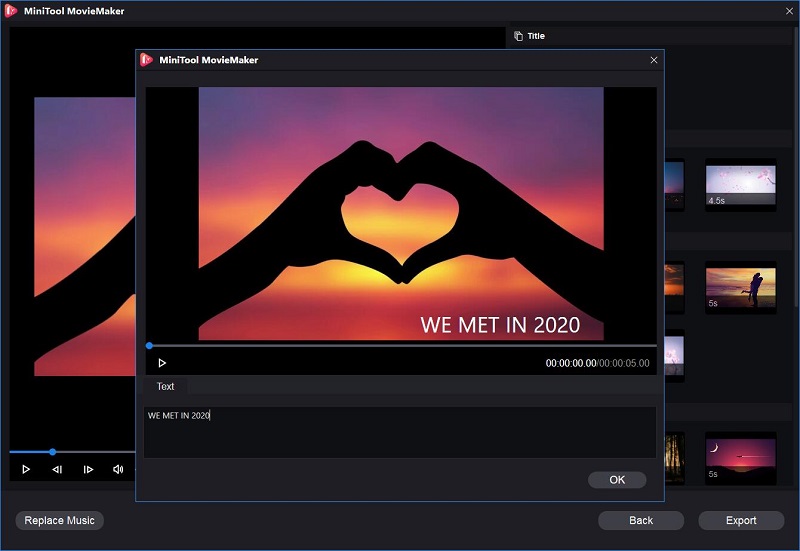 Step 5. Replace music
Click the Replace Music option in the lower right corner of the window. Select the music you like or click Add music to import music from your local computer. Once selected, press OK to apply the change.
Step 6. Export the video
Take a look at the final video. If you're satisfied with the result, click the Export button to save it on your PC.
2. Clipchamp – Online
Clipchamp has created hundreds of video templates. It's pretty simple to make a video using one of these video templates as long as you follow the step by step tutorial below.
Step 1. Create an account
Log in to your Clipchamp account, or sign up for free to start editing.
Step 2. Select a template
Click the Template library option from the left panel and select the template you would like to use. Click the chosen template and tap on Use this template.
Step 3. Rename the video
Select Click me to rename! in the top left corner to give a name to your video.
Step 4. Customize the video
Now, you can change anything within the template, such as the stock footage, text, overlay, transition, and background music or sound effects.
Step 4. Add logo
Tap on the Logo option, and then click Upload a logo > Try Logo to upload your logo. Once uploaded, click the + icon to add it to the timeline. Make sure your logo is high resolution.
Step 6. Export the video
Once finished, click Export in the top right corner and then choose your export video quality. After that, click Continue to share the video directly to social media, or save it to your computer.
Bottom Line
In fact, making professional-looking videos is not so hard. Start with a free video template and then fully customize it – import your own footage, edit text, change the background music, etc.
If you have any questions or suggestions about it, please let us know via [email protected] or share them in the comments section below.
Video Templates FAQ
What are video templates?
Video templates also called sample videos, which already contain intro, outro, text, transitions, effects, background music, etc. Using these video templates, you only need to import your own media files and make some customizations to create new videos.
Where to download video templates?
There are many online sites that provide video template downloads, such as Envato Elements, Videezy, Velosofy, Mixkit, etc. In addition, some video editors also provide their users with free video templates, such as MiniTool MovieMaker, Clipchamp, and so many.
How to make video templates?
Visit TechSmith Assets for Camtasia and open your video in the Camtasia editor.
Right-click the video clip on the timeline and select Convert to Placeholder.
Go to File > Save as Template and give a name for the template file.
How do I make videos using video templates?
Run MiniTool MovieMaker.
Click Template to choose a template.
Import your media files such as videos, photos, and GIFs.
Optionally, you can arrange clips, trim video, edit text, and replace music.
Click the Export button.