In this MiniTool MovieMaker article, the best free social media video maker for Windows, Mac, iPhone, and online is what we'd like to recommend. If you want to learn more about the best video maker for social media videos, you can continue reading this article and find the answer.
Today, it's not difficult to produce high-quality material for social media. Some splendid videos and posts can be edited on a computer or a mobile phone. If you want to make your video more attractive and exquisite, you can try one of the social media video makers on our list.
Whether you are a professional or a freelancer, choosing a reliable social media video maker will help you save money when it comes to making videos and posts for social media.
Part 1: Best Social Media Video Maker for Windows
MovieMaker
Our list of top free social media video creators for Windows is headed by MiniTool MovieMaker, which has an array of features. With the help of the intuitive interface, you can add spectacular visuals to your videos to make them look like works of art. This Windows movie maker provides you with a one-click video editing experience. You will enjoy the editing process that involves changing the video speed, dragging and dropping the outstanding transitions, effects, and motions, and quickly trimming, splitting, or cropping the editing video.
With the free trial of MiniTool MovieMaker, you can make vivid videos for social media platforms like Facebook, Instagram, YouTube, Twitter, TikTok, etc. Here are three quick video editing tips with MiniTool MovieMaker for you. Try it now!
1. Adjust Video Speed
After you download and install this Windows-based social media video maker, you can speed up or slow down your video as you like. Take the following steps:
Step 1: Launch MiniTool MovieMaker and close the pop-up windows to access the user interface.
Step 2: Click the Import Media Files to import video to adjust speed.
Step 3: Drag and drop it into the below timeline.
Step 4: Select the video on the timeline to highlight it.
Step 5: Click the Speed icon to select Slow (0.01X, 0.05X, 0.1X, 0.25X, 0.5X) or Fast (2X, 4X, 8X, 20X, 50X) to slow down or speed up your video.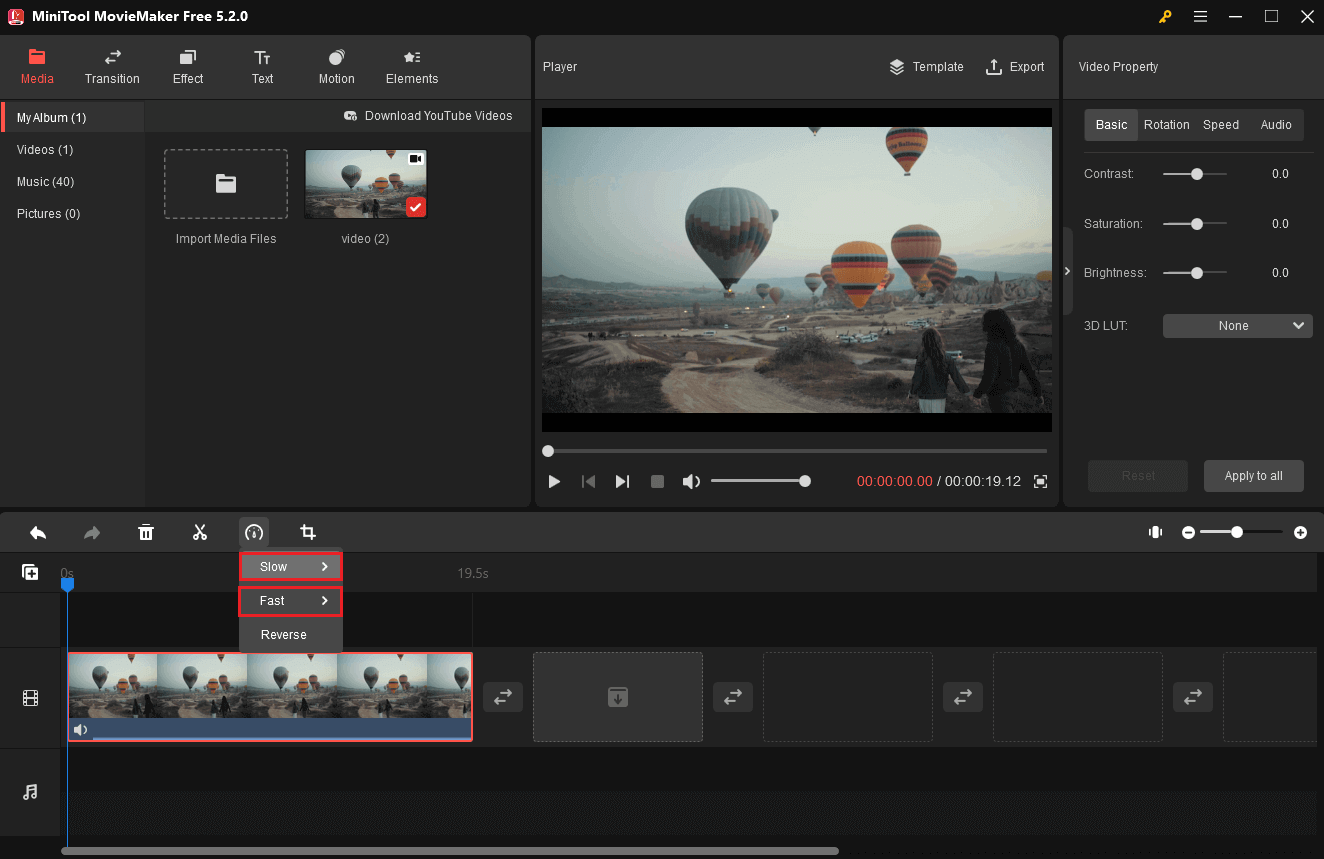 Step 6: Click the Play icon to preview the edited video.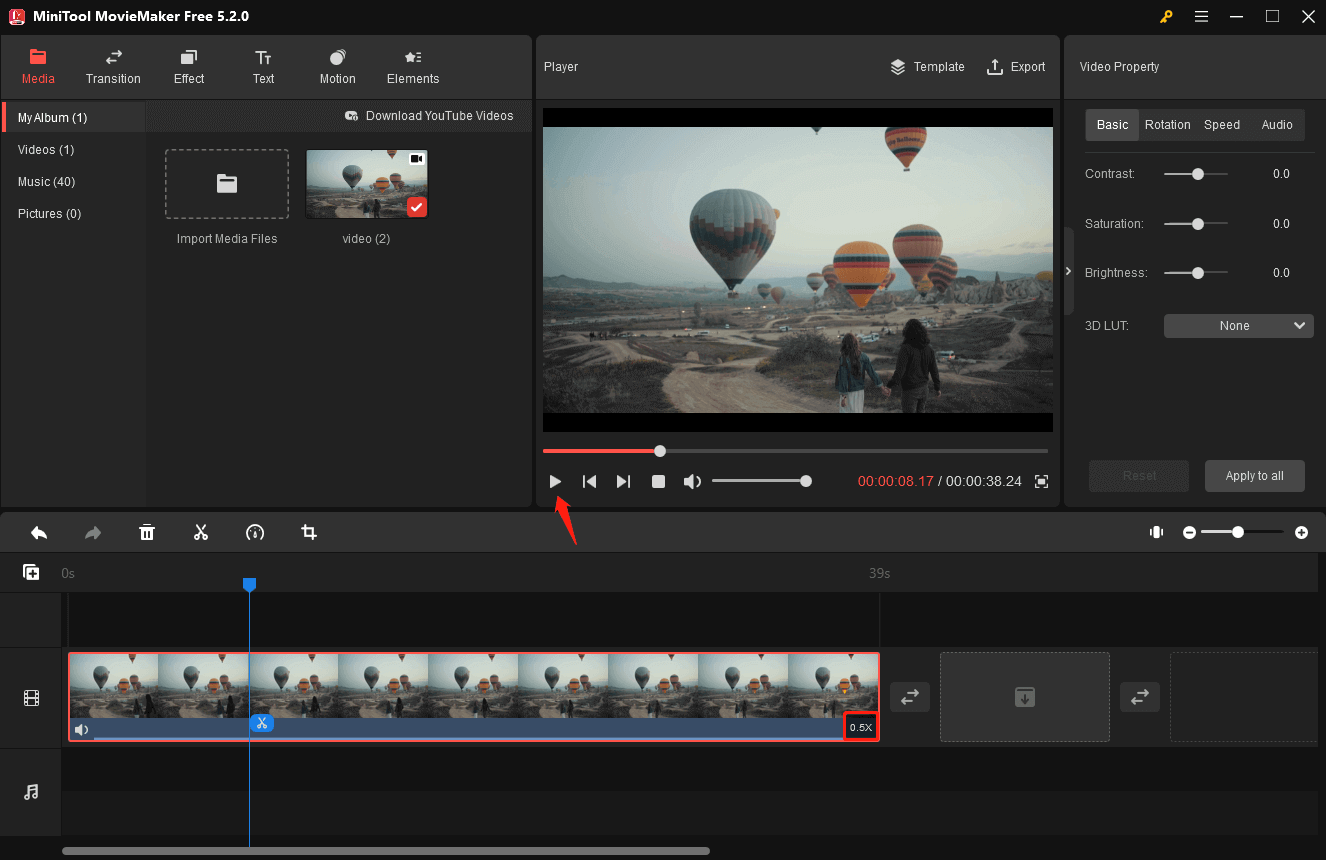 2. Add Transitions/Effects/Motions
Would you like to smooth the whole video? Do you want to make your social media videos visually appealing? Or do you want to make your videos more dynamic? Simply follow the steps below:
Step 1: Go to Transition/Effect/Motion to choose the desired transitions, effects, or motions.
Step 2: Click the + icon or drag and drop them to the below timeline.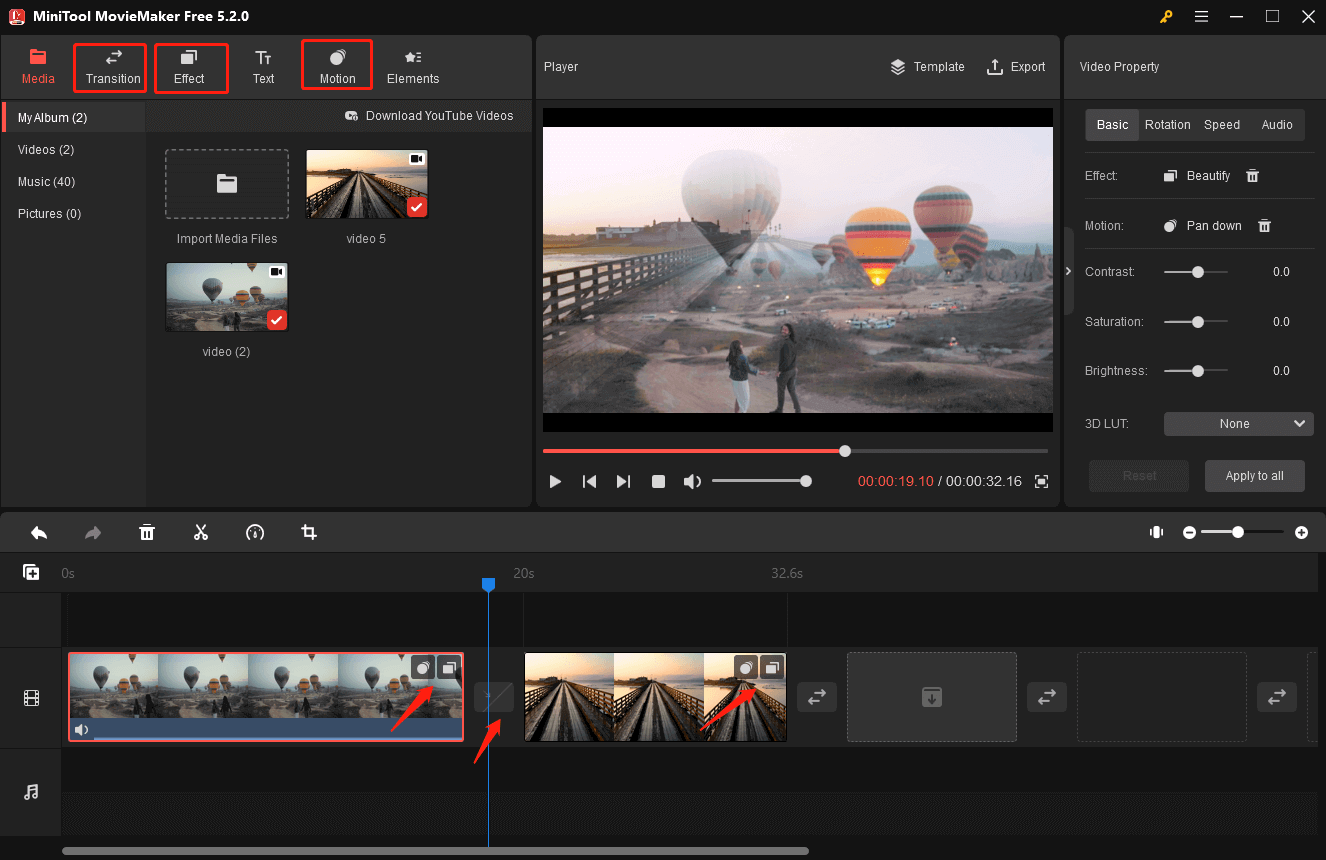 The same technique can be used to add text or stickers to spice up your videos. You may also like these two posts: How to Add Text to Video in Windows Movie Maker (Easy Way) and How to Add Stickers to Video + 5 Free Places to Get Stickers.
3. Quick Trim/Split/Crop
MiniTool MovieMaker comes with Trim, Split, and Crop features to select the wanted parts of videos and images and delete the unwanted ones. Follow the guide below:
Step 1: Click the target video or image clip on the timeline to highlight it.
Quick Trim
Hover over the start of the video or image clip to wait for the arrow to appear.
Drag the arrow to the place where you want the trim to happen.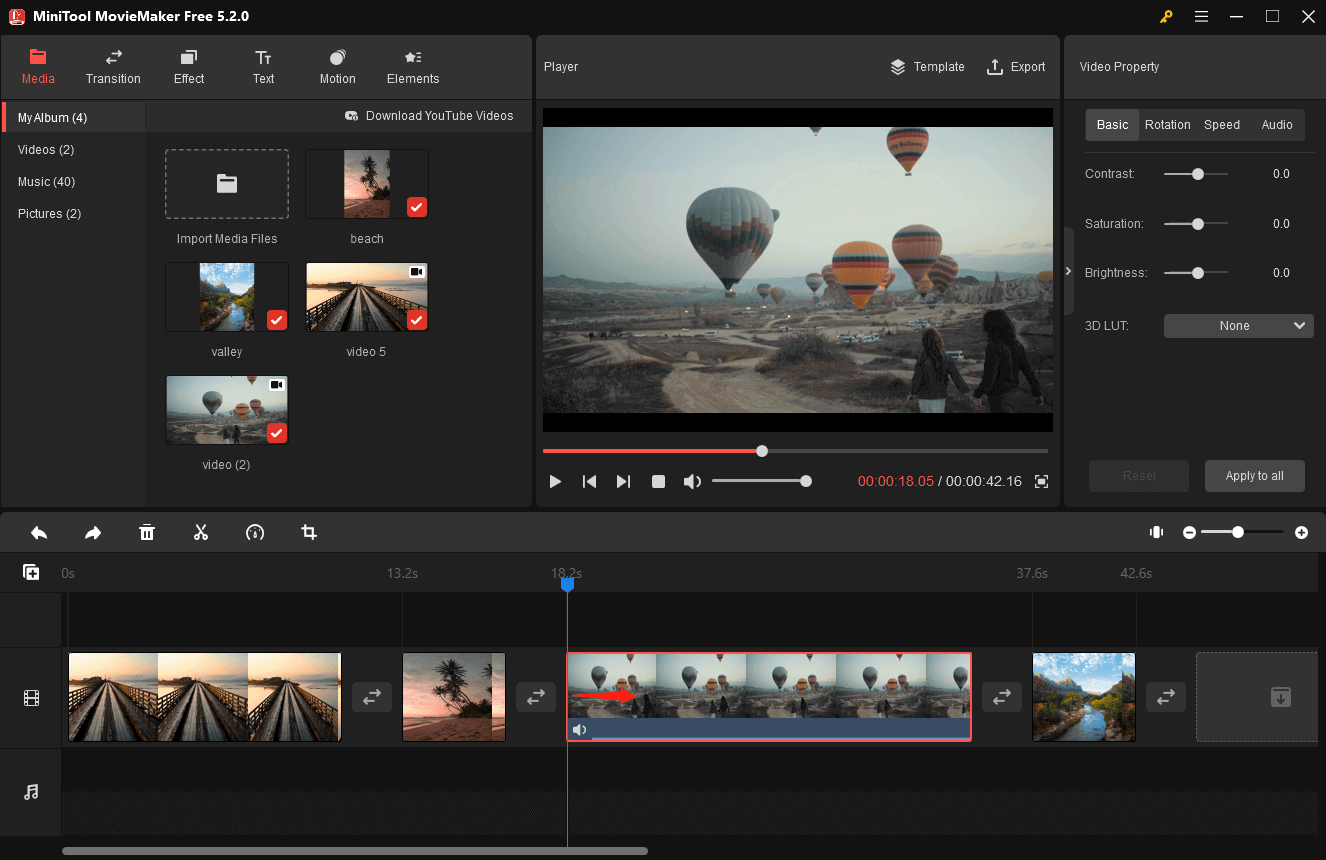 You will see that the wanted part has been successfully saved and the unwanted part has been automatically deleted.
Quick Split
Drag the playhead to the place where you want the split to happen.
Click the Split icon (like scissors) on the playhead or click the Split icon on the toolbar and choose Quick Split.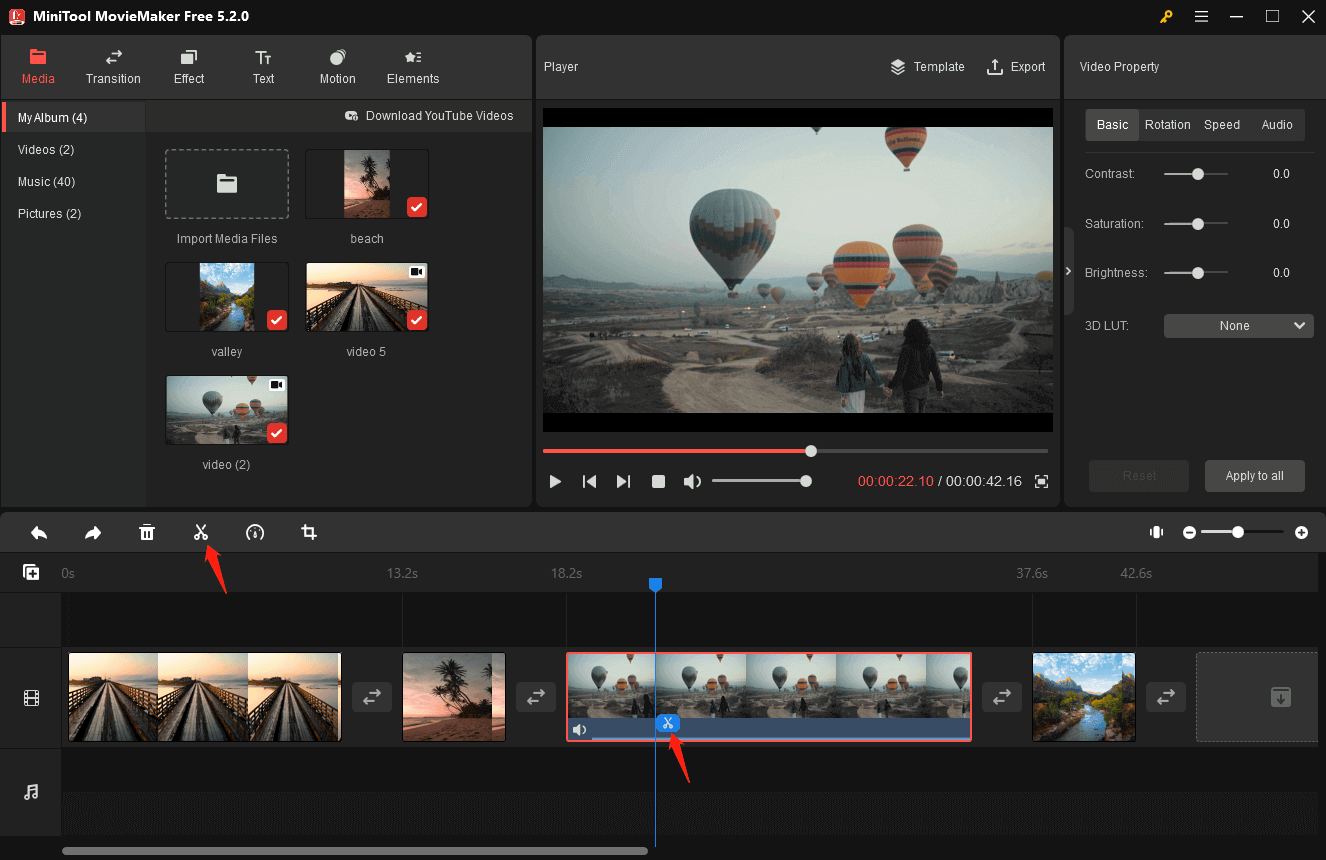 Quick Crop
Click the Crop icon on the toolbar to go to the Crop
Hover over the mouse on any edge point of the crop box until the mouse turns into a double arrow.
Drag the mouse inward to the desired size.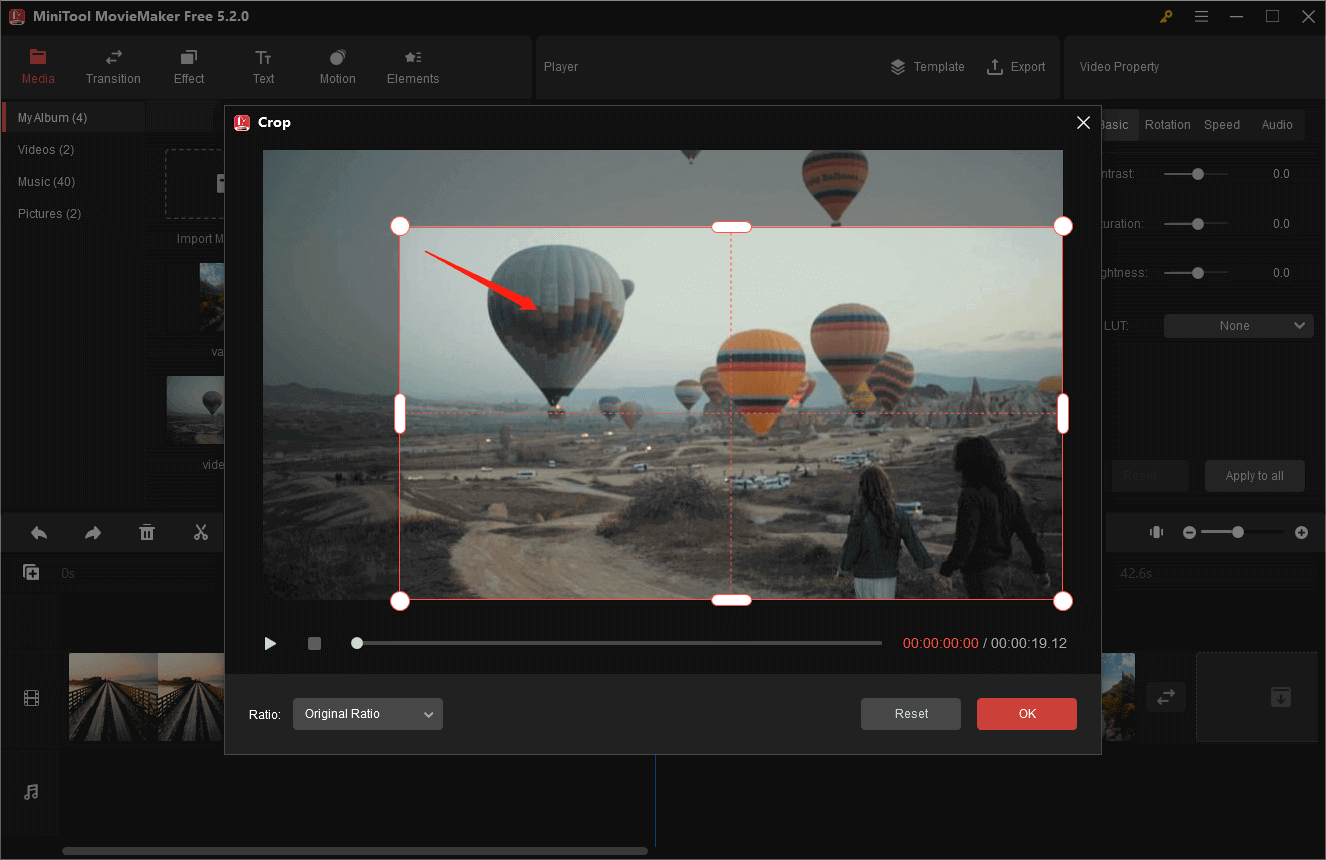 Put the mouse in the crop box and move it to the desired position.
Click the OK button to save the change.
Note: The crop box has eight edge points that are distributed in eight directions (north, south, west, east, northwest, southwest, northeast, and southeast). You can choose one of them to crop the part you want.
MiniTool MovieMaker is one of the best free social media video makers. It is mostly used for video and image editing. I love it - exactly what I need.Click to Tweet
DRPU Videos Rotator
DRPU Videos Rotator is a free social media video maker for Windows to rotate videos at any angle with just one click, such as horizontal flip, vertical flip, rotating 90 degrees to the right, 90 degrees to the left, and 180 degrees. Most video formats are supported by the DRPU Video Rotator software, including MP4, MPG, MKV, and others.
Fast Video Maker
The social media video maker free Fast Video Maker (FVM) allows you to turn your recorded video into a video. Users can make short movies using their memories, recordings, and photos (jpg, jpeg, png, BMP) with song effects. Also, you can make a variety of videos for your YouTube channel with FVM.
Part 2: Best Social Media Video Maker for Mac
Animaker
Animaker is a great tool for making animated videos and also making high-quality social media videos. It provides you with easy clicks and options, drag and drop, and edit and play. The free option includes a watermark, but if you join the plan for $19 per month, you get access to more cutting-edge features. For example, it comes with around 100 charts, 1000 icons, and 3000 maps.
iMovie
iMovie is a fantastic social media video maker for all Mac users that allows you to use the most cutting-edge video editing functions. It enables high-quality videos for an incredible cinematic experience. There are creative sounds, titles, effects, and filters available. For instance, you can use the green screen effect to put your characters in a fascinating setting.
Smilebox
Smilebox offers a digital studio where you can bring your photos to life and a print studio where you can make them into a keepsake. This social media video maker can help you quickly produce stunning video slideshows. The features of Smilebox include:
Add up to 400 pictures with ease.
A lot of catchy melodies are available.
Used to make eye-catching videos.
Images can be saved to the cloud, which has a large storage capacity.
Typito
It is a great drag-and-drop editor and another social media video maker for Mac users. Typito allows you to add a branded banner to your video so that customers can quickly recognize you. Your videos can be resized in seven different sizes with only one click. The features of Typito include:
Videos in Full HD.
Free templates for motion graphics.
Low cost to erase watermark.
Preview anytime, anywhere.
Part 3: Best Social Media Video Maker for iPhone
InShot
InShot works for iOS users. You can use it to edit photos and videos to produce visually appealing content that is well-suited for social networking. Stickers and texts are easy to sync with the video. To create your music, you can use free vlog music, add sound effects, or add voiceovers. There are various filters and effects available, including bright, dark, cinema 01, film 05, glitch, etc.
Headliner
You can create social media videos with Headliner, podcast graphics, and audiogram tools. Also, you can use this tool to post your whole podcast episode (no longer than two hours) to YouTube to reach new listeners. Beginners and overworked content creators who need software with a short learning curve would love it. Adding subtitles, transcribing movies, and adding or muting audio can all be done here.
Apple Clips
Apple Clips is also a social media video maker that enables you to create interesting videos, and then share them with your friends, family, or the world. It is designed to capture happy moments, and get creative with Memoji and stunning augmented reality effects. You can easily make video messages and video stories by using animated text, stickers, filters, and music tracks.
Splice Video Editor and Maker
It's primarily designed for social media content and focuses on making suitable videos for sharing on the social media platform. It is available for download in the app store but may need some in-app purchases to use some tools. The features of Splice are:
Add sound effects as a backdrop for visuals.
Offers an audio library that lets you record voiceovers.
Each download is kept even if you cancel.
The sound is licensed for commercial use.
Part 4: Best Social Media Video Maker Online
Animoto
Animoto is another online social media video maker with that a drag-and-drop interface can be applied to generate compelling content. With fonts, video styling options, and templates, customers can produce three different types of videos: how-to videos for YouTube, Instagram video promotions, and Facebook video advertisements.
Biteable
Biteable is an easy-to-use online social media video maker to help users design ads, sideshows, and more. In addition to over 100 professionally designed themes, Biteable also offers a huge selection of sounds and tracks. With only one click, you can change and share your creations by uploading your content.
Lumen5
Lumen5 gives customers the ability to create concepts, arrange content into layouts, and choose music and pictures that will make their statement stand out according to artificial intelligence technology. It's a fantastic tool for creating social media videos with simple features and a huge library of royalty-free content. It allows you to produce landscape, square, and content in resolutions up to 1080p. Additionally, you can select from a variety of well-liked themes and unique fonts, make branded outros, and so on.
Capture Media
It is a real-time content and web-based platform for bloggers, journalists, photo editors, and anyone else who wants to search and share images and videos from Instagram or Twitter. Today, Capture Media is used to license hundreds of images and videos every day, including those used for breaking news, weather, and editorial content.
It is also a vital tool for publishers because it combines strong search and organization features with Capture's distinctive rights management. To ensure social media can be found, verified in real-time, and published with proper permissions and attribution, Capture was created as an end-to-end solution. Additionally, Capture is fully compliant with Twitter and Instagram display standards.
Conclusion
What is the best social media video maker for Windows, Mac, and iPhone? What is the best free online social media video maker? Everything you need to produce engaging video content that engages your audience and motivates them to act is available to you right here.
Please feel free to email [email protected] if you have any questions or comments about MiniTool MovieMaker.