The tribute video is generally made for a reason or an event such as a wedding, birthday, reunion, or anniversary celebration. Whether you want to make a funeral or tribute video for different events, you will need a powerful tribute video maker. The following part will offer you the top 7 tribute video maker options (including a handy tool – MiniTool MovieMaker).
MiniTool MovieMakerClick to Download100%Clean & Safe
What Is a Video Tribute?
Built upon three key foundations: to celebrate, honor, and tell a story, the  video tribute works in a similar way to photos and albums. It is great for keeping precious memories and reminding us of the good old times in a digital way. The photo albums are easy to fade and tear, while videos are everlasting and allow more space for creativity with many editing possibilities given to us.
Creating a tribute video with photos, music, and blended with different effects can keep the memories forever. When you combine memories in the form of video, it will provide a visual reminder of the special events that you have spent with your loved ones.
How Much Do Tribute Video Makers Cost?
You can find tribute video makers available on the internet for free as well as an application that costs hundreds of dollars. The biggest difference between free tools and expensive applications is the professional level of the video you can produce.
Professional video-making software on the level that movie producers use will cost hundreds. While for simple purposes, this type of software isn't needed. We've found that all the tools you'll likely need are already included in  free or budget-friendly tribute video makers available.
What Features Should You Look for in a Tribute Video Maker?
There are so many tribute video maker options available on the market. With many to choose from, how do you pick which one to use? Check to see if the software you're considering contains the popular features below.
Editing tools
When you upload video clips or images into a tribute video maker, you may realize that you need enough editing tools to polish your video. A good tribute video maker will include competent editing tools that allow you to do this as you go. The tools to look for include items like filters, transitions, text editing, color adjusting capabilities, and more.
Music
Music can make the tribute video come alive. As a good tribute video maker, it will have a music library copy-right music tracks you can choose for the background of your video. The possibility to upload your own music or songs is also important.
Easy-to-use
As for users who do not have that much video-making experience, a user-friendly tribute video maker just suffices the needs. An initiative interface and well-organized module are needed for the novice. There is no need for a steep learning curve.
Templates
To make the tribute video creation process faster, video templates are needed. Video templates will contain the professional touches you need to create a video like intros, credits, transitions, background music, effects, and animations. The good tribute video maker will have plenty of templates to choose from so you can pick the one that works best for your multimedia needs.
Best Tribute Video Maker Software
With all the features taken into consideration, we handpicked the 2 best  tribute video makers for your PC. With these great tribute video makers, you can make compelling video tribute on a desktop with ease.
MiniTool MovieMaker (Windows)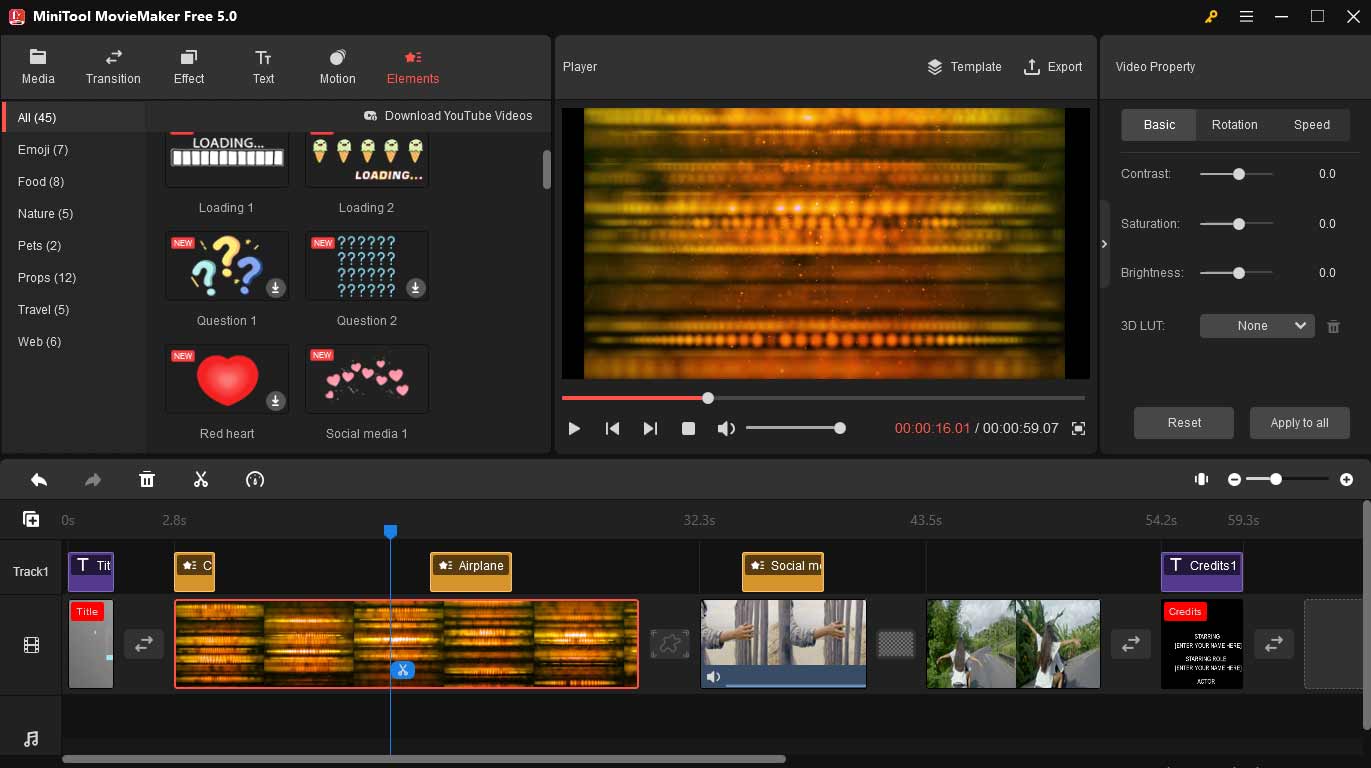 MiniTool MovieMakerClick to Download100%Clean & Safe
As a combination of the features we consider, MiniTool MovieMaker is the optimal tribute video maker for Windows users. It is an easy-to-use video editor without watermarks, ads, and bundles. With a clean and user-friendly interface, even beginners can make stunning tribute videos easily.
To make a perfect tribute video, you can import photos, video clips, and music to this platform. Equipped with a range of basic and advanced video editing features, it gives you creative flexibility including 3D LUT effects, color correction, and the ability to fade in and fade out the audio in your videos.
To add an aesthetic touch to your tribute video, it has many attractive filters, transitions, text templates, animated elements, and motion effects that can be applied to your videos. Also, you can change video speed, and adjust the contrast, brightness, and saturation of the videos. As we mentioned before, editing tools, audio, and templates are vital for tribute video creation. You can achieve all these results right on this platform.
MiniTool MovieMaker is an amazing tribute video maker for Windows PC. It helps me make attractive tribute videos in a simple way!Click to Tweet
iMovie (Mac)
For those with a Mac computer or laptop, iMovie is an ideal free tribute video maker. With its clean and elegant interface, iMovie allows you to create tribute videos from many different sources like digital cameras, encoded files, and images.
Although iMovie costs nothing, it can do many things including combining different video files and layer music tracks on your footage. There are also title screens, video filters, and even special effects that you can add to tribute videos.
In the latest version, you can edit and export videos in 4K resolution. If you have other Apple products, you can start video editing on your iPhone or iPad and finish it on your Mac later.
Best Online Tribute Video Makers
If you do not want to bother to download and install the tribute video maker software on your PC, here come the tribute video makers online. With these online tools, you can also make a perfect tribute video.
FlexClip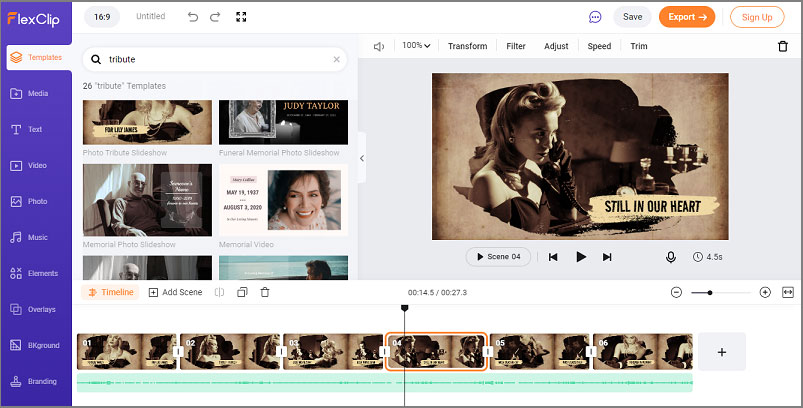 FlexClip is an excellent option among tribute video makers online. Its interface is user-friendly and there is no video making or editing experience required to make a tribute video.
 To make a tribute video, there are various tribute video examples to use and an extensive media library to use. To customize the template, you have two mode options: timeline mode and storyboard mode. Timeline mode gives you full control over music tracks and videos to maximize editing capabilities. The storyboard mode with an intuitive view is the easiest way to create a video in just a few minutes.
While making your tribute video, you can edit individual clips, crop images, add transitions, and choose audio tracks, and you can even use its pip feature to make tribute montages easily. The best part of using this tool is that you can make a custom tribute video with no watermark for free.
Tribute
Tribute is one of the best tribute video makers available with friends or family members. Inviting is the highlighted part of using Tribute. To help you make a tribute video, it provides a seamless way to invite family members to send their pictures or videos to you. Once a family member receives an invite, they can send an unlimited number of photos or videos to you.
After you receive all the media from those who are working with you, you can drag and drop the pictures and video clips into the provided templates or have the concierge service put it together for you.
Smilebox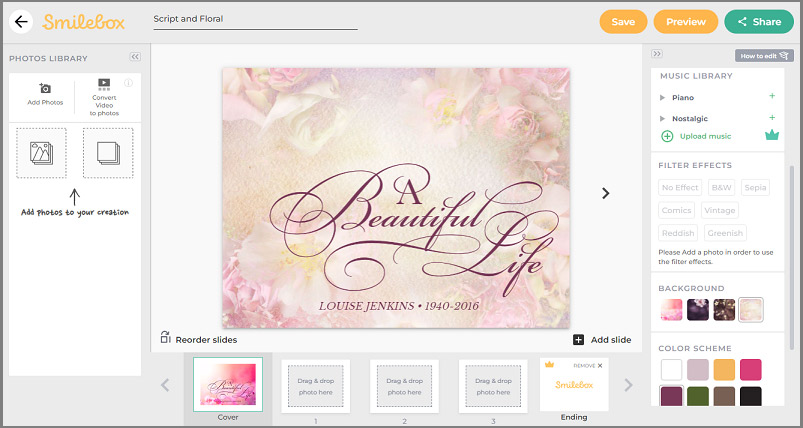 Smilebox is also an ideal option as a free tribute video maker. It offers hundreds of well-designed video templates to help you create simple yet elegant slideshow or tribute videos for your loved ones.
You can choose existing songs from its music library as the tribute video background music (or upload your own). Titles and captions can also be added easily. The photos and video clips you use can be backed up to the cloud for safe storage. Simply merge images, video clips, music, and text into a personalized video tribute with Smilebox.
Also read: Mother's Day Video: Express Your Love & Make the Day Memorable
Fastreel
Developed by Movavi, Fastreel is a simple tribute video maker with available templates, effects, and tools to make a special tribute video. As a great tribute video maker and memorial video maker, you can create a tribute video or memorial video in minutes.
To make a personalized tribute video, just upload your images, photo collages, and videos to the platform, then add a few words and choose some appropriate music from its free collection.
Animoto
Animotio is another great free tribute video maker online with a simple drag-and-drop application. It helps you to turn photos and video clips into a touching tribute video in just a few clicks. There are different templates designed to make it easy for you to import your own images and text.
Also, customization is made easy with a variety of colors, fonts, a large music library, and video styles to choose from. You can also trim and mute your video footage, enlarge photos, or add voice-over to make a perfect tribute video.
Tips for Making Tribute Videos
After we have got the right tribute video maker tool, well begun is half done. In this part, we will share some practical tips for making tribute videos.
1. Consider the major themes.
When you sit in front of a mountain of video clips or digital images, you need to narrow down the footage selections. Consider the themes that honor and represent that person. Each photo selected should reflect one of these themes. When reviewing the selected footage, make sure they show the full spectrum of that person's life.
2. Involve relative members.
It does make sense to consider involving family members or friends in the process of making a tribute video. Because they have special insight into the person which can help a lot in creating something touching. It is also a good way to make the relationship closer.
3. Use subtitles and captions.
Having subtitles and captions in the tribute video would help to understand what's going on with the visuals. A well-written and concise caption alone can bring back a lot of memories. Note that keep the captions short and relatable to the event.
4. Insert the right music.
Music always plays an important role in videos that evoke strong emotions. A tribute video does share a lot of similarities with a cinematic video. As for the selection of the music, the lyrics and their favorite musical artist can be taken into consideration. You can test a few tracks running in the background with the video and see how it works.
5. Diversify Content.
Photos and video footage aren't the limits of what you can include in a tribute video. Diversified content can make the tribute video more engaging and unique. Take high-quality photos or scans of diplomas, awards, poems, journal entries, or anything important and reflective.
Conclusion
After reading this post, you may have the best tribute video maker in your mind. Which one do you like most? If you have other useful tools that we missed, welcome to share them with us in the comments!
Well, do not hesitate to contact us via [email protected] if you have any questions or encounter any issues while using MiniTool MovieMaker!