Let's take a look at the features of these music video makers.
If you want to insert music into your video or slideshow, MiniTool MovieMaker is highly recommended to you.
MiniTool MovieMaker
MiniTool MovieMaker is a free, no-ads, no-watermark and no-plug-ins music video maker for PC.
At the same time, it is also a convenient video editor, because MiniTool MovieMaker's easy-to-understand interface allows anyone with or without video design experience to make videos. You only need to import your files, add titles, transitions and effects.
You can either use the music in its music library to make your music videos, or you can import your favorite music files to make music videos. After completing your music video, you can save the video on your device in multiple resolutions and multiple formats such as MP4, AVI, MOV, WMV, F4V, MKV, TS, 3GP, MPEG2, WEBM, GIF and MP3.
MiniTool MovieMakerClick to Download100%Clean & Safe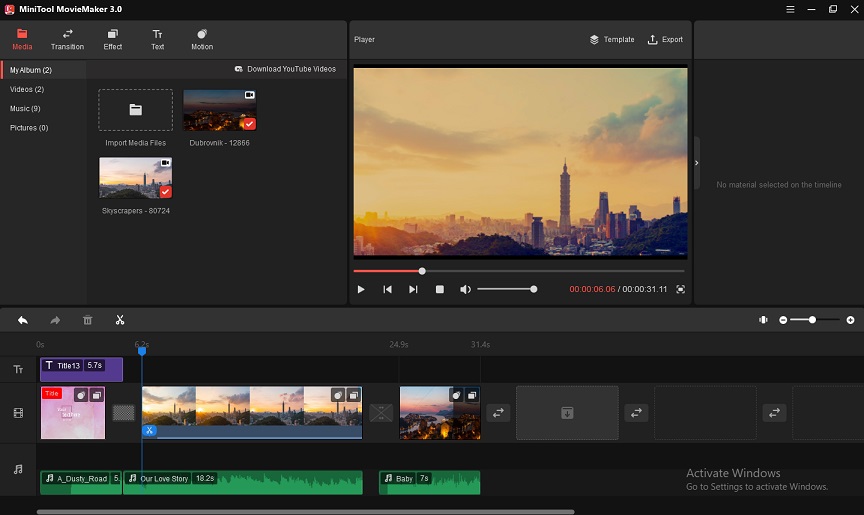 Main Features:
Use simple timelines to turn your videos into magical movies.
Add stunning transition effects to keep your videos attractive and stylish.
Add beautiful animated titles and subtitles to your videos.
Use creative filters, color correction and professional 3D LUT to change the beauty of your videos.
Easily split large videos into multiple parts or fine-tune the duration of clips in the timeline.
Reverse videos, speed up videos or slow down videos.
Apply pan and zoom motion effects to create a photo animation style.
Save your videos automatically in 5s.
One-click apply transition/effect/motion to all clips.
One-click edit colors on images and videos.
Edit audio in every video clip.
Undo/Redo image/video editing.
Microsoft Photos
Microsoft Photos is a free video maker that allows you to easily view, edit, compare, create photo albums and make videos of your special memories. In its toolbar, you can edit, tag, favorite, metadata and quickly access third-party photo editors.
Main Features:
Use the multi-view mode to compare photos and videos in the same application.
Hide the toolbar to watch videos and photos without interference.
Rotate videos and photos, draw on videos, apply filters and do color correction.
View the images as a slideshow.
Add music, text and 3D effects to the videos.
Use OneDrive to view photos, videos, and albums from all your devices in one place.
Music Video Maker
Music Video Maker is one of the best music video makers which allows you to create exciting videos with your favorite songs and amazing video filtering effects.
You can make your video full of pleasure by adding high-quality filters. What's more, you can also use the theme and music of your choice to turn your video into a wonderful movie and use dynamic effects and transitions to enhance your videos to make perfect videos for your friends and family.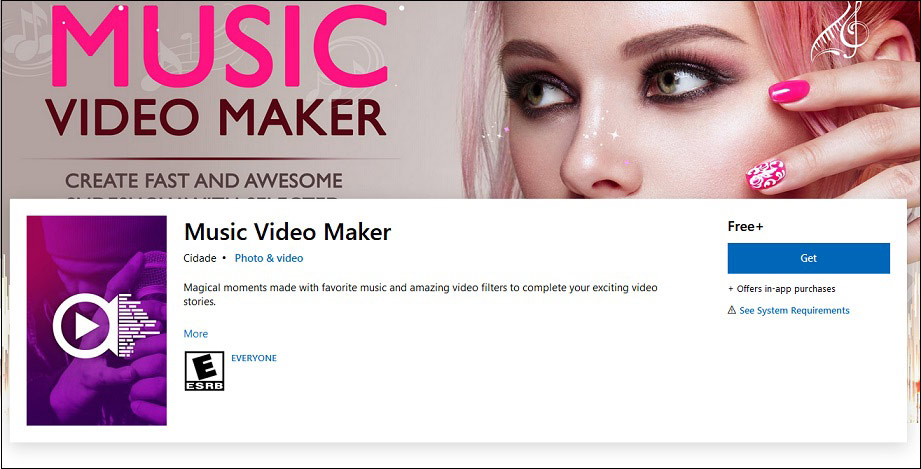 Main Features:
Have a variety of creative effects.
Choose from pre-installed music clips for easy addition.
Compatible with all types of universal window devices.
Customize the music in the slideshow.
Equipped with professional and effective slide making tools.
Save and share your videos directly on Instagram, Facebook or Twitter.
Flexible control panel and smooth video editing function.
Allow you to navigate from the gallery and easily add multiple video clips in a single slideshow.
Blender
Blender is a free music video maker whose mission is to bring the best 3D technology into the hands of artists and apply it to all platforms. Its functions are very complete, advanced and intelligent.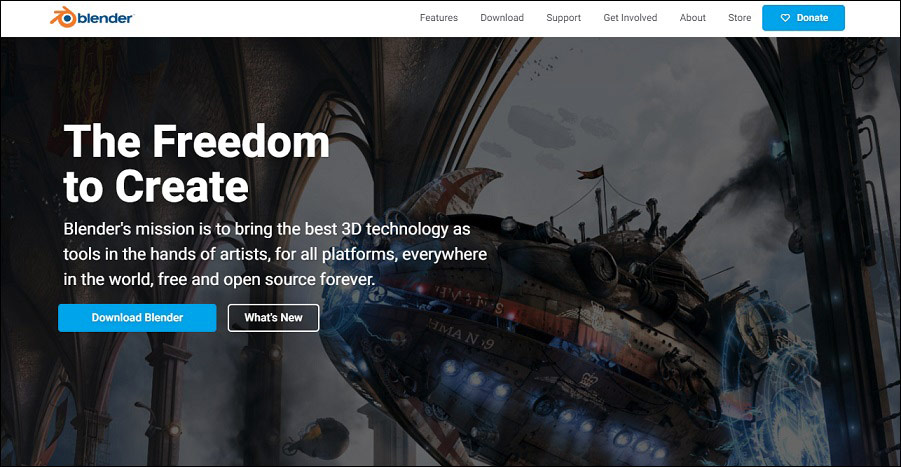 Main Features:
The built-in powerful unbiased path tracing Cycles Render Engine provides you with stunning ultra-realistic rendering, including real-time viewport preview, CPU&GPU rendering, PBR shader and HDR lighting support, and VR rendering support.
Allow you to import the original material, track the material, mask the area and view the camera movement in the 3D scene in real-time, without switching between programs.
Combining 2D and 3D in the viewport, providing full animation support for onion skin, the layer and color of the stroke and filling, and the engraving brush stroke allow you to draw directly in the 3D viewport.
Customize the interface layout and colors, high resolution/retina screen support, create your own tools and add-ons, draw on the OpenGL viewport, and connect to Blender's Render API.
Comprehensive modelling, sculpting, and UV tools make it easy to create, convert, and edit models.
VLC Media Player
VLC Media Player is a free-to-use, powerful and featured-rich music video maker that can play and edit various audio, image and video files.
Main Features:
Support streaming from major websites and receiving real-time videos from popular websites.
Customize the control panel according to your own mood and preferences.
Allow you to install extensions for a smoother viewing experience.
Support importing images from the Photos application on your device and syncing with Windows Media Player to display all files in one place.
Enjoy smart decoding and run videos faster.
Support streaming and can identify multiple software extensions.
Easily play files in MKV, FLV, WMV, SWF and other formats.
Show HD quality videos.
VideoStudio
VideoStudio is an easy-to-use but surprisingly creative video editing and music video maker. It can convert your photos and videos into wonderful movies to share with your family and friends.
It provides you with a 30-day free trial period. However, it is worth reminding that the trial version is designed to provide access to video editing software, and the trial version has limited functions and does not provide complete file support, functions, and third-party effects. Therefore, if you want to get more complete functions, you need to purchase the Pro version of this music video maker.
Main Features:
Combine videos, photos, and audio on the timeline and add effects to start building your project.
Plan your video in storyboard mode to visualize how it will unfold.
Hundreds of customizable filters and effects allow you to get the results you want and add your own style.
Drag and drop effects to the timeline to add titles, including animated titles, enhance colors, or apply transitions between clips.
Provide stop motion animation to help you create stunning animations, or quickly play, freeze or reverse your videos.
Provide multi-camera editing, 360-degree video editing, split-screen video and other functions.
Provide a series of templates to help you create beautiful videos and slideshows.
Contains a selection of royalty-free songs and sounds to add the perfect soundtrack to your videos.
Provide powerful audio tools to enhance the sound, balance the volume of background music, or automatically balance the volume between selected clips to obtain a consistent volume.
Tell your story from multiple angles. Easily combine, synchronize, and edit footage from multiple cameras, and choose the angle you want to display when the video is playing.
VideoStudio Pro can combine up to 4 camera angles, and VideoStudio Ultimate can combine up to 6 angles.
Wizibel
Wizibel is a great music video maker that allows you to make music videos quickly.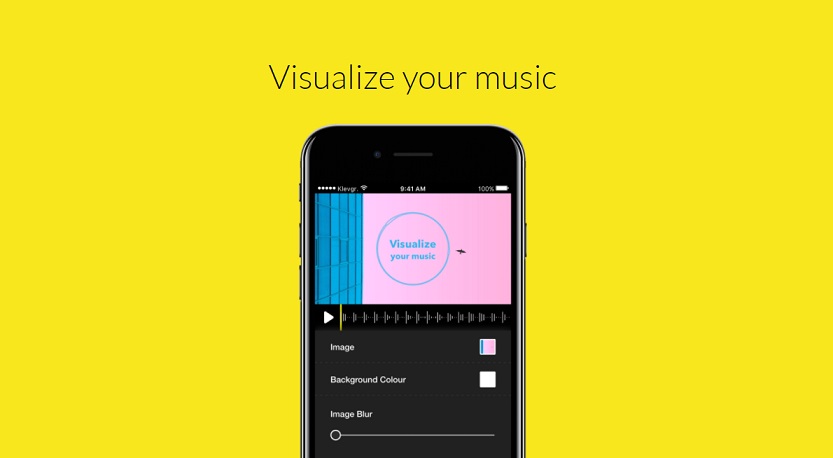 Main Features:
Import your music in MP3, WAV, AIFF, MP4 and other formats.
It currently provides twelve themes for you to choose from, and each theme has a set of adjustable custom parameters, such as text string, size, color, and image.
Each theme has a unique set of parameters that can be changed. The parameters include the image, that is, the sensitivity of how the waveform should react to audio, text strings, colors, or other content that is critical to the selected theme.
The videos can be exported to the camera roll or any installed application that can receive the videos.
The video resolution setting ranges from 520P (low resolution) to 1080P (full HD).
Save and edit multiple projects at once.
Synchronize parameter changes to the timeline.
VideoFX Music Video Maker
VideoFX Music Video Maker is a smart, intuitive and easy-to-use music video maker that can help you quickly make amazing music videos for your favorite songs.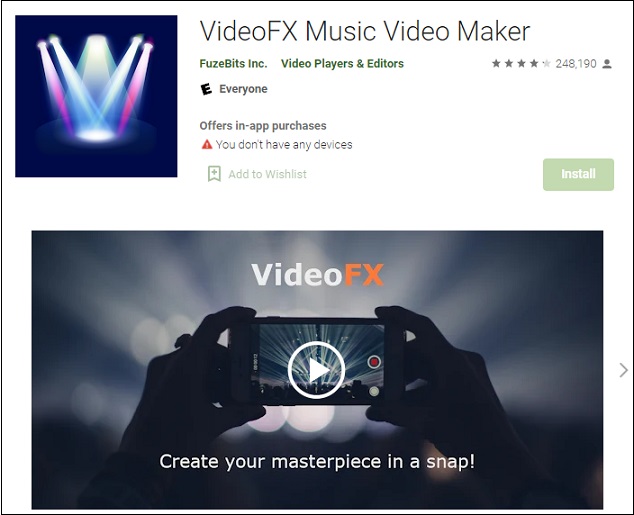 Main Features:
Automatically keep your video and soundtrack in perfect sync.
Support to import MP3, M4A, WAV and OGG format soundtracks from your device library or use a microphone.
Provide more than 50 video effects.
Pause or resume shooting at any time to change the scene, preview and edit the material, change the recording mode, etc.
Trim, discard and reshoot scenes as needed.
Instantly preview your video materials.
Fast motion recording mode speeds up the video and keeps the audio speed unchanged.
Export your videos to your device in MP4 format.
Share your videos on YouTube, Facebook, Instagram, TikTok and other social networks.
Create and process multiple projects independently.
No registration or account required.
Tempo
Tempo is a free music video maker with magical effects and transitions. Additionally, it also provides a lot of popular themes for editing, special subtitles, templates and a variety of music.
You can effortlessly add music to videos, use photos and templates to create cool videos, and make videos with magical effects with Tempo.
Main Features:
Hundreds of high-quality filters and special transition effects.
Support multi-shot and widescreen mode.
Providing stylish face stickers.
Share your creative photos and videos to Facebook, YouTube, Instagram and other social media.
Provide basic editing tools such as quick cut, merge, reverse, and rotate videos.
Cut the video into segments and merge the images in the gallery.
Import your videos and clips to make the video perfectly match the background music.
Provide a variety of text styles, fonts, fantastic effects and transitions.
Provide 720P/1080P HD export without quality loss.
let's take a look at the compatibilities and fees for these music video makers below.
| | | |
| --- | --- | --- |
| Music Video Maker | Compatibility | Fees |
| MiniTool MovieMaker | Windows 7/8.1/10 | Free |
| Microsoft Photos | Windows 10 | Free |
| Music Video Maker | Windows 10 | Free |
| Blender | Windows/macOS/Linux | Free |
| VLC Media Player | Windows/macOS/Linux/iOS/Android | Free |
| VideoStudio | Windows 7/8/10 | 30-day Free Trial/Pro (HK$465) |
| Wizibel | iOS | Free |
| VideoFX Music Video Maker | Android | Free |
| Tempo | iOS/Android | Free |
This article recommends nine music video makers who can help you make amazing music videos.Click to Tweet
Bottom Line
After reading this article, you can combine the features of these music video makers and choose one or more you like to try.
Which music video maker do you prefer? Do you have any other great music video maker recommendations? If you have any questions, you can contact us via [email protected].