Are you looking for a suitable MKV player to play MKV files? MiniTool released a free tool – MiniTool MovieMaker, to help you easily play MKV files in Windows, and let you edit MKV files as well as change video file format easily.
MKV, Matroska Multimedia Container, is an open standard free container file format. It can hold an unlimited number of video, audio, picture, or subtitle tracks inside a single file, thus many users choose to store common multimedia content, like movies or TV shows in MKV.
However, some users encounter problems while playing MKV files. Now, what player can play MKV? What is the best MKV player?
Let's look at the best MKV file players you can try.
Top 16 MKV Players You Can Try
MiniTool MovieMaker
VLC
5KPlayer
Media Player Classic
DivX Plus Player
CyberLine PowerDVD
RealPlayer
KMPlayer
Potplayer
GOM Player
SMPlayer
UMPlayer
Perian
MPlayerX
MoliPlayer
MX Player
Top 16 MKV Players: Play MKV Files Easily
#1. MiniTool MovieMaker
Supported OS: Windows
To play MKV files in Windows, You can try MiniTool MovieMaker, a free, no ads, no bundle video editing software.
As long as you have the best free MKV player, you can not only play MKV files easily but also convert MKV to MP4, AVI or other file formats.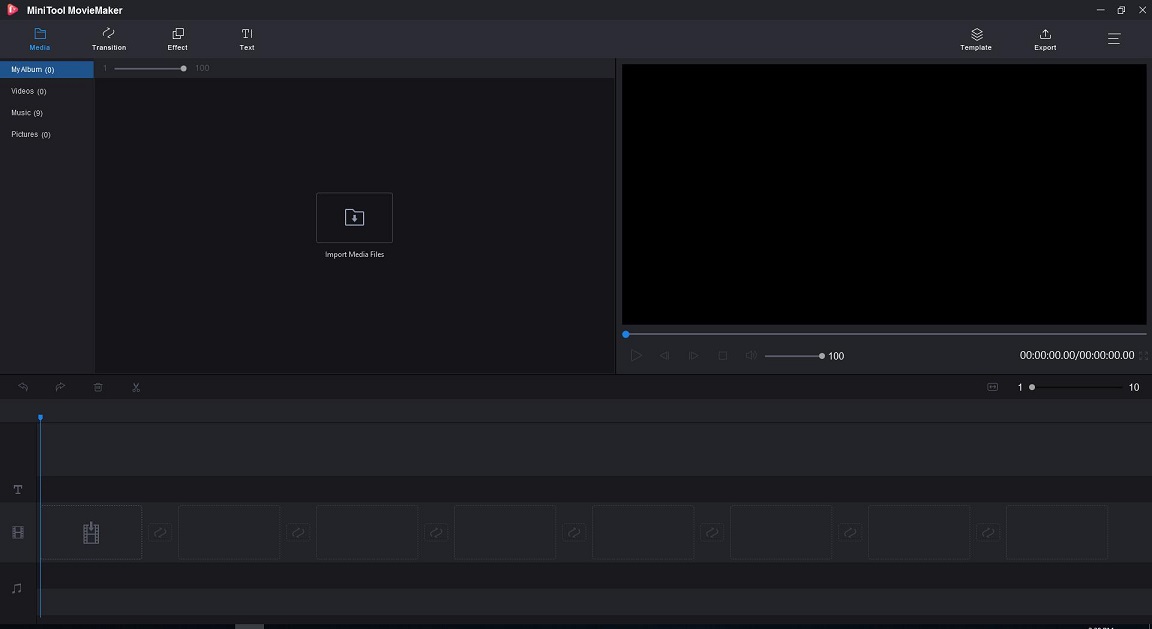 Main Features of the Best MKV Player for Windows 7/8/10
Free, no ads.
Convert MKV to other video files, and even convert video to audio file.
Edit MKV files easily and quickly including add subtitles to video, rotate video, trim or split video, add music to video file, etc.
Make Hollywood-style movies in one-click.
#2. VLC Media player
Supported OS: Windows, Mac, Linux, Android, iOS, Windows Mobile
VLC Media Player is an open-source media player that can play MKV files without installing codec.
VLC Media Player supports most video and audio streams you will find in an .mkv file. If you use this well-known multi formats video player as an MKV player, you are able to organize and operate MKV video's multiple video/audio/subtitle tracks in a decent way.
But unfortunately, VLC takes to open up a file and lacks user-friendly interface. Although this open-source MKV player offers some advanced features including rotate video, it is too complicated to handle with them. It is recommended to choose VLC alternatives.
#3. 5KPlayer
Supported os: Windows 10/8/7/XP and Mac OS X 10.6 or later
5KPlayer is another free and good MKV file player that supports all types of MKV files with whatever video/audio codecs because of its built-in MKV codec. Of course, this MKV player can play other files including MP4, HEVC, M2TS, H.264, MPEG-4, AVI, MOV, WMV, FLV, etc. in whatever resolution, 720p, 1080p Full HD or 4K Ultra HD.
This free MKV video player does have a slew of extra features as follows:
Play lossy/lossless music.
Free download MKV movies from 300+ online video sites and download videos songs from 1000+ video sites.
Related article: download audio from YouTube.
#4. Media Player Classic
Supported OS: Windows
Media player classic (aka. MPC-HC), open-source video player, is another most downloaded MKV file player on Windows. While downloading this free MKV player, you don't need to worry about the security matter since there is no advertisement, annoying toolbars or latent spyware.
However, it does have some disadvantages. When playing MKV files in Windows 10, you will find this free MKV player has trouble to get embedded MKV subtitles to display because it lacks the MKV codec. Now, to solve this issue, you can download and install Media Player Classic codec pack and reinstall MPC again.
#5. DivX Plus Player
Supported OS: Windows and Mac
DivX Plus Player can play MKV files in a good way. This MKV player also offers other good features. Such as, it offers smooth fast-forward and rewind MKV playing process, and it supports up to 8 MKV multiple subtitles and audio tracks.
One of the biggest problems with this MKV file player is that there is no free available for users. Sometimes, to give a larger range of MKV media playing options, you need to add Blu-ray video playback function to this MKV player.
#6. CyberLink PowerDVD
Supported OS: Windows 10, Windows 8, Windows 7, Windows Vista
PowerDVD is one of the best MKV players for Windows 10. It offers s three different options, (Standard, Pro, and Ultra) to meet different users' needs. This MKV player is an all-round multimedia player. It delivers the most immersive 360˚ VR experience possible with new spatial audio support. And, it even can download videos from YouTube or Vimeo.
Related article: download YouTube videos
Unfortunately, PowerDVD doesn't offer a free version. If you like, you can try this MKV player for 30 days.
#7. RealPlayer
Supported OS: Windows & macOS & Linux & Android
RealPlayer is a free MKV video player that can play MKV files with common video codecs. Besides, this MKV file player lets you download MKV videos from online sites. Moreover, it supports video converting. Thus, you can change MKV to MP4 or another file format you like.
#8. KMPlayer
Supported OS: Windows
KMPlayer supports an expansive library of video codecs and formats such as MPEG 1/2/4, ASF, MKV, FLV, MP4, DVD, etc. Thus, you can use this player to play MKV file. This MKV player lets you make some adjustments, including image filtering, soundtrack, brightness, saturation, zoom, playback jump, etc.
Related article: Color correction
KMPlayer is a good MKV player but it has some disadvantages. It contains bundled software and off-putting advertisements.
#9. Potplayer
Supported OS: Windows
Both Potplayer and KMplayer have things in common because part of the Potplayer's development team still comes from KMPlayer. However, Potplayer offers an outstanding GPU hardware decoding, esp for 4K high-resolution video. Thus, it is a good MKV player.
If you play MKV videos with compute-intensive HEVC codec via this MKV player, you will notice that this player produces the smooth playback effect, with a crisp video picture and clear sound, no freezing/lagging or any stuttering issues. On the other hand, your system responsiveness will be improved because the computer CPU can be reduced to a minimum degree.
#10. GOM Player
Supported OS: Windows
Made by South Korea, the GOM player is another free MKV player that can play MKV files with H264, HEVC, VP8 codecs. But, it cannot play MKV file with the VP9 codec.
This MKV player freeware provides much higher information transparency and more sincerity to its users. It lists all shortcomings. It has entry-level requirements to your desktop, it tells you that it cannot handle all videos playback, etc. All information including shortcomings or its imperfect sides is listed under "Specs" on its official product webpage.
#11. SMPlayer
Supported OS: Windows
SMPlayer is another free MKV player and this player can play almost every video file format. This player is a good choice for users because of its codec free playback. The interface of this MKV file player looks similar to Media Playe Classic.
#12. UMPlayer
Supported OS: Windows
UMPlayer is a multi-format media player that can play MKV, MP4, MOV, HEVC, AVI, WMV, etc. This MKV player lets you search for videos from YouTube. However, there is no YouTube streaming/recording, no hardware decoding in this MKV player.
#13. Perian
Supported OS: Mac
Perian is a free free-source QuickTime add-on, which lets you view files in a wide range of formats such as MKV, AVI, DIVX, FLV, GVI, VP6, etc. If you find you cannot play MKV files in Mac via QuickTime Player, you can install the plug-in MKV player to add extra support for playing MKV in QuickTime.
#14. MPlayerX
Supported OS: Mac OS X 10.7 or later
MPlayerX is another simple, powerful, and beautiful MKV player for Mac, which can play MPEG, VOB, Matroska(MKV), ASF/WMA/WMV, VIVO, QT/MOV/MP4, AVI, Ogg/OGM, RealMedia, NUT, NuppelVideo and more. In a word, it can play virtually any media format in the world without extra plugins or codec packages.
This MKV Player for Mac lets you control playback easily. For instance, you can easily control how your video is players by using simple gestures. And, MplayerX will automatically display subtitles to your video because it can detect and convert encoding methods of a subtitle file.
#15. MoliPlayer
Supported OS: iOS
To play MKV files on your iPhone or iPad, you can try MoliPlayer. This MKV player app can play most video file formats including 3GP, ASF, AVI, MKV, MOV, M4V, etc. Also, this MKV player supports multiple audio tracks in a file and supports subtitles in many languages.
With this free MKV player, you can easily organize your movie collection to keep your files in apple-pie order.
#16. MX Player
Supported OS: Android
MX Player is the first Android video player which supports multi-core decoding, which can play any media file format and accept other plugins for extensibility. This MKV player lets you easily zoom in and out by pinching and swiping across the screen.
Share 16 MKV players with all of you. Click to Tweet
Further Reading: 3 Tips About MKV Files
How to Play MKV Files?
Reading here, I guess you might know which MKV player you want to choose. If you are a Windows 7/8/10 user, you can try MiniTool MovieMaker. It is a free, no ads MKV player.
MiniTool MovieMakerClick to Download100%Clean & Safe
Check the below steps to play MKV files.
Download and install MiniTool MovieMaker on PC.
Launch this MKV player to enter into its main interface. Select the Import Media Files button to import MKV file.
Drag it to the timeline.
Click the Play button to watch your MKV file.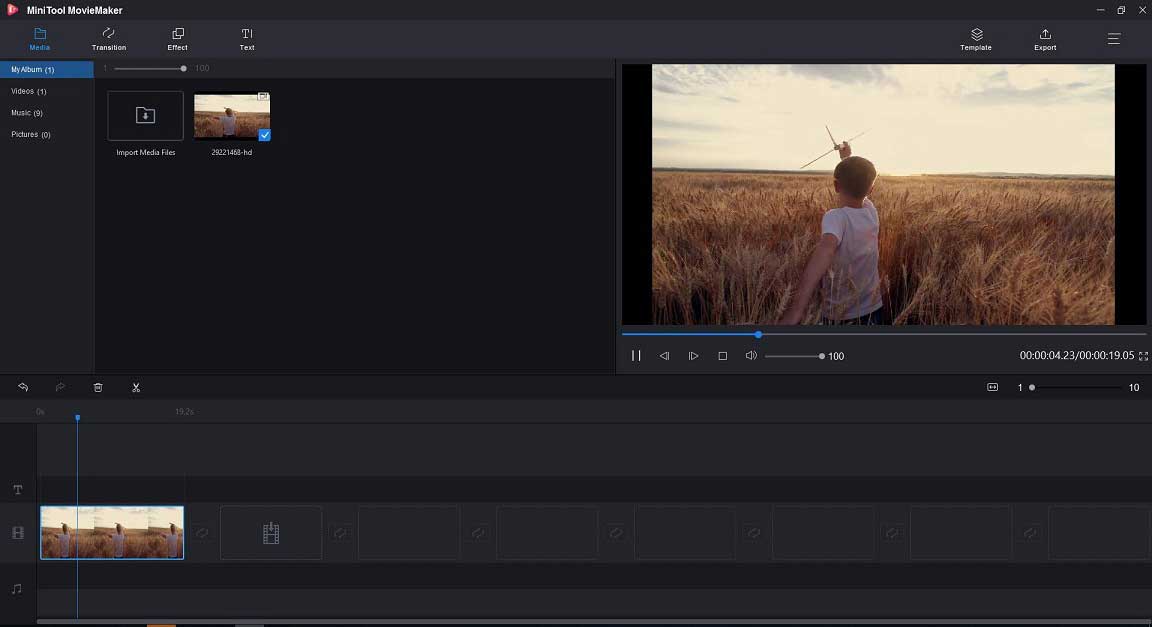 Convert MKV File Format
There are different MKV players can help you play MKV files successfully. In fact, when you cannot play MKV files, you can try a free file converter to change file format if you don't know which MKV player to choose.
Related article: change video format
MiniTool MovieMaker, a free video editor, is recommended here. It can play MKV files easily. It also can change file formats such as MP4 to MP3, WebM to MP4, WAV to MP3, etc. Of course, it can convert MKV to another file format like MP4 that is compatible with almost all devices and operating systems.
Try the following steps to convert MKV to MP4
Launch MiniTool MovieMaker.
Import your MKV file.
Drag and drop MKV file to the timeline.
Click the Export
Give the name of this video, choose a path to store it, and click Settings to change video quality or change video resolution.
Click the Export button to begin converting files.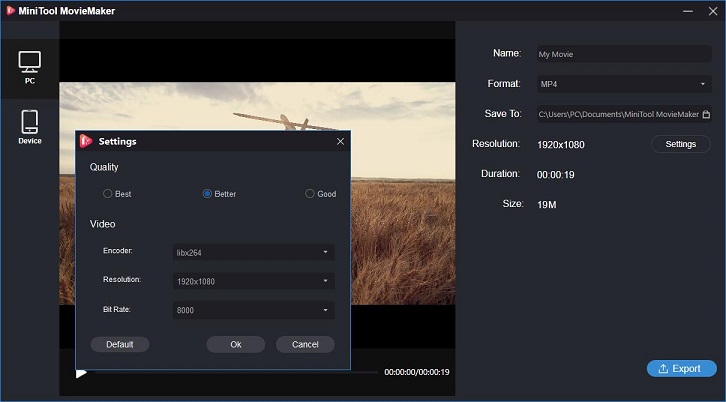 Edit MKV Files
Last but not least, MiniTool MovieMaker offers some basic video editing tools to help you edit MKV files.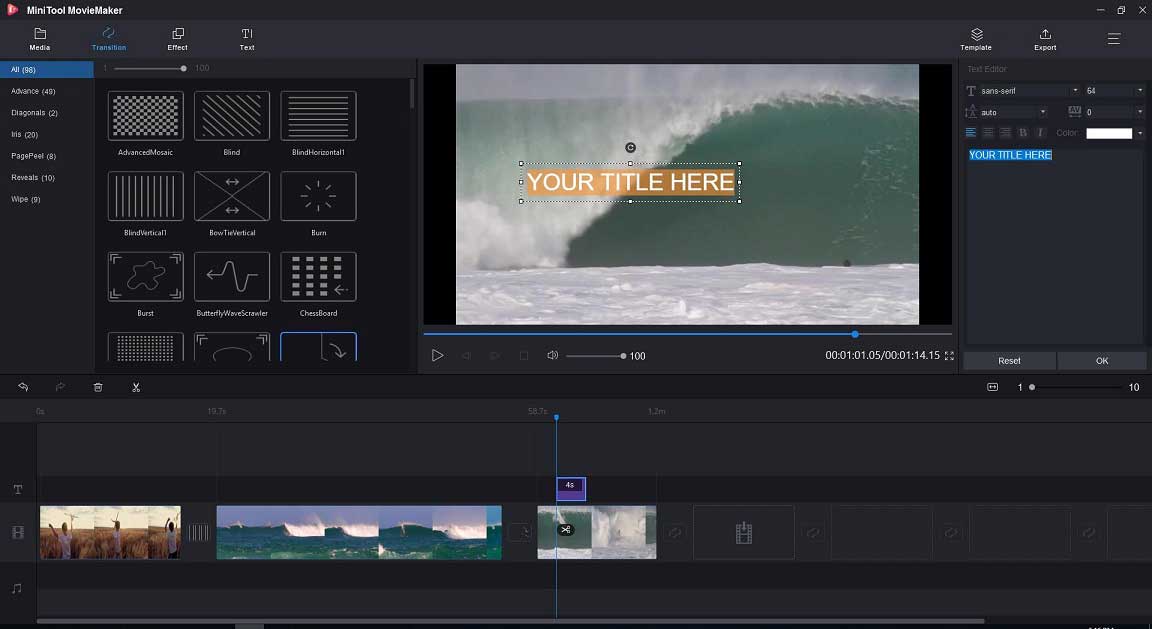 How to play MKV files, convert MKV to another file format, and edit MKV files? Click to Tweet
Bottom Line
Which MKV player you like to choose? If you still have some doubts, you can safely download MiniTool MovieMaker. This free, no ads, no bundle MKV player can perfectly play MKV files and convert MKV to another file format, and even edit MKV file.
If you have other suggestions for the MKV player, please leave in the comments. We would be happy to update this article.
If you have any questions about MiniTool MovieMaker, please feel free to contact us via [email protected].
MKV Player FAQ
What is an MKV file and how do I play it?
In general, MKV file is a multimedia container format, which can incorporate audio, video, and subtitles into a single file. MKV file never gets out of style because these files are designed to be future proof. To play MKV files, you can try MKV player like MiniTool MovieMaker.
Can VLC play MKV files?
Yes! VLV can play MKV files. In general, VLC, a free cross-platform media player, can recognize and play almost any video format, including MKV.
Can Blu-Ray players play MKV files?
Normally Blu-Ray players can't play MKV files. If you want to play MKV files in Blu-Ray players, you need to convert MKV to another file format.