You may have many movie torrents or other torrents, but have no idea about how to play them. Don't worry, this post offers you 10 best torrent players. You can choose the one you like.
BitTorrent has more than 170 million active users. Due to its small file size, BitTorrent is widely used for transferring large files, such as movies, TV shows, etc. If you want to stream a movie from a torrent without downloading the full movie, here are top 10 torrent movies players.
Besides, if you'd like to download it on your computer, here recommend the excellent torrent video player – MiniTool MovieMaker released by MiniTool.
Note:
It is illegal to download a pirated movie by using torrent.
Top 10 Torrent Players
Now, let's take a look at the top 10 torrent video player.
#1. VLC Media Player
VLC Media Player is one of the most popular video players. It's free and open-source. Moreover, it can compatible with all operating systems including Windows, Mac OS, Ubuntu, Android and iOS.
It not only can stream torrent movies without downloading, but also can play videos in any format.
Related article: 4 Hacks You Need to Know about VLC Media Player.
#2. WebTorrent Desktop
WebTorrent Desktop is a streaming torrent player. It's ad-free and open source. All the source code is on Github. With its simple interface, you can stream video and audio easily and quickly. Also, it supports the WebTorrent protocol for connecting to WebRTC peers.
It works on Mac, Windows and Ubuntu.
#3. BitX Torrent Video Player
BitX Torrent Video Player is a free application that can be installed on Android. With it, you can play the torrent file while it's downloading. It supports the following protocols: BitTorrent P2P, DHT, Advanced DHT Bootstrap, Magnet links and HTTP & UDP trackers. Additionally, this app will automatically download subtitles.
#4. ACE Player HD
ACE Player HD can be used as a torrent client and stream torrent files. It's a versatile media player that integrates BitTorrent functionality and supports all codecs, but this torrent player only available for Windows.
#5. Stermio
Stermio is an all in one video streaming application. With it, you can easily find TV series and movies to watch and browse videos from many sources like Netflix, iTunes, HBO, YouTube and so on. To stream torrents, all you need to is install the needed addon.
It can run on all platforms.
#6. Rox Player
It's a multimedia player that can stream torrents without downloading the whole file. Rox player supports all modern formats and compatible with protocols like BitTorrent, IPTV and HTTP.
#7. Torch Browser
Based on Chromium, Torch Browser is a multifunctional web browser. It can be used to download torrents, stream torrents, share websites and grab online media.
Related article: Here Are Top 5 Google Chrome Video Downloaders.
#8. Soda Player
Soda Player is a powerful torrent player. By using it, you can stream BitTorrent video instantly. It integrates blazing fast SOCKS5 proxy in order to protect your privacy. It's compatible with Windows and Mac.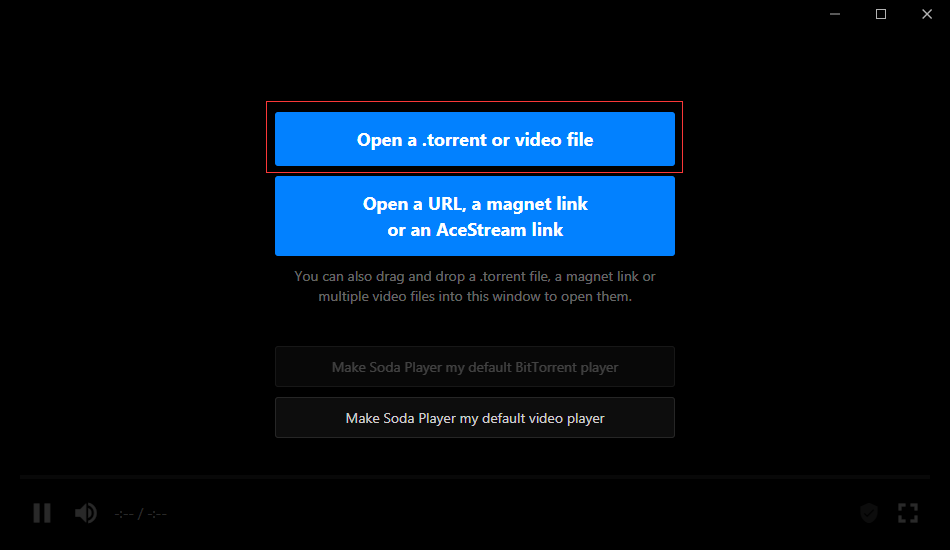 #9. Webtor.io
Webtor.io is a streaming torrent player that allows you to watch torrents online. You can also use it to download torrent file. No registration! Absolutely free!
#10. Magnet Player
Magnet Player is a web-based torrent player. It's 100% free and open source. This torrent player works in Chrome, Firefox and Opera.
Paste the link in the box, then you can stream the torrent file directly from your browser.
Conclusion
There are top 10 torrent players in this post. Which one do you prefer?
If you have better suggestions, please leave a comment below and let us know.
Related article: