GIFs have been very popular in recent years. Using GIFs is a great way to express emotion. Making GIF videos and posting them can make an instant emotional connection with your audience. This post shows the detail steps on how to make GIF video as well as how to create GIF from YouTube video.
If you're on social media, you will find that many people use GIF videos to express their emotion. Tenor is a keyboard app and GIF archive designed to help users find the GIFs they want, and this app is bought by Google in 2018. Sometimes, if you don't find the exact GIF video you need, you can make GIF video by yourself.
GIF, a type of image file, can be either still or animated and lasts over 5 seconds. It loads quickly and looks great on websites. Usually, GIFs are short scenes. People turn popular TV shows and movies into short video snippets to express how they feel. You also can try the following media sources to turn video into GIF.
Make GIFs from videos on your computer or phone. You can upload almost any video format to make GIF video via MiniTool Movie Maker.
Make GIFs from YouTube, Vimeo, and other video websites. Just copy and paste the video URL to turn YouTube to GIF.
Make GIFs from other GIFs.
Make GIFs from pictures or other images.
GIF become a shorthand way to communicate on Twitter & Facebook, Instagram Stories, and other social media. Turning video or YouTube to GIF is an excellent skill. In the past, you can make a GIF via Photoshop. Now, there is a much simpler way to convert video to GIF.
Related article: If you want to know how to make GIF video in Photoshop as well as how to make GIF on phone, you can read this post: The Best Way to Convert Video to GIF (Windows, iPhone/Android).
How to Make GIF Video
If you have your own funny or insightful video, you can make a GIF and share it with friends. MiniTool Movie Maker, free, easy to use, no watermark video editing software, can help you turn video into GIF in 3 steps. And, this free GIF maker lets you make GIF from video with different formats like .rmvb, .3gp, .mov, .avi, .flv, .mkv, .mp4, .mpg, .vob, and .wmv.
Step by Step Tutorial on How to Make a GIF from Video
Step 1. Import files.
Install MiniTool Movie Maker, launch this software to get its main interface.
Next, import your video file via clicking the Import Media Files. (You also can import multiple pictures to make GIF video, and then add caption and animations to this GIF video.)
Step 2. Make GIF.
Drag and drop this video into the storyboard, and customize your GIF video as you like.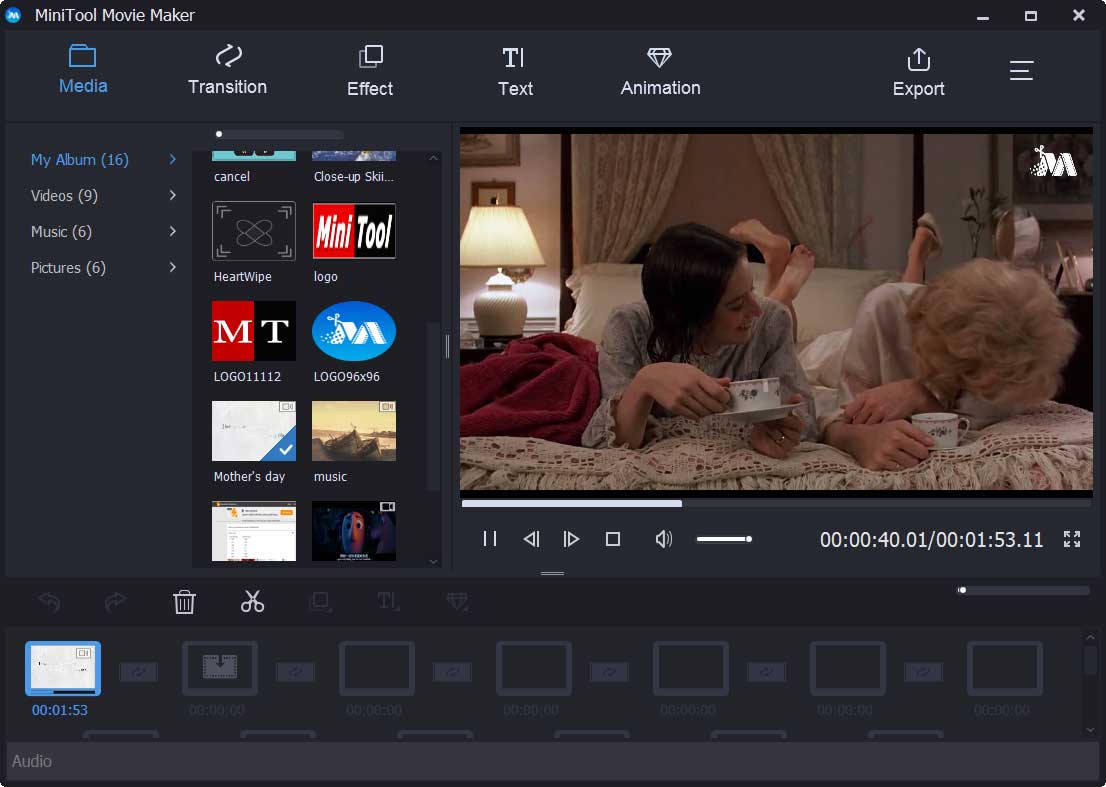 Change the duration of GIF video
With this free and simple GIF maker, you can change the length of GIF video. Select this video, choose scission-like icon to open the trim window.
Now, set the start time and end time to change the duration of this GIF video.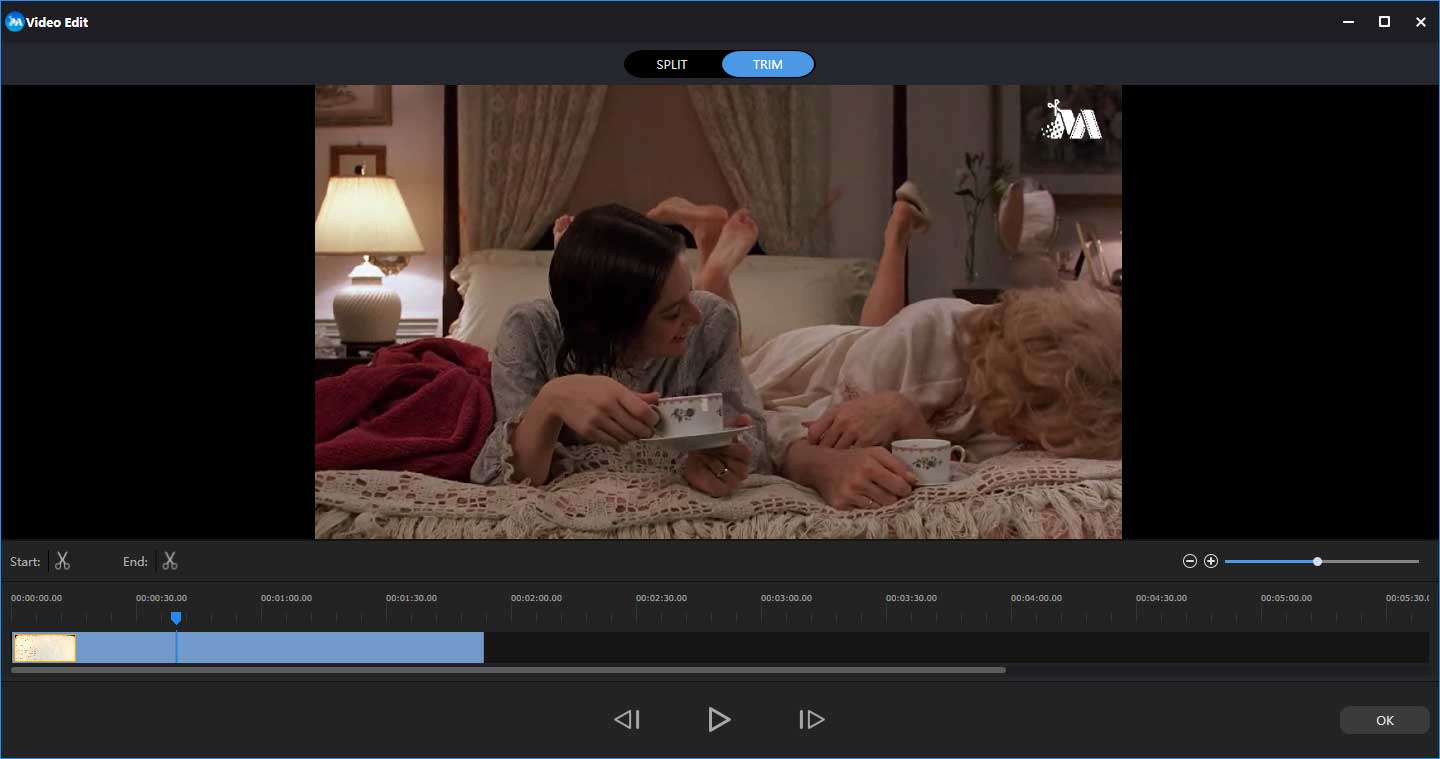 Related article: How to Trim Video Easily (Step-by-Step Guide with Pictures)
Decorate GIF video
You can add text or effect to GIF video if you like. (More details can be found in Need to Add Subtitles to Video Free? Try 2 Simple Ways!)
Of course, you can double click this video and then change its brightness, saturation, and contrast.
Step 3. Save GIF video.
Click Export button, then select the GIF format, and click Export button to turn video to GIF. After that, you can share it with others.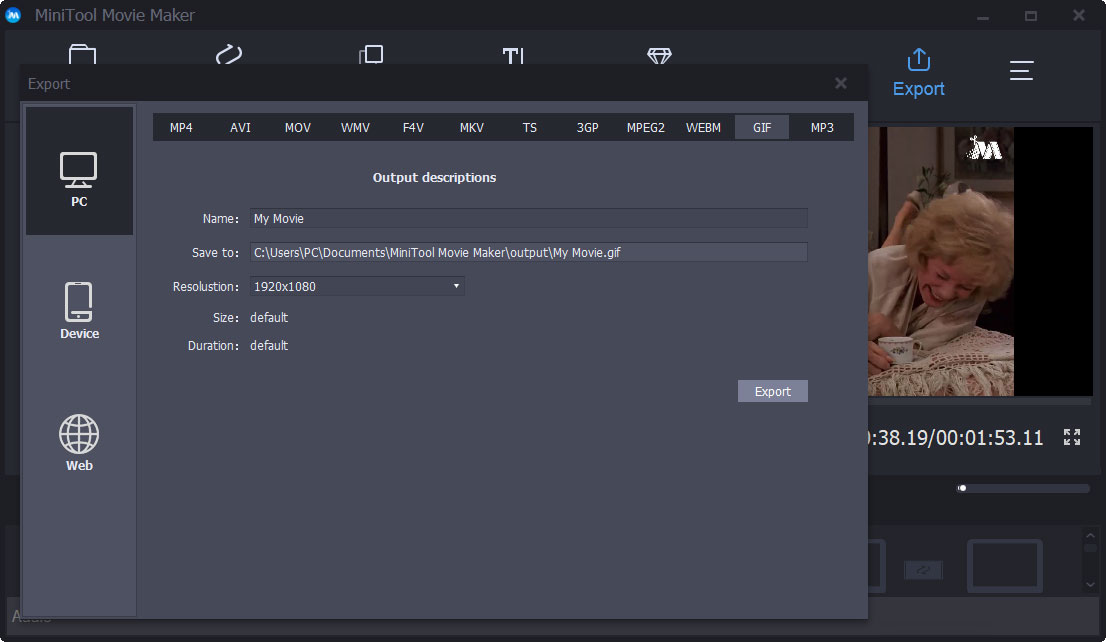 In general, this free GIF maker is also a good MP4 video editor. It can split a large video into small ones, make photo slideshow like Facebook slideshow, change video formats, change video resolution, and add subtitles to video, etc.
So save yourself the extra effort and choose the easier way to make a GIF from your video.
Want to know more things about this free GIF maker, you can Subscribe it, and then you can use this software immediately to create your masterpiece in minutes.
MiniTool MovieMakerClick to Download100%Clean & Safe
MiniTool Movie Maker, free GIF maker, can help you make GIF video easily and quickly.Click to Tweet
It's very easy to turn video into GIF via MiniTool Movie Maker without watermark. But, how to make a GIF from a YouTube video?
Here's a quick video guide:
How to Make a GIF from YouTube
We watch YouTube video every day, and we can convert YouTube to MP3 or make money on YouTube. Of course, we can convert YouTube to GIF as long as we turn to a professional GIF maker. There are several video to GIF apps and websites that'll let you create GIF from YouTube. Here, we take 2 tools for example.
Using Giphy
Giphy, a super quick and easy to use GIF maker, is recommended here. It supports YouTube and Vimeo links, and allows you to create GIFs from photos. Like MiniTool Movie Maker, it lets you add captions to customize your GIF.
Here is the step by step tutorial:
Step 1: Paste URL of YouTube video
Open Giphy.com's GIF maker. You have 3 options.
Choose photo or GIF: you can add multiple images to create a GIF slideshow.
Choose video: trim your video into a GIF then add captions or stickers.
Add any URL: it supports YouTube, video and GIPHY links.
Copy the YouTube URL you want to make a GIF from.
Paste your YouTube URL into the input box at the base of the page.
Step 2: Customize your GIF video
Trim video: Use the sliders to select Start Time and Duration (or use your arrow keys to get really precise).
Decorate your GIF from YouTube video: This GIF maker offers a variety of options to help you decorate GIF. For instance, you are able to add caption, or jazz up the GIF with stickers, filters, or even hand-drawn annotations.
Step 3: Add hashtags to your GIF
If you want people to find your GIF and share it widely, you can add hashtags. Think of what you would search for if you were trying to find this GIF in a hurry. For instance, you are able to add your brand name and some common related terms in your list so it's easily searchable.
Step 4: Download and share GIF
Once you have customized your GIF video, you can click Upload to GIPHY to convert your video to GIF. After the GIF has been created, you can now use the available links to download your new GIF, copy it, embed it on a website, and more! Then, it's probably time to share it with your friends.
Giphy lets you turn YouTube to GIF in desktop, iOS, and Android options. Giphy is one of the most flexible GIF makers out there. It's also very easy to use.
Besides, Giphy also can make a GIF from your local video. You can click the Upload button in the upper-right-hand corner of Giphy's website, and enter tags and source for your GIF. Note: when downloading file, please add filers under undefined MBs.
Using Make A GIF
If you want to find a slightly more sophisticated, but equally quick GIF creator to convert video to GIF, you can try to use Make a GIF to create GIF from pictures, YouTube videos, Facebook videos, etc. Try the following steps on how to make a GIF from YouTube video.
Log into your Make a GIF account and select YouTube to GIF to create GIF from YouTube.
Enter the YouTube URL you want to make GIF from.
Drag the cursor to the right time to select the start time.
Drag the GIF Length cursor to choose the length. Your GIF can be up to 10 seconds long.
Besides, you can add tags, choose a category, and add stickers. You also can choose to enable audio.
If you want to make HD GIFs, you need to upgrade to the premium version.
Finally, click Create Your GIF to turn video into GIF.
How to convert YouTube to GIF? GIF makers can make GIF from YouTube video.Click to Tweet
Bonus Tip: When to Use GIFs
GIFs are easy to share and consume. GIFs are funny, trendy and peppy. What can we do with GIFs? Why do we need to use GIFs in social media?
1. Use GIFs to Show Your Brand's Personality And Creativity
Adding GIFs in your social media campaigns not only shows that your brand has a personality but also shows that you are a business which is focused on delivering positive experiences for your audience. Managers can use funny/weird/endearing GIFs to create a deep and special relationship with their audience.
2. Use GIFs to Promote a Product or an Event
Want to give your audience a closer look at your product?
Animated GIFs are ideal for marketing your products online. They show off the kind of details that will entice shoppers to buy. They do a fantastic job in highlighting its features and benefits, giving your audience a chance to take a closer look at your item.
You also can use GIFs to offer a sneak peek. A GIF is a perfect bite-size teaser if you want to share just a tiny look at a future product, big announcement or upcoming release.
3. Use GIFs to Increase Your Audience Retention
GIF is intuitively appealing and is easily understood by people.
4. Use GIFs to Tell a Story or Explain a Process
If you find it is difficult to explain something with images or words, you can try GIFs. GIFs can show step-by-step how-tos, following along with processes, or even quick recipes.
GIF is an attractive option for brands to tell stories more effectively because it is easy to consume. For instance, you can make GIF video to teach your audience how to use your product, saving the time of having to respond to every customer inquiry.
5. Use GIFs to Thank Someone
Saying "thank you" with a GIF can provide an extra touch of delight.
Bottom Line
See! Making GIF video is very easy. With MiniTool Movie Maker, you can effectively and quickly turn video into GIF, and add captions, filters, as well as animations to this GIF video for free. Of course, you are able to make GIF from YouTube video via some GIF makers.
What are you waiting for? Go, make GIF video or convert YouTube to GIF.
If you have any questions or suggestions on how to convert video to GIF as well as YouTube to GIF, please feel free to contact us via [email protected]! Thanks in advance!