Do you want to create cinematic videos on your social media that grab others' attention and get many likes? How to make cinematic videos? In this post, you will know some cinematic video tips and cinematic video makers that make your work much easier!
The content in this post will mainly focus on some strategic tips on how to make cinematic videos and some of the best cinematic video makers (including MiniTool MovieMaker). Let's get started without any further delay!
MiniTool MovieMakerClick to Download100%Clean & Safe
What Is a Cinematic Video?
At the very beginning, let's figure out what the cinematic video is. The term "cinematic" can simply be used to describe the look of movies shot on film. Essentially, the highest overall goal is to make the video look like what you see when you watch a feature film in a theater.
Cinematic videos can easily attract the attention of video viewers with eye-catching aesthetics, thoughtful composition, delicate lighting, subtle color correction, engaging music, sound effects, and proper camera movements.
Although the truth is that there's no checklist of things and definite rules to make that happen. But you've got to start somewhere, and the following tips will give you a solid head start.
How to Make Cinematic Videos?
After talking about the definition of cinematic video, we can see creating cinematic effect videos involves taking care of every aspect of film making right from the pre-production to the post-production stage.
It might sound like a daunting task especially if you're shooting your first video. But luckily, there are many online resources to help you out including video templates, stock footage, and sound effects. Now, let's move on to get some strategic tips about how to make the video look cinematic.
1. Plan the shoot
This is the first step before you shot the cinematic video. At this stage, you need to create your storyboard with illustrations of your scenes in sequence. This will help you pre-visualize your final footage and outline your desired shots. It also serves as a guide during shooting and editing. You can also determine the perfect time for shooting and the right cameras for filming.
If you want more tools about filmmaking, you can refer to this post Top 10 Must-Have Apps for Filmmakers [Ultimate Guide].
2. Create shallow depth of field
The depth of field defines the visible area between the subject to the camera and the background. Shallow depth of field video enables you to create blurry backgrounds or dreamy bokeh and makes your subject pop up from the background. Therefore, viewers can focus on your subject and your video looks more cinematic.
3. Pay attention to lighting
Lighting can truly make a difference when you film. Choose your time carefully when shooting outdoors to get the best images from your camera. Also, make sure you have enough lighting when shooting indoors, especially at night. This will open up the best options in post-processing to enhance the image later.
4. Use slow motion properly
Using slow-motion properly is a great way to make your video footage look cinematic. Slow-motion can be achieved by shooting at a higher frame rate or then slowing down the footage in the post process. That is to say, you can film a video at 60FPS or 120 FPS and play it back at 24 FPS, which is a standard frame rate for film production, the movement of the subject will become much slower.
You can get more information about it in this post How to Make Slow Motion Video? 3 Ways You Can Try.
5. Apply video effects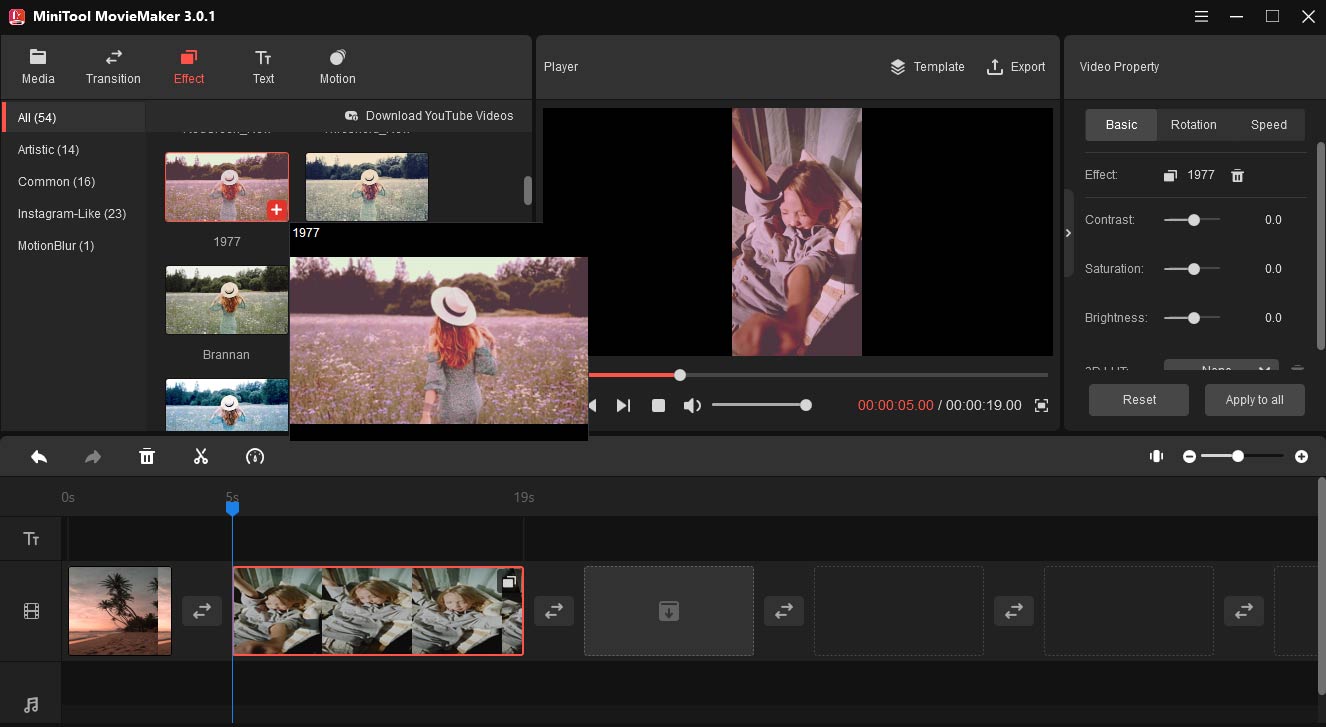 Color grading is the process of altering and enhancing the color of a film. It is an effective way to create a cinematic look to your movie and set the tone for the video footage. Meanwhile, deliberate color shifts can make an image more pleasing to the eye and convey different emotions by using warm and cold tones in the right places.
Just like photographers refine the color tone of raw photos, you can adjust the hue, saturation, and luminance of your video to get the desired effect and even resemble the Hollywood movie's look.
One thing you need to keep in mind is that the key for color grading is being subtle and natural and don't overplay it.
6. Insert cinematic fonts
Just like color grading, adding cinematic fonts to your videos is also a good way to make a cinematic touch. While the font style you choose varies depending on the theme of your video and personal preference. You can insert cinematic captions, subtitles into your video.
7. Add cinematic black bar
As we can see in many famous movies, there is a cinematic bar or the typical black bar on the top and bottom of the screen. You can achieve that in post-production. Most movies have a 16:9 aspect ratio. To make the video more cinematic, you can add a black bar to the video later to change the aspect ratio to the movie ratio.
8. Utilize cinematic music
Adding cinematic music is another key factor that makes a cinematic video. The well-adapted background music can effectively render the atmosphere, shape the character's emotional response, add a rhythm to the scenes, and make the audience more immersive.
Tips:
The type of background music should be consistent with the style, emotional tone, and rhythm of the video content.
What Is the Best Cinematic Video Maker?
MiniTool MovieMaker (Windows)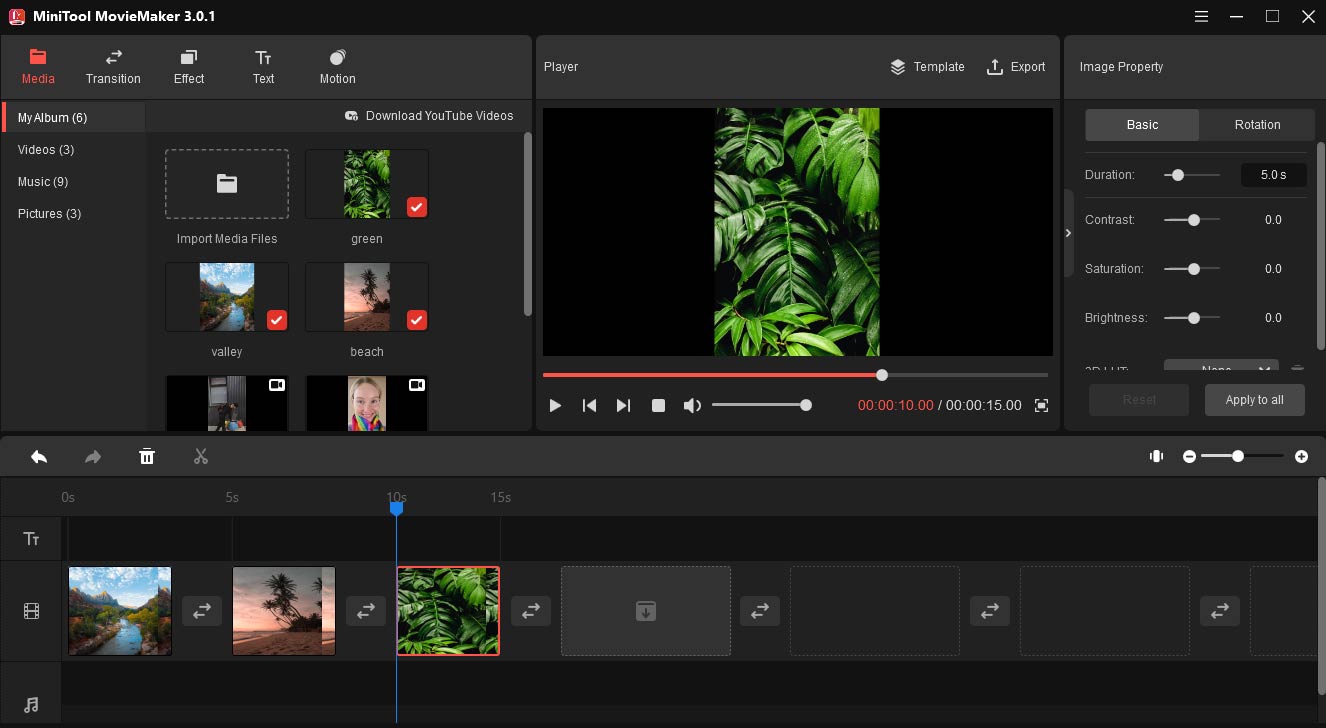 MiniTool MovieMakerClick to Download100%Clean & Safe
For Windows users, MiniTool MovieMaker is one of the best cinematic video editing applications. It is a free, easy-to-use video editor without watermark, ads, and bundle. With its simple, clean, and friendly user interface, even if you have no editing experience, you can edit your videos easily and quickly.
You can import photos, video clips, and music to make cinematic videos. Equipped with a range of basic and advanced video editing features, it gives you creative flexibility including 3D LUT effects, color correction, and the ability to fade in and fade out the audio in your videos.
To add a cinematic touch to your footage, it comes with many attractive filters, transitions, text templates, and motion effects that can be applied to your videos. Also, you can change video speed, adjust the contrast, brightness, saturation of the videos. As we mentioned before, slow motion, color altering, fonts, music are vital for cinematic video creation. You can achieve all these results right on this application.
Amazingly, this free cinematic video maker also allows you to change the video resolution and video format. After you complete all the editing, you can change the format of your video file to make it compatible with other platforms and media players.
MiniTool MovieMaker is an amazing cinematic video editing software for Windows users. With it, I can make stunning videos without any editing experience.Click to Tweet
Adobe Premiere Pro (Windows and macOS)
If you have mastered some basic editing skills and want to use a professional video editing program to edit cinematic videos, Adobe Premiere Pro is an optional choice you cannot ignore. It is a timeline-based video editing program developed by Adobe Systems and published as part of the Adobe Creative Cloud licensing program.
As a true industry standard in the world of video post-production, it provides almost everything you need to make the cinematic video, such as advanced color correction, a large collection of video and audio filters, massive transitions and special effects, powerful video stabilization, and video noise reduction.
As for the video format supports, you can import and play nearly any format of the video file. It lets you export your result cinematic videos in any format, resolution, size, or bitrate, making it easy to optimize your content for playback via social media, streaming services, and Blu-ray.
As we can see, owing to these professional features, you may need a steep learning curve if you are a newcomer to video editing. If you desire to sharpen your video editing skills, it is definitely worth trying.
Of course, the price is a vital factor we need to take into consideration when we choose the best cinematic video makers. It provides a 7- day free trial. After that, you can choose to pay $31.49 for a monthly subscription or $239.88 for an annual plan (including a Creative Cloud subscription).
You may also be interested in Top 6 Adobe Premiere Alternatives You Must Try (Free and Paid).
PowerDirector (Android/iOS)
You can also make a cinematic video right on your mobile devices! PowerDirector is one of the best cinematic video editing applications that works for both iOS and Android devices. It condenses all the functionality of its desktop version into a streamlined mobile interface.
It supports high-resolution and multi-track editing, giving your videos a professional touch to help them stand out on social media. Apart from basic editing features like trimming, splicing, rotating, controlling brightness, color and saturation, you can also create video and picture collages with the picture in picture overlays.
You can apply stunning effects and transitions with the drag and drop feature. To make your video footage more attractive, it enables you to enjoy hundreds of free templates, effects, filters, background music, and sounds in video creation.
Also, it lets you produce fast-forward or slow-motion videos with speed adjustment easily. Adding text or animated titles to your video in seconds is also possible on this application.
For high-quality cinematic video output, it offers HD 1080p resolution output. You can even export videos in 4K if you upgrade to the pro version.
InVideo (Web-based)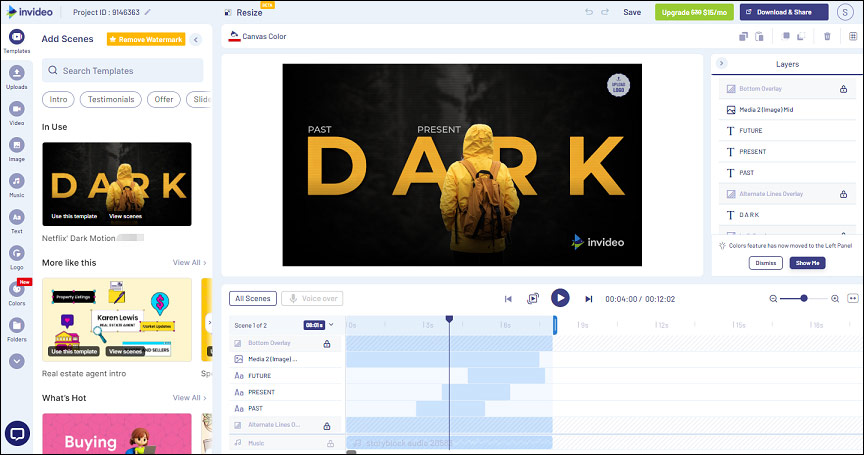 If you want to make cinematic videos with an online cinematic video maker, you can try InVideo. It is a super intuitive video creation platform that will enable you to create professional-quality cinematic videos in minutes even if you've never edited a video before.
Compared to Adobe Premiere Pro, you can find that the user experience is drastically simplified. The interface is easy to understand and navigate. It comes with completely customizable video templates and millions of royalty-free images and HD video stocks.
Plus, there are a lot of pretty cool elements like stickers, vector shapes, and masks that can broaden up your creative horizons and enrich the appearance of your video projects.
It offers two price options for you. The free version allows you to create videos with watermark. The paid options start at $30/month for more options to be unlocked.
Conclusion
To sum up, this post gives a complete guide on making cinematic videos. It gives a brief introduction about the cinematic video, tips on how to make cinematic videos, and some of the best cinematic video makers.
I do hope this post will be helpful when you are creating cinematic videos. If you have any questions about this post, please let us know in the comments area. Or if you encounter any problems while using MiniTool MovieMaker, you can contact us via [email protected].