Storyboarding app is used to create a series of images that illustrate the planning for a film shot. Not confined to filmmakers and animators, it can be used for multiple purposes. Read this post to find the best storyboarding app that meets your needs most.
What Is Storyboarding?
If your film or video project calls for complex scenes, storyboarding is a smart move.  Storyboarding is the process of sketching out the progression of a video, animation, or film. Each scene or shot is assigned a panel, and each panel includes a visual sketch or a photo of the concept.
If you also need a tool to edit your videos, try MiniTool MovieMaker.
MiniTool MovieMakerClick to Download100%Clean & Safe
With the help of storyboarding application, you can create storyboards for animation, comics, and films and produce drawings quickly on screen without having to draw by hand. It can be a powerful tool to transform the script into a comic strip that details the action from frame to frame.
What Is the Best Storyboarding App?
After knowing about the basic feature of storyboarding and storyboarding apps, you may be wondering what is the best storyboarding app for your device. This part will introduce some useful storyboarding apps to you.
Storyboarder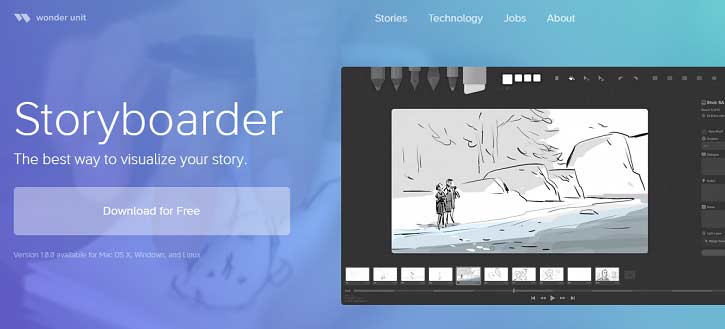 Price: Free
Platforms: Windows, Mac, Linux
Developed by Wonder Unit, Storyboarder is one of the cool kinds of stuff for filmmakers. If you're a newbie to storyboarding and want to save money for storyboarding app.  Storyboarder is such a great choice for you.
With this free tool, you can draw each shot from a single screen, add dialogue or stage directions, and even port the entire project into Adobe Photoshop. Also, it comes with a play feature so you can demo your boards in a slideshow preview much like a real animatic for animation.
Also read: Top 10 Must-Have Apps for Filmmakers [Ultimate Guide]
Toon Boom Storyboard Pro
Price: $67.5/month or $1086 one-time fee
Platforms: Windows, Mac
Toon Boom Storyboard Pro is a powerful animation program that can be used to create storyboards, animatics, and video presentations. Although it is a little expensive, it comes with professional and industry-standard storyboarding features.
It brings sketching and animating together. You can sketch your boards and see how they'd animate, all while tracking your script to make sure your scenes are on target. You can also create dynamic camera movements along with experimental 3D features.
Plot
Price: $9.99/month – 19.99 /month
Platforms: Windows, Mac, Linux
The Plot is another user-friendly storyboarding app with the goal to streamline the storyboard creation process. It is packed with features to make your work quick and easy.
With it, simply add your script, which you can break down into scenes, then add images to each panel. You can also supplement the script with notes, such as an explanation of the scene, camera angle, type of shot, and more. You can also use the same platform to collaborate with your teammates.
Boords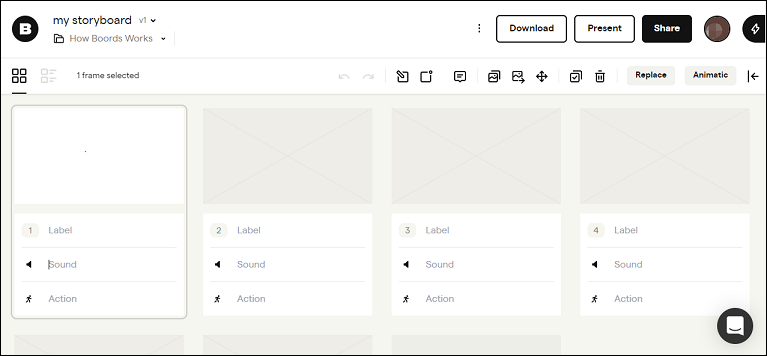 Price: $36/month for 3 users; $120/month for 50 users
Platforms: Windows, Mac, Linux
Boords is a web-based storyboarding app that helps you create and collaborate on storyboards. It offers ready-to-use templates to get you up and running quickly.
The secure online sharing for collaboration, one-click animatics, and dynamic frame number updates as you add and move panels around are all available. You can illustrate the scenes from its library or import images, include camera movement indicators, and dynamically port your script into the panels.
makeStoryboard
Price: Free, $14/month or $144/year (Professional)
Platforms: Windows, Mac
makeStoryboard is also one of the best storyboard software for quickly uploading camera shots, drawing stick figures with its built-in drawing tool, and incorporating text for scene details. The marker, pencil, and pen tools respond to any drawing tablet.
You can add custom text fields for any additional details. When you're done with your storyboard, you can export it as a PDF file. Alternatively, you can send a private link to team members to review it without an account.
Conclusion
In this post, we shared the 5 best storyboarding apps. Try out some of the tools we mentioned and let us know how it goes in the comments below.