Have you ever tried to create films or become a filmmaker? Maybe you can complete some of the steps right on your mobile devices with these apps for filmmakers. They can help a lot in the different phases of filmmaking. Let's take a closer look at them now.
As a filmmaker, you will need some useful apps which will make the whole process much easier for you. So, if you are into filmmaking and looking for the best apps for filmmakers, then the content below can help you. In this post, you will learn some of the best apps for filmmaking (including MiniTool MovieMaker).
MiniTool MovieMakerClick to Download100%Clean & Safe
Best Apps for Filmmakers to Plan (Pre-production)
In this stage, you may need to work out your filmmaking idea and how to shoot the film. Before you shoot the film, you need some tools to plan or keep all the tracks of your work. And we know how difficult it can be. The following part will offer you some handy tools to help you keep track of every progress and process during the pre-production stage and make your work much easier.
ShotList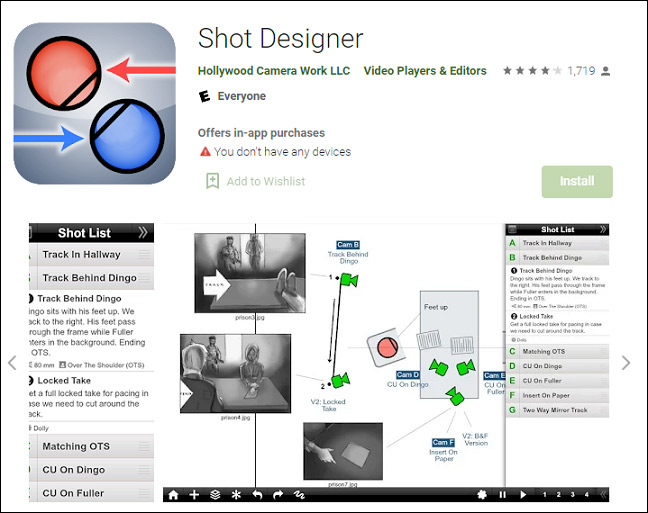 ShotList is one of the best apps for filmmakers to make a complete plan of action and keep track of all the progress and process you've made. For instance, you will need to make a lot of notes in your notebooks, diaries, and other documents in the process of work. With it, these complicated works will be easy and paperless.
With ShotList, you can save details, scenes, locations, and sketches that you come up with. For each scene from an elaborate plot, you can write down every detail you want to take note of.
Such notes will be convenient to look through when you need them. It will help to break down the script and plan by location, cast, and time of day to plan for every scene of the shoot. That is to say, the app will bring an editable production stripboard to your mobile device to help plan every scene of your shoot. It also tracks your progress on the day shot by shot.
Shot Designer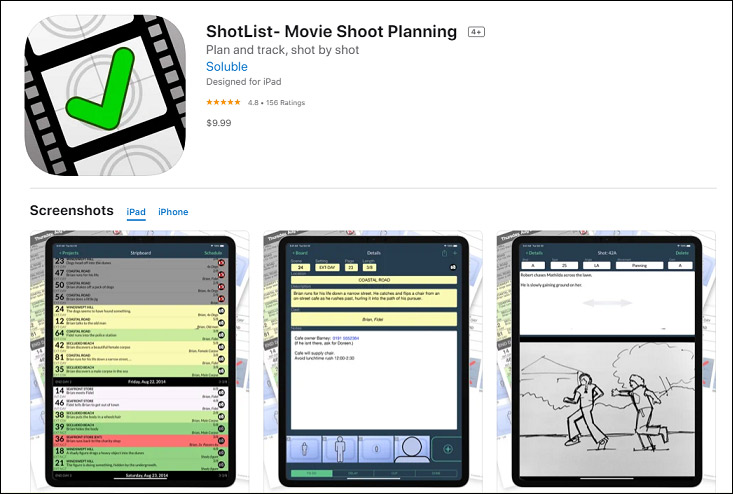 With Shot Designer, you can create shots and set up blocking with actors, props, and lights. Camera diagrams, shot lists, storyboards will all be incredibly easy to make with this app. It is one of the best filmmaking apps for Android and iOS.
It will help you work and plan in an efficient way. If you are not a fan of hand-written designs, this app will be very helpful. When you are working with others on the project, it will get your ideas across and help to speed up the process of working.
It promises to make it extremely easy to block complex scenes. It also strives to be the ultimate film app for directors. And, everything you create is inter-connected. Namely, any changes you make in the diagram will update the shot list, and any changes you make in the shot list will alter the diagram.
DubScript Screenplay Writer
DubScript Screenplay Writer, designed for writers of the film and online scripted projects, is among the cool apps for filmmakers with professional features.
It supports Fountain markup, a popular, open standard for writing scripts in plain text. This means your screenplay file is fully compatible with other apps and text editors. To exchange with other apps, you just need to copy and paste. It will never break your writing flow to manually format or indent characters, sluglines, parentheticals, or actions.
It comes with more than 900 writing fonts for every writing mood and genre. You can also use the built-in wellness scans for potential fountain or format issues, screenplay clams, red flags, and so on. Amazingly, you are capable of hearing your script spoken out loud. It's very easy to add scene numbers, side-by-side dialogue, centered text, notes, and page breaks.
Last but not least, it supports reading Final Draft (.FDX), Trelby, and Fountain. After you are done, the output will be PDF. FDX, HTML. Apart from sharing with others, you can save the files to your device and cloud storage.
If you want to know how to make a movie, you can check Step-By-Step Guide on How to Make a Movie.
Best Apps for Filmmakers to Film (Production)
The production stage is when shooting begins. At this stage, you may ask what is the best camera app for filmmakers? Well, during this process, you can install the following apps to turn your mobile phone into a video camera. They can be very helpful when you are shooting.
FiLMiC Pro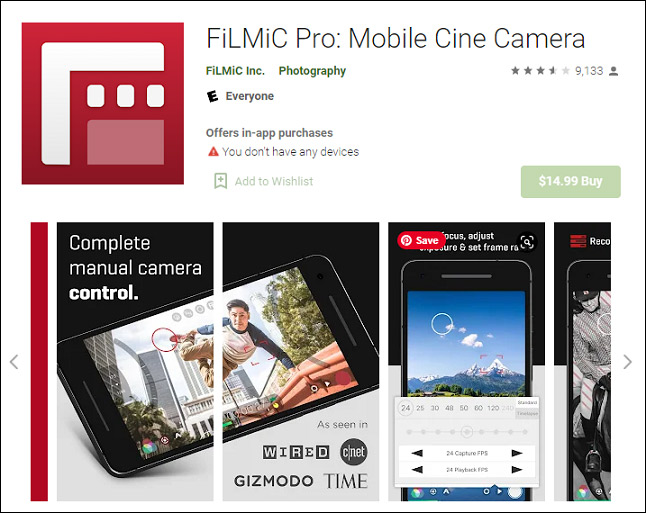 Filmic Pro is one of the best apps for filmmakers when you are in the process of production. It enables you to have full manual control over the camera settings like aspect ratio overlays, frame rates, audio recording option, stereo smartphone microphone selection, etc.
It comes with many brilliant features. With Filmic Remote, you can use a second device to control the primary device remotely. Provided that one of the hardest things about mobile filmmaking is watching your screen when the camera is in a high or low position, remote operation is hugely important.
It also allows you to film at one frame rate and record that footage at a different frame rate. This is an important option because it makes sure that the higher frame rate footage will be captured at a constant frame rate.
Filmic Pro utilizes a double reticle approach to setting exposure and focus. This approach allows you to lock the exposure but keep your focus on atomically.
Like a DSLR camera, it has many presets that are customizable, like adjustable frame rate and resolutions, framing options, stabilization, and audio and video encoding levels. In the newest version, you not only get control over exposure, focus, and white balance, but also manual control overexposure compensation, shutter speed, color temperature, and ISO.
Protake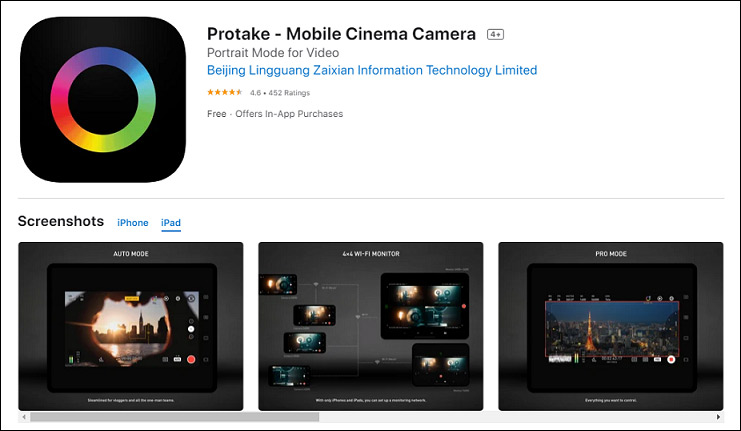 Protake is also among the best apps for filmmaking during production. It has an easy-to-use interface and tons of functionality.
It provides a portrait mode that helps you achieve a blurry background to make your captures stand out. You can choose "aperture" to shoot a perfect look. And the recommendation is to keep the number pretty high to avoid too artificial the look. If you are a big fan of the Portrait mode, then it is a great option for you.
It also promises a constant frame rate. Indeed, the app has a frame drop notification option so it will tell you if your phone is maintaining a constant frame rate. In addition, it also has other advanced functionality like presets, hardware support for gimbals, anamorphic lenses, and a screen flip.
ProCam X
With ProCam X, you can turn your phone camera into a professional one with full control over exposure, focus, shutter speed, white balance, intervalometer, ISO, and other parameters. It will bring the professional filmmaking experience of cinema cameras to your mobile devices and elevate your mobile phone filmmaking to the next level.
You can choose 4k video quality and resolution on supported devices with optional audio recording when you record your videos. It also supports burst shooting mode with configurable delay, which is very useful for creating time-lapse or stop motion video which requires interval shooting.
In addition, when you are shooting a video, the screen always displays a grid, so you will not drift off or lose the middle of the frame when shooting. All the camera information and control settings are well aligned on the screen. It also allows you to set a custom video bit rate.
Best Apps for Filmmaker to Edit (Post-production)
The post-production phase is when the shooting is complete and the footage is gathered. Now you need some apps to edit your video footage. Below will introduce some of the best apps for filmmakers to edit videos or much more.
Best Mobile Editing Apps for Filmmakers
PowerDirector
PowerDirector is one of the best apps for filmmakers during post-production. It is a cool video editing and montage application that contains a lot of really handy tools. With it, you can make stunning and high-quality videos like a pro.
It has already been installed by millions of users for different purposes. Whether you are creating cinematic-style films, videos of your latest adventure, or combining video clips to share memorable moments, it is a great mobile editing app worth trying.
It provides a large selection of powerful editing tools that are updated monthly. You can use the built-in stock library to add photos, music, effects, transitions, emojis, background, filters, motion titles, and more.
The keyframe controls allow you to adjust the transparency, rotation, position, and scale for the picture-in-picture and masks. You can also produce fast-forward or slow-motion videos with speed adjustment. It also lets you fix shaky video footage with the video stabilizer. You can also try quirky sound effects in the voice changer.
Moreover, you can create spectacular double exposure effects from video overlays and blending modes. When you are done, you can share your result video on YouTube, Instagram, Tik Tok, Facebook, and Snapchat.
Funimate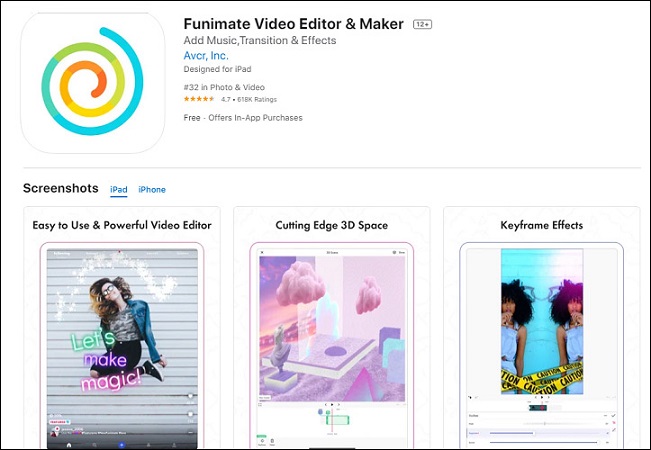 Funimate is also one of the best apps for filmmaking in the process of editing. With it, you will be able to create pro edits very quickly with the help of unique and advanced editing features it has. Even if you are not an expert, it lets you create professional-look videos just on your mobile phone.
You can edit or spice up your freestyle videos with unique video features like transitions, custom animations, video, and text effects and filters. You can also add stickers, backgrounds, and overlays to your videos to unleash your creativity from the element library with thousands of options.
It also allows you to use hundreds of emojis and add text to videos to create cool music videos, lip-sync videos, or slow-motion videos. You can even create your own effects on your phone. It is super easy to animate your layers using keyframes.
Besides the above awesome features, you can also have classic video editing tools like cropping, merging, cutting, trimming. You can also become a member of the video editing community and shoot videos for weekly challenges to show your creativity.
FilmoraGo
FilmoraGo is one of the most popular apps for filmmaking as a great video editing application. It allows you to modify, edit and enhance the footage you shoot on your tablets, smartphones, or other devices.
As an HD video editor and video maker with many features, it can help to trim and cut videos, adjust the direction, speed, and orientation of the layer as it moves, blur the background, enhance the voice, and adjust the audio speed in video, and more.
It is worth mentioning that FilmoraGo offers tools to add picture-in-picture to your video and make creative works. It also supports color adjustment to optimize the video's brightness, contrast, and saturation. You can also add animated text and customize the color, size, font, and position.
Best Editing App for Filmmakers for PC
MiniTool MovieMaker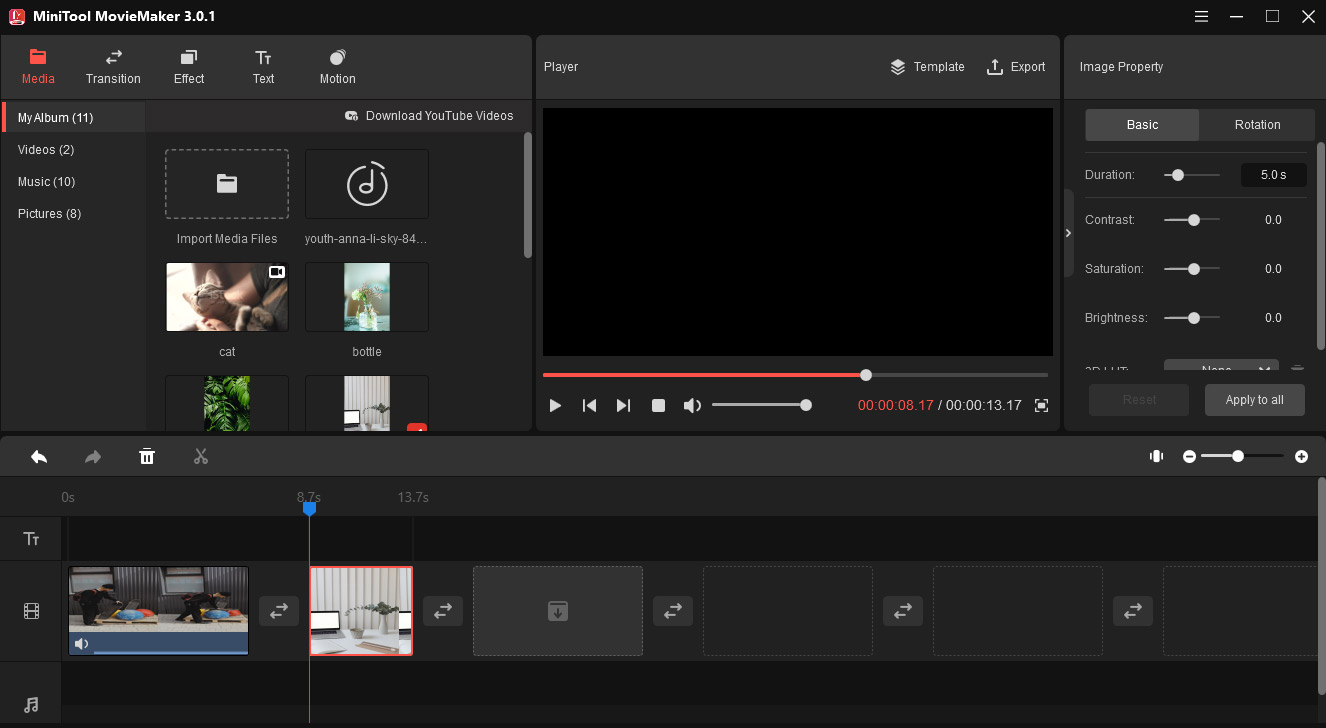 If you want to edit video footage on your PC, MiniTool MovieMaker is one of the best optional tools for you. It is free, easy to use, watermark-free, and has no ads, no bundle. 
As one of the best filmmaking apps for PC, it features an intuitive interface and bunches of editing tools for editing videos quickly and easily. It enables everyone to create movies with no video editing skills required.
You can apply various transitions, effects, motion effects to your video clips to enhance your film. In the newest version, you can one-click apply the same transition duration and mode to all clips or edit transition on a single video clip.
To make your content clear to your audience, you can use its text templates to help you personalize your credits, titles, and captions and customize the color, font, size, alignment of the text. You can also split, trim, cut, merge, reverse, speed up, slow down videos, add background music over your videos.
As for the supported video formats, it works well with many popular formats such as MP4, MOV, MKV, VOB, and more.
MiniTool Maker is a great application to help me edit my video clips.Click to Tweet
Conclusion
To sum up, we've learned the top 10 apps for filmmakers in the whole process of filmmaking. You can use them on different devices. Just try some of them to start filmmaking!
If you have any questions about this post, please leave us comments in the following comment section or you can contact us by sending an email to [email protected].