WEBM is an audiovisual media file format. Compared to MP4, WEBM videos are relatively small in size. Want to make WEBM videos smaller? Try a WEBM compressor. This post gives you 4 best online WEBM compressors.
Is there any tool to reduce a WEBM file size from 10MB to 8MB or less? Try the following online WEBM compressors! These WEBM compression tools are free and work in any browser. Alternatively, you can also use MiniTool MovieMaker to reduce WEBM file size by trimming its unwanted parts.
MiniTool MovieMakerClick to Download100%Clean & Safe
Compress WEBM Videos Online with PS2PDF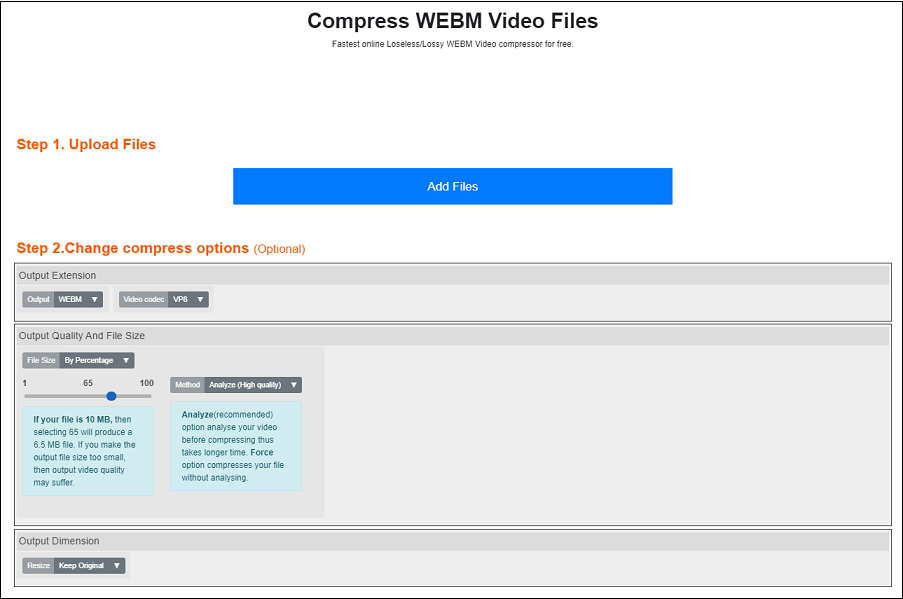 PS2PDF is a free file compressor that can compress videos, audio files, images, and PDFs. Also, it has a set of online tools for video & audio editing and file conversion. You can use it to change video format, cut video, cut audio, make a meme, resize image and merge PDF.
To compress WEBM videos, PS2PDF allows you to change the output file size by percentage, by Preset Quality, Using Variable Bitrate, or Using Content Bitrate.
Here's how to compress a WEBM video with PS2PDF.
Go to the PS2PDF website.
Switch to the Compress tab, find and click on Compress webm.
Click the Add files button and choose the Select From Local Disk option to upload the WEBM file. Or upload your WEBM file from Dropbox or Google Drive.
After uploading the file, go to the Output Quality And File Size section and move the slider to adjust the output file size.
Tap on Compress Now to compress the WEBM file. When the compression is done, download the compressed WEBM file from this website.
Compress WEBM Videos Online with Clideo
Clideo is a free WEBM compressor and an online toolbox for video editing. It lets you reduce WEBM file size, merge video, cut video, add subtitles to video, resize video, and many more.
Take the following steps to compress WEBM online with Clideo.
Open the Clideo website and tap on Compress.
Upload the WEBM video you want to compress from local, Google Drive, Dropbox, or by entering the URL.
It will start the WEBM compression after uploading the file.
After that, click the Download button to save the compressed video.
Compress WEBM Videos Online with Compress.com

This is a video compression tool that supports compressing WEBM, MP4, MOV, MKV, WMV and other formats. Each video file you upload can be no more than 100MB in size.
Here's a quick guide:
Visit the Compress.com website.
Click on Videos to launch the video compressor.
Go to Compression Settings and set the overall video quality.
Upload the WEBM video from your device.
When the compression is complete, you will see the compressed file in the Output Files Then save the file to your device.
Compress WEBM Videos Online with Compress Online
Besides compressing WEBM videos, Compress Online gives you options to compress MKV, MOV, WEBP, SVG, GIF, PNG, JPG, PDF, etc. With it, video compressions can be done in minutes.
Here's how:
After accessing the Compress Online website, tap on Video in the top menu bar.
Click on UPLOAD VIDEO to load the WEBM video.
Next, click the COMPRESS WEBM button to start the compression.
Once done, download the compressed WEBM file from the web.
Related article: Top 3 GIF Compressors to Compress GIF Online
Conclusion
Online WEBM compressors can easily reduce WEBM file size. They are free of charge and work in web browsers. If you need to compress a small WEBM file, choose an online WEBM compressor to compress your file.