This post will introduce popular types of video presentations, creative video presentation ideas, how to make video presentations, and some of the best video presentation makers and a video footage editor to you – MiniTool MovieMaker.
MiniTool MovieMakerClick to Download100%Clean & Safe
What Is Video Presentation
A video presentation is a form of communicating with the audience using multimedia or with the aid of video. You can cover a variety of content in your video presentation, including PowerPoint slides, graphics, still images, animation, or actual video footage. I will introduce different makers to get the works done in the part below.
The video presentation is one of the best ways to keep the audience engaged and interested in your business. Keep on reading, and you will find making a winning video presentation is not that challenging.
Popular Types of Video Presentation
Video presentations come in different styles and formats depending on your purpose. These types of video presentations are the most popular and common.
Educational video presentation
Video presentations are not just restricted for business purposes, but also widely used for educational uses. The video presentation also facilitates teaching and learning. Teachers can use it for both online courses and face-to-face learning. Students can understand and grasp the concepts easier than flipping through the pages of a book.
Sales Video Presentations
The sales video presentation is an important business tool for strengthening the marketing strategy. It will enhance sales and achieve better brand presentation and audience engagement. The main goal is to provide a unique value proposition and encourage the audiences to purchase.
Investor pitch video presentation
If you want to impress the investor, one of the most effective ways to do that is using the investor pitch videos. This will help you present your business plan in a visually appealing way. This kind of video needs to be persuasive and catchy, so adding the visual and sound effects, choosing the suitable color theme and filters is a must. This post offers you some useful tools to do that in the following part.
Informational Video Presentation
This type of video presentation is also known as a how-to presentation. It serves to provide viewers with some information. The content can vary according to your audience. If you want to know more about it, you can check this post Step-By-Step Guide on How to Make a How-to Video.
Promotional video presentation
As the name suggests, promotional videos are those videos that promote or depict a particular cause or a new product. It is a great way to convince the viewers because people tend to believe what they can see.
Entertainment video presentation
Video presentations for entertainment have a wide scope. It focuses on entertaining the audience. It has no limit on the topics included and can vary in genres. It can be a music or travel video, comedy routine, or anything else.
Creative Video Presentation Ideas
You've picked the type of presentation you make. But how to make your video presentation get creative? Now, let's go through some creative video presentation ideas that you can try in your project.
Make a provocative statement: The provocative statement can capture your audience's attention right from the beginning. By saying something thought-provoking, your viewers will want to hear what you will say next.
Tell a story: You can tell a relevant story from your past and tell it with all the honesty that you can. Your viewers will feel that and evoke their emotions.
Add motion graphics: Using motion graphics is a great way to illustrate an innovative idea and grab the attention of your audience instantly.
Utilize transitions and animations: Adding interesting animations and transitions can pull your audience in bring focus on crucial areas and ensure viewers are engaged.
Use color contrasts: Using color contrasts will make the information pop out of the screen in a positive way.
Be Humorous: Humor plays a big part to connect with your audience and make a memorable and engaging video presentation. You can create relevant jokes or use funny visual memes in your presentation.
Insert background music: Music has the power to support and enhance the emotion in a video presentation. Adding suitable music to your presentation can be effective. Additionally, make sure the music volume is not too loud and it must match your content.
How to Make Video Presentations
After we know the popular types of video presentations you can make creative video presentation ideas, but how to create one? The accurate steps may vary depending on the tool you use. While the basic outline is identical no matter which maker you're using.
Step 1. Plan and strategize
For any successful video presentation project to be a success, you must plan and strategize. You need to know the purpose of the video presentation before you start. Write down a list of goals for your video presentation and make sure they are on-hand during every step of the process.
Step 2. Organize the content
At this step, you can start by organizing all the content you need for the presentation into a folder on your computer. Include all the graphics, photos, video clips, audio files, and more. You can also draft a simple outline or storyboard because video presentations may involve narration.
Step 3. Polish the opening
A strong opening can set the tone for your video presentation and determine if your viewers keep watching or not. You can use anecdotes, provocative statements, or rhetorical questions to create an engaging beginning to your presentation.
Step 4. Tweaking the video presentation content
 At this step, you can add slides, animations, transitions, sound effects, background, and audio to your video presentation. If you have no idea how to get that done, keep on reading and the next part will introduce some of the best makers to you.
Step 5. Review and share
Now it's time to review the entire video presentation from start to finish to see what the final project will look like to your audience. You can make adjustments as you need. After that, you can share your final project to YouTube, Facebook, or any of your favorite social media platforms.
Top Video Presentation Makers
After we know some strategies about video presentation, you may need some useful tools to make one. Just like the saying goes, if a worker wants to do a good job, he must first sharpen his tools. So, the following part will offer you some of the best video presentation makers to you.
Animaker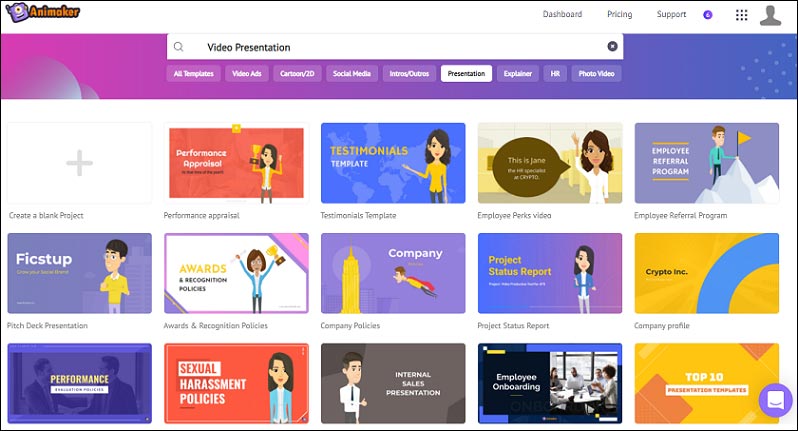 Animaker is one of the best free online video presentation makers that enables you to make both animated and live-action videos. It is an incredible video presentation application and whiteboard animation maker.
With this web-based video presentation software, you can create, edit stunning videos, share GIFs, eye-catching animations in just a few clicks. This tool is super easy to use. It is home to a massive library of video templates, royalty-free music tracks, and sound effects to pull from for your video presentation creation.
You can add music or voice-overs recorded with your computer microphone. The media library has many audio files organized by category and style. You can also upload your local audio files. More than that, you can resize your resulting videos for various platforms and even in 4K resolution.
Moovly
Moovly is a cloud-based video presentation maker that enables you to generate multimedia content. With it, you can create video presentations, animated videos, animated infographics, and any other video content for all sorts of purposes.
It offers free video templates for business, education, marketing, etc. You just need to select a template from professionally designed video templates and then customize anything you want like text, color, image, footage, and audio.
There is a graphics library with over one million media assets, including stock videos, motion graphics, music, sound effects, photos, and illustrations. You can incorporate any of that in your video to create a quality video with minimal fuss.
PowToon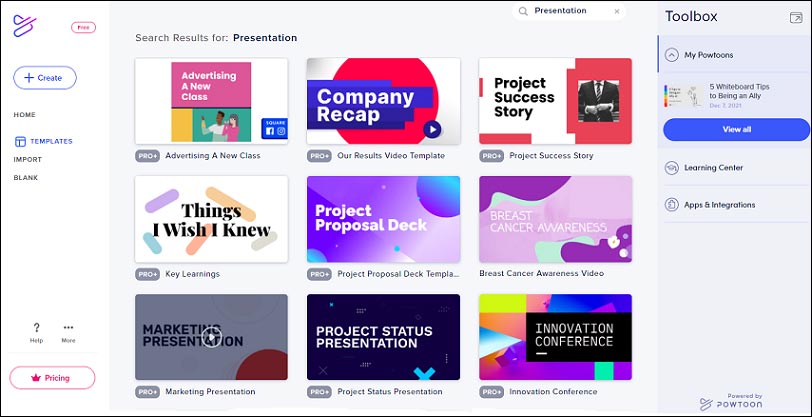 Powtoon has long been a favorite for creating video presentations, especially explainer videos. If you want to turn written materials into quick explainer videos, it is an optional tool for you. It is free intuitive video presentation software that helps you to create animated slides combined with audio, narration, and embedded videos.
With this video presentation maker, there's no experience needed to make making a professional result. The whole process is pretty simple and straightforward. It provides a bunch of ready-made templates in different styles like modern edge, whiteboard, cartoon, infographic, and more.
It also allows you to use audio in your presentation. You can pick whether to go with a background theme or a voice narration. Furthermore, you can add dynamic transitions to your video presentation for smooth flow and engaging outcomes.
This post offers a complete guide on the video presentation. I can create an engaging video presentation after reading this post.Click to Tweet
Best Video Presentation Footage Editor for Windows
If you want to make a general video presentation with recorded video footage, you may need a video editing software program to make adjustments to your recorded clips.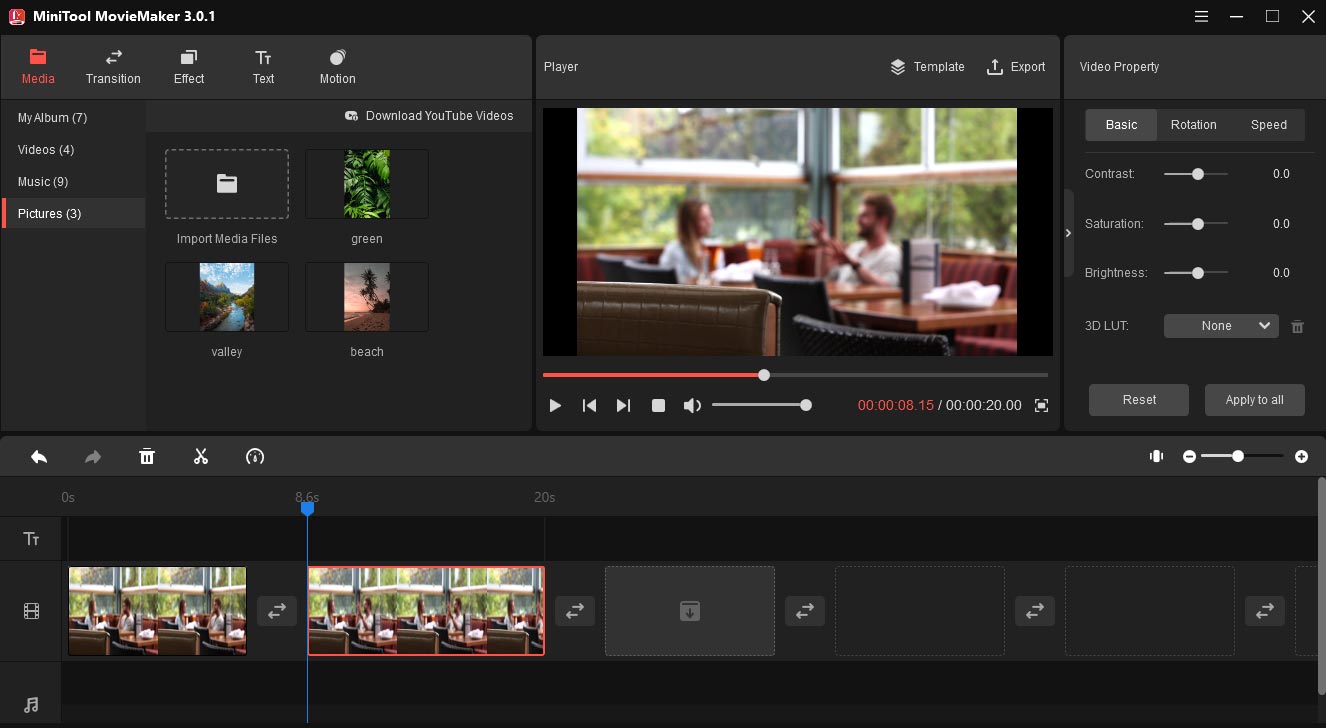 MiniTool MovieMakerClick to Download100%Clean & Safe
MiniTool MovieMaker is the best video presentation footage editor for Windows. It can help you create attractive video presentations without hassles. Whether you want to add background music, add transitions and effects, it is the ideal tool for you. More importantly, it is completely free and easy to use.
Although it is free, it comes with many basic editing features as well as some advanced editing tools. You can import images, audio, video clips to the timeline and have a well-organized video presentation content. After importing, you can use its drop-and-drag functionality to rearrange them.
To customize your videos and make them impressive, you can apply various pretty transitions, filters, and motion effects to your videos. It also enables you to rotate, flip, split, trim, cut, reverse videos, change video speed, adjust the contrast, brightness, saturation of the video.
It also offers audio editing tools such as volume adjustment, audio merging, audio fading-in or fading-out effects, and extracting audio from the video.
In addition to that, this free software allows you to change the video resolution and video format. After you complete all the editing, you can change the format of your video file to make it compatible with other platforms and media players. You can share your resulting video presentation on  media platform like Facebook.
MiniTool MovieMaker is a useful and free video presentation footage editor without watermark. It helps me complete an impressive video presentation.Click to Tweet
Conclusion
To sum up, this post introduces the video presentation meaning, popular types of video presentation, creative video presentation ideas, a step-by-step guide on how to make a video presentation, and some of the best video presentation makers and an amazing video editor.
I hope this post will be helpful for your next project. If you encounter any problem while using MiniToolMovieMaker, you can contact us via [email protected].