If you are looking for a tool that can help you make a banner or other design. A graphic design software couldn't be better. So, what is the best graphic design software for designing? This post tells you all main features of 7 best graphic design software. Read this post and have a try.
Graphic design software is an essential tool for designers. Whether you're a professional designer or hobbyist, selecting the right graphic design software is a great help to your design (To make slideshow, you can't miss MiniTool software – MiniTool MovieMaker).
Let's get started!
7 Best Graphic Design Software
#1. Adobe Photoshop
Adobe Photoshop is one of the most popular photo editors in the market. It's a professional graphic design software that provides lots of design tools. By using this software, you can create illustrations, retouch photos and make 3D art.
It has some basic editing features like erase, blur, brighten, sharpen, etc. Also, it offers cloud storage, so your graphic designs would be synced across your Adobe Creative Cloud apps.
This software works with Windows and Mac.
Price: It costs $20.99 per month.
#2. Adobe Illustrator
This graphic design tool has millions of users. It helps them create logos, icons, product packaging and book illustrations. Moreover, your designs can be saved and exported in the background.
For beginners, this tool offers guided tutorials to help you get started.
It's compatible with Windows and Mac.
Price: It costs 20.99 per month.
#3. Gravit Designer
This vector graphic design software that allows you to create graphics for websites, presentations, social platforms and more. It comes with various effects, blending modes and styling.
Gravit Designer runs on all platforms including Windows, Mac, Linux and browsers.
Price: It's available in two versions: Free version and Pro version (that is available for $99 peer year).
#4. Piktochart
Piktochart is not complex. It's the best graphic design software for bignners. It gives you over 800 templates for infographic, presentation and print to help you improve work efficiency. Besides, creative collaboration allows you to bring your team members into one place and share your designs.
Piktochart works in browsers.
Price: The Pro version is available for $24.17 per month.
#5. GIMP
GIMP is free graphic design software that is used for photo retouching and editing. With GIMP, you can produce icons, transform images, convert image formats, etc. GIMP is also a cross-platform photo editor that works on Windows, OS X, Linux and other operating systems.
Price: It's free to use.
#6. Pixlr
Pixlr is online graphic design software that is equipped with all basic editing tools. With the simple and intuitive interface, editing photo becomes much simpler. In addition, it offers plenty of stickers, icons, overlays to perfect your designs.
Pixlr is compatible with any browser.
Price: It has wo pricing plans: free plan and pro plan (that costs $3.99 per month)
#7. Canva
Canva is a free and user-friendly graphic design tool. If you just want to create wallpapers or bookmarks for yourself, Canva would be a good choice. It has all kinds of templates such posters, logos, bookmarks, wallpapers, cards, resumes, invitations, etc. Canva also allows you upload pre-designed elements from your device.
Aside from that, you can customize dimensions for your work.
Canva supports almost any browsers.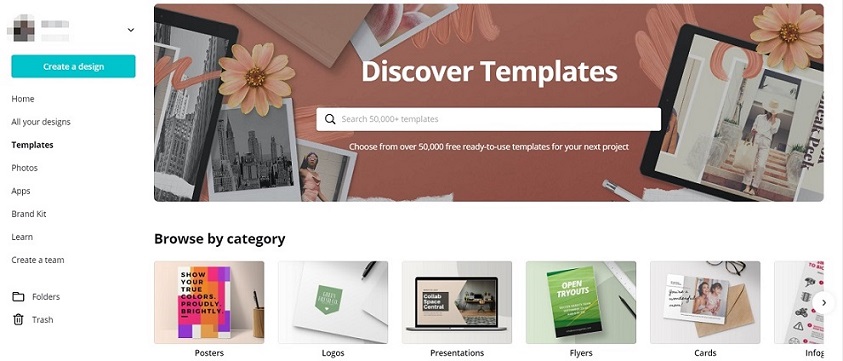 Price: It's free. To unblock more features, you can try Canva Pro available for $9.95 per month.
Conclusion
After reading this post, you must have known of the best 7 graphic design software. Which one do you prefer? Please tell us in the comments area.
If you have any suggestions about this post, please leave a comment and let us know.