Testimonial videos have been gaining prominence recently as more and more people trust them when purchasing a product. How to make a persuasive testimonial video? This post will give a full guide. MiniTool MovieMaker is highly recommended to edit your testimonial videos.
Testimonial videos do have the power to boost conversion and persuade customers to take action because it is a recommendation coming from a real person who has used the product. Additionally, it's a video that makes the review authentic. This post will offer you some of the details about the testimonials video. Let's go on!
What Is a Testimonial Video?
Testimonial videos are sometimes called "customer testimonial videos" or "testimonial ads". It is used to showcase your customer or client's positive experiences with your product, service, company, or brand. By far, Customer testimonial videos have been one of the most effective forms of marketing.
In most cases, customers offer evidence that the product or service helped them solve a specific problem. They might discuss who they are, how they use the product or service, and what they like about the company.
Also read: Top 8 Best Explainer Video Software of 2021
Why Testimonial Video Matters? (Benefits)
Here are some important reasons why testimonials video counts.
1. A testimonial video helps create an emotional connection with consumers.
It is no doubt that emotion has important influences on consumers' behavior. You need to evoke the right one. They are concerned about peers' reviews of your product. In other words, people are more likely to buy what others have already bought. They also trust the brands that others also trust.
2. Testimonial video helps convert potential customers into existing ones.
The ultimate goal of your online marketing is to convert potential customers into paying ones. The testimonial videos are good for converting. Having third-party opinions about your product makes a massive difference in future sales. Their praise of your product is the essential step to convert!
3. Testimonial video provides social proof.
Social proof is a powerful factor in the customers' decision-making. Just imagine that: you are going to purchase a sofa for your living room, you might need the reviews from other customers. You need confirmation by someone who has bought that sofa and assure that it's a great choice worth investing your cash on.
Encouraging people who like your product or service to record a positive video testimonial, you'll encourage more purchases. Their feedback will hold more weight when buyers are making purchase decisions, which will attract more customers.
4. Customer testimonial videos provide loyal customers an opportunity to advocate for your brand.
Customers who have had positive experiences with your company act as brand advocates when sharing positive reviews. Testimonial videos allow you to reinforce and maximize the power of your message in the best possible way.
Then, the next part will cover some tips of making a wining testimonial video.
Recommend post: Top 7 Video Editing Software – Improve Video Quality Easily
Tips for Making Great Customer Testimonial Videos
As most business owners and marketers say, the best way to get new clients and customers are through word-of-mouth recommendation, not commercials, Facebook ads, or giveaways. This part will share some tips for making great customer testimonial videos.
Tip 1. Find real clients to tell real stories
One of the most important ways to create a high-impact testimonial video is to use real stories of customers. Not only do real customers look more authentic (and significantly different from TV infomercial paying actors), they can also share their first-hand experience about your product.
Tip 2. Make the customer testimonial video interesting
Testimonial videos come in many different styles and formats. You can have all the fancy text and graphics you want, but if your video content is tedious, viewers aren't going to get drawn in. For inspiration, you can check out the nice use of shots in the testimonials.
Tip 3. Try to be conversational
Encourage the interviewee to get involved in a conversation. Tell them to take some time and speak freely about their experience with your product and company.
Tip 4. Make your testimonial authentic and honest
Authenticity tells a big part of the story in a customer testimonial video. Consumers can easily differ from scripted paid recommendations to organic ones. Therefore, you need to create authentic and genuine. customer testimonial videos.
Tip 5. Prepare yourself for impromptu responses
You need to prepare yourself for unexpected situations before the video interview. You will feel relaxed and can handle some hiccups during the interview. A smooth process will make it look persuasive. You can refer to some testimonial video examples for your preparation.
How to Make a Testimonial Video
Making a great testimonial video is just like making any other high-quality video. What you need to keep in mind is your intentions: you want to persuade people to buy your product. So, let's take a closer look at how to create a persuasive testimonial video.
Step 1. Prepare for Your Testimonial Video
1. Prepare a general structure
It will be a disaster if you record a video testimonial without a plan for what the customer will say. When you start the process, you should have an idea of ​​what you're going to talk about. You can draft a testimonial video script about the structure or flow of your video.
2. Write down the testimonial video questions in advance
To avoid being dead-end, you can probe your customers in the right direction by asking questions. And customers need time to prepare. To get insightful answers and great responses, you can send them the questions you want to ask beforehand.
You can refer to the following questions:
Q1: What problems were you want to solve with the product or service?
This allows you to briefly describe the functions of your product or service and draw the attention of other potential customers with similar issues.
Q2: What distinguishes our products and services from other options?
This will show potential customers what makes your product or service special and why they should prefer your product or service over your competitors.
Q3: Is there anything else you want to supplement?
This gives the customers opportunity to discover the issues you might not have considered.
Make sure to send these questions to your client before your interview so they will know the key points you plan to cover. If you want to interview multiple people at the same time, set a specific time for the interview. Share the shooting details to make sure everything goes smoothly.
Step 2. Record a Testimonial Video
When you are ready to record, you set up your equipment including microphones, lighting, and cameras. Think about angles; how you will frame your shots, and where you will position your subject.
While recording, you need to make the interviewee feel comfortable. So, make sure you match the mood, tone, and body language with the interviewees. Make it clear to them that they can look natural.
You can use the question list as a guide and let the interviewee elaborate. Avoid interrupting and just let them talk. You can trim the discussion during the editing process anyway.
This post offers me the method and tips about how to create a persuasive testimonial video.Click to Tweet
Step 3. Edit the Testimonial Video
After the recording, you may want to cut some unnecessary parts to make it smooth. How to edit the testimonial video? MiniTool MovieMaker is highly recommended here.
MiniTool MovieMaker is a free and easy-to-use video editor designed for Windows. It supports a wide range of video, image, and audio formats.
It offers you many beautiful filters, text templates, and motion effects. You can edit videos by using features like video splitting, video resizing, audio removing, video rotating, video flipping, video combining and more. You can split or trim video and add transitions as well as background music for testimonial videos.
In addition, you can export your testimonial video in MP4, AVI, MOV, WMV, F4V, MKV, TS, 3GP, WEBM, or MP3 format as you want.
Let's take a closer look at how to edit your testimonial video with MiniTool MovieMaker.
1. Run MiniTool MovieMaker
You can download MiniTool MovieMaker by clicking the button below and install it on your PC. Launch the program and close the pop-up window to enter the main interface. Click the Import Media Files button to import the testimonial video files. And then drag and drop them onto the timeline.
MiniTool MovieMakerClick to Download100%Clean & Safe
2. Edit the testimonial video
Split video: Select the video clip on the timeline, drag the playhead to the place you want and click the scissor icon to split, or click the scissor icon and choose Quick Split. Right-click the clip you want to remove and select Delete.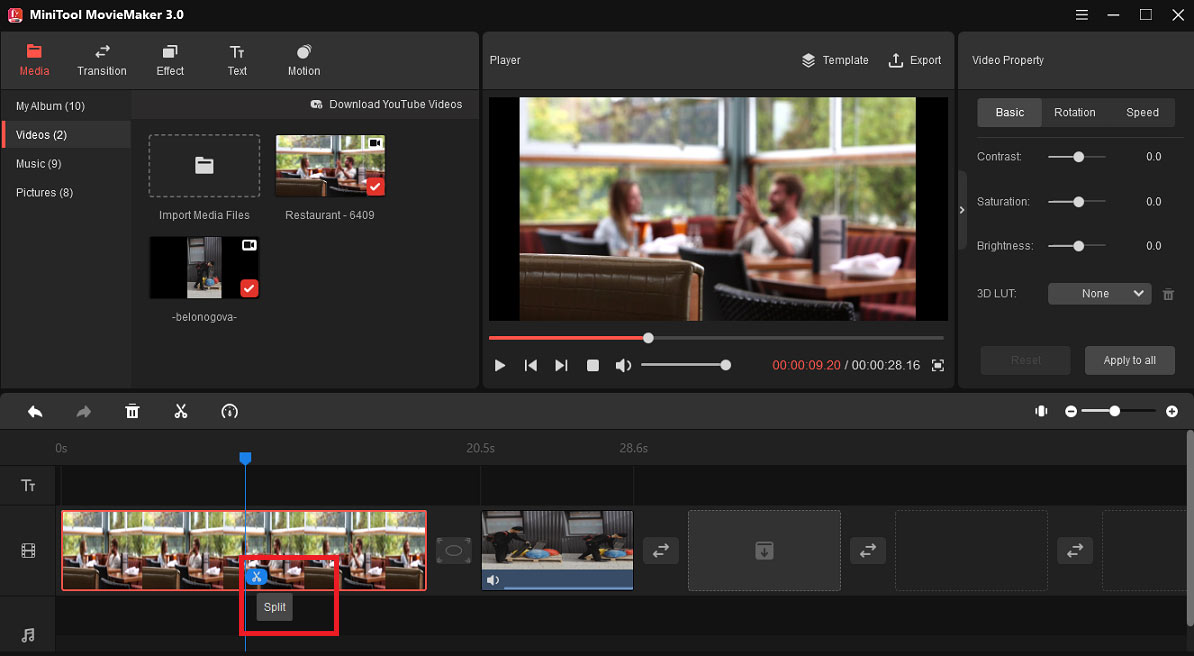 Trim video: Select the video clip you want to trim on the timeline, and then click the Split (scissor) icon on the toolbar. Choose Full Split and click the TRIM table to enter the Trim window.
Move the start point to the desired location and then click the scissor icon on the Start, and move the end point to the desired location, and then click the scissor icon on the End. When done, click the OK button to save these changes.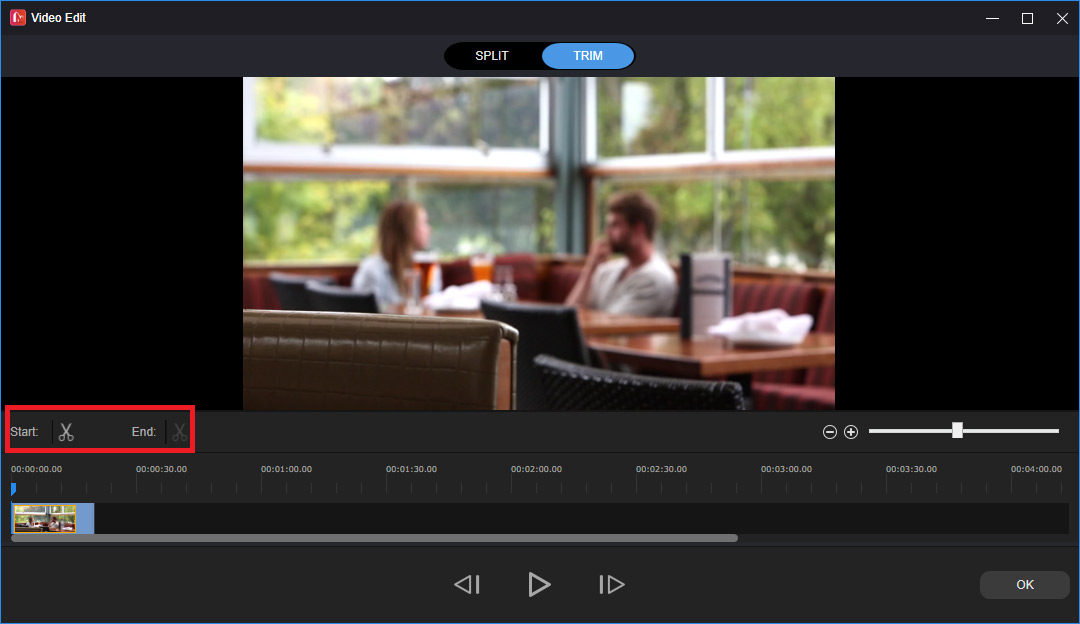 Change video speed: Choose the video in the timeline and click Speed to select the Slow or Fast option. Choose Fast and select option from 2X, 4X, 8X, 20X, or tap the Slow, pick 0.5X, 0.25X, 0.1X, 0.05X, 0.01X and then click.
After adjusting, click Speed, select Normal to back to normal speed if you want.
Add background music: Choose Music option under Media, and then use the built-in music tracks. Click the "+" icon to add the music into the video, or drag and drop the music to the video on the timeline.
Or click Impot Media Files to import your music files on this computer. After that, click Open to impot the music. Then, drag the imported music into the timeline.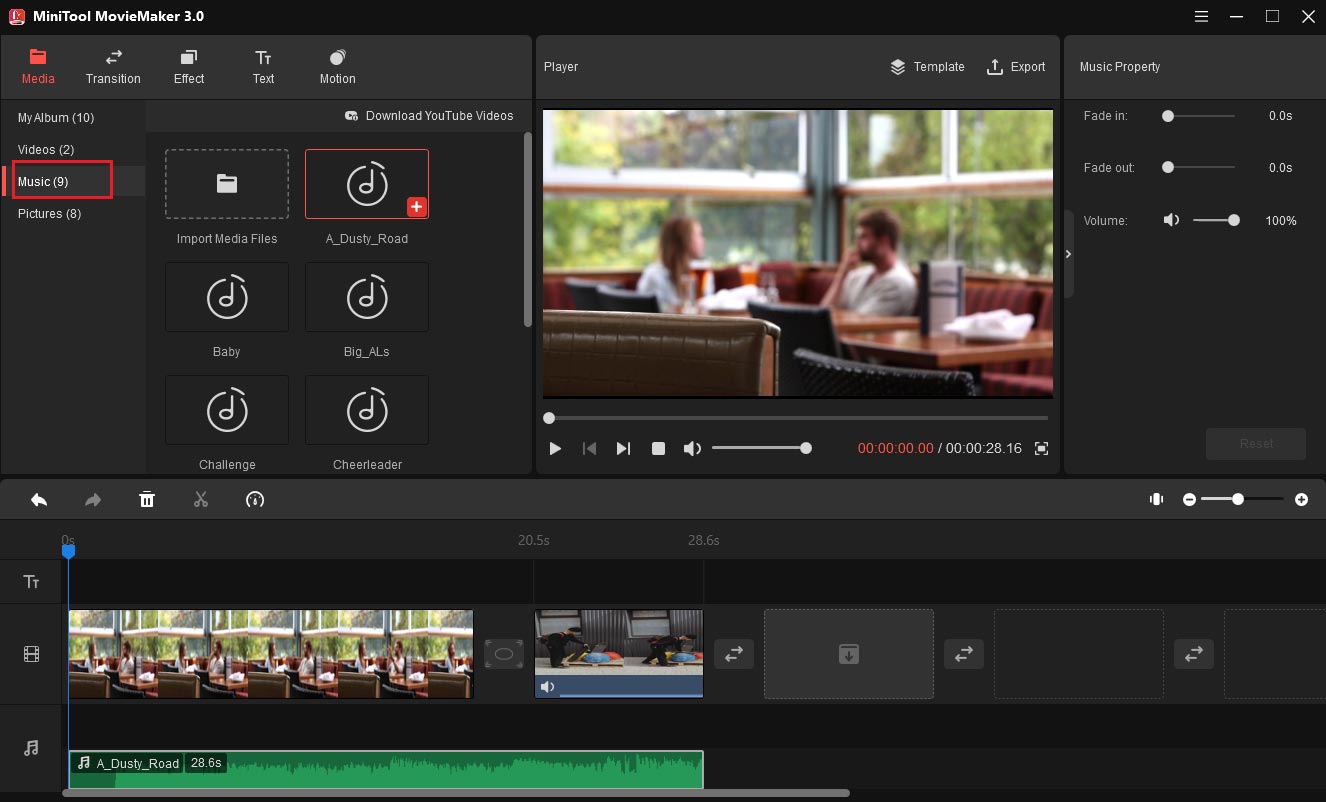 Add effect: Select the clip on the timeline where you want to apply an effect. Click Effect, choose the desired effect. Click the "+" icon to add the effect to the video. Or drag and drop the desired effect to the target clip.
Add transition: Select the clip where you want to add a transition next to it. Go to Transition. Drag and drop the desired transition to the location between two clips. Or right-click the transition, choose Apply to All to add the same transition to all clips on the timeline.
3. Export the testimonial video
When editing is done, tap on Export to open the export window. There you can change the video format, resolution and quality. Then click Export to save the testimonial video on your PC.
It is a really powerful video editor. I can edit my testimonial video easily with MiniTool MovieMaker.Click to Tweet
Step 4. Publish the Video on Several Platforms
When you're ready to publish your video, submit it to your customers for final review. They will be comfortable with the final review before it gets published. The best free marketing you'll get from this review is the customers' personal sharing.
And you need to publish it on your social media pages because videos are very popular on these channels. You can post the testimonial video on Facebook, YouTube, and Instagram, or on Twitter with a link to view the full version.
Sending it out in your email newsletter to subscribers, and uploading it to your company's website are also good ways to get exposure. The more people view the video, the better opportunity it provides for your business.
Also read: 5 Best Vlogging Platforms Worth Checking Out in 2021
Conclusion
We have discussed what a testimonial video is, the benefits and tips of making a testimonial, and how to make and edit a great testimonials video. If you have other tips or questions about testimonial videos, please feel free to contact us via [email protected].