Do you know what an educational video is and how to make educational videos? What is the best educational video maker software? All these questions will be answered in this post.
This post will introduce you to the definition of the educational video, popular types of educational video, and 5 online educational video makers, and 4 educational video maker software programs (including MiniTool MovieMaker).
MiniTool MovieMakerClick to Download100%Clean & Safe
What Is an Educational Video?
Educational videos are meant to educate the audience about some specific problems they are experiencing, or relevant topics they would be interested in. The influence of educational videos on our everyday life is undeniable. The audience today is using educational videos as a vital tool for learning nearly everything: from basic skills to the latest technology trends.
Let's move on to the next part. You will learn some popular types of educational videos.
Popular Types of Educational Videos
After we know the educational videos basically, let's move on to the next topic: popular types of educational videos. There are several types of educational videos. We can divide them into the following categories:
Lecture video
Lecture video often includes an instructor showing on screen or someone narrating something with a slide. It is a common type of educational video due to its simplicity.
Basically, you can use a camera to record the presentation by the instructor or speaker. Some complex version will need multiple camera angles that capture a speaker on stage or the visual presentation with other supporting material.
Micro Video
A micro video is a short video that focuses on teaching a single, narrow topic. They are usually less than a minute long and appeal to many social media viewers like on Twitter, Instagram, Snapchat, and TikTok. They may have short attention spans to concentrate on a video.
How-to Video
The how-to video features step-by-step instructions that show exactly how to accomplish something. It is getting increasingly more mainstream on the Internet. The power of these videos lies in the use of behavior modeling. On the basic end, you can record with a mobile phone and then edit the clips using the editing software.
Explainer Video
An explainer means exactly what the name implies: it explains a topic. Most explainer videos are animated videos and becoming increasingly popular, allowing the audience to learn in a relaxing and interesting way. From an educational video perspective, the explainer is a great way to visually depict a complicated process or demonstrate how someone should act on a specific occasion.
They can be made on some online platforms, and the most popular animated educational video makers will be introduced in the following part.
Top 5 Educational Video Maker Online Tools
The following part will introduce you to some of the best online educational video makers tools. Let's go on to take a closer look at their features one by one.
Biteable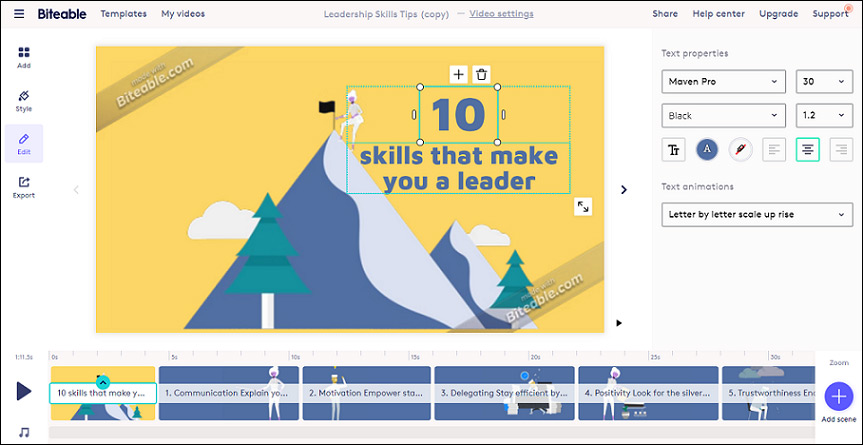 Biteable is one of the best online animated educational video makers that come with a very simple user interface. You can use it on your smartphone, tablet, or computer. There are collections of ready-to-use video animation templates that fit your unique goals. The animations in your video are also customizable.
After you have chosen a pre-designed template and added your key points, you can animate your video with colors, effects, and music, all of which are available on the expanding media library. You can create animated text with various text animation presets.
When you accomplished the educational video, you can post it straight to social media or download it on your devices as you like.
One thing you need to make sure of is that your browser has to support WebGL technology. Otherwise, the video editor will not work properly and will not be able to handle the rendering process.
Animoto
Animoto is a well-known online video maker. With it, you can make eye-catching educational videos with ease by using the powerful drag and drop feature.
Animoto provides you with 3 types of layouts that can guarantee your educational video looks good. You can use these layouts to enhance your animated educational videos based on your needs.
You can use your own images, video clips, and logo right into your video, or search the library of stock photos and video clips to find suitable visuals for your project.
It also lets you to change the storyboard text or add a song for your project in the music library. You can also add music from a specific genre like instrumental, classical, acoustic, jazz, and more.
In class, teachers can use Animoto to boost the learning engagement of their students. Students can create photo essays, book reports, student portfolios, or other projects. Apart from educational video making, it facilitates various purposes like promotional, charity, and many more.
Moovly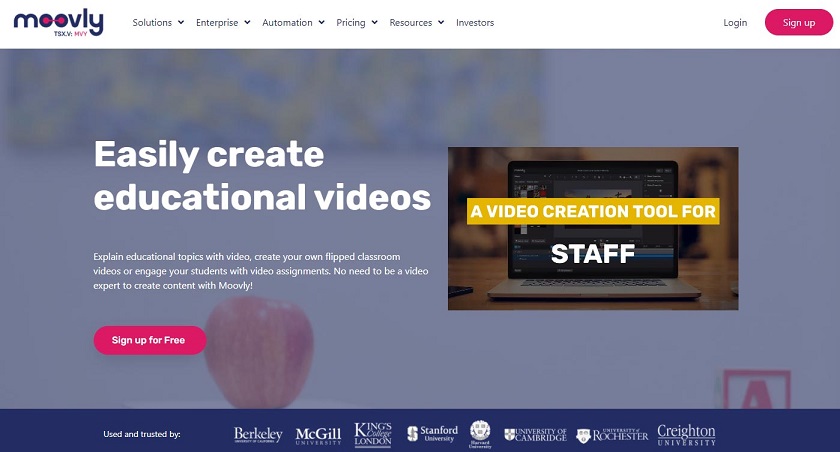 Whether you are a teacher, student, or education staff member, you can use Moovly to create attractive educational video content on your own without needing any set of design skills. Moovly is a versatile, customizable education platform for academic video creation.
Using it, you can explain topics in many creative ways such as combining images, footage, text, webcam or screen recordings, sound, or voice. An educational video will be much more than just recorded video lessons or narrated PowerPoint slides.
It also comes with a library of royalty free photos, illustrations, music, and stock videos that you can use in combination with your own media, text, or voice-over. It allows you to start from scratch or just use ready templates in many styles, from animated graphics to footage-based content.
Wideo
Wideo is another online educational video maker that offers handy tools to create educational videos. As it promises, you will create educational videos that break the classic passive learning model.
It comes with educational video templates, homework video templates, and educational video presentations. You can create a video starting from scratch or just pick a video template with a good design.
As an educational video maker, it helps students and teachers to convey their ideas through creative and fascinating videos. It can also be used to provide tutorials, foreign language teaching, and distance learning.
If you get stuck in the process, have no idea how to deliver your thoughts, you can check out its video tutorials. The articles provided by Wideo will give you insight and inspiration to make your creativity flow.
Powtoon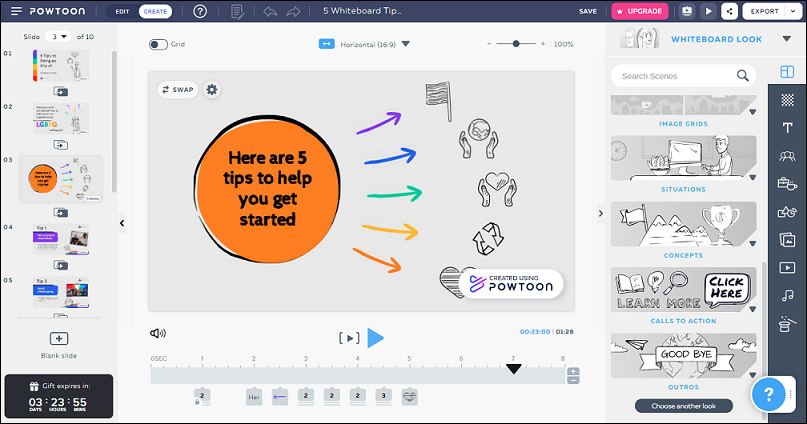 Powtoon is also a useful tool with no need of downloading the software to make an educational video. With PowToon, you can create animated presentations and videos. Using these animated educational videos in the classroom can help teachers and students enjoy a better studying experience.
It has a huge number of ready-made templates to create animations by dragging and dropping the elements you need. It also provides you with the opportunity to customize the templates and design your own with images, music, and voice-overs.
If you like flat design-style educational videos, Powtoon is one of your best choices.
When using it, you may find that you need to upgrade to use all of the templates and backgrounds. With the free version, you can only access basic features and it comes with a watermark.
Top 4 Educational Video Maker Software
If you also need to make general educational videos like Lecture videos, you can create with recorded video footage, narration, photos, text, and music. The part below will offer you an overview of some of the best software to make educational videos for your next project.
MiniTool MovieMaker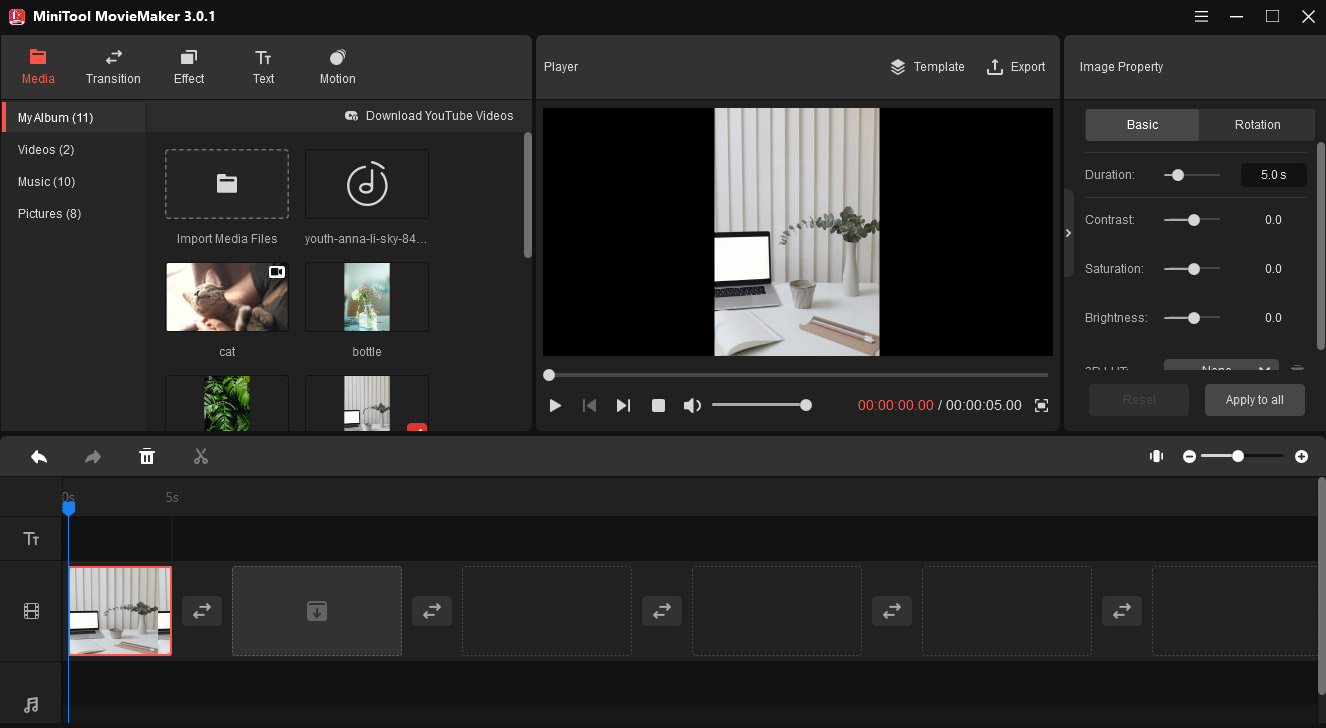 MiniTool MovieMaker is one of the best educational video editor apps for PC. It is free, with no watermark and no ads. With the simple, clean, and user-friendly interface, you can edit the recorded educational videos easily. You can use the customizable design elements like color correction and 3D LUT effects to help you elevate your educational videos.
To make your educational video present vividly to the audience, you can add text, filters, transitions, and motion effects to the video. More importantly, this free video editor also lets you edit the text of the video, and it provides many text templates to help you customize your titles, credits, and captions. You can also adjust the color, font, size of the text.
It also allows you to change the brightness, contrast, and saturation of photos and videos easily. You can edit your recorded videos by using tools like video splitting, video trimming, video reversing, audio removing, video rotating, video flipping, and so on without damaging the raw material.
After you finished editing, you can export your result files easily. It supports many popular formats like MP4, AVI, MOV, WebM, MKV, and more.
Try MiniTool MovieMaker, a free and handy educational video editor, to create attractive educational videos.Click to Tweet
AVS Video Editor
AVS Video Editor is also an easy-to-use educational video maker that makes video creating easier than it may seem at first sight. It may not be as feature-rich as other professional video editors, but it works perfectly fine to create a great educational video.
This program features a nicely designed interface that is pleasant to use. It follows the classic editor layout, with different areas dedicated to a media library, timeline, and preview window.
It also includes many available transition effects, video effects, and text and video overlays that will help you easily beef your video up.
The whole creating process is covered by this video editor, you can import videos from different external sources, edit them as you want, and finally save your creation in different formats depending on your target platform: computer file, burned disc, multimedia device, or web page.
Adobe Premiere Pro
If you have mastered some video-making skills and need a professional video editor to unleash your creativity in educational video making, Adobe Premiere Pro is ideal for you. Its non-linear editing interface, the unmatched ecosystem of tools, and powerful capabilities have earned it the status of industry-leading video editing software.
With Adobe Premiere Pro, you can not only edit your recorded videos but also import graphics and special effects from other Adobe applications.
It is a comprehensive video editing software and it can be used for all common video editing tasks necessary for producing high-quality videos. You can edit footage in almost all popular formats, from 8K to virtual reality, and mix different images in the desired sequence.
It is also available as part of the Adobe Creative Cloud set of applications. You can use it in conjunction with After Effects and Photoshop on creative projects.
iMovie
iMovie, as a free and robust tool for video creation, is a solid choice for many Apple fans. It enables you to create anything from a short video slideshow to an impressive Hollywood-style movie.
There are many editing tools available including slow down or speed up footage, picture-in-picture, green screen, etc. If you want to add background music to your educational videos and don't have your own music to add, iMovie offers more than 80 soundtracks for you. You also have the option to add your own voice-over narration.
If you have both a Mac and an iPad/iPhone, you can switch between devices to work on your projects.
There are many excellent educational video makers.Click to Tweet
Conclusion
In a nutshell, this post introduces 9 educational video makers and editors including online animated educational video makers and software to edit educational videos. Which one do you like best?
Feel free to share your ideas in the comments or contact us via [email protected] if you have any questions while using MiniTool MovieMaker.